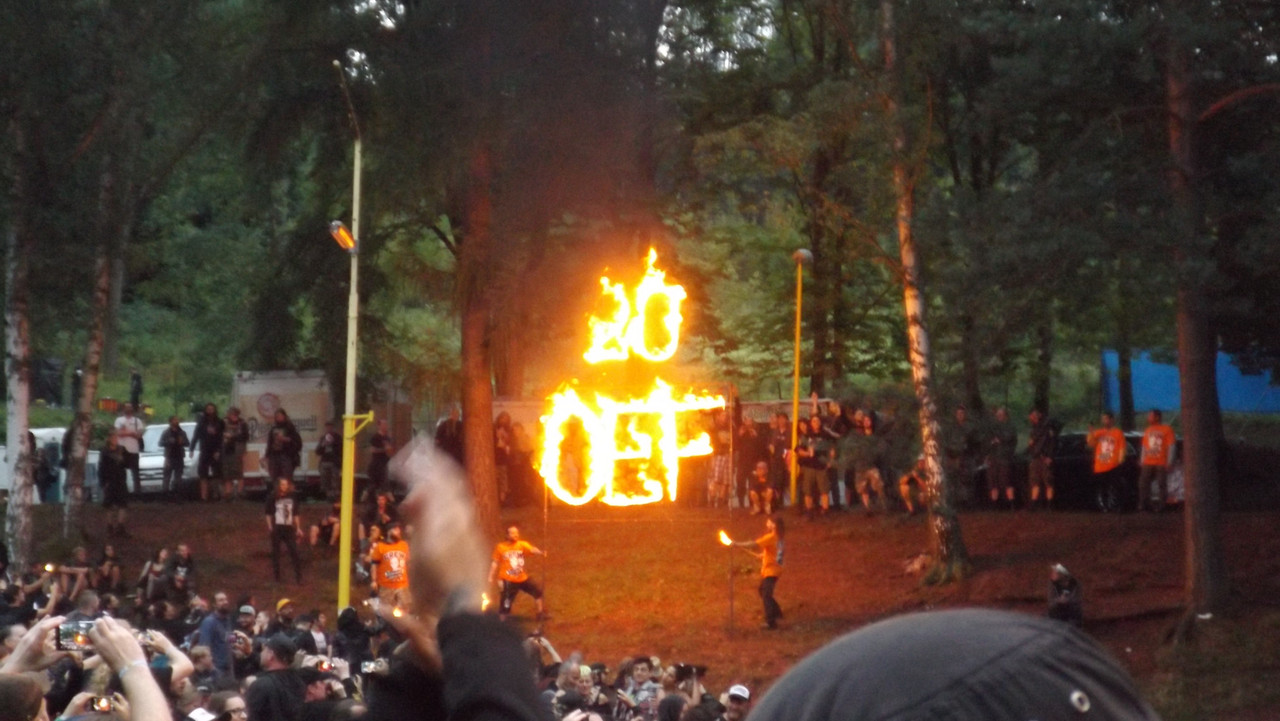 18th to 21st July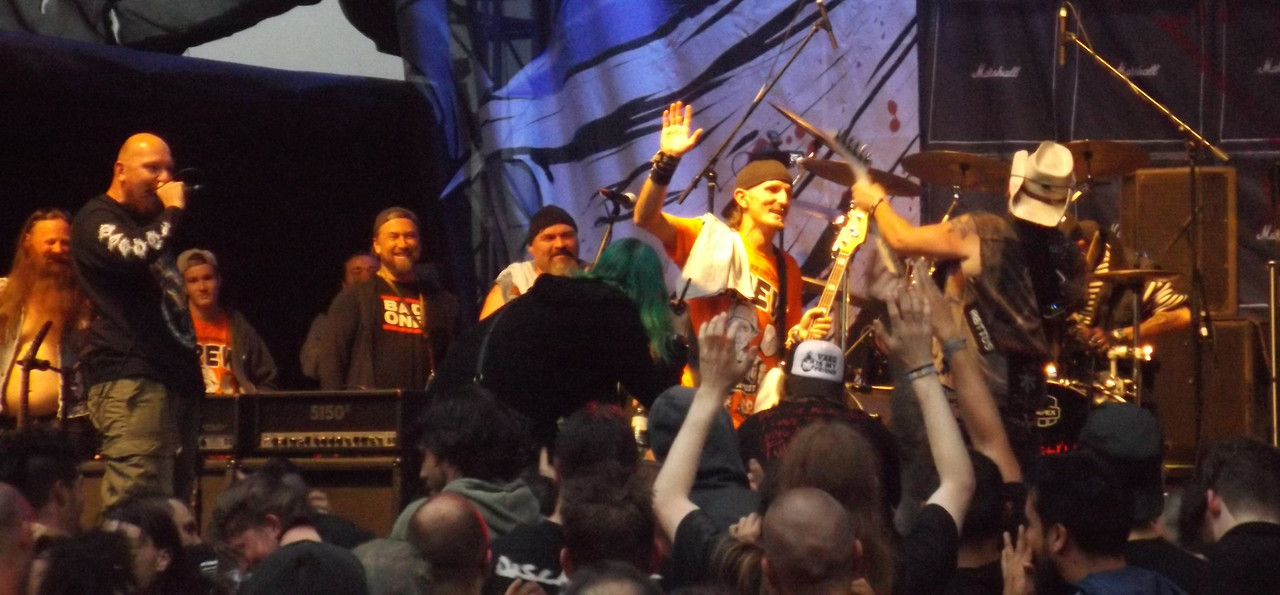 Back again for a special celebration of the chaos, as this year OEF commemorates its 20th year of existence.   It surprises me that when I check back through the blurry memories that I only first came here in 2012 as it does feel like many lifetimes have been lived in a lake of absinthe lemonade, but the experiences are ingrained into me like the red-brown mud of the site.  There's added déjà vu with the expanded line-up this year as they have deliberately invited back a lot of the great acts who have highlighted previous events to join the anniversary party this year, but there's still a lot of new to check out too.
As usual we take some extra time to savour beautiful Prague and catch an intense blackened hardcore show from Hexis and Woes on the Tuesday night before we head out to the countryside and the festival.  Normally we have time to get settled in but with just a few bands in the evening but for this year we have a full days bands on the Wednesday too.  We still have to do our supermarket sweep and get internal organs accustomed to the forthcoming liquid punishment but we get in mid afternoon to join the fun.  It's an unusually grey day amidst the worldwide heatwave but spirits are not dampened.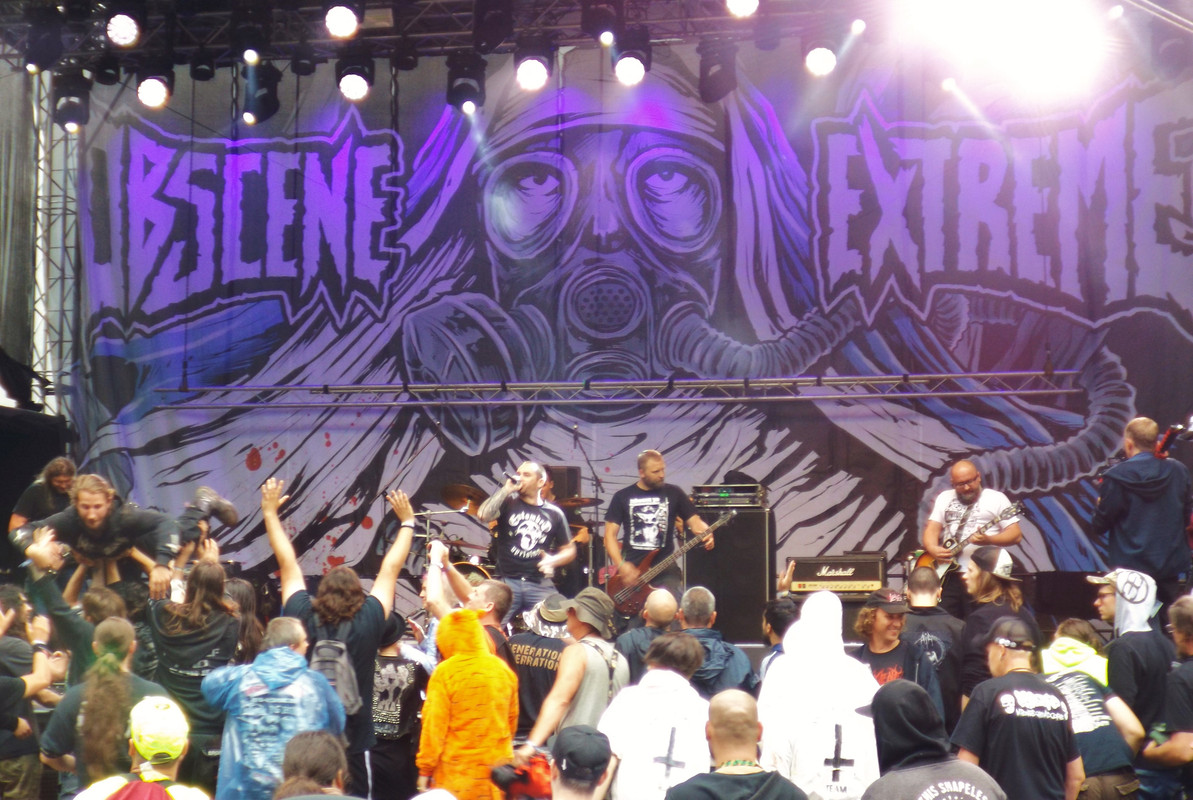 The warm-up is a solid mix of tight grind from the likes of Needful Things (above) who I've needed to see for a while, and crushing death heaviness of Fleshless, but sadly no Welsh representation as Desecration have had a last minute emergency at home.  The whole theme of this first day was trying to get bands who had been involved at the start of the festival so with Isacaarum having been split up for a while it was a real treat to get to see them for the first time.  Their blood-spitting fetish-clothed death grind almost has an industrial quality to its impact.  The party starts properly at dusk with Malignant Tumour who had evolved over their long history from some nastiness be-suiting their name to a more Motorhead style crust-rock, and were massively entertaining with it.  Frontman Bilos also ended their set with a cake presentation to organiser Curby, and an impromptu 1 minute noise core jam involving the main man.  A resurrection of some one-off project that never developed, playing on the stage he has hosted so many hundreds of others on over the years.   There's a burning sign of 20 OEF lit and it does fell like a special occasion.  Finished off in fine style for me by the surprising first chance for me to catch the Belgium legends Agathocoles.  They've been so prolific in the grind scene over the years but somehow I've never been in the right place at the right time, but that is resolved with an excellent set of their short sharp intense blasts, interspersed with Jan's political rants introducing the songs.  An Apocalypse Now firework display rather close to our faces to end, the perfect start to the days in the dirt.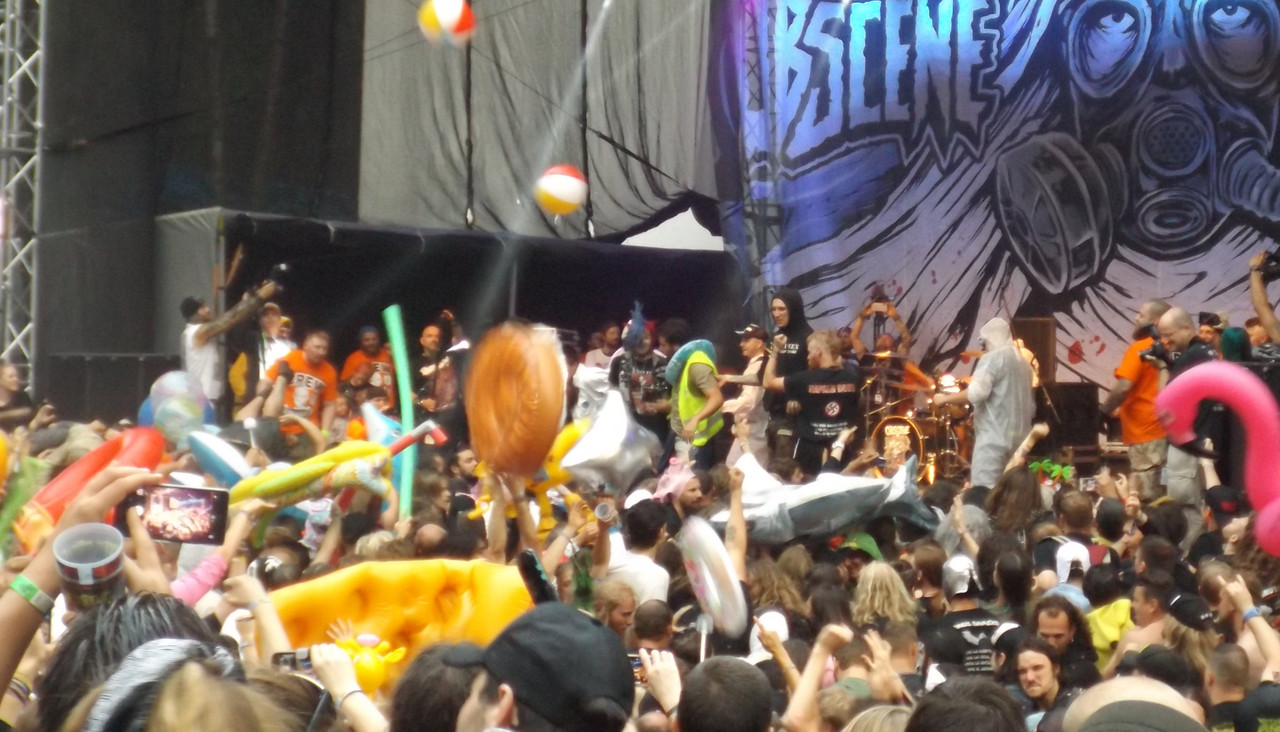 gutalax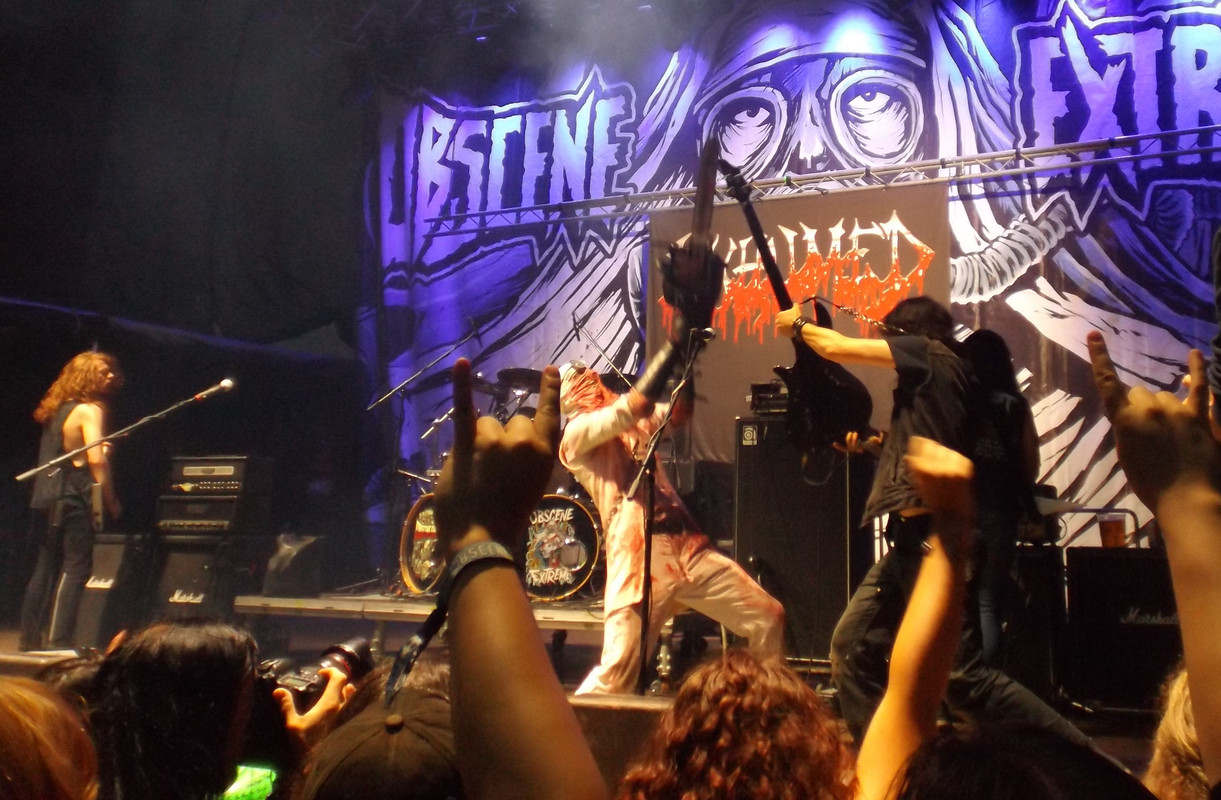 exhumed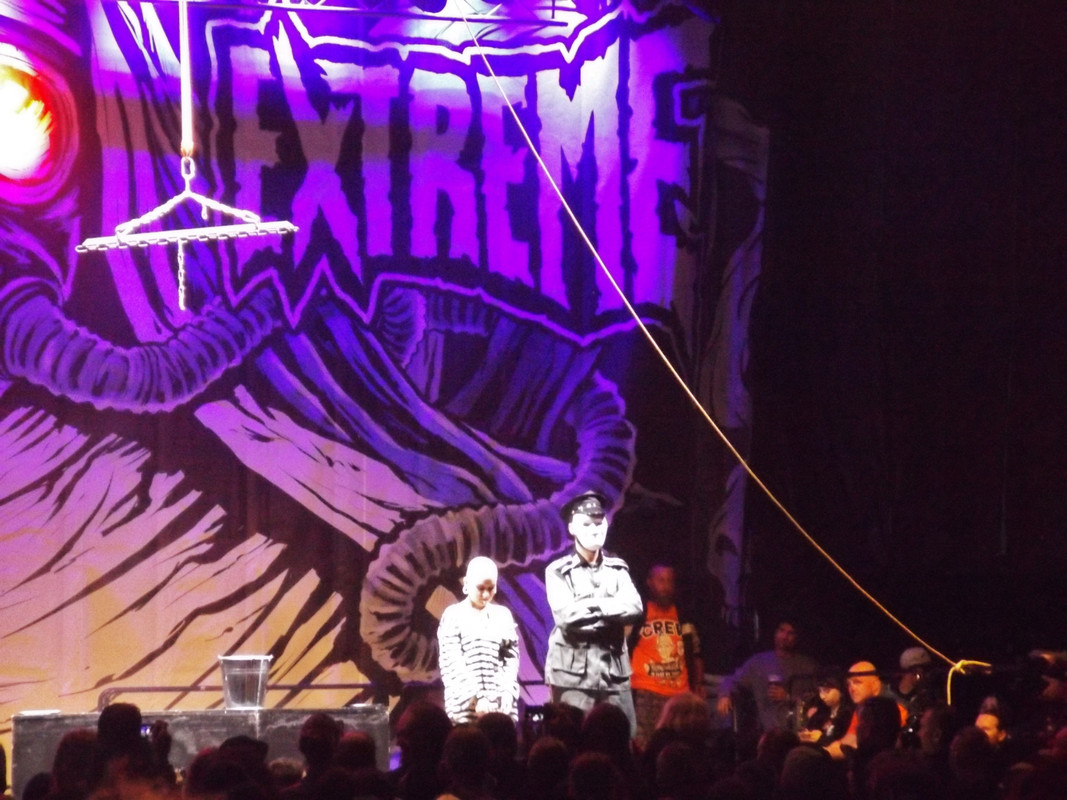 Staying off site this year meant slightly less inclination to do the full 10am – 3am band shifts available so we rolled in at a respectable 2 in the afternoon for the thrashtastic Lich King, from the States.  Hardly breaking the mould but they've got their chops and beats down to a tee through hard work and touring and create a great reaction.  South Africa next with the mouthful that is Vulvodynia and though I didn't expect much their brutal and guttural death metal was very effective, as was the filth of Gruesome Stuff Relish, that did exactly what it said on the unhealthily decayed tin.  A bit of a breather to cool off under the trees around the site was going to be a regular feature to us pacing ourselves now the heatwave had returned in force, but we are still close enough to hear and feel the onstage onslaught with good clarity.  Return to watch Axis of Despair, Swedish grind in the classic ferocious tradition and then the Mexican punks Acidez.  I had felt these might have been a bit clichéd like Total Chaos last year but far from it, it was an energetic and hard hitting set done with an enthusiastic smile on their faces.  You want definitive Death go to Gruesome, as their avowed intention is to celebrate the early work and sound of that seminal act, and they do it extremely well.  Though I preferred Massacre.  An excellent set topped with a cover of "pull the plug" that needless to say fits right in.  There ain't no party like a Toi Toi party and dragged back around the u-bend for yet another special occasion reunion we have gore grind Gutalax.  It's the same formula of bouncing beats and ultra-distorted everything but it's just what is required for it all to kick off in the stupidest avalanche of inflatables, stage diving, glitter, dancing, and mess.  Glorious.  And there's really no let up from the rest of the night session, as Exhumed remind what a perfectly formed and decomposed death act they are, sounding spot on, and added attraction of chainsaw and grinder wielding maniacs on stage.  Suffocation may have a revolving door of vocalists but they also have the songs and we get lots of their slam death classics strewn through a crushing set, their legendary breakdowns just level the place.  Finally, raging though the brief rain showers, Dayglo Abrtions, another name that had passed me by – more fool me!  Superb snotty hardcore from Canada, great melodies and an almost an early ST feel, alternating funny and serious and a fine ending to the tunes of the day.    Except the show must go on, putting the obscene in with the extreme with a freak show.  The first of the performers was the S & M Project show, and you have to remind yourself it is a show, and not just one of the most disturbing things you have seen.  Presumably the participants are willing, the theatre is stunning, they test the limits of your desensitised voyeur endurance.  All in the jolly context of Nazi's brutalizing a concentration camp victim.  I clap and shrug at the Parisian couple I'd shared the experience with and head out into the empty night that is not as dark as the soul.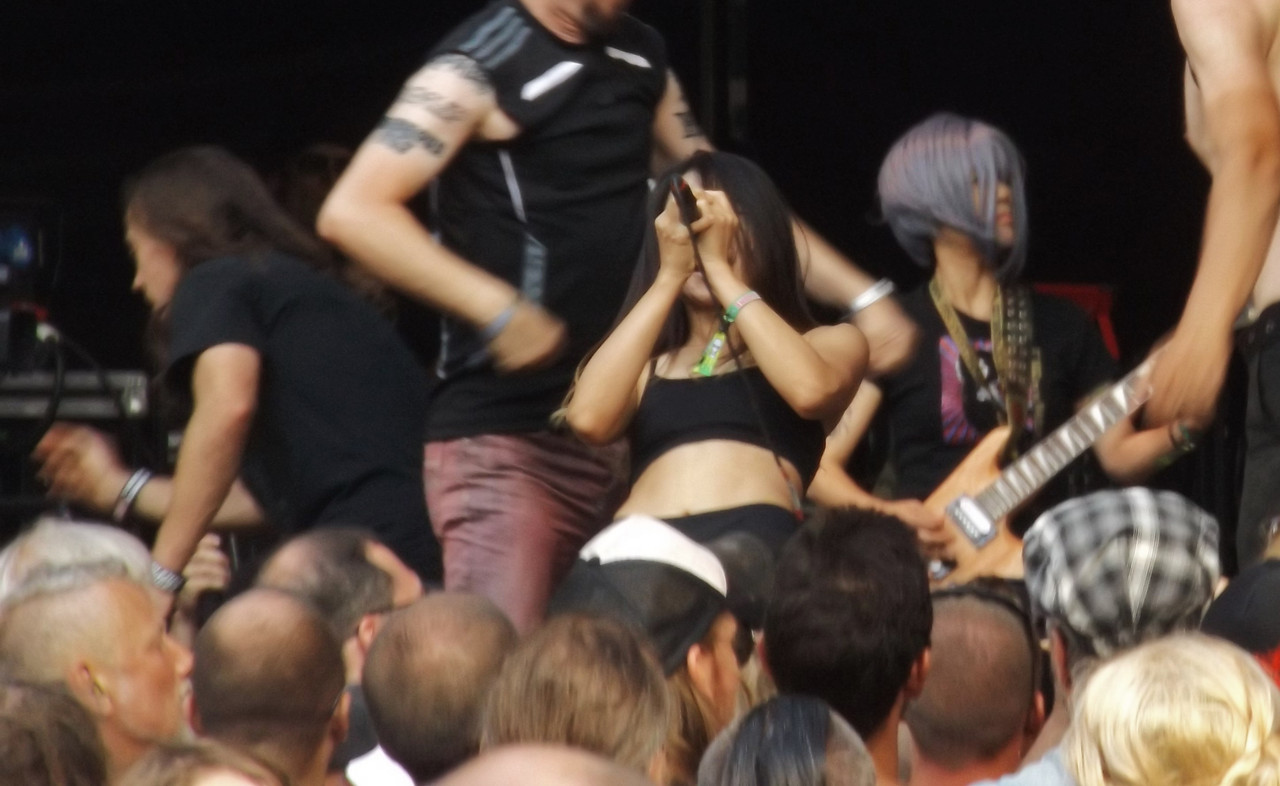 flagitious idiosyncrasy in the dilapidation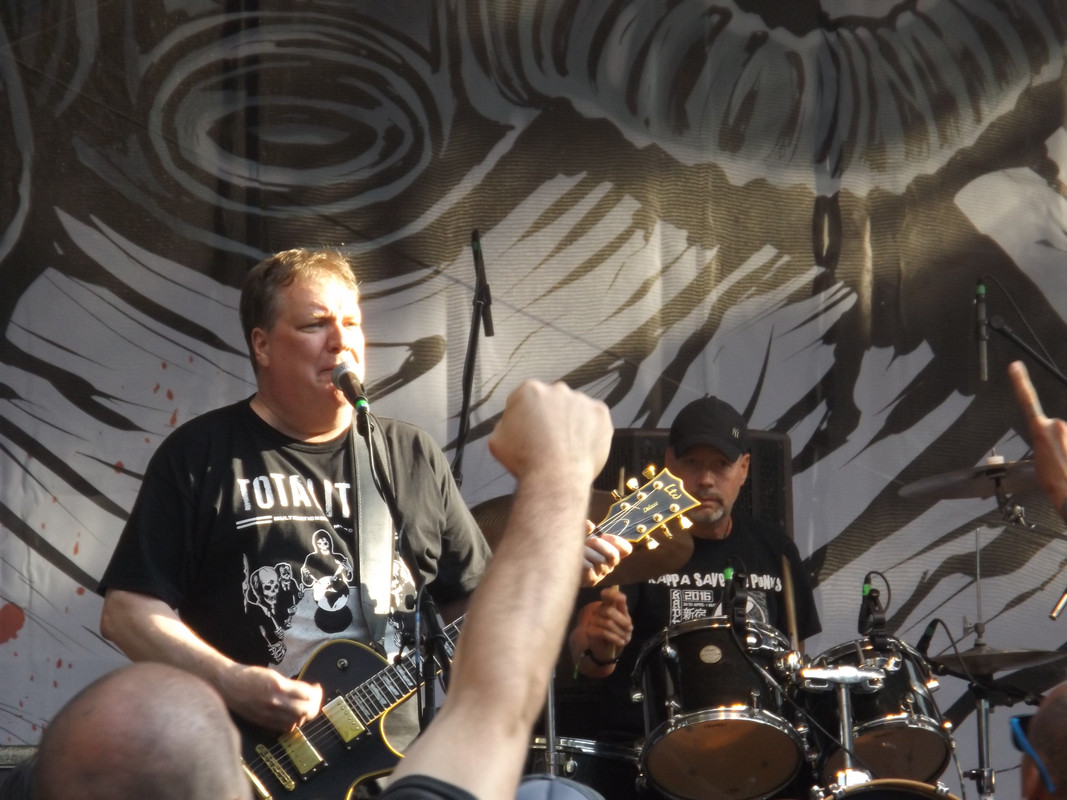 mob 47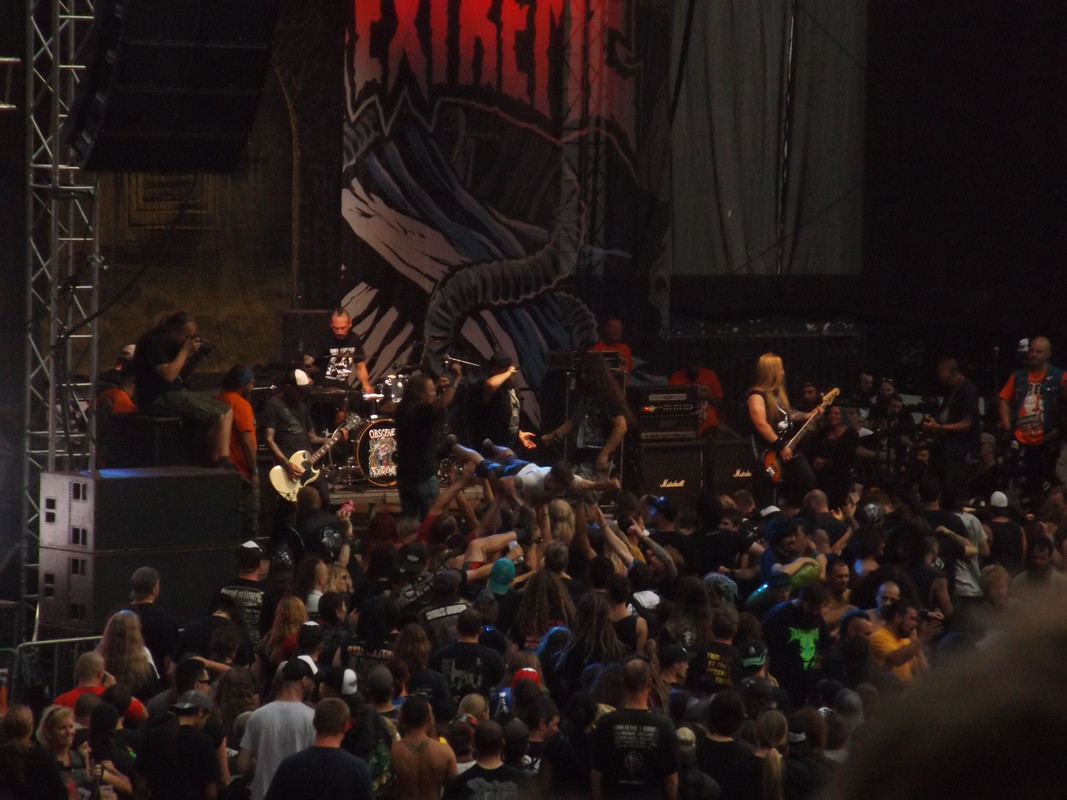 rotten sound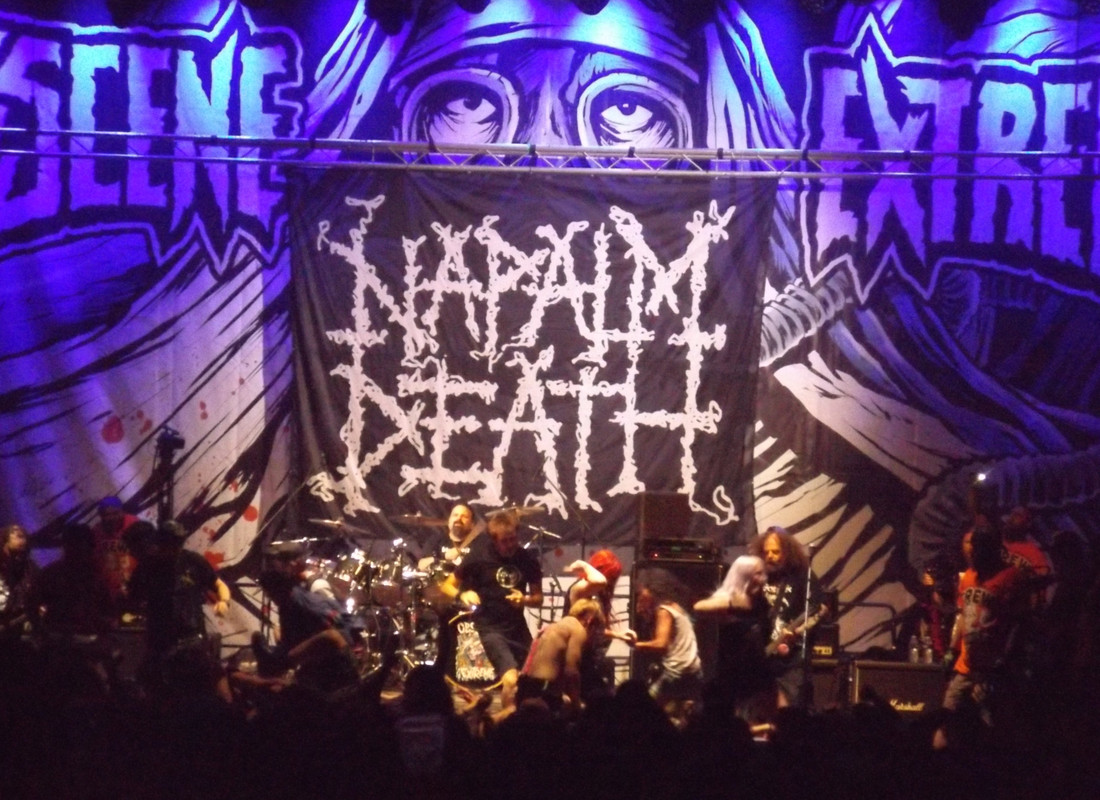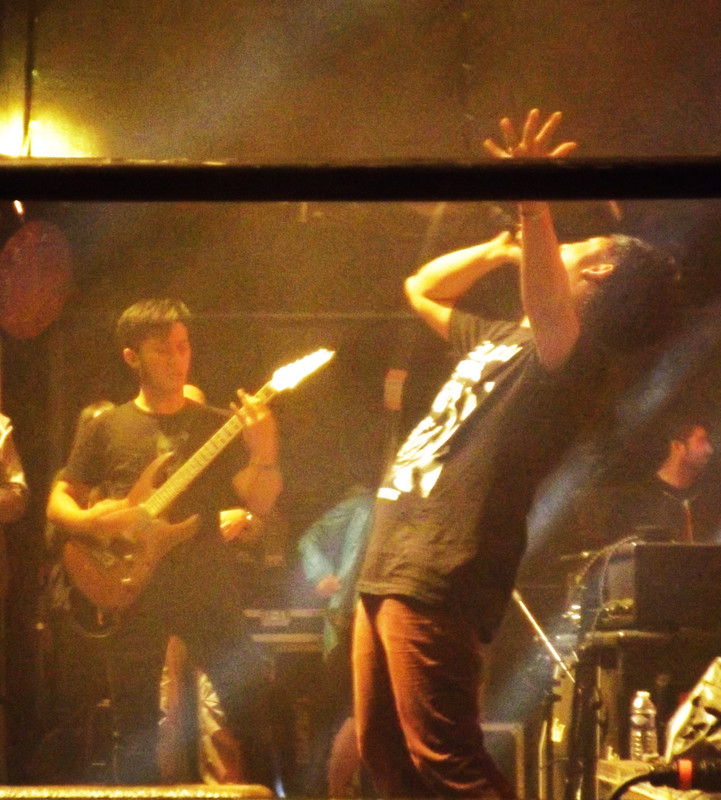 wormrot
Friday brings us back to "normality" and the perhaps easier digestible with an absolute relentless feast of bands, definitely looking like the pick of the days for me. Even make it in in the morning such is my enthusiasm.  France's Department of Correction were the early compulsion, having missed them on their previous UK tour, their ferocious and energetic grind just the thing to get the heartbeat raised.   A similar force delivered by the laid back Aussie grinders Meth Leppard, even though they are only a two piece.  Confident delivery and definitely popular here.  More deathly interludes before a spell on the benches to catch Nashgul, top Spanish grind with ultra-heavy almost industrial riffing at times, then Afgrund, more Swedish grind action with the definitive sound to savour.  Stay in that country for some hi speed d beat crust from Wolfhour, who I'd been particularly looking forward to after their great "Dead on Arrival" album.  Enjoyable stuff, with some great chorus hooks, fair play to them delivering after only arriving 10 minutes before showtime.  I also have a good chat with their drumming legend Charlie (ex of Anti Cimex) at the petrol station across the road, he reckons he's got just a few years left in him!  Flagitious bring some usual Japanese grind mentality to the equation, impressive blistering riffs and constant changes, with a powerhouse diminutive vocalist.  You can guess what Rectal Smegma are about, and having seen them here before I know they are good at it, sewer sludge heavy gore grind that gets the inflatables flying again.  Great to see them enjoying the experience on stage too.  Another old school legend to tick off next, with Mob 47 representing the original days of Swedish hardcore, it's fast and furious but with control over the melodies too.  In the blazing early evening sun they keep the operating temperatures well up.  Cranking up through the gears with first Italians Cripple Bastards and then Finns Rotten Sound hitting us with precision grind, raw yet focused blasts of energy and anger.  We have some comparative down time with first headliner Asphyx, doom death from the Netherlands, fronted by the ever amiable Martin van Druren.  A great selection of their songs, some killer death metal rollercoasters, some crushing steam roller anthems.  Cleans the palate for the inevitable maelstrom of madness that comes with Napalm Death, the celebration would not be complete without them given their seminal place within the whole extreme scene.  With a set that favours the old school and celebrates their own eclectic mix over the years it's a blur of battering riffs and Barney's belligerence.  I'd interviewed the vocalist earlier and he was emphasising the importance of these DIY independent festivals over the corporate ones sucking the life out of scenes.  I've never seen the Battleground so full as it was that night, a sure sign of the success of what has ultimately been created here.  We're treated to an encore of "Siege of Power" and feel suitably recharged.  And still we have Wormrot, the Singaporean three piece held in reverence in folks hearts not only for their top abrupt grind action but also because they genuinely created their own worldwide impact from their humble beginnings, a triumph of the underground.  They go for gold and provide a searing end to an amazing day.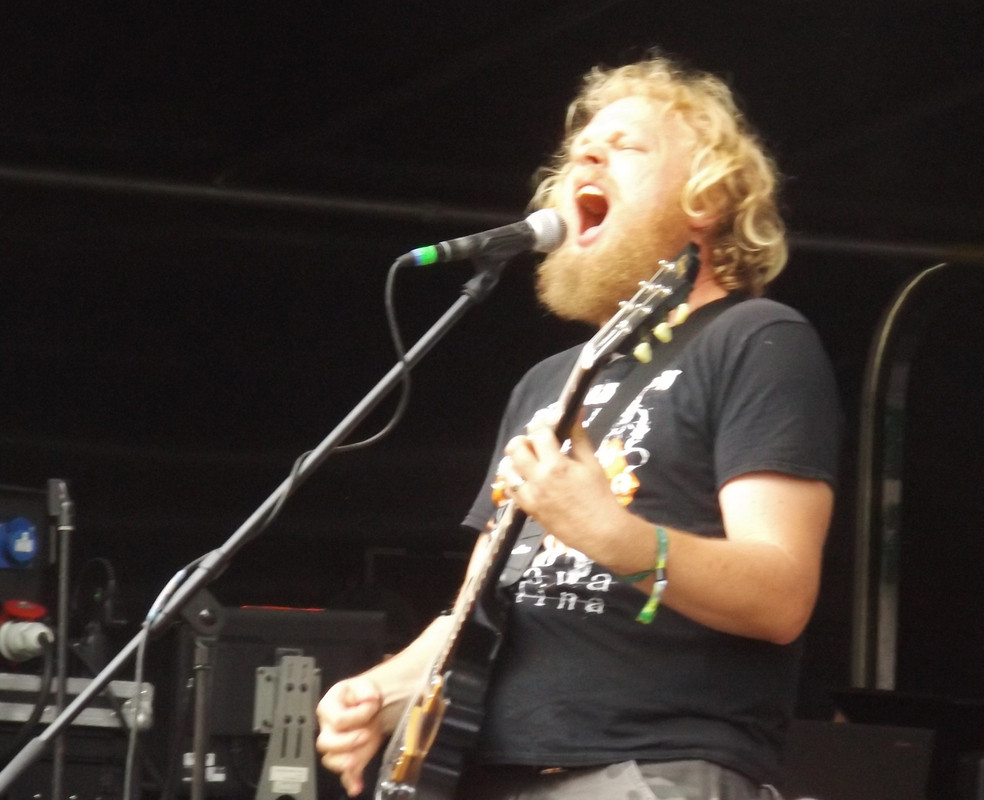 cad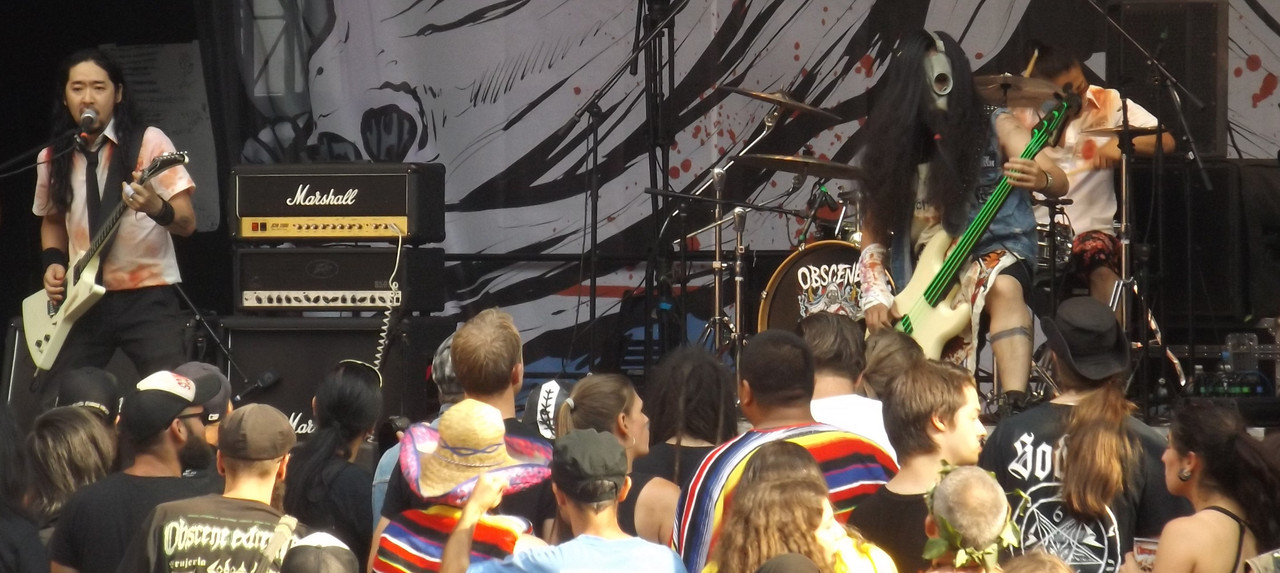 butcher ABC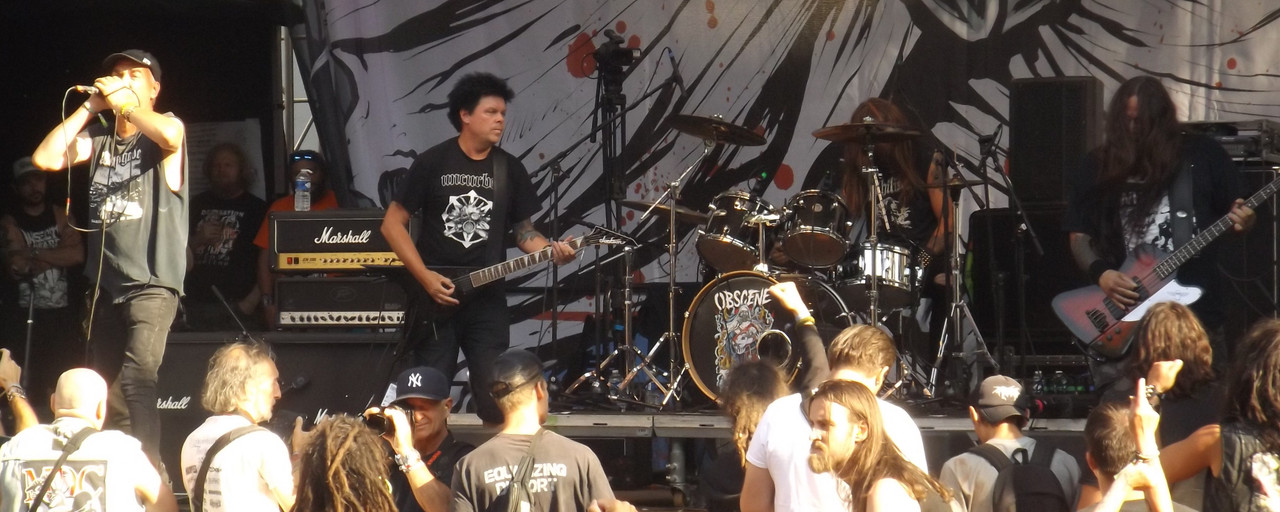 asocial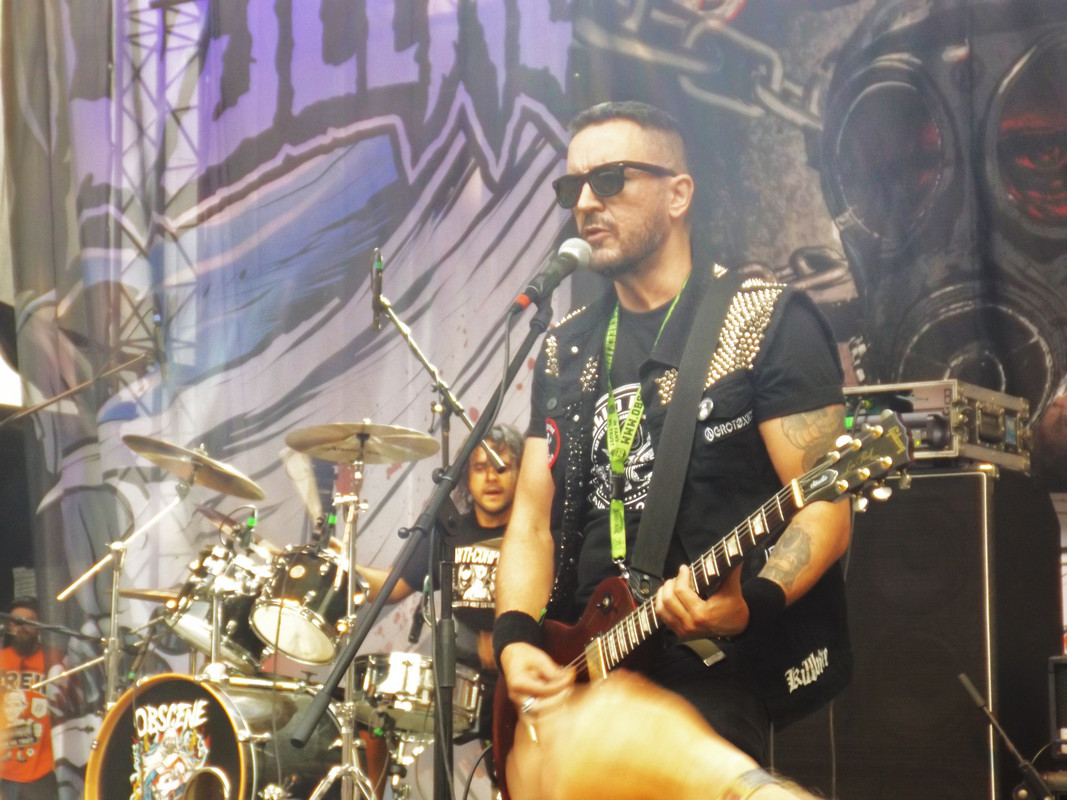 agrotoxico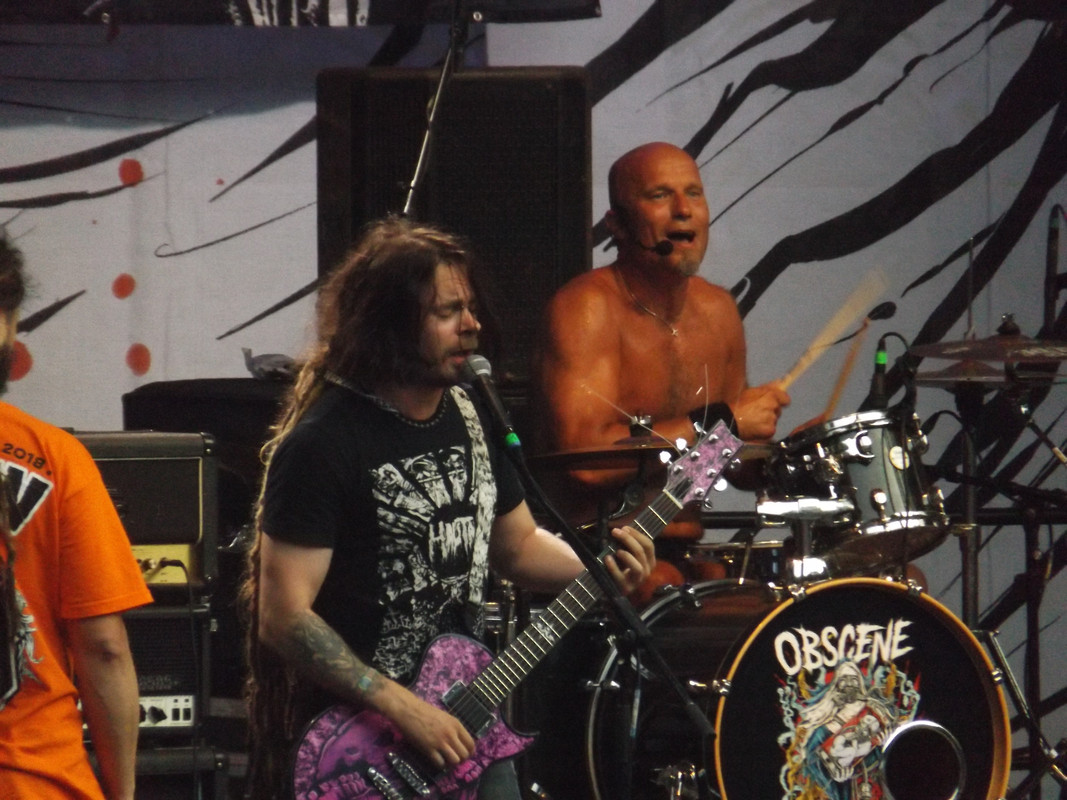 rattus
The end is in sight, and we shuffle in under the midday sun to the final shift.  A shady rest under the trees at Vegan Alley still gives us plenty of an earful of Thanatology and Brucexcampbell before we get a seat for te therapy of Self Deconstruction.  Phenomenal power violence frenzy from the Japanese ladies, quickly off to pick up their new split with compatriots Speed Noise Hell.  Cad from Slovakia I saw on my first trip here, impressed then and again now, more of a metal edged hardcore like Prong but whatever they talk or sing about in their native tongue is obviously appreciated by the locals.  I persuade them to go and get me their new album from the boot of their car.  Birdflesh from Sweden are renowned for their off-kilter tongue in cheek grind and masked up as they are they bring a fun vibe to the mix.  Butcher ABC were a top quality revelation to me, as the Japanese three-piece exuded a stripped down gore-grind heaviness that brought to mind Mortician, caveman riffs, guttural vocals and all.  More old school punk legends next with the Swedes Asocial, great proto-crust that remains timeless and gives me even more to catch up on.  Benighted from France are a truly battering tech-death grind attack, the stop start and relentless riffing leaves the head reeling in a good way.  Agrotoxico from Brazil I'd been looking forward to with the prospect of supporting them in the UK soon and they did not disappoint, charging and heavy hardcore with an undercurrent groove, and great interchanging vocals.  Rattus representing Finnish legendary punk are pack again, the three piece hitting us with a set that combines some melody with their raw intensity too, especially driven along by the drums.  Leads us to the main events of the evening, with Spain's Haemorrhage perhaps defining and summing up the sheer glory of the extreme excess of this festival, blood soaked vocalist Lugubrious holds prime place in the centre of the collage banner over the stage.  On-stage pretty quickly they are buried behind an invasion of divers and dancers, as their heavy and rhythmic gore-grind is the perfect tuneage for the messy party.  The more conventional death metal from the Swedes Grave, also on a red-bathed stage, is a dark, churning horror show that demonstrates the force they have.  Then we plunge back into the gore with Carcass-worshipping Swede's General Surgery, who soon share their blood with the front of the crowd too.  For the special occasion they welcome back the guest of their original vocalist and this two vocal attack really adds another dimension, just perfect.  The witching hours still have plenty of interest for me so I enjoy the Brazilian Doom-a-like Armagedom, the coldy thundering death of Dane's Undergang, and the all-female Finnish fierce hardcore of Kovaa Rasvaa while using my beer tokens up buying shots for Italians, and then head out into the night with the last band But as a background.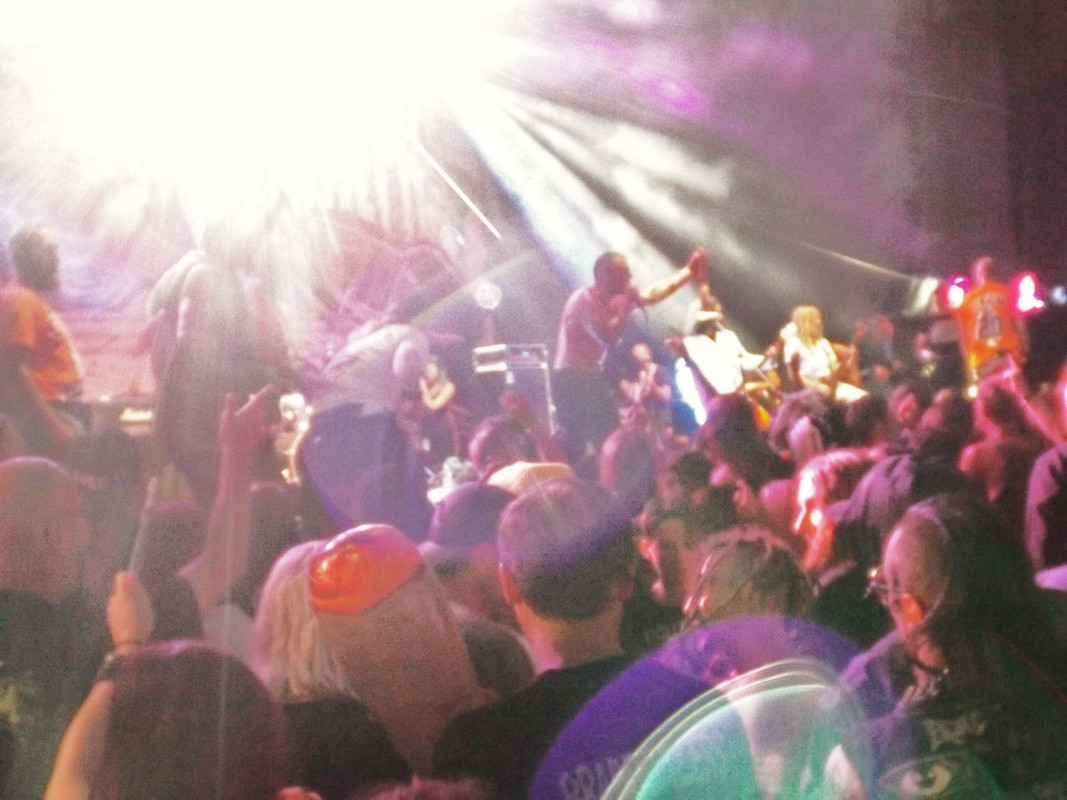 haemorrhage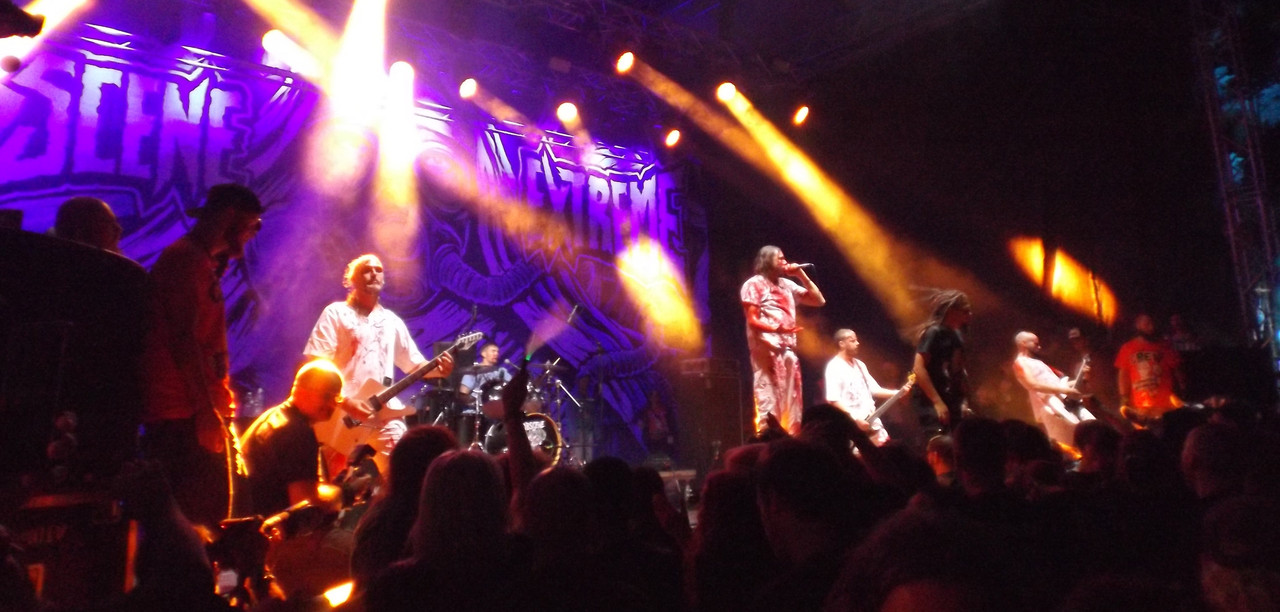 general surgery
It never fails to deliver, and especially in this anniversary year created a genuine celebratory feel.  The friends we'd gone with, the friends we knew there, the new friends made as well, despite being the biggest seen yet it just about retained that intimate atmosphere that makes it a family get together.  It has developed its own legend over these twenty years and rightly so, hails to Curby for his ongoing vision.