Sleive Khan – punk band of late 70s, feat; Julian Crowe (bass) (later Ad Lib, Dance the Girl). Supported The Shattered Dolls at a gig in Heswall in 1979 also attended by then mentor Mike McGear/McCartney.
Sliced Bread – band formed in 1982 by Davy Dover (bass) (ex Supercharge, Colonel Bagshot, now Space Cadets), Keith Mullholland (bass), Michael Railton (keys) (later Afos, Keep It Dark), Dave Lloyd (voc). Managed by Alan Comer
The Slops – Formed in the summer of '84 by Instant Agony's Hocky after he left Birkenhead and moved to London Very little known about the band, apart from the fact that Hocky had written a couple of songs: 'Sticks and Stones' and 'On the Slag Heap'. Plans were also afoot to record Sweet's 'Teenage Rampage'. Not clear if the band ever recorded a demo, or even gigged.
Slow Motion Stranger – More info req'd (website)
Slums – punk band, formed in school 1980. Feat; Mark Smallwood, Paul, Dave and Tommy. Described as a cross between UK Subs and PiL. More info req'd
Smiley – band formed 1996. Feat; Joel Morton (voc), Chris Kelly (gtr), Ben Gordon (gtr), Craig Williams (bass) and Bryan Johnson (drms). Showed huge promise as a young alternative band. Rel self financed mini-LP, toured UK + East Europe. Disbanded Sep00. Bryan and Ben went onto to join Pinhole. Craig Williams to The Mighty Saguaro.
Smaller – Formed in the early 90's by main songwriter Peter Deary AKA Digsy (voc,gtr) (ex Cook Da Books). Digsy drafted in his younger brother Stephen Deary (drms), Jason Riley (gtr,voc), and Paul Cavanagh (bass). After gigging regularly around the country they rel their 1st single 'God I Hate This Town/It's Closed' on indie label Better Recs (BetCD002). Sadly Smaller or more accurately Digsy was better known for being a mate of Noel Gallagher, who guest'd on their only LP. Apparently Noel named the track Digsy's Diner from 'Definitely Maybe' after the Smaller drummer. Better Recs put out a further 2 singles with the Sep96 rel 'Wasted/Aimless' reaching #72 in the UK chart. The follow up 'Is/All The Same To Me' fared better reaching #55 and was taster for the LP 'Badly Badly' in May97 (BET CD/LP 003). The LP presented the group's self depreciating lyrics detailing their times in the pop/rock hinterland. Sadly the lyrics were somewhat prosaic and sales failed to materialise, this was their final rel and Smaller split shortly after.
Small Mercies – Impressively proficient and tight guitar pop power trio, feat; Graham Silcock (gtr,voc), Mike Seal (bass), Nick Ward (drms). Formed Jan89 with Ian Bellchambers (bass) (joined band with guy called Bendy(?), then guitar tech for Rain). Brief spell with Nick Loebner (also Higgsfield, Dead Mens Suits, Uncle Oscar), Dave Dobson (bass) – Mike joined Oct89. Hundreds of L'pool gigs (hence the Boo Radleys joke 'What do you call more than 3 people in a room ? – A Small Mercies gig') and a couple of UK tours. Split late 91 on verge of rel debut EP (songs 'Kingdom Never Come', 'Middle Man' & 'Slow Down'). Graham & Mike went on to form Tin Gods, Nick did some live session work with 25th of May
Smega Tapes – cassette label of early 80s, ran from Trentham Ave, Liverpool, L18
Snake Bite – punk fanzine from Maghull of late 80s, edited by Donny. Was called Get Set Go for 1st issue.
Snapshots – early 80s band, feat; Ian Barry (bass) (ex Destroyers, 3D A Fish In Sea, later of Sneax). More info req'd
Snappertronics – (c2004) described as Liverpool's finest Dub Reggae group, a claim well deserved. Marty (ex Zeb) drives the bass, and also does so for The Hat Band. For all info and a selection of dub heavy tunes go to (website)
Snatchback – St Helens metal band (formed late 70s), feat; Dave Taylor (gtr) (ex Dying Breed). Often played at local metal club Geraldo. Had track on Rockzene comp tape (1983).
Sneax – early 80s band, feat; John Corner (ex Eleanor), Ian Barry (bass) (ex Destroyers, 3D A Fish In Sea, Snapshots), Roy Martin (drms). Managed by Clive Epstein (Brian's brother). Played Royal Court 18.04.81. The song Domino was to be their debut single but they split in 1981 when Roy left to join Motion Pictures. More info req'd.
Snow Company – label for L'pool-Hull band England Under Snow, run by Tim Joseph of Hull (1984-88)
Soapside Recs – label, rel 7″ by Blazing Saddles Free George Jackson / Brookside Theme (1985)
Social Confusion – punk band of early 80s with a Johnny Rotten soundalike vocalist. More info req'd
Social Disease – punk band (c1982). More info req'd
Social Rejects – punk band from Huyton (c1980) name also spelt ssocial rejectss, feat; Phil 'Pip' Everet (voc), John 'Evo' Everet (bass), Tony Ellison (gtr), Andy Barklem (gtr), Davo (drms). Played Roscoe Arms, Renshaw St. and Swinging Apple. There is a guy called Tomohawk who took loads of 16mm film footage, and a Canadian guy who took loads of stills. Fan of the band Andy Barklem says, 'They played gigs in Lawerence Road community hall where massive fight broke out. Also in some shite Social club in Birkenhead, we were part of the biggest punk gang in Liverpool, I was only 16 years of age at the time; Mavvis from the La's was one of many.' The music was fast furious and angry. The police came into stark criticism in their lyrics for their heavy hand and brutality. Jimmy Kelly had recently died whilst on remand in Huyton police station in 1980, after being arrested outside the Oak Tree pub. "Arrest me for something I didn't do, Arrest me oh yeah that's nothing new'. Pete Pennell joined the band later as drummer, he says, 'I got the job after me and Davo had a play off in a squat in Arundal Avenue (off Smithdown Rd).' Pete was drumming at the Roscoe and Apple gigs and 'places I was too pissed to remember.' They did record a demo tape (hopefully someone still has a copy) (see also Roscoe Arms)
Society Of Losers – record label run by Krystian Yeah Buddy and Craig Twigg
Soft Toy Emergency – band (c2009), feat; Jen (voc). Doing the festival circuit
Some Day Blue – band (1983-84) feat members of Jealous Heart. Prev called The Issue. Rel 7″ Dark Room (Raucous Nov83) & split soon after. Became a 3-pc called The Web.
Some Detergents – Wirral band, rel 3-track 7″ 'Modern Problems' (cat- WIPE1) (Jun82) with red and yellow popart sleeve of a washing machine on the front. More info req'd
Something French – band (1983-84), feat; Brian Jones (bass), Tim Lees (voc,keys) (both ex Select Committee), Elektra (voc). Rec demo at Pink Studios. More info req'd
Some Party – formed 1985 with 3 members of Dorian Gray, Ray Greenall (bass), Brian Cornthwaite (voc) and Steve Reddy (keys) they found drummer Mark Roberts (drms) (ex Skyscrapers, later Tambourines) andPhil Hughes (gtr) (ex Bushfinder, later US Companion)  Had lots of record company interest, most notably from Clive Black of EMI who paid for them to record a 24 track demo at Amazon studios, something which was practically unheard of back then. Had a major management company interested too but unfortunately, as is all too common in the music business, the longed for 'big break' failed to materialise and the band split in 1989.
Sonic Death Attack – Toxteth band (1988), never got past rehearsal stage, feat' Pete Fuck (drms), Duncan Dregs (of Dregs zine). Rehearsed in the Bone Cellar (as earlier used by Frankie Goes To Hollywood and later by The La's)
Sonic Lodge – band, feat; John Paul (later of The Dry Retch) More info req'd
Sonic Rednecks – band, feat; Aussie John and Dave Whyte (both later of The Dry Retch)
Sonic Spectrum – electro outfit from Bright Newton, Wirral (c2009), feat; Hal Nein-Townsend, Dave Baumann and Frank Pool. (website)
Sonny & A Million – band (formed early 84) feat; Simon Bennet (voc,gtr) (ex Hoi Polloi, later Grown Up Strange), James Roberts (ex Hoi Polloi), Kee Wright, Paul Smith. Split same year.
SOS – recording studio, now called Crash
Sossy Possanger Recs – label run by St Helens band, Old Ma Cuxsom, rel 7″ Don't Scare Me (Jun86)
Soundhouse – recording studio
South Parade – band (formed 1983), orig called Rich Get Richer, feat; Ian Copestake (voc,gtr) (later Lilac Trumpets), Ian Wadkins (bass), John Hamlin (keys), Delia Winstanley (sax), Phil Culshaw (drms), Andy Maher (gtr), Band split then reformed in London 1991, feat; Andy Maher, Terry Jones (bass) (ex Blue Forest, Third Man), Ian, & Justin Welch (drms) (later of Elastica). Terry says: 'After some spectacular shows in London (an infamous one at the Falcon, when we were all so messed up after an all day drinking session that we thought we were The Who), Justin left to join Spitfire and me and Ian decided to call it a day in Oct 91.'
Bobby Sox – see Section B1
Space – band feat; Andy Parle (drms) (ex Western Diplomats), Yorkie (bass) (ex Dance Party, Egypt For Now, Balcony) who prod their 1st single Money, then later joined the band.
Space Cadets – Wirral based rock group that have been very active for a number of years, playing all the local venues. Feat; Gary Brown (voc) (also Led Zed), Paul Ryan (drms) (also of The Showbizkids), Davy Dover (bass), (ex Supercharge, Colonel Bagshot, Sliced Bread, Herbie Pops Out), Mick Devonport (gtr) (ex Nutz, Rage) (website)
Special Brew – band (formed 1981) feat; Mark McGann (later Mojo filter, McGann Brothers), Eithne Hannigan (an actor at Everyman Theatre). More info req'd
Speckled Penguin Kraze – band from The Wirral, self released C-60 cassette 'Leaving The Tape Machine On For Too Long' . More info req'd.
Speedmonkey – ska-punk band (2003) feat; James 'Hammy' Hammond (gtr,voc), Claire Delahunty (drms), James Webb (bass), Tom dring (sax,voc), Vicky Weare (trmpt), Char Weare (trmpt). Split 2005.
Speed Promotions – cassette label of early 80s, ran from Bently Road, L'pool
Spiffy – band (1979-81), feat; Jim Brown (bass), Mick Kelly (gtr) (both later in Shortlist). More info req'd
Spirits – band, (late 90s), feat; Ronni O'Keefe (bass), Nicky Williams (voc) (both ex Singing Ringing Trees), Matt Riley (gtr), Mark Roberts (drms), Dave Jackson (keys) Manager Bud Prager (ex Foreigner) signed to Rocket/Island, rel an LP. Ronni now producer of others and owns own recording studio in L'pool. A video was also made for their debut single 'Drive' whilst in California.
Spitfire Boys – punk band formed 14.5.77 six weeks after meeting The Heartbreakers and finding they needed a support band for an upcoming gig. Feat; Paul Rutherford aka Maggot (voc) (later Opium Eaters, Frankie Goes To Hollywood), Dave Littler aka Jones (gtr) (later Photons), Peter Griffiths aka Zero (bass) (later of Nova Mob), Budgie (Peter Clarke aka Blister) (drms) (later Nova Mob, Big in Japan, Opium Eaters, Secrets, Planets, Slits, Siouxsie & The Banshees, Creatures). Their first gig was supporting the Heartbreakers at Parr Hall, Warrington. Orig called The Blackmailers; their new name came courtesy of Wayne County – David Littler spoke to him at Eric's and mentioned the Heartbreakers gig and asked Wayne for a suitable name! Very popular in L'pool & claimed to be the 1st punk band from the city (well, St Helens). Also played the punk clubs in London. Orig singer Mike Rigby was sacked after 2 or 3 gigs, Pete Wylie joined in Dec77 for a few rehearsals. Split 22.12.77. Dave rec Funtime in Wales in 1979 & RKO Recs rel it encouraging him to use the Spitfire Boys name.
Spit ya Pippins – band feat; Peter Alcock (drms) (later Caroline 199). More info req'd
Spiv Recs – label ran from 24, Devonshire Road, L'Pool, L8 in late 70s by Chris Bray. Rel single by Accelerators (Dec79), Surface Tension (Mar83), Adams Family (Nov87).
Splinter – band of late 60s/early 70s feat; Kenny Farrell (gtr,voc); Peter Cribley (voc), Billy Good (bass) John Vasco (gtr) (ex Pure Instinct, Dinsdale) and Steve Dittmer (drms). Not to be confused with the George Harrison-sponsored 'Splinter' of later years. Played the Top Rank Suite, L'pool (Apr72).
Split Gut – Birkenhead band c1980, feat; Nigel Blackwell (later of North of Watford, Half Man Half Biscuit). More info req'd.
The Sponge – band of late 60's feat; Lawrence Arends (drms), changed name in 1970 to Pacific Drift
Ricky Spontane – band feat; David Wright (also of Spotaneous Cattle Combustion, later of Rickets, Rejects Revenge theatre co). More info req'd.
Spontaneous Cattle Combustion – band feat; David Wright (ex Ricky Spontane, later of Rickets, Rejects Revenge theatre co). More info req'd.
Spudgun – band feat; Wils (drms) (later of The Dry Retch). More info req'd
The Spurts – Ulverston punk band (1978-79), feat; Chris Hutchinson (voc,gtr), Mike Gaunt (drms), both later of Grown Up Strange. Band changed name to The Hormones. More info req'd
Squat Down – band formed in 1984 by Neil Buckley (ex Ho Ho Bacteria, Bneco), Paul Dutton (voc, gtr) and John O Halleron (bass) (ex Bneco). Rec single 'Real Desire' at Pete Wylie's studio.
The Stairs –
Stamp Sisters – band feat; Paul Capper (gtr,voc) (now Amazing Kappa Band, ex Pete Wylie, Cat Scratch Fever, Candy Store Rock, Stamp Sisters and The Blimey Brothers)
Stands, The – Part of the current crop of hip L'pool bands, getting bracketed with The Coral, The Bandits etc The Stands have managed to raise their profile by being championed by Noel Gallagher, who describes them in reverential tones. Based around singer/songwriter Howie Payne (ex Magic Clock), and formed mid 2001. Played 1st gig at the now legendary Bandwagon Club Xmas01. The group on that night was a bit of a hotch potch of talent from other bands. Howie was joined on stage by his younger brother (and member of The Zutons) Sean (drms), Martin Campbell (bass), and Robbie (from the Hokum Clones) (gtr). During 2002 the group developed into its present line-up, Howie still steering the ship, with Luke Thompson (gtr), Dean Ravera (bass) and Steve Pilgrim (drms). With the rise in popularity of The Coral etc this brought some overdue attention to the L'pool scene which resulted in The Stands securing gigs up and down the country. During this period Howie was busy recording tracks for a future LP release, even though they didn't have a record deal at this time. Noel Gallagher saw them at The Bandwagon a few times and offered them time in his own studio. No doubt the attentions of Noel encouraged record companies to take interest, which resulted in a deal with Echo Recs. 1st single 'When This River Rolls Over You' (Aug03). This followed with 'I Need You' (Oct03) both rel being written and prod by Payne. This rel was backed with a full national tour. During Nov03 in conjunction with the NME they rel a free CD 'Two Track Sampler' feat 'Outside Your Door/The Love You Give'
State of Maine – band early 90s, feat; Jenny Hughes (voc,keys) (ex Crack The Ice, Vanilla Beserk, Whitehouse Puppies, Roadside Prophets) who says, 'the band was fronted by the stunning looking Tanya Dransfield – we had a big lesbian following throughout Liverpool in the early nineties- although I am not gay – I was the mascot – the token straight woman!! Could be a bit intimidating at times I can tell you. We wore outrageous leather outfits, chaps and thigh boots – I played keys, rhythm and sang out front with Tanya – kind of double front.'
State Terror – hardcore punk band (2003) feat; Mikey (gtr), Mel (voc), Day (drms) (also of Blue Demon), Adam (bass) (later of Broadside). Orig drummer Martin went to see Placebo live & was sacked! Band became After The Massacre (website)
Status Quid – B'head Quo tribute band feat; Diamond Dave (drms) (ex Engine, now Jalapenos), Charlie D (now Jalapenos) and sometimes Bob Young (of Status Quo)
Steal – alt-rock band (1993-95), feat; Maxine Dunn (voc) (ex Mahalia, later CS Drift), Chris Robinson (bass), John Robinson (gtr), Paul Piper (drms). Got took under the wing of Ronni O'Keefe, who produced all their demos. Played live a lot around L'pool, but nothing else emerged. Split up in 1995.
Stealer – Formed in Halewood in the early 70s by Mike Royden (gtr) (later The Warp Band, Dave Easter Band, Flex, Piranha Brothers, Dilly Boys, Bethan, Glory Box),  Dave Evans (voc) (later Rumours of Fleetwood Mac), Alan 'Cozzy' Cosgrove (drms) (later The Merseybeats, Rumours of Fleetwood Mac),  Tony Doyle (bass) (later Accelerators, Lawnmower, Adams Family, Flex, Piranha Brothers, Cat Scratch Fever, Perfectly Frank)
Stealth Sonic Orchestra – another name for Apollo 4:40
Steppin' Razor – band, formed Jan87, feat; John McGlone (voc) (also Ministry of Love II, Western Promise), Mark Parry (gtr) (ex Thunderboots, Ellery Bop, Western Promise, Ministry of Love II), Paul Parry (bass) (ex Thunderboots), John Leggett (drms) (later Lucy Show). By Sep87 all members expect McGlone had been replaced; Rob Boardman (gtr) (ex Clique), Nick Lavro (drms) (ex Clique), Tony Prescott (keys,voc) (ex Cook Da Books), Jay Caldwell (bass) (ex Western Promise, Ministry of Love). Rel 7″ Latin Tears (Rough Trade Sep87).
Sticky Fingers – rock band (formed 1999) in mould of AC/DC, Stones etc. Feat; Jim Cave (voc,gtr), Mike Devlin (bass), Col (drms). Play many gigs around L'pool, Wirral and N.Wales
Stiff Pig – band, 1979-82, feat; Peter Bowe (voc), Graham Pritchard (gtr), Paul Freeman (bass), Martin O'Hara (drms). Formed out the ashes of a Liverpool Punk Band, they were at the front of the Northern NWOBHM.  Played gigs in Liverpool, Stockport, Leeds, St Helens, Skelmersdale, Rochdale Manchester, Chester, Ellesmere Port, New Brighton with a regular spot at the Bierkeller and the Biker hang out The Empress Club New Brighton. Rec 4 songs at Pink Studios (owned by Hambi and the Dance) Ullet Road L'pool.. Rat Race (track 1) of the demo was rel on Sane 002, 1984 "It's Unheard of" under the new band name of Kraken.
Stig of The Dump – band feat; Jake Florek (gtr,voc,samples) (son of Jaki Florek), Ged Fox (trmpt) (also of Zen Baseballbat), and Si Hills (bass), aged 17, in a dirty squat in Runcorn. They re-located to Si's hometown of Reading and created havoc… then moved to London where they were joined by Jake's brother Joe (gtr,perc) who had returned from living in Japan; things got seriously experimental musically, they shortened the name to just STIG, and DJ Stig (Tony Toy) joined on decks (he DJs regularly at Inner City Sumo nights at The Masque). Half the band is in London, the other half is in L'pool, and they play all over the UK and Europe. EP rel on Loose (Aug03) 'The Pissed As Art EP' described as 'absolutely stunningly fantastically fuckin mental'. Joined in 2005 by Bill Leach (ex Adam's Family) on lapsteel and fancy posh bits of guitarwork. LP 'Rum N Brass' rec for Loose, now to be rel on bigger label www.stignoise.com
Stiletto Heels – see Stormtroopers
Stopouts – Wirral punk band (May78-Jun79), feat; Steve Grace (voc,gtr) (ex Nasty Pop, later Return of The Toreador), Sue James (bass,voc) (later Dead Or Alive, Upsets) and John Jones (drms) (later Upsets). Had the honour of being the 1st single rel on Skeleton Recs 'Strange Thoughts/Just For You And Me' SKL-001 a pic sleeve single in Dec78. As with all artists on Skeleton they also appeared on the label comp 'A Trip To The Dentist' SKLLP-1 with 'Just For You And Me'
Stormbringer – Wirral heavy rock band (c1984), feat; Craig McDonald (voc,gtr) (ex Sinner, later Glassback Switch, Havana Clue), Kevin Dixon (gtr), Alan Jones (bass), ? (drms). Played usual venues in the area.
Stormfield Recs – Innocents Abroad's own label, rel their LP 'Quaker City' (STORM 1, Apr86)
Stormtroopers – punk band formed Feb77 after listening to the Ramones 1st LP, feat; Mark Alman (voc), John "Bandage" England (bass), Mike Howarth (gtr), Johnny Mac (drms). Played Eric's once and had to rename for the gig as Stiletto Heels as Roger Eagle thought the name was too fascist. The name Stormtroopers was actually a mishearing of "Shocktroopers" on the Ramones LP. Played a number of local gigs around L'pool, Widnes and Warrington and a gig at The Roxy in London. Split Dec77 when Mike had left to go to Uni and following a series of guitarists boredom set in. Their hand painted band van was the talk of L'pool. "Have you seen The Stormtroopers" splashed over the sides of an ex bread van.
Strange Band – band (c1977), feat; Geoff Kelly (bass) and Ronnie Stone (gtr), who both joined Next. Stone used to be known as Ronnie Wharton then. More info req'd.
Strangeland – punk band, formed Sep01, feat; Neil (drms), Bibby (bass) (both ex Ringworm), Ian Cropper (gtr). Jamie Mottram (bass) joins Aug02 & Bibby moves onto gtr. Split up Aug04, renamed themselves the Nymphs, failed, then reformed as Strangeland again Oct04
Streetband – band feat; Ian Templeton (drms) (later La's)
Streetpunk Drunks – band  (formed Jul07), feat; Seanie (voc) (ex Proppa Unkonshuz, Kripppalz Wiv Kancer), Dave (drms), Karl (bass), Billy (gtr). Prev line up was Mark (drms), Libby (bass), Richie (gtr). (website)
Stress Recs – label of early 80s, ran by John Hawkins, of Esher Road, L'Pool, L6
Strife – heavy rock band (1969-78), feat; Jon Reid (voc,gtr), Gordon Rowley (bass) (later Nightwing), Paul H.Ellison (drms) who was replaced by David Williams (1977). Rel 2 LPs 'Back To Thunder' and 'Rush', and although having a large following never broke through. Band was formed by Ellison and pre-1974 line up incl; Peter Trotman (gtr), Peter Hobbs (bass), Graham Kin (keys), Paddy Breen (voc).
Strikeout – Southport punk band (2003), feat; Darren (gtr,voc), Vicky (gtr), Pete (bass), Mat (drms).
Stun The Guards – formed late 78 by Paul Robinson (gtr), Mike Smart (keys) and Steve Hurley (bass) joined after many occasional drummers by Norman (Yam) Rowlands. Trimmed down to a trio in Apr81 when Mike Smart had parted company the band brought out 'The Stun The Guards cassette album' (Grooved Recs GRSC 1001). The many line up changes link the band to many other bands in an almost incestious way, the only constant being Paul and Steve. At the last count they think it was 16 line ups linking Stun The Guards to bands like Dramatis Personae, Afraid of Mice, Visual Aids, Jass Babies, Zale Out, Glass Topedoes, The Sex Gods, the list goes on… Personnel inc, Julie Coleclough (keys) (1979-83) (later Sensible Shoes), Steve Corrigan (drms) (c1980) (later Robbers Dog), Karla Ambrosius (voc) (left Feb82), Carl Broster (perc) (left Jul82), Steve Degrunck (drms) (later Twisted Nervez). Hurley, Robinson and Coleclough backed Phil Battle in 1982 as Phil Battle & The Sensible Shoes
Sudden Impact – band (Jan85-Apr89), feat; Peter Jeffrey (keys), Paul Ainscough (drms) (later Second Vision), Sean Danher (voc), David Griffiths (bass), Mark Lewis (gtr). App on TV's New Faces show (1.10.88). Carl Bowry and Anita Solomons (b.voc) have sessioned with the band. Rel single Maybe (May88). Paul has since worked with Sonique, Ultra Nate, Happy Clappers and Belinda Carlisle.
Suicide Stars – (1986) punk band, feat; Andy Carr (voc), Gof (gtr) (ex Shattered Dolls), Tudor (gtr) (ex Public Disgrace, Das Reiner, Dementia), Mike Poole (bass) (left Dec86), Stuart Gray (drms).
Sunday Jones – project (c2010), feat; Dean Billingsley (youtube)
Sunprobe – band (formed 1992), feat; Ste Elms (gtr,voc), Ray Jones (bass), Jamie Craine (drms) (ex Stein), Ste and Ray both ex-Bloody Picnic and Fevertree. Ray and Jamie both later joined Unwinding Hours, with Ray subsequently recording as MWV and Jamie joining The Ravens. Fused post-punk and Thirteenth Floor Elevators, following a decent review by Penny Kiley the band played both the Liverpool and London circuits along with a support slot with The God Machine. As well as cassette albums, the band recorded a track under the name Coloursound for the Kool Tone compilation 'Mersey Killers' with vocalist Jane Dicken. Went on hiatus after gig at Liverpool University in 1993, but reunited in 2009 to record a further track, 'Cartesian Jetstream' for Kool Tone, this time on compilation 'Extracts from the Ether'. The band have never actually called it a day, and continue to jam sporadically (website)
Supercharge – early 70s band feat; Albie Donnelly (sax), Andy Parker (sax), Tony Windas (gtr), Dave Dover (blues harp) (all later of Herbie Pops Out), Alan Peters (voc) (ex Almost Blues, later Lawnmower, Opposition, 29th & Dearborn, Love Ponies). Formed by Albie Donnelly (sax) & Dave Irving (drms). See full biog
Superdude – band of late 90s feat; Karl Bader-Bailey (bass) (ex Jules Verne, Playhouse, Bulah Wig, Lumiesence, Acacia Gum). Never got past rehearsal stage. Karl also ran Kooltone label and edited King Prawn zine.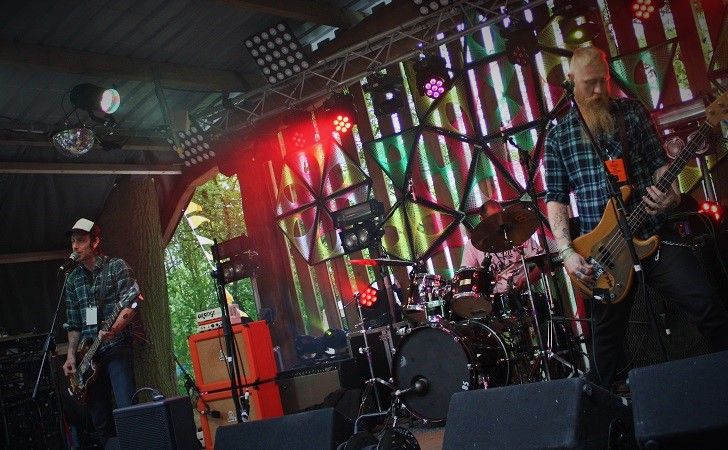 Super Fast Girlie Show – punk band feat; Pasha Coxhill (bass,voc), Phil Hartley (bass,voc) and Alan Gonzo Jones(drms). Rel a 7″ vinyl album 'All Hooves And Cucumber' (2012), LP 'Don't Go Down Gentle' (07.08.15 – both on Antipop). (album review)
Supergiant – band that formed out of The Marbles (c1998) & eventually became Mojave Collective. Feat; Mark Pountney (voc,gtr), Tommy Clarke (gtr), Nat Veyrat (bass), Carl Phillips (drms). (website)
Surge – Huyton punk band (formed 1998), feat; Aaron Boland (bass,voc), Danny Glen (gtr), Joe o'Hare (drms). Also prev feat Mark Hughes (gtr), James Mann (gtr) who have since left or been sacked. Split Sep04
Surreal Estate – band (1984-87) feat; Bobby Carr (gtr) (ex Those Naughty Lumps, Tontrix, Moderates), John Potter (voc,gtr), Rob Eagle (gtr), Anthony Wilding (bass), Peter Higgins (keys), Alan McLaughlin (drms). Debut 12″ Midas Touch (Probe Jun85) feat; Bobby & John with sessionists Marjie Mayers (voc), Will Sergeant (gtr) & Les Pattinson (drms) (both of Bunnymen). Then full line up rel Curtain Call (Letharge 1986).
Surreal Madrid – outfit, formed 1997, feat; Mr Owens, Ginger Prince (Mark Davies) (drms), Lucky Strike (Dave White) (DJ), have also feat along the way Morph – Marc Jones – Aarron – Ian Sillet – Sam Rankin – Jo Steele – Jason Jones – Craig Pickles – Zeke Stenelli – Ben Owens & John Havelock Noore. Rel single Girls of The Nite (1999) which was playlisted on Radio One & the band played the big events of the summer. Toured after rel Freaky People single. Rel We're Going To Vegas, Baby (Oct00) followed by the LP 'No More Boom Boom.' Rel Maybe on Bolshoi Recs (Nov01).
Surreptitious Stanley – punk band (pre-1992) feat members who went onto form Crocodile God
Suspect Device – 3-pc punk band of early 80s, infl by SLF. More info req'd
Suspect Greenhouse – band (from Sefton?) 1982, feat; Alan Topping (voc,keys), Steve Swinnerton (gtr,voc) (ex Frets, Harmonics, Fourmers, Forgotten Image, Between The Lines), Ian Smith (bass) (ex Atomic Warlords, Anon, Wargame, Skydog, Forgotten Image, later Between The Lines), Mick Clarke (drms) (ex Frets etc, later Western Promise, Second To None, Shell Collectors, Jenny Lind, Fallen People).
Swampstompers – St Helens rock-blues band (formed early80s). More info req'd
Swan Recs – label run by Francis Craddock (of Orchard), rel the bands 7″ A Secret (CYGNET001, Apr85)
Swim Naked – band (1984), feat; Neil Carr (voc,gtr,keys) (later of Jenny Lind), Andy Ford (bass) (later Decemberists, Hellfire Sermons), Adam Marshall (drms) (Where's The Beach, Elliptical Trampolines, Oooze), Mick Armitadge (gtr), Clare Millington (voc), Chent Goss (keys). Played gigs at Left Bank, Mathew Street, Liverpool.
Swinging Apple – club that ran 77/78 and was thought to be for those not cool enough for Eric's. it was the top floor of a place in Seel St, of the 3 levels, the bottom two were gay bars/clubs (Samantha's Club and the Bar Royal), it did eventually turn into the biker club "Nightriders". In summer of 1977 when bands played, between sets they would go to cool off on the back stairs, some of the staff and regulars from the 2 bars below soon found those, young sweaty boys, they would furnish them with drinks, obviously hoping to score! Club got a mention in Julian Cope's 'Head On' book. Margi Clarke's brother, Frank Clarke (Letter to Brezhnev etc) was orig manager. The DJ was Peter Thomas (Beyond The Implode backing vocalist). Eddie Smith says; 'I remember bringing along a bag of punk/new wave records on the opening night because while Peter had some good punk stuff, he didn't have enough to spread over the whole night. Unfortunately, because the new fangled pogo dancing caused the floor to bounce, a weight had to be put on the record deck playing arm to stop the needle from jumping. This, in turn, scarred some top-level vinyl with horrible scratches.The Liverpool punk in-crowd were all there. I remember Pete Burns laying on the floor the whole night, probably getting off on the pogo vibrations'. On New Years Eve, a Manchester band called Warsaw played their last gig under that name at the venue before changing it to Joy Division. The Apple's days were numbered when it became a bit of a battleground for punk versus teddy boy warfare and tended to be a place were the average fun-seeker avoided. An image-change as the Fat Club (complete with murals of hamburgers, chips, ice cream etc on the walls) didn't really take off and the place was closed.
The Switch – Wirral rock band (1988-92), feat; Craig McDonald (voc,gtr) (ex Sinner, Stormbringer, later Glassback, Havana Clue), Dave Molly (bass) (later Glassback), Andrew 'Eddi' Edwards (drms). Played many gigs, often as support to local rockers Engine. Also supported Dumpys Rusty Nuts and UFO. Mainly playing to a Biker audience. Made a few recordings,  "Someone Else", "Sex for Sale", "Night Ride"
Syam – metal band (c1984). More info req'd
Synchronicity – Martin Byrne (bass) (ex Martin Malone, Eskimo Chains, Deliverance, Mixies Men, Insanity Beach, Synchronicity, Fair Warning), Steve Lowe (bass,voc – later gtr), Nick Lauro (drms) (ex Graphic Defeat, Splinter Group, Clique, Mania, Steppin' Razor MkII, Western Promise, Prescotts, Eskimo Chains), Rob Boardman (gtr) (ex Personal Column, Jass Babies, Visual Aids, Clique, Mania, Steppin' Razor MkII)
System, The – venue in Temple Street, L'Pool. Operated in 1983/85; Steve Procter was the DJ who seemed entirely at odds with his audience, he always played 'poppier' tunes. Various groups did PA's at the venue, incl Vicious Pink Phenomenon amongst others in Sep84. Was this the venue that Club Zoo had been based in years before? Procter went on to be quite a big name dance/House DJ/remixer in the late 80's
Systems – band feat; John 'Strange' Hawkins (voc,bass) (ex Activity Minimal later This Island Earth), Kevin Chapman (gtr), Tony Elson (drms) (later Visual Aids, Precautions, Young Lions, Islands of Dance), Mike Reed (keys). Also later feat; Mike Nelson (sax) (ex Neutral Cover Ups, later Lawnmower), Jeremy Kelly (gtr) (ex Psycamesh, later of Wild Swans, Care, Lotus Eaters), Kevin Brown (keys) (later This Island Earth). Rel single on Open Eye 'Total Recall/Still Outside' OE-006 in (Oct81). Prev rel 'Scenery/Private Lives' on Stress Records STRESS- 001 (Aug80).Chapman was soon replaced by Andy Warren (gtr) (ex Change of Image, later Islands of Dance)