(review n pix by dan read)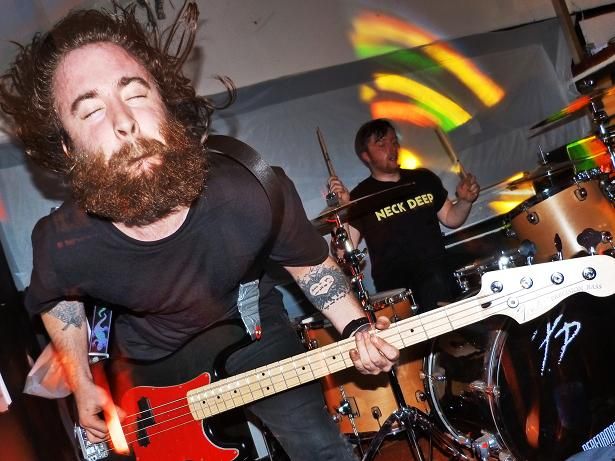 Hardcore in Prestatyn? On a Wednesday night? What madness is this?! Now don't get me wrong there are events going on in Prestatyn all the time but not of this quality. After all this has Bastions as its headliner on a warm up gig before their 14 date European tour with Battle For Paris. Certainly it was a cracking line up formed by the new boys in Dirty Vultures Promotions.

Arriving in a murky Prestatyn the weather wasn't doing anything for my mood. At the Offas Tavern there was no sign of promotion for tonight's' gig, not even on the venue's chalk boards outside the venue. The landlord telling us 'I didn't know there was a gig on tonight' fills me with less confidence.
Fortunately there was a gig on in the 'Old Stables' to the rear of the venue. The room itself was of good size with a flimsy stage (I'll come back to this later) in one corner. There seemed to be enough 'apparatus'  for singers to climb on if they were that way inclined, whilst the PA system looked like it had seen better days.
Tonight was going to be interesting!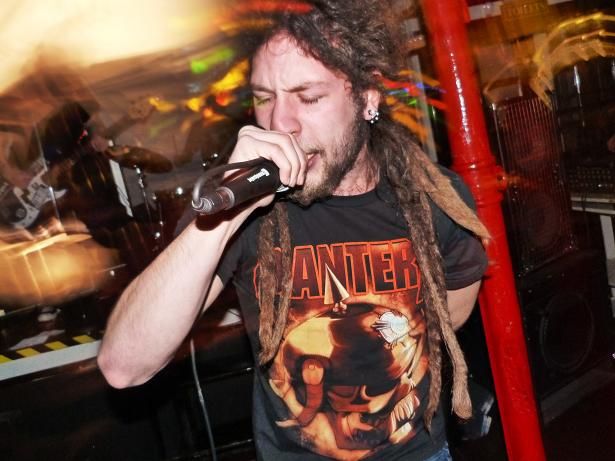 First up were BBR. Now these guys have played on Core events before in Chester and Rhyl and tbh I was never really blown away. The day before they'd released their new EP on Bandcamp. Now this is a million times better than anything the band had recorded previously, so the challenge was set: now do it live! And pretty much they did! It was like watching a new band in many ways. Their mix of hardcore/metal isn't anything 'new' but they're getting really good at delivering the goods. They're by no means the finished article but they're heading in the right direction.
Their set was marred slightly by what I will call the 'Clanger' (think 70s kids TV) sound which was coming from the PA during their set. At first I thought it was to do with the placements of the speaker stacks, but even on moving them the noise continued. This wasn't the last time tonight this beast would rear its head.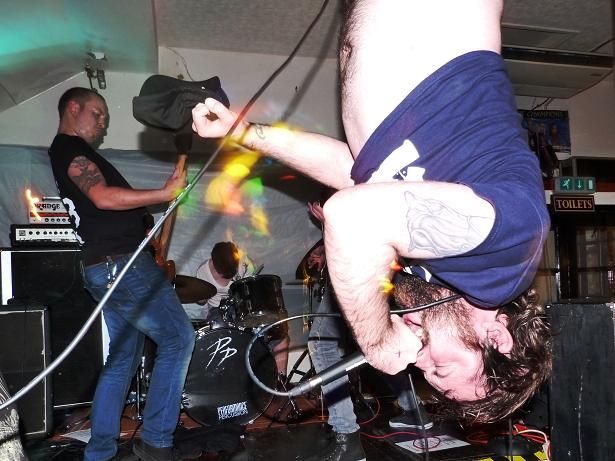 Next up were Chester's Black Years. Many of the small crowd would never have seen these guys before so encouragement was needed. But if anyone can get a crowd in the party mood it's lead singer Rich Obrien. By the time he climbs up into the rooms beams the party is in full swing. Singing most of a song upside down hanging by your legs is pretty impressive. 10 for style but only a 6 for landing. Maybe less points for bassist Neil Denby who put his foot through the stage. This was a hardcore gig after all. If something doesn't get broken it's been a bad night. Right? I've had the pleasure of working with these guys a lot over the last 5 months and on this night it truly felt that they'd become the band they were striving to be. In Prestatyn of all places! Big high fives and back slaps all around.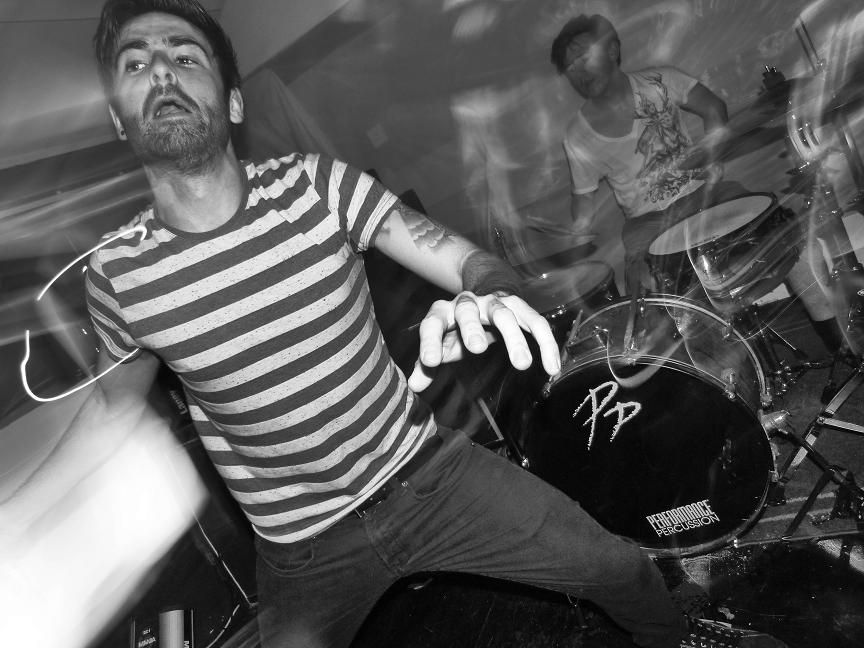 Their brothers in arms Wolves were up next, though they were dogged (no pun) by guitar issues at the start of the set. Once this was resolved they were back into the set full guns blazing. I think the strength of a band is often shown in the face of adversity and that's what happened here. By now we had a floor show on our hands with vocalist Adam Scott, bassist Ben Peers and guitarist Dan Hallows roaming the room. Drummer Tom Williams was left on stage quite literally committing GBH to the in house drum kit. The crowd have been here before and know what happens next: things get a little crazy. As Adam Scott throws himself into the watching crowd they respond with their finest pit moves. By the time we arrived at the bands outro I (foolishly) decided to 'encourage' some of my friends to get involved. This ended up with me losing a shoe, crushing a friends knee on falling over and being involved in a massive pile on. A brilliant set. I'm too old for this shit though.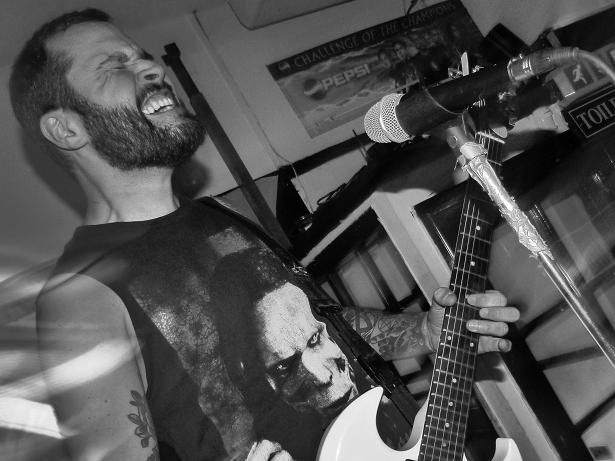 Manchester's fiercest 3 some of Hammers now entered the fray. As bleak as the Prestatyn weather this is blackened hardcore at its best. These guys are literally musical beasts. Certainly they won't set the world alight in terms of 'performance' but frankly that's not what they are about. They grind you down. It's intense and in your face, digging at the pit of your soul. Excuse me whilst I go and have a little cry in a corner.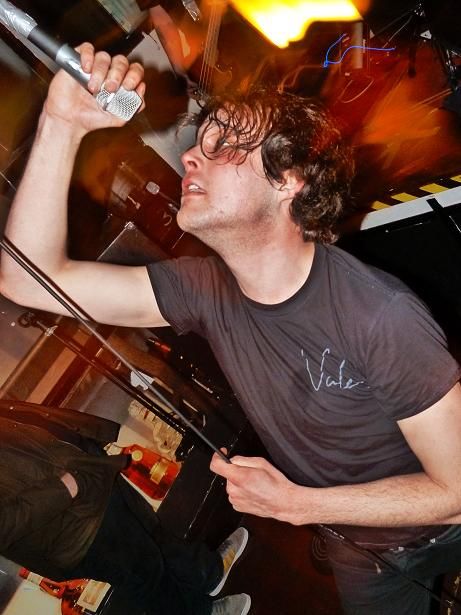 Finally it was time for tonight's headliners Bastions. Or as I heard someone call them 'new' Bastions. A contentious issue for some. This was the first time I'd seen the band since they'd replaced both bassist and drummer positions within the band. In fact it was the first time they'd played in north Wales since April 2012, even longer if you consider north Wales coast shows. A coming home of sorts, even though most of the band don't live or hail from north Wales anymore.
How a band continues after changing members is always a difficult subject to approach. Will the band lose something? Will it ultimately be the beginning of the end? For Bastions however, who've achieved so much from their humble beginnings on the isle of Anglesey, 2013 could be 'their year'. As already mentioned the band are now (at the time of writing) on a European tour with Battle For Paris. In May they go out on tour with Sheffield's scream-o-holics Rolo Tomassi. And that's just the start of their year!
But where are we now on this night you might ask. For me this wasn't classic Bastions. This wasn't the Bastions I've seen destroy venues all over the UK in the past.  The days of Speakers Corner are long gone. However this band still has Jamie Burne as its front man. Quiet and placid off stage, you put a microphone in this guy's hands and something changes. Surely this is what Bastions is all about.
In a rage the band thrash their way through the old and the new, and they're only let down by the inadequacies of the venue's PA. At times Jamie's vocals are lost within the maelstrom that is going on behind him. The 'Clanger' also makes a return. Their set is intense and powerful throughout to the delight of the crowd. As a band they're still as captivating as ever. And still one of my favourite bands around.
If this is a 'new' Bastions then they're going to go far.