9-12/8/18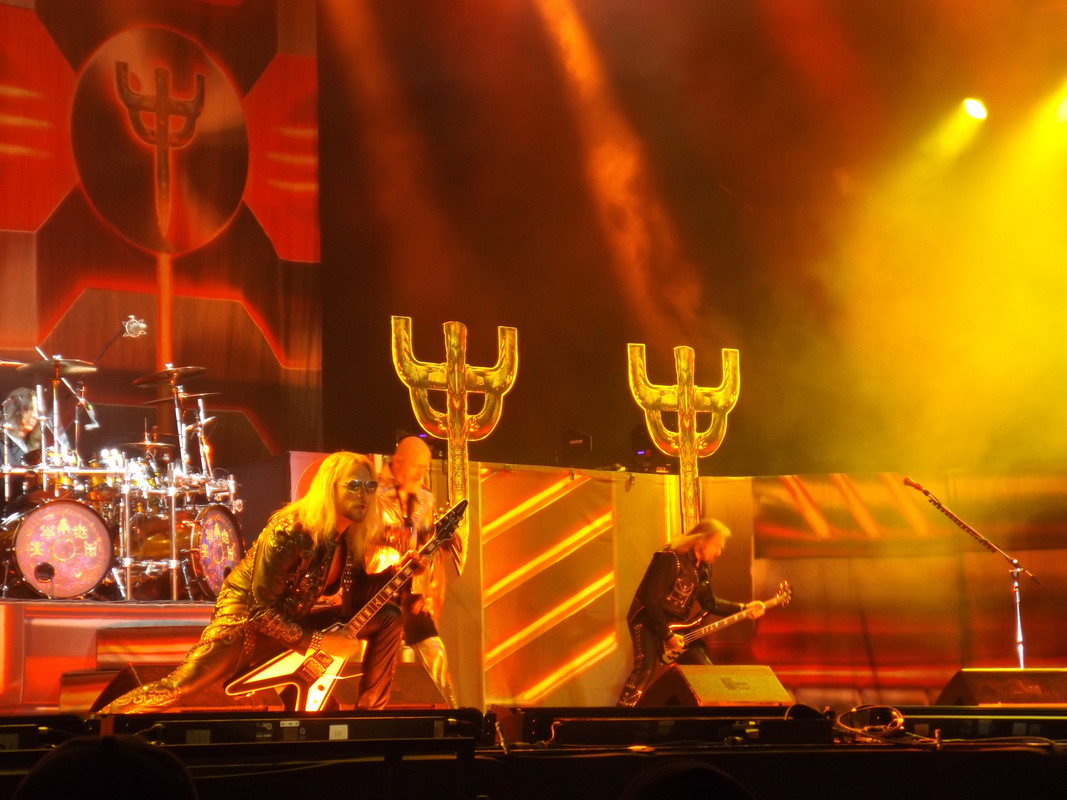 My first full weekend back at the UK's prime independent metal festival for a while, my hopes are tempered by being spoiled by more exotic trips, the usual repeated/"safe" lineup, but also enlivened by the memories of the great party congregations experienced previously.  Into the pit we go!
The first experience upon on arrival for the Thursday warmup is not the most positive as the trudge down from the carpark with all our camping gear meets a two hour queue in the midday sun to get in.  Yes we have refreshments to see us through but serious consideration could be given to doubling the entrance gates just for this first day to reduce this bottleneck.  I have to have a sit down rest while my tent is put up ;).  Our friends are arriving steadily but we are drawn in for the start of the evening shift for some other friends, Leeds' Hundred Year Old Man.  Opening up the second stage where this evening is based it's the first chance I've bad to see them live in the few years they've been formed.  Again they bring a wealth of previous experience and their post-metal crushing atmospheres are fantastic, aided by a bespoke lightshow.  Really on a level with some of the genre legends like Cult of Luna, their new album "Breaching" is a must.  We take a break to continue organising our intake before returning to catch some of the melodic heavy thrash of Bloodshot Dawn and the surprisingly diverse Arkona, the Russian's blending folk metal with more blackened spells and soaring thunder.  Took me a little while to figure it was actually a woman singing so maybe time to crash and save the energies for the rest of the weekend.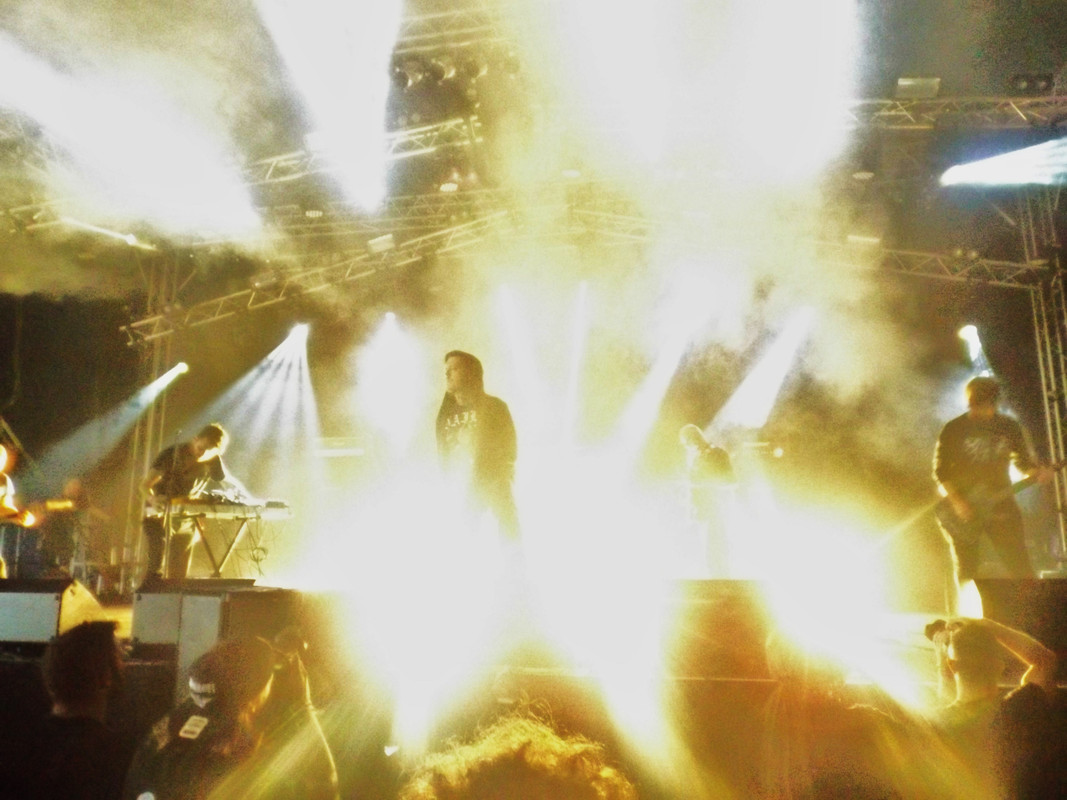 hundred year old man
The first full day starts early with Feed the Rhino opening the main stage. The sound is good (for a change) and their rocky sludge elicits a good early reaction, even a wall of death.  They put energy, heart and soul into their show and the singer looks knackered at the end, we are at least woke.  The start of veteran thrashers Onslaught is solid but having seen them a bundle I head to the second/Sophie stage for something new in the form of Mortishead.  An interesting take on melodic death metal with an industrial/electronic undertone, the be-suited frontman works the crowd well and they come across as a decent bunch.  Weather is a bit grotty but we endure the battle with the elements to watch Memoriam on the main stage.  Much as I love Bolt Thrower this follow-on band since their demise hadn't really clicked for me on record, but live they are a different ball game and top notch old school death metal.  Karl is an ever entertaining frontman and when Andy Whale kicks in on the double bass drums the old glories are triumphant once more.  And they stop the rain!  Back to Sophie tent for something else new, Godthrymm, who while I had heard the name didn't realise they featured Hamish from My Dying Bride.  Not just guitar but also some dulcet tones he shares here as part of the traditional Sabbath-y doom and groove style from this power-trio, but with a contemporary twist, enjoyable.  Stay for the death metal filth of Sodomised Cadaver who have been working hard to raise their game, mad to think played alongside these in Rhyl once, added to now with the acquisition of frontman Ollie from Desecration.  "We are from Wales, that makes us Welsh" and other such gems.  I bail the party to visit the tiny Jagermeister stage in the centre of the arena, and the quality heavy thrash of Damaged Reich, rice old school Testament feel, before finding a place up front in preparation for Bloodbath.  The predominately Swedish death metal supergroup now have the laconic charm of Paradise Lost's Nick Holmes of vocals and in the blazing sun of the mid afternoon their honeyed HM2'd tones took me right back to the glory days of "Clandestine", generic, but great with it. Another short trip to the Jager to see the back side and end of the Callus's set, these North West progressive thrashers again demonstrating they can their hold their own and a crowd on all stages.  Plans are thrown a bit then a Suicidal Tendencies have had transport problems so are being relocated from the main to the second, the gap is filled in with keeping the fluids up, then we are back like maniacs for the syco action in the rammed tent.  It's only going to be a short set, especially with Mike rabbiting his affirmative messages ten to the dozen in between the songs, just non-stop energy, enhanced by the machine that is Dave Lombardo behind the drums.  They sum up in a nutshell just what an amazing crossover thrash/punk legend they are, especially for me with treats like "Subliminal".  Great, great fun.  We leave to still strong sunshine but a far darker tone as Norwegian black metal legends Emperor descend upon the main stage for a coldly precise and stunningly intense anniversary run through of their "Anthems…" album, before destroying any vestiges of our souls with an encore of "I am the black wizards" and "inno a satana".  Pretty much faultless.  Our eventual headliners Judas Priest (top) are a band of the scale many thought would never be hosted here, despite being from just down the road in Brum.  The arrival of the metal gods would pretty much have guaranteed me coming for the day if not the whole weekend as the last time I saw them in France was meant to be the last but still they soldier on.  New blood in the ranks but frontman Rob Halford looking shuffly and old (weighed down under his studded jackets) but his voice is still immense, incomparable.  I am inevitably welling up with the sheer metal majesty of it all, as old school classics like "Sinner" and "Ripper" are played back to back. There's a great stage show to enhance it, and when you hear "Freewheel Burning" you're reminded of their seminal place in speed metal history.  The ending is all the more poignant with the return for the encore of original guitarist Glenn Tipton, retiring slowly due to ill health, but great to see him beaming at the reaction from the mass crowd.  The whole thing is just glorious, for me the very essence of what this is all about.  German metal goddess Doro is finishing the evening at the second stage and that is also super busty, sorry, busy (Freudian slip) but in hearing the extended classic "All we are" decide we are all happily knackered and that's enough.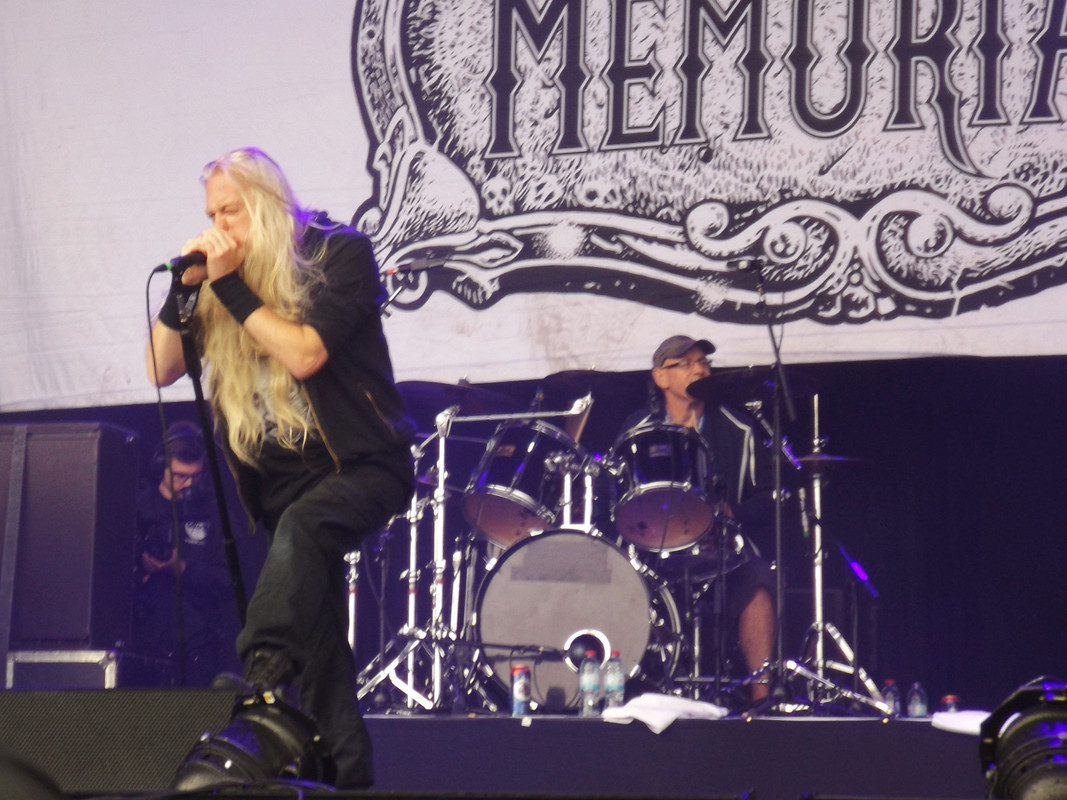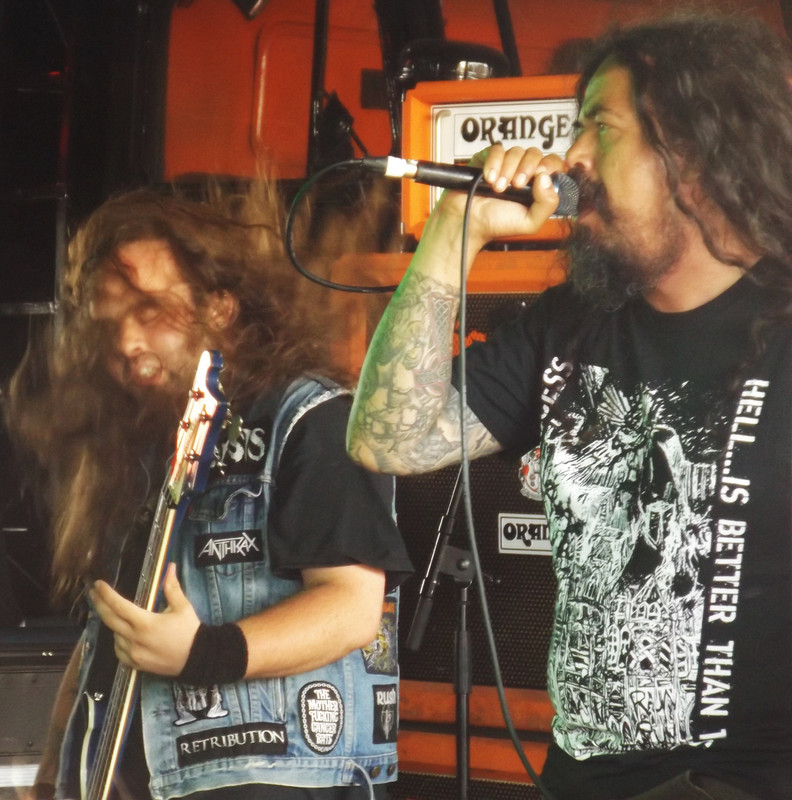 damaged reich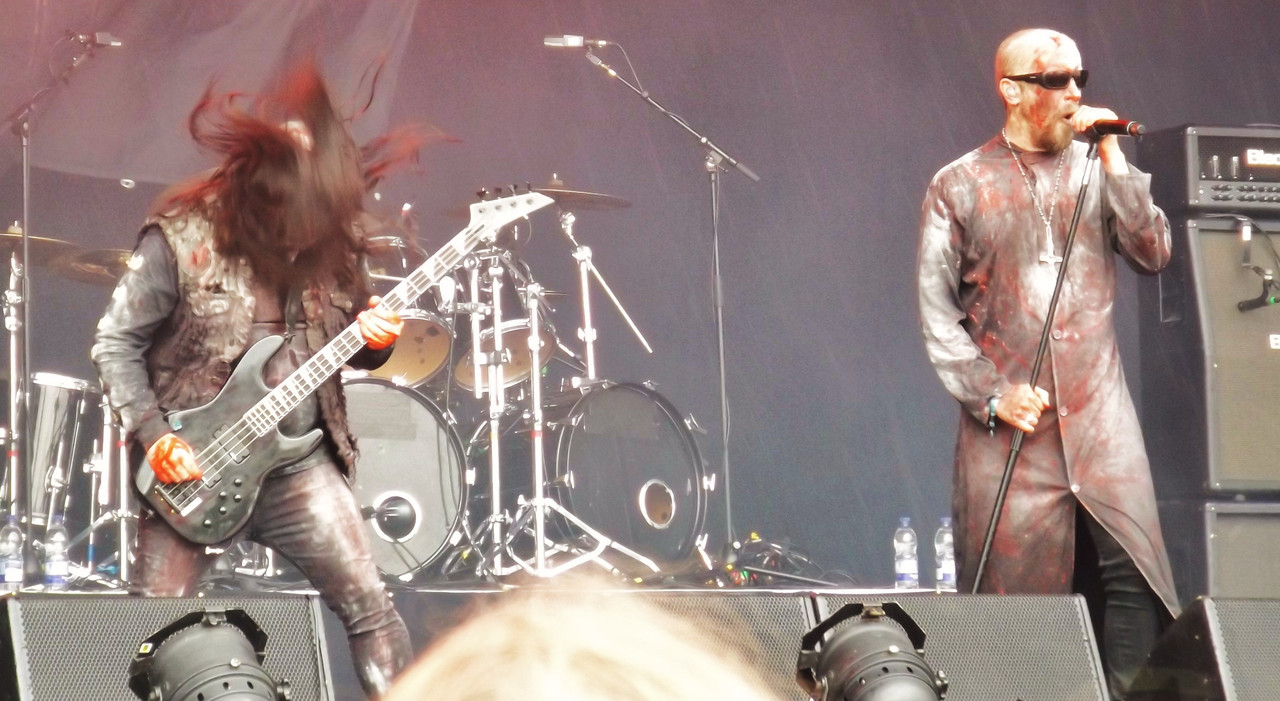 bloodbath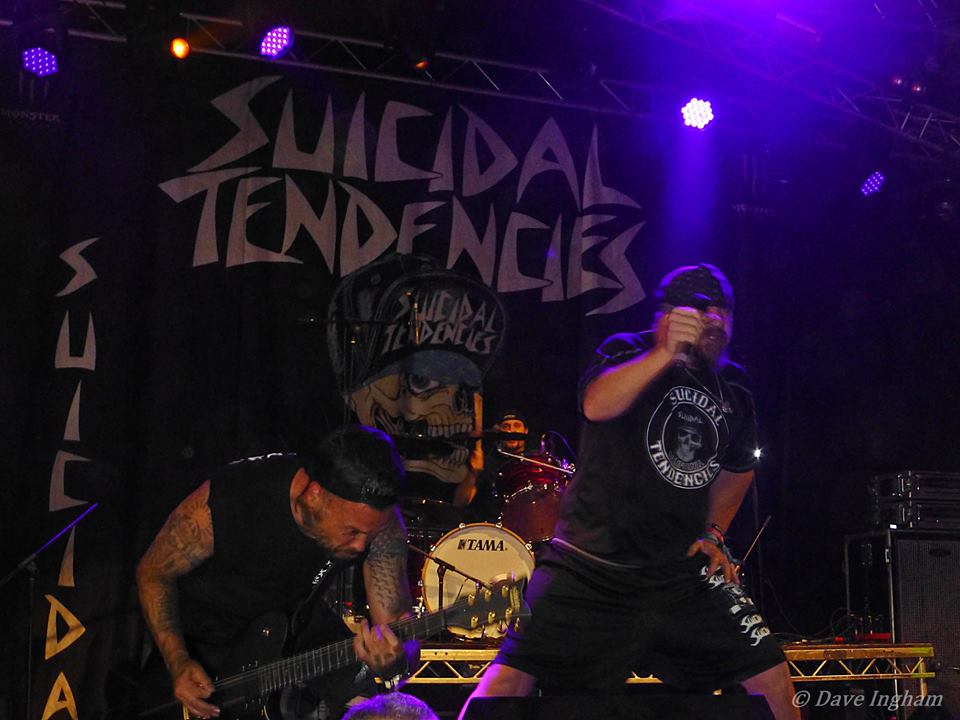 suicidal tendencies – picture by dave ingham

emperor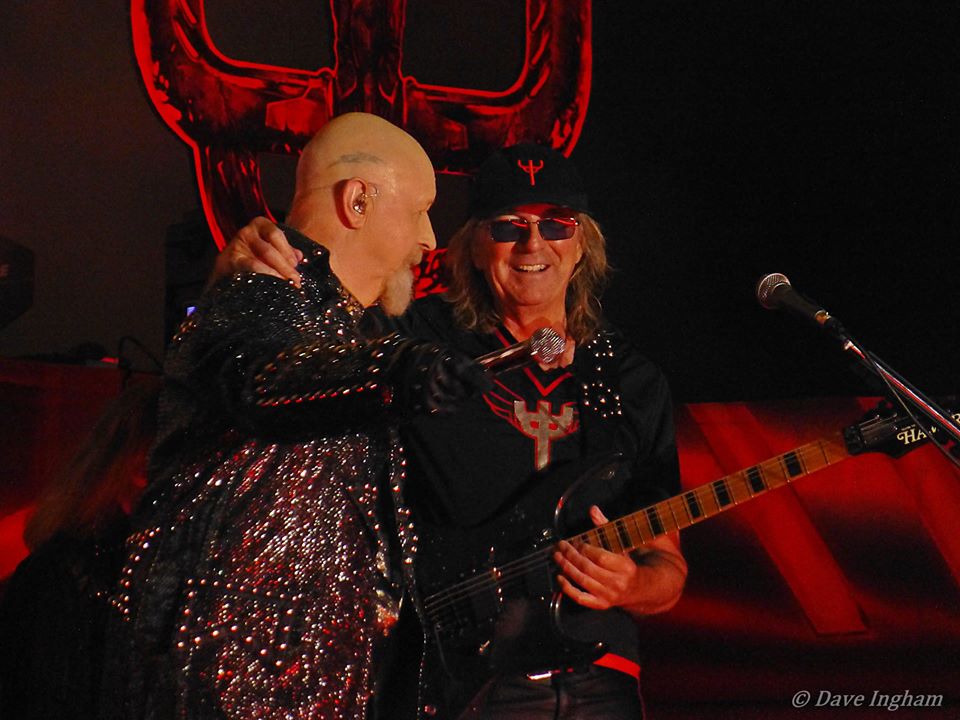 rob halford and glenn tipton – pic by dave ingham
I am motivated enough for an early start to sit with a pint and watch Nailed to Obscurity deliver some clear cut and progressive doom/death in the vein of My Dying Bride.  The German's initially play to a sparse crowd but still create some interesting atmospheres.  A rapid change of pace with Power Trip (from Dallas, Texas, not that they ever mentioned) next, who I'd been looking forward to checking for some time since their "nightmare logic" album dropped some reinvigoration into the thrash scene.  They didn't disappoint, relentless riff energy like Possessed in their prime, and a frontman leaping skyhigh.  First visit of the weekend to the New Blood stage, to see some of the UK underground talent that has won through the Metal 2 the Masses regional battle of the bands competition.  Not something I'm a fan of anyway, would be more positive if it was highlighting the local talent bases at this central location but the North Wales winner came from Nottingham in a  round about way – go figure!  Anyway, Ashborn, a Polish crew from the Midlands hit us with some Sepultura-esque heavy thrash, before Negative Thought Process basically assault us with some grind tinged sludge filth, a howling monstrosity, nice.  Over at the Sophie stage we have the pleasure of one of the UK's more established extreme bands, Conjurer.  With their debut LP "Mire" still ringing in the ears they may start crushingly heavy but demonstrate effortless shifts in variety and structure through their set, from all out black metal whirlwind to post metal reflection, realy on top of their game.  Catch a bit of Venom Inc. on the main stage, part of the split of the original British metal band.  It's very Motorhead-y and a massive improvement on the ropey Venom I say back at Hellfest in about 2008, I still take a tea-time tent break though.  Return to sad news that the Lee Dorrian fronted doom monsters With the Dead have had to pull out of their slot through illness, so am able to give full attention to Cannibal Corpse on the main stage.  You know exactly what you are going to get, even in the current grotty weather, a brutal battering of prime death metal and windmillling hair, and a crazy pit full of Hawaiian shirts.  Eminently satisfying in the heaviness stakes but for variety and shelter I visit first Earthbound at the New Blood, with their shifting mix of death metal to prog, and then Exhorder over at the Sophie.  Coming slightly after the first wave of thrash the New Orleans band were noted but not really exalted at the time.  All the more pleasant surprise to get our faces ripped off by some stormingly tight riff mayhem, just really something that hits the spot and is admired all round.  With no improvement in the weather and no real interest sparked the last couple of times I've seen today's headliners progressive French metallers Gojira, I conserve my energies for sitting around drinking and call it an early night with a tent party.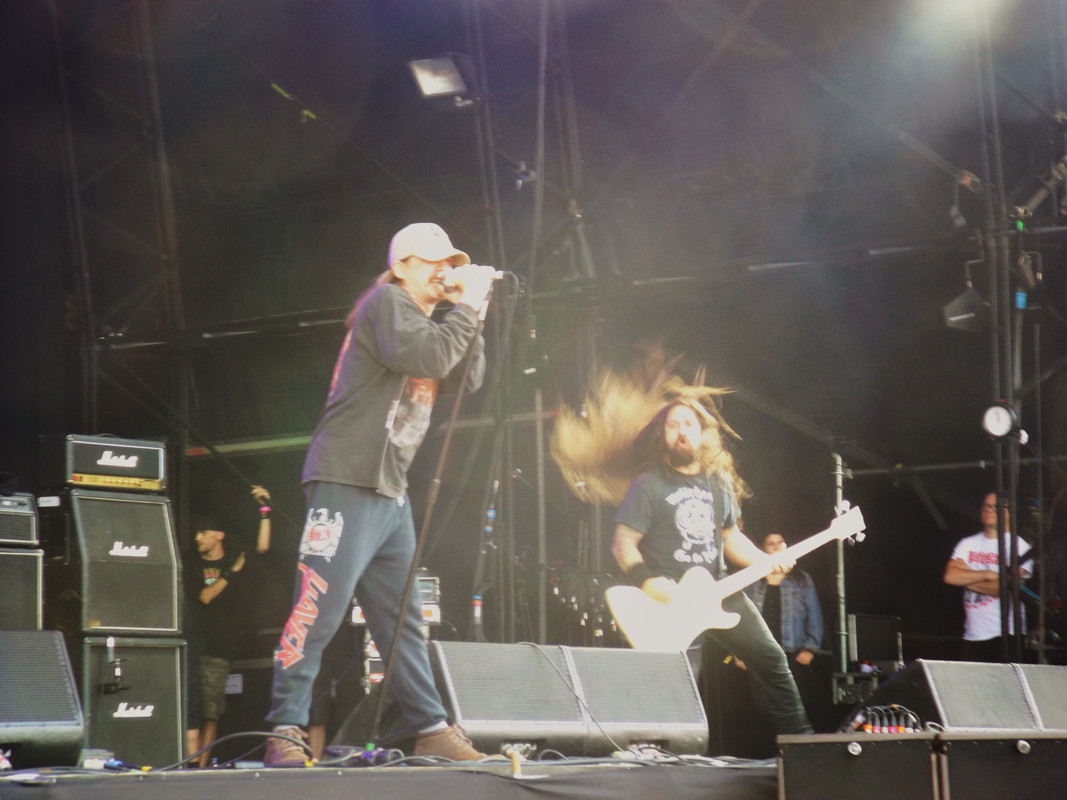 power trip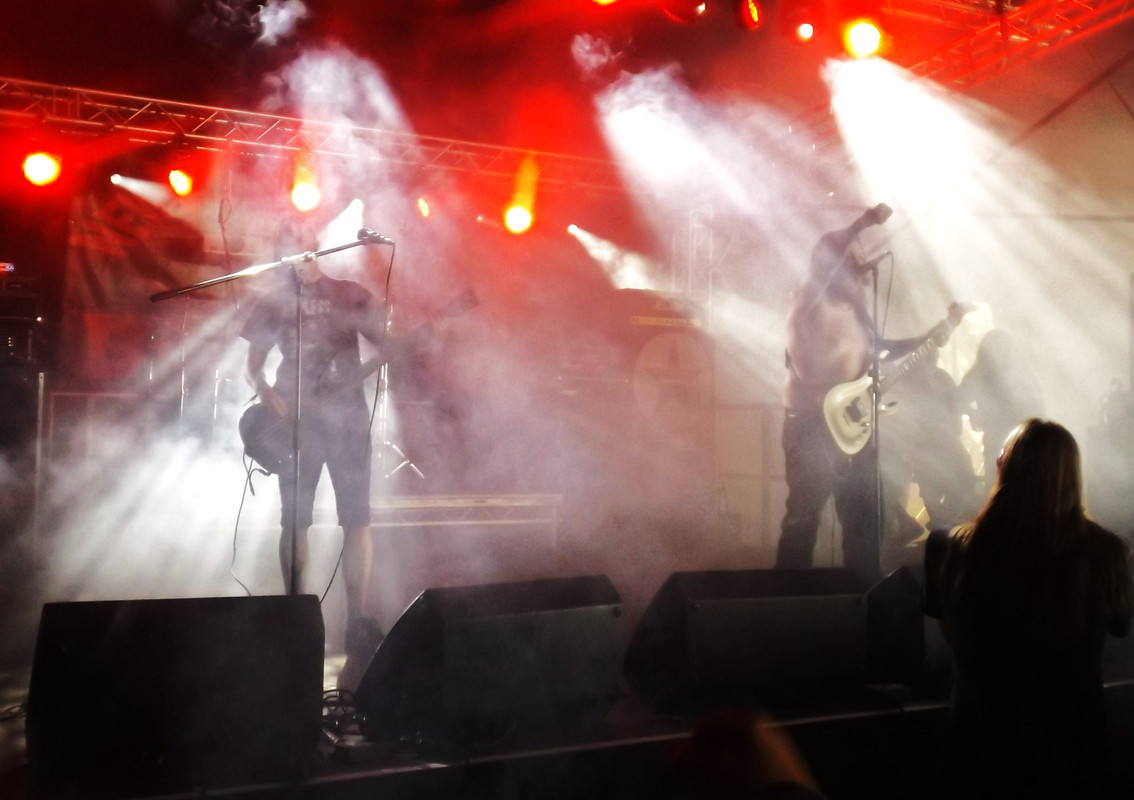 negative thought process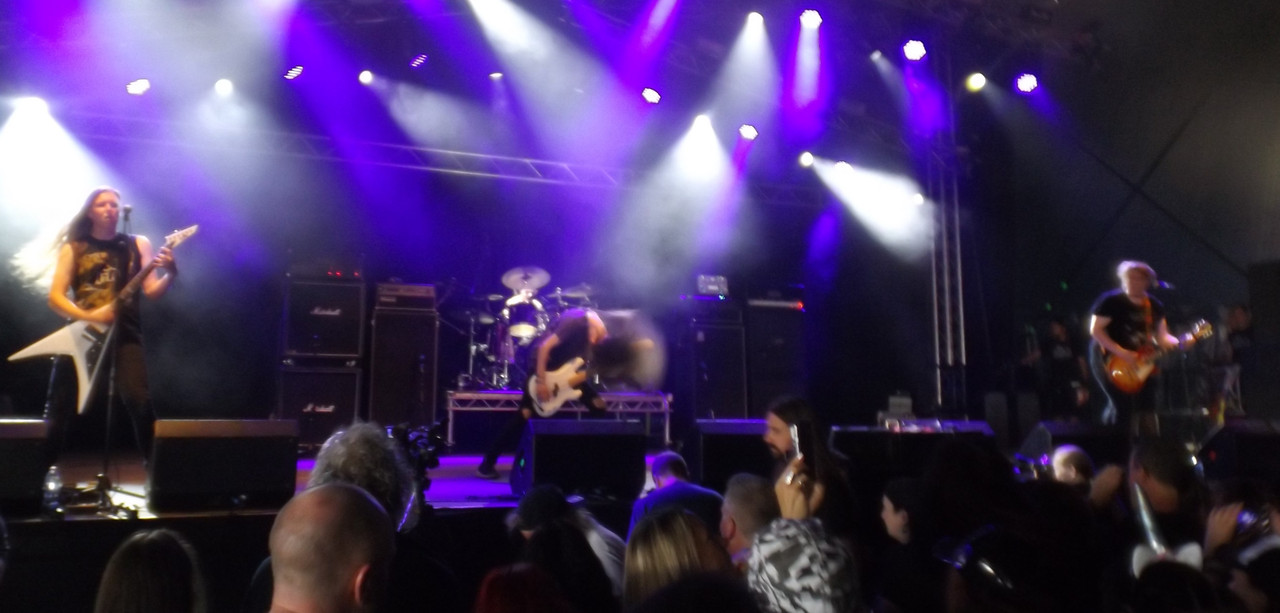 conjurer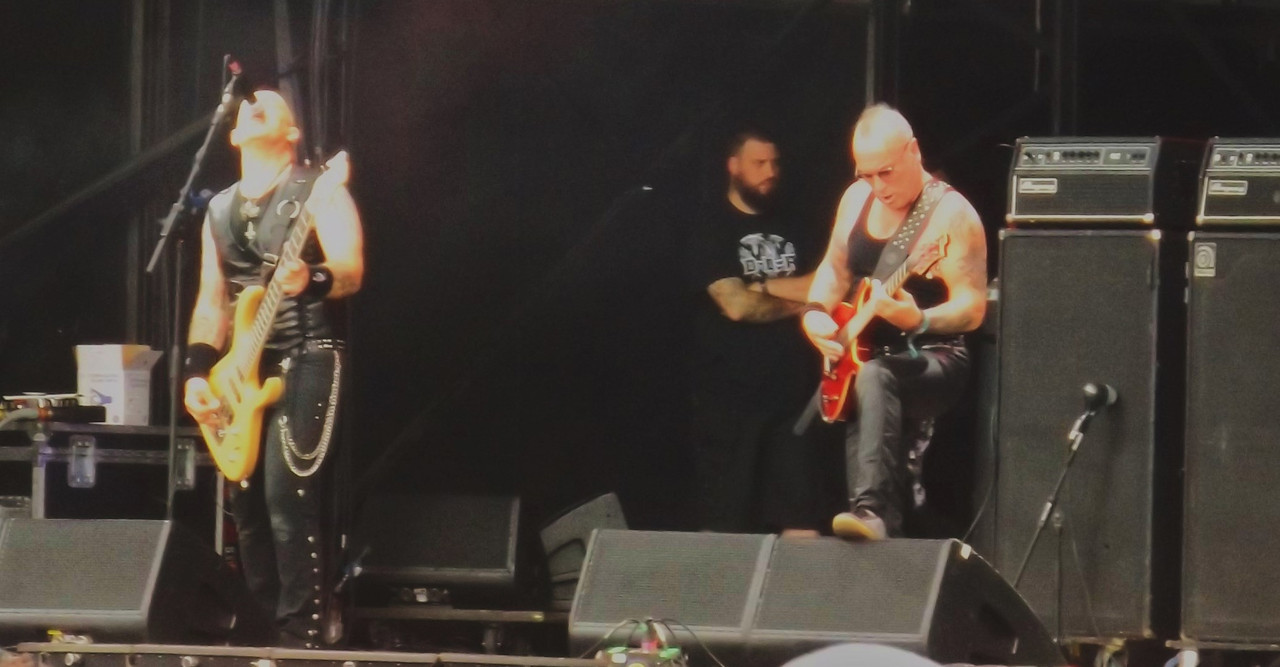 venom inc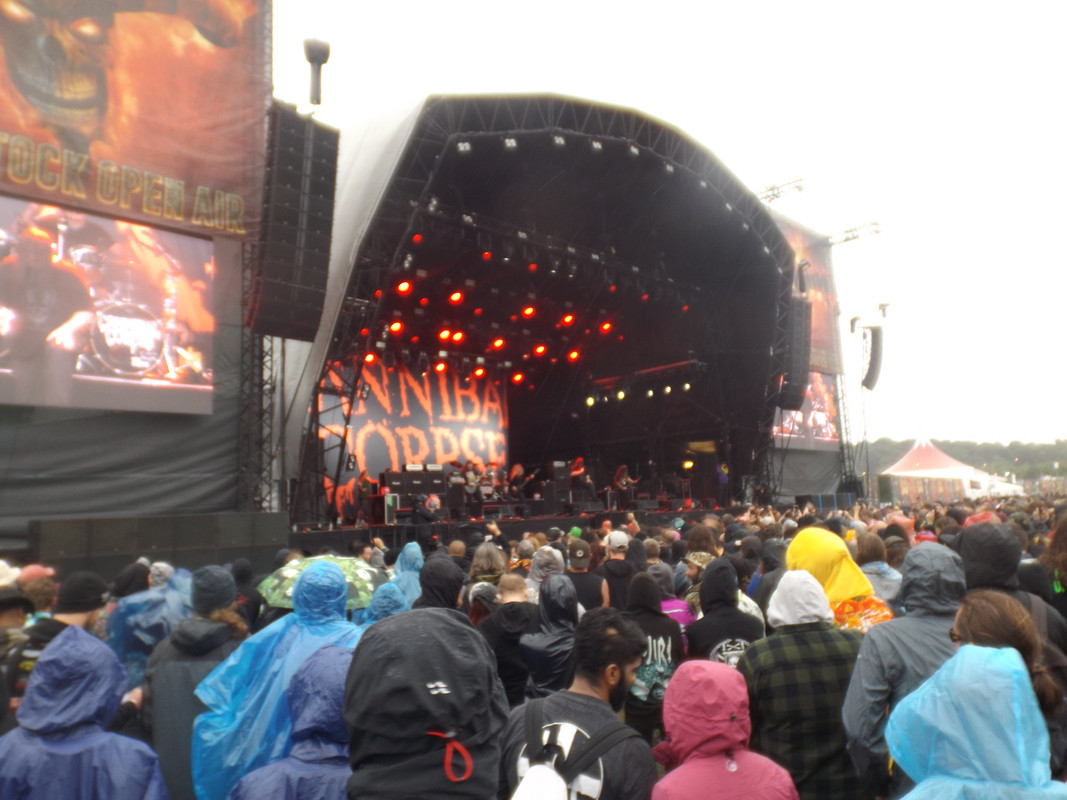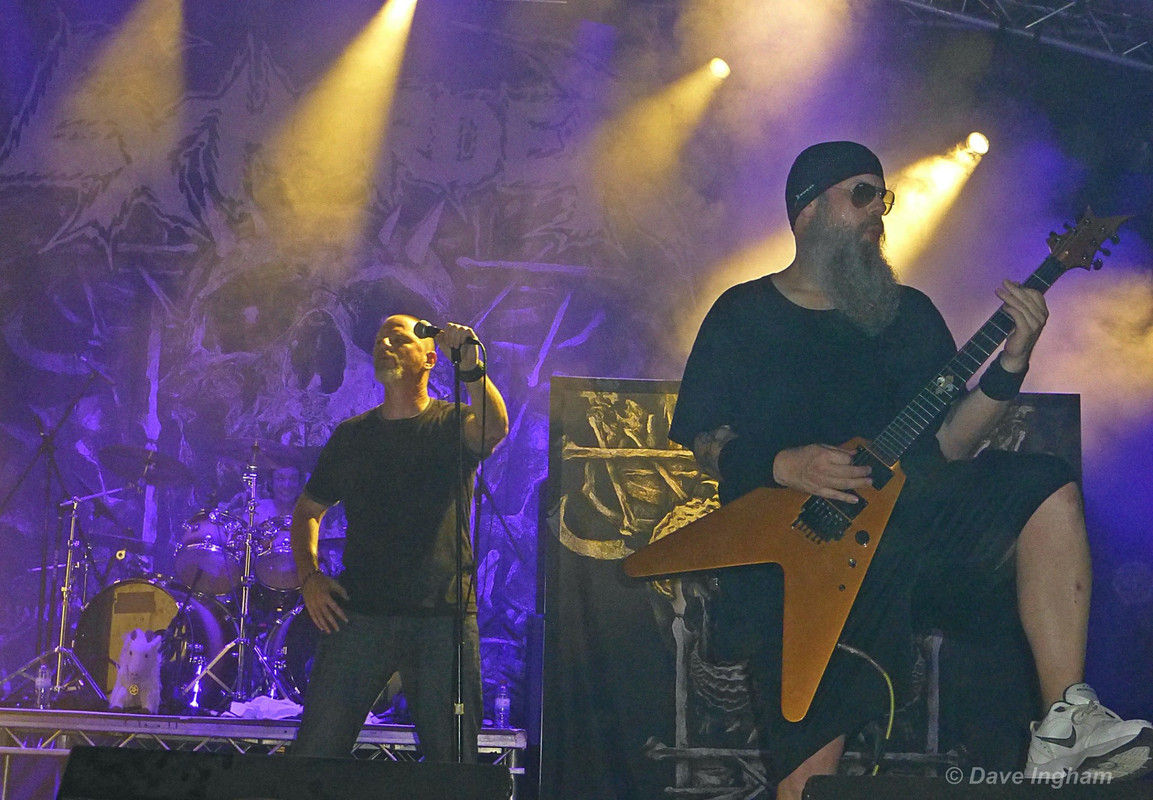 exhorder – pic by dave ingham
Sunday was always looking a bit sparse in terms of line-up but it turned out to be quality over quantity.  Abandoned the morning shift and headed in after lunch for the exotic prospect of New Zealander's Alien Weaponry.  An earnest bunch evidently loving their opportunity over here, they were an excellent tribal sludge style like latter day Sepultura, and took pains through language and samples to open a window on Maori culture too.  After another gap we had Manchester's Barbarian Hermit over at the New Blood, with the reeling, doomery riff-fest that is so effective in getting the head nodding and the body grooving.  Two piece Mantar at the Sophie was not only a visual spectacle as the wracked guitarist wrought his riffs in front of his stack while the elevated drummer hammered out a match facing him, but aurally it was so good too, a real edge and fire to their eclectic attack.  down to a one man horror/harrowing show next with Abduction on the Jager stage producing some almost industrial black metal, the dark intentions came across even if the backing sounds weren't particularly strong.  The main stage again for the revitalised At the Gates, their new album offering more invention and expansion than some of their more straightforward recent melodic death metal, thought they stick to a core of that and the legendary "Slaughter of the Soul" LP.   No complaints though, as again the Swedish distorted riffs win supreme, the main reason for my stiff neck in coming days. Tomos is such a great frontman, simultaneously enthusiastic and laid back, and the later news that he will be curating Roadburn festival next year also much excites me.  Return to the Sophie stage for a first time to see Pallbearer, something else that really impresses.  At times the lurching apocalyptically heavy post metal riffs in the Neurosis vein, but with an ethereal vocal that gives a melancholy and yet more uplifting feel to the shift through the light and shade of their epic structures.  The power metal of last headliners Nightwish is not to my tastes but as background (and with a beautiful projected background too) it is fine, in fact, not as bad as I might have anticipated. Drinks and chats at the bar, a palate cleanser for a descent into hell provided by Watain to close the whole event.  From the smoke drenched horror I first witnessed at Hellfest in 2008, through a main stage sunset set here in 2012, to this satanic ritual spectacle, they have always grabbed the attention and held it by the throat.  The hyped bloodshed/spread is not necessary, we're still transfixing in fire and feel the burn of their blistering black metal.  The drummer especially is just stupidly good in his blasting but their tempo changes and focus on relentless power are just awesome, what a pleasure to behold/endure.  Dead on our feet, but cleansed in the flames, a brilliant end to the weekend.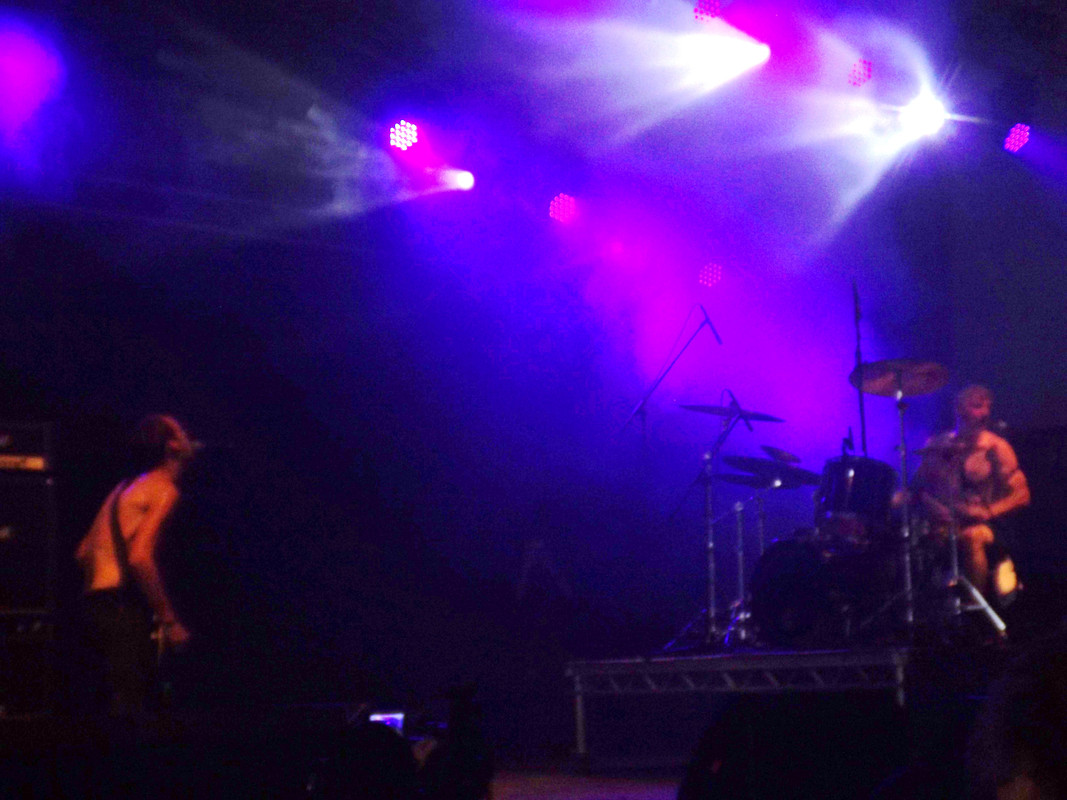 mantar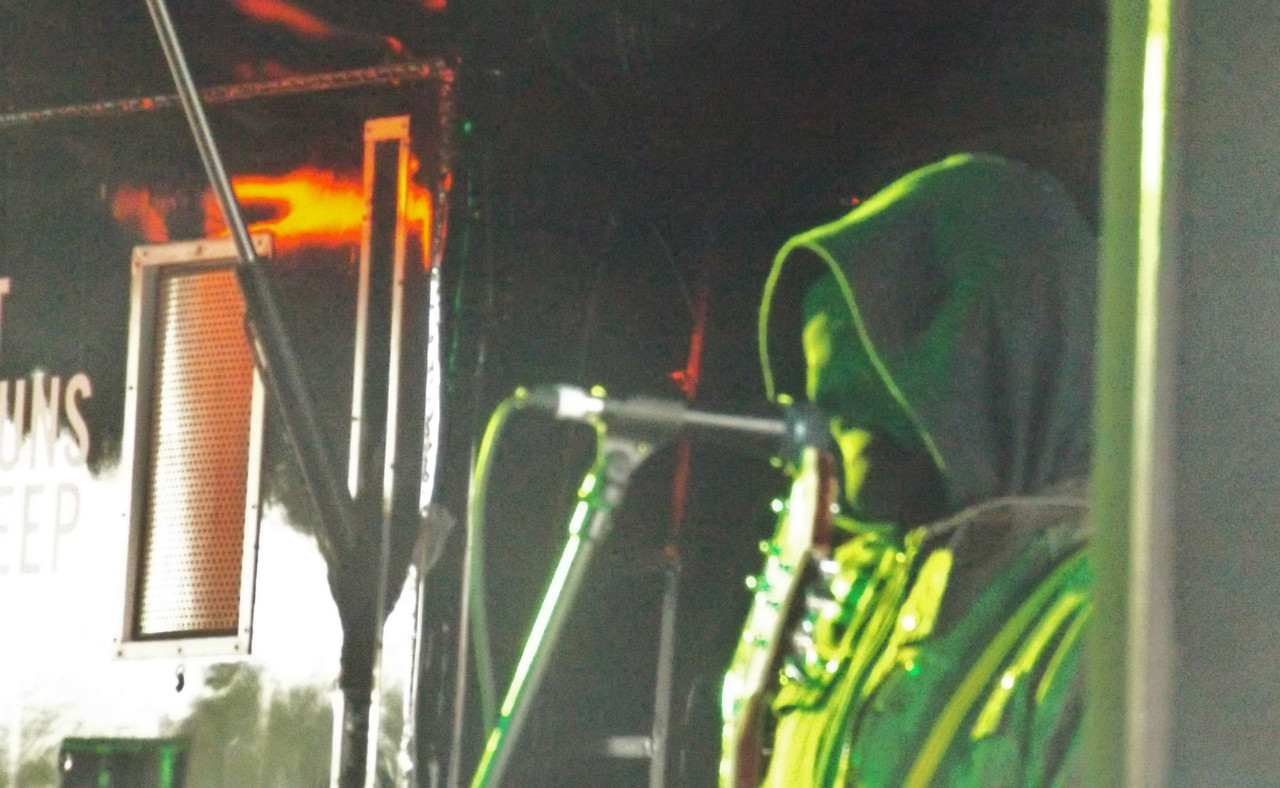 abduction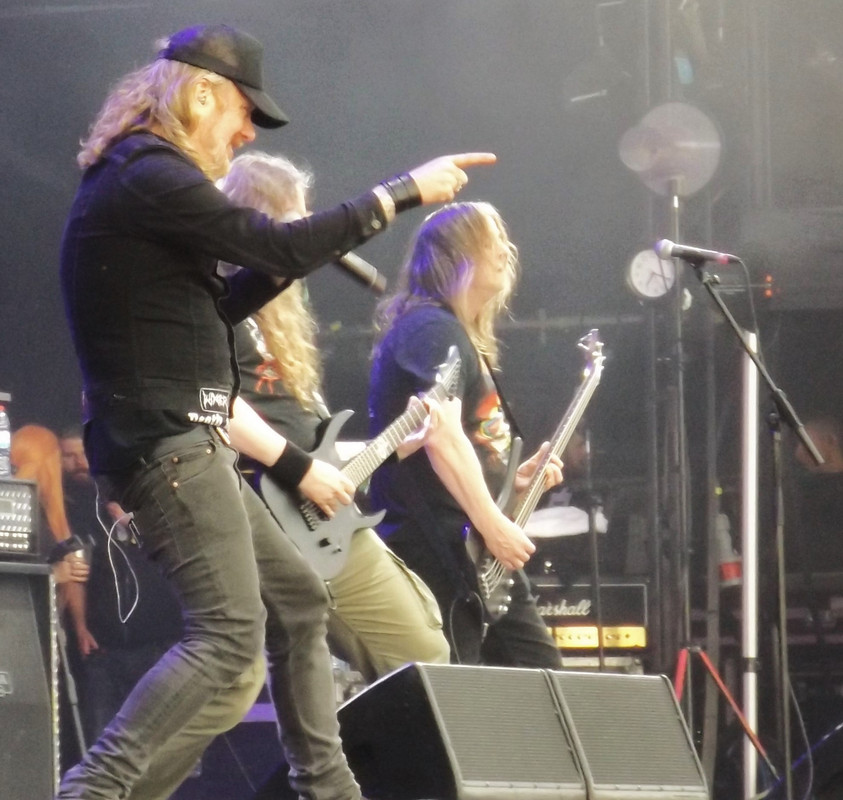 at the gates
pallbearer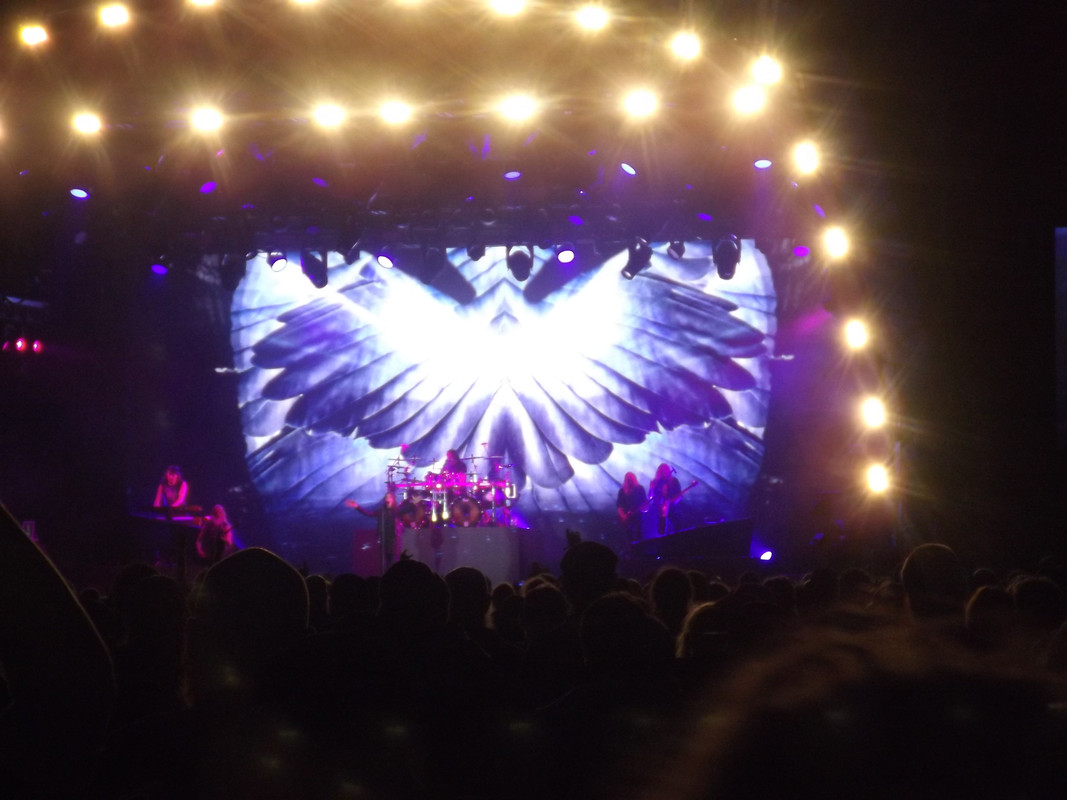 nightwish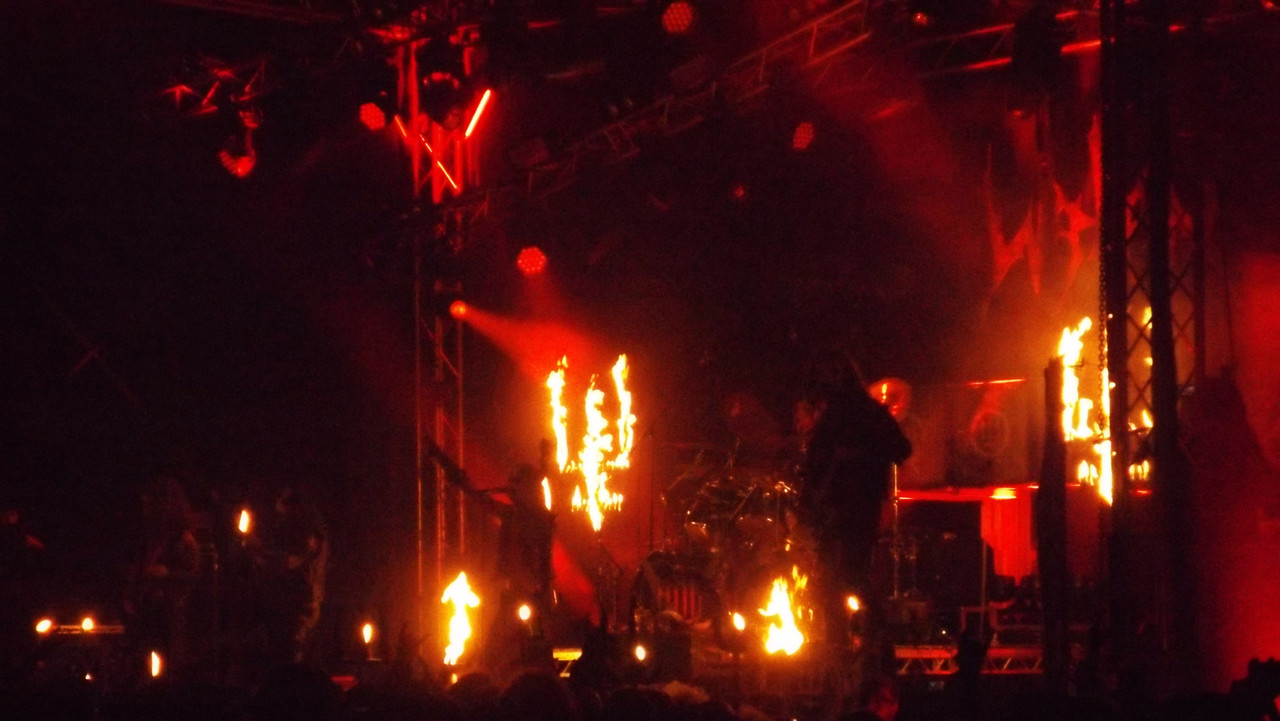 watain
On that high I reflect that in spite of the iffy weather the whole thing has been a pleasure that has made me more not less likely to come next year, so there must be something right in the formula. It must be in the blood.
post script – Aug 20th marked the 30th anniversary of my first festival, Monsters of Rock at Donington.  i am still absolutely loving it and will search out more.  it's only when you've tried them all you can truly compare, and who cares if you can't even decide!