(review n pix by neil crud)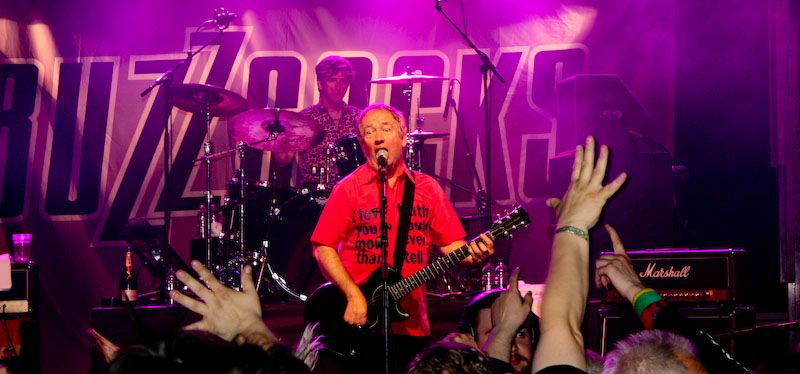 THURSDAY
Bags packed, basil plant sent to the babysitter, everything unplugged except the fridge. Tune on, turn in and fuck off… Blackpool here we come. This is the one time of year where Blackpool takes a breather from the hoardes of pissed up stag and hen nights, and relaxes, safe in the knowledge that thousands of cider swigging punks won't be trying to kill everyone on sight. That's the difference with the punk family; we are, in essence a family… Yes there are dickheads, but the majority of us were brought up on that same philosophy – have a good time, but cause the least suffering possible, it is almost the Hippy way but without being a stoned wanker all the tIme.

We landed on our Dr Marten boots; found a cheap B&B (The Portland – recommended) just around the corner from the Winter Gardens and a car parking spot nearby for the 4 days, now all we need is some punk rock. Early doors Thursday will see only a smattering of people, so it's a good opportunity to take in the magnificence of this grand building, the incredible Victorian architecture, and the wonderment that the floors get such a damn good kicking over this weekend and they're used for ballroom dancing next week. It's gonna be a ballroom blitz.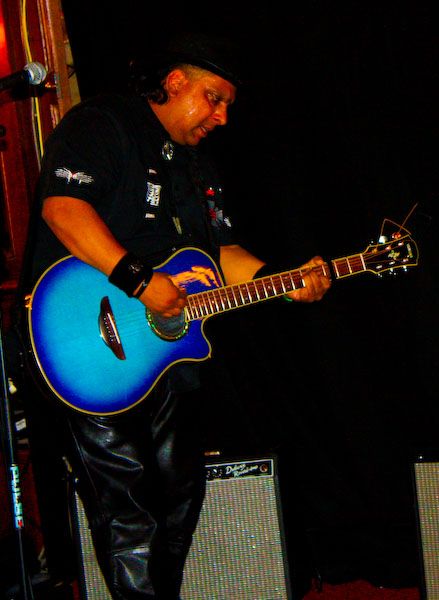 First things first, check the bar prices and gauge how much of the filthy lucre is gonna piss through my hands. £3.10 a pint, hmmm, ok, if you said ten pints a day sweet tunes you'd play on his fucking organ, then that's over a hundred nicker… That's a lotta lolly innit guvnor… So maybe a conservative approach is required (and that doesn't mean fuck the working classes). In the Almost Acoustic bar is the very talented Ro Ashika (pic left)… Who has guitar and will travel, we walked in to the dulcet tones of his take on Killing Joke's Wardance, he made a tribal evil beater of a song sound beautiful. He also betrayed his Joke credentials as their DJ, with a heartfelt plea for the absent Jaz Coleman to find his way home. The Ramones were kind enough to bless today with some California Sun and Ro's take on the song left us all sunny with delight. He also provided some great dub mixes the following night at The Pavilion. Ro himself is part of Ashika, and was kind enough to give me a CD of their stuff… Check 'em out here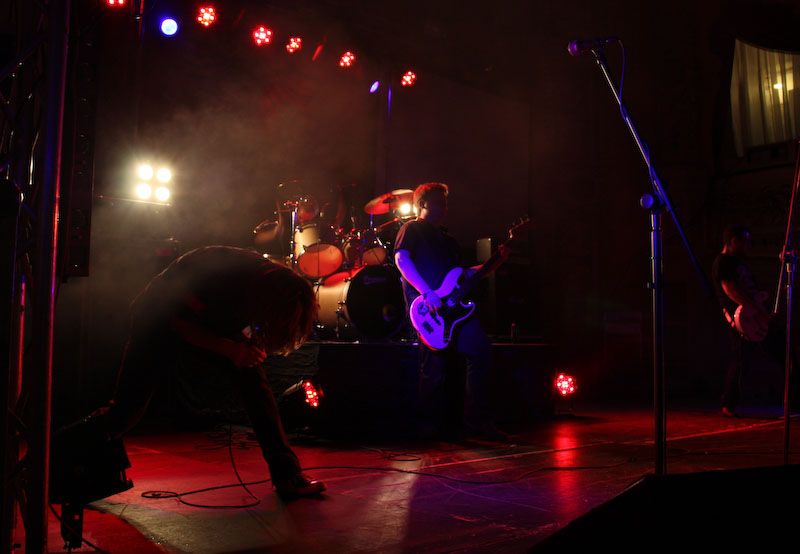 For the first time, and long overdue was a New Band Stage, yes, we're here to celebrate, get drunk and enjoy what we used to have and what we may have missed, but it's important to ensure the torch is carried the length and breadth of our spectrum and new talent is allowed to emerge. Although unfortunately only open for today (Thursday), maybe next year it'll be a fixture throughout the weekend. We caught Irish speedballs Setting Off Sirens (pic above) who probably could set a few off with their let it rock motherfucker blend of just about every guitar genre slammed into every song – noisy buggers, 'Get the fuck out of my face!' (myspace)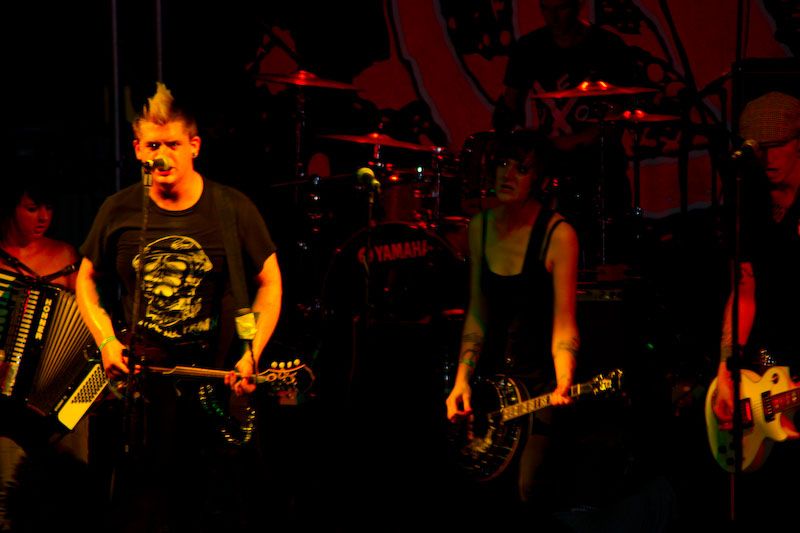 A wander down to the Arena brought home the realisation that we weren't of the few early birds as it was packed out; not bad for 3pm on a Thursday afternoon. I bet Warrington's Roughneck Riot (pic above) thought the same too, a band who waved a punk-hillbilly folk flag with a banjo and squeezebox and a lot of venom. They're also playing Bladefest on 1st Sept.

The Boneyard Zombies (pic above), who have an ace lookin' CD and an ace look 'n' sound about them were on in the Arena after Girlfixer. I would've forked out £6 and added them to my bursting sack but if I bought every CD, every band had on offer (as I'd like to), Mr Master Card would be rubbing his money grubbing hands in delight. Boneyard Zombies had a psycho-punk feel, that graveyard Cramps on speed type of look.
A bug bear about venues is their camera policy. Rebellion's changed overnight, and on Friday they deemed a camera with a detachable lens as a professional camera, despite most phone cameras being just as 'professional' these days. Yeah, I understand photographers needs to make a living, but they're up against EVERYONES' camera and 99.9% of people have no inkling to sell their pics, or buy them from someone else, pics are taken to remember the event, the occasion. As for image rights, well, I was told that the back stage staff had to sign an agreement not to take any pics of PiL and the area was cleared for Mr Lydon's entourage, so the strictly 'no professional' cameras policy may have had something to do with that old cunt…. More on that on Saturday…
Thankfully, I managed to sneak my super zoom lens in for the first day, to be able to bring you ace pics for free..! This website costs me money, we bought our tickets for Rebellion, I do it for a love of music and also for the need to spread the gospel; a different angle than your usual NME opinion, and of course 99% of gigs reviewed are of bands the NME don't realise exist. I don't bow to advertisers or have the need to pander to their corporate requirements. This is DIY – so please pay me ha ha ha…!

We met up with Dave Cox, Trev HAGL and his young lady to watch Xtract. I remember the name from my teenage zit popping years. They were good at what they do but after 35 years, so they should be! And also, what am I expecting from a punk band? Pink fucking Floyd? Xtract used to appear in the xeroxed fanzines that I'd avidly buy, 'Never Surrender' from Devon springs to mind.
'Some of these songs are older than some of you,' said the frontman, introducing Plastic People. Dave Cox and myself agreed the drummer was the lynchpin of this band and I instantly recognised Blame It On The Youth from some compilation album of many years ago, although live today it was much better than it ever sounded back in the day. We warmed to this Bolton based band as their set plodded on, and it's gotta be said, they're lucky it's Thursday afternoon and not Sunday night, as hearing the same 3 chord progression will leave my head mashed after 4 days! (blog).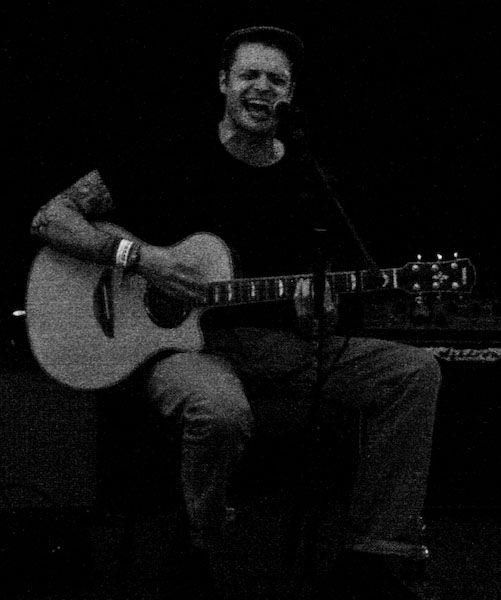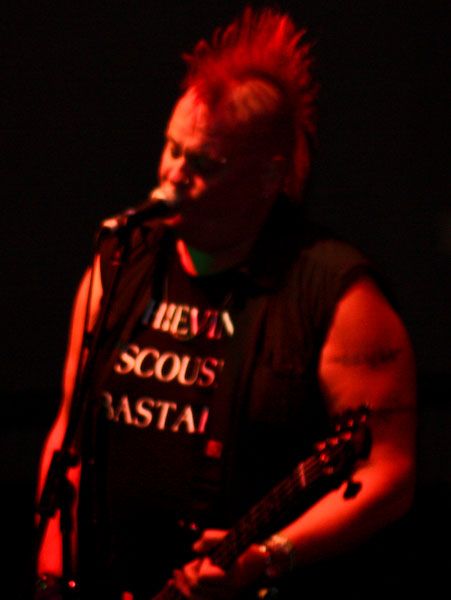 We quickly paraded through the Almost Acoustic stage to catch The Filaments' front man, Johnny burst his one lung (top pic above). It was time for a pint, a breather, while they did the changeover at the Arena for our old favourites 3CR (pic above) who used to fill the Dudley Arms in Rhyl and turn the air blue. If you're looking for misguided political correctness then get back to the Daily Mail as from here on in it's all about spit roasts ('To me, to you'), Thieving Scouse Bastards, 12 year old groupies and slack arses. Always good for a giggle. I bought their Greatest Shits Live CD (for a quid) and later realised I've already got it!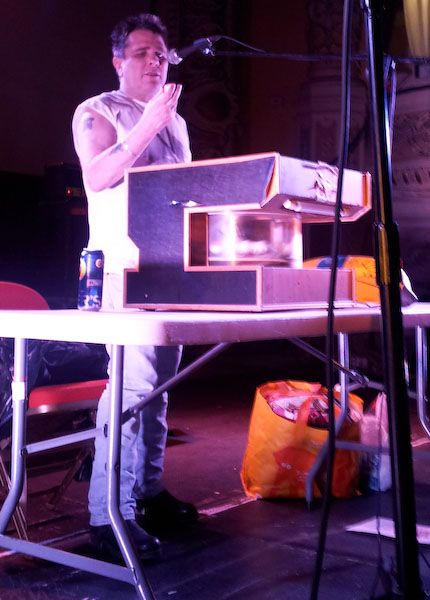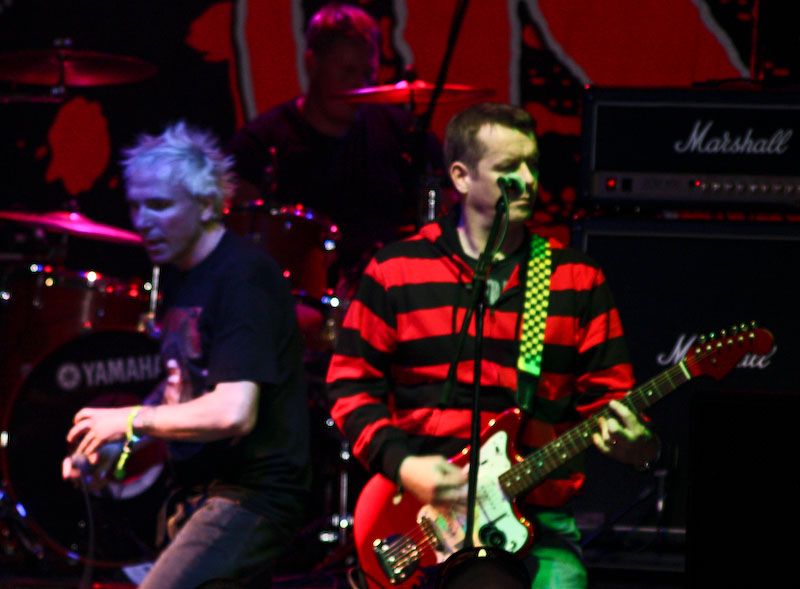 Bingo with Max Splodge (top pic) was entertaining as he was pissed as a cunt (his words), then we saw On Trial (pic above), 'Get the fuck out of here,' they screamed. They were good fun and full of it. Had a song about being sectioned but nothing being wrong with you, so you could touch up the nurses and get away with it. Their drummer only just made it to the gig, running from Lincoln (obviously caught up in the Olympic spirit).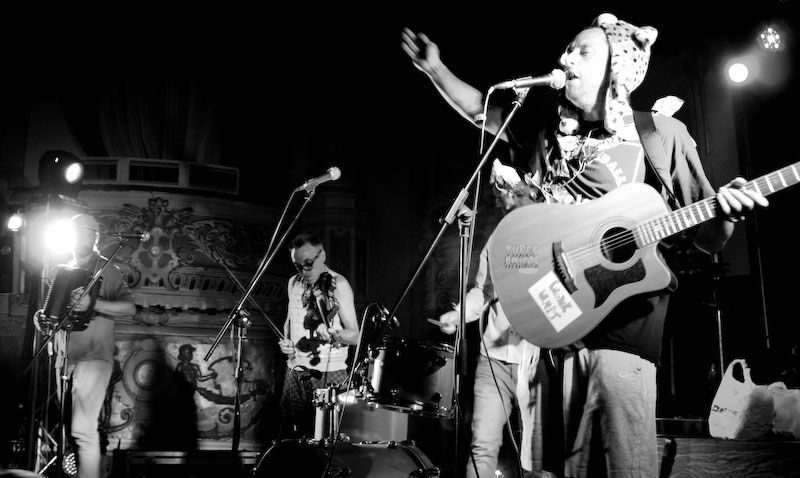 The highlight so far was 5 Shitty Fingers (pic above), refreshingly funny, we walked into a Morris-core zone of oi nonnie noi nonsense and a version of Exploited's Dead Cities, then A Finger of Fudge, We Are The Cheeky Girls, Capt Pugwash, lots of mirth and merriment from accordion fiddle and ukulele toting idiots. Anti Nowhere League's So What and Demob's No Room For You and Cockney Rejects' Police Car were a perfect example of how to cover songs. They finished for Daisy, with a bicycle made for two. Excellent. (facebook)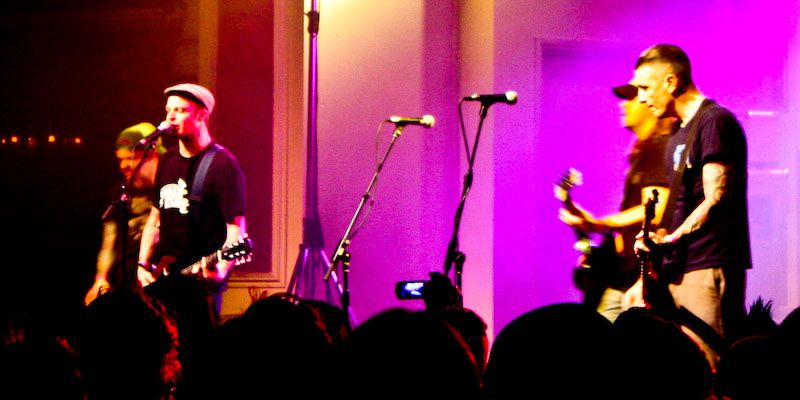 We plunged, for the first time this weekend, into the bellowing depths of The Empress Ballroom and where Johnny One Lung had earlier teased us in the acoustic bar, he was now proving The Filaments (pic above) are the noisiest bastards of the day – so fucking loud and furious before a packed out crowd (you'll read 'packed out' a lot!) – Bastard Coppers topped a ferocious set – superb – fantastic – fucking ace (you catch my drift?).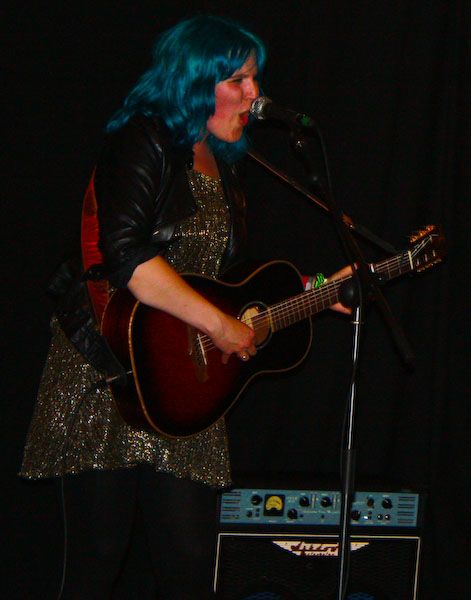 After all that noise and excitement it was time for a Cornetto (mint 'n' choc) and some amber nectar to cool us down while the blue haired and black eyed Lucy Ward (left) sang For The Dead Men. At only 21, she's already won a BBC Folk Award (whatever that is), and despite my protestations of past reviews of acoustic acts, this stage is an absolute necessity – providing sanctuary for those of the Noise Abatement Society. And for this, Lucy's set (with another one to follow tomorrow) was warmly received by those thankful for a little respite.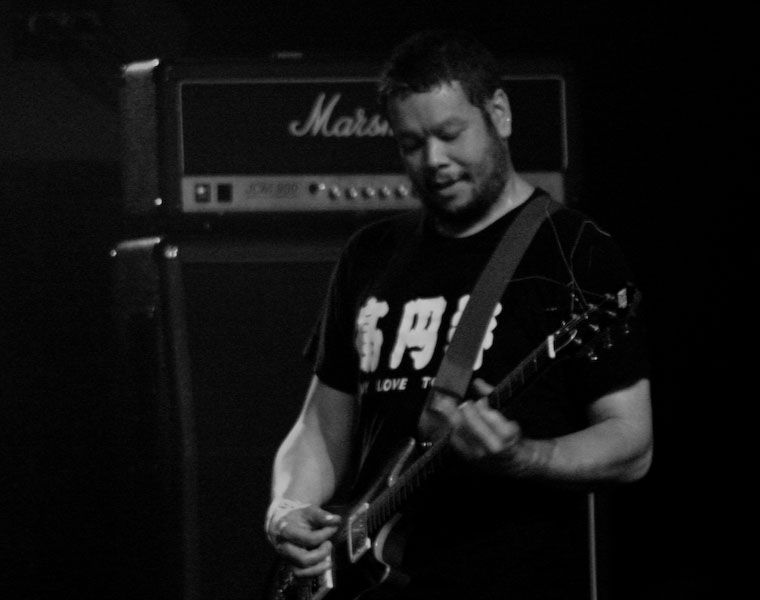 Snuff (pic above), helped by the fact The Olympia and Opera are closed on this first night, filled The Empress. Like The Filaments, unless you were bang in front of the mixing desk, the sound was awful; no need for reverb as your band is gonna bounce all over the place. Apart from the old classics like Whatever Happened To The Likely Lads, Blue Riband Blues and I Think We're Alone Now that filled the pages of fanzines in the late eighties, Snuff kinda passed me by for some dumb reason, I know Dave Cox was anxious to see them as his previous encounter was in Sheffield where he passed out in the bogs and woke up after their set. Furious with himself and pissed, he punched the wall, smashing his fist into a plaster cast for six weeks..!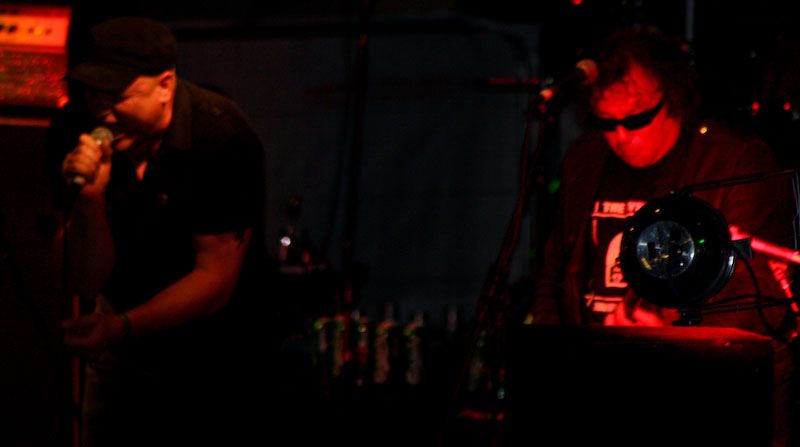 We dropped in on The System (pic above), making an unholy racket in The Arena, staying for a couple of very angry songs. I bought their DIY single as a kid, and they sent me badges and homemade stencilled patches made from cut up bed sheets. If I remember, the letter was signed by Jimi Jerk-off – is he still in the band?



We passed the Romanian punks mini-pavement festival on the way out for some food and opted for a McDeath burger with some East German skinheads in preparation for the final fling of the day…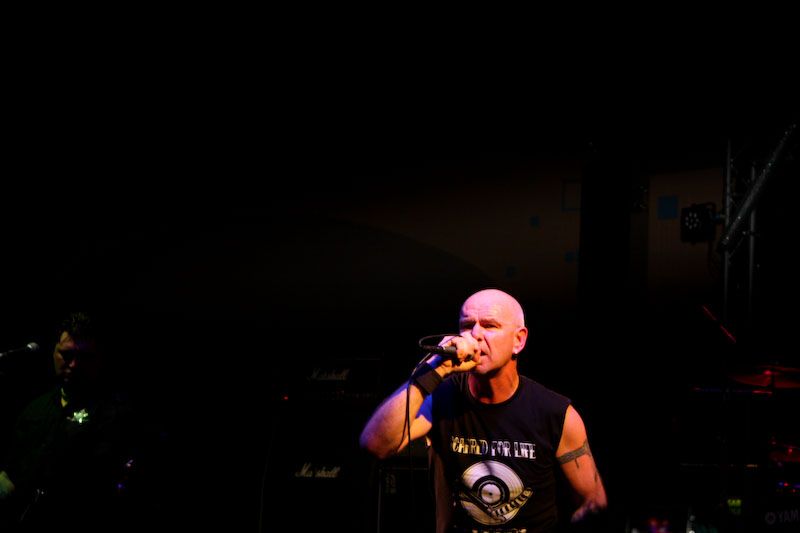 Demob…(pic above) 'Do you remember those weekend nights, when everything was alright.' – That song, No Room For You is on the Soundtrack of My Youth C90 tape – I bought it with paper-round money in 1981, and after I heard it Demob were on a hiding to nothing, they were never gonna top it. I soon seeked out the back catalogue of one other single Anti-Police. And when they decided to dust down the plectrums and record a new album 2 or 3 years ago, they were good enough to send me a copy. My problem was I judged it on No Room For You rather than on its own merits – there again Once a Punk, Always a Punk does pop up on the iPod shuffle on a regular basis.
'Support your local scene, without one, none of would be here,' they said as I edged toward The Empress Ballroon one more time…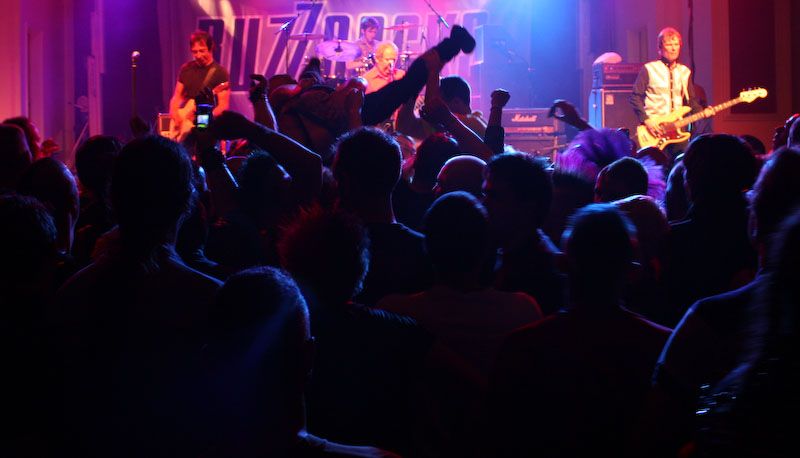 And talking about supporting your local scene, those Manc darlings the Buzzcocks (pic above and main pic) started their own little scene a mere 36 years ago, pressing their DIY EP 'Spiral Scratch' and it was with one of those four tracks they kicked things off at 12.45am. Despite being on my feet, wandering from venue to venue for 12 hours, the sound of that simple opening of Buzzcocks' Boredom was enough to get the adrenalin pumping and the reserve tank flicked on and off I went for an hour of pogo-a-go-go with thousands of like minded souls. The band were on a mission; either that or they wanted to get back to the hotel room for tonights Babestation, as they literally hammered through their set.
It's easy to forget the pedigree Buzzcocks have; all those Top of The Pops appearances; usually once a fortnight! They were the acceptable face of punk rock, they weren't going to kill your babies, stab your gran or puke in your rose garden. The effeminate Pete Shelley would tell you of his angst of being in love, of not being in love, and we all fell in love with some band we shouldn't have fallen in love with, that is, if you take punk by its uniformed credentials. And yet we all did.
I never owned a Buzzcocks album, that paper-round didn't pay enough, so it was strictly 75p singles and thankfully UA Records threw Buzzcock ones out like confetti – and tonight we were treated to What Do I Get, Promises, Chainstore, Orgasm Addict, Breakdown, Noise Annoys, Ever Fallen In Love, Everybody's Happy Nowadays and an excellent ram-a-jam version of Harmony in My Head, which allowed Steve Diggle to superbly rant and rant and rant rather than the over the top (I'm playing in UFO) rock stances. There was also a mid-set 10 minute blast out (didn't recognise the song) where they showed what you can do with two guitars without wanky solos – not too disimilar to what Stone Roses did with One Love at Heaton Park last month, and just as good.
Bang bang bang, crowd surfer after crowd surfer followed song after song – no time to breathe, no pause for breath, nice songs that are punk songs by a nice band that are a punk band. They were fucking ace…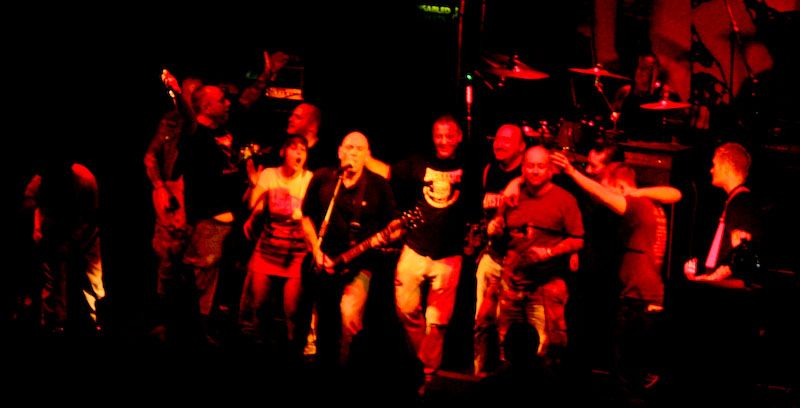 I did stumble across to The Arena to take a sniff at Section 5, but as you can see from the pic, I did feel like I had gatecrashed the wrong wedding, so I filled my pockets with vol-au-vents and fucked off back to the BnB.