Good things come in threes. This was the third and final of my epic Yorkshire expeditions of the season, and the third time I had got to see the "Old" men of Canadian progressive punk. It was the first for my cousins Ste and Mike (and our lovely chauffeuress Sandy), despite being (band-) life-long fans and the three of us having covered their classic "Two Lips, Two Lungs, and One Tongue" back in Blacklisted history.
However it was freeze and not threes that was on our mind when our Mini adventure started to turn out not like the adverts, stuck in the Shivering Hills on the M62 after a crash ahead. Sitting stopped dead in the dark for over half an hour (useful to let the overheating engine cool down) we were forced to contemplate survival plans involving utilising what we could gather around us (Guinness and petrol tankers, Edwards Sausages and Kingsmill bread lorries) while consuming our meagre rations (of Stella). Or the even worse prospect of it getting too late to bother and turning round and going home. Crying.
Mild panic over and underway again we made fine progress and my inbuilt sat nav led us straight to park outside the venue. From the gathered folks milling about outside we learnt we hadn't missed a thing and were equally pleased to find that the dodgy piece of paper I had printed off, headed "We Got Tickets"(honest, guv), could actually get the four of us in! Ahh, The Brudenell, got to be one of my favourite venues in the country. It's got style, a good set up, and independent ethics. And cheap beer. And within about 5 minutes the support band was on.
Fellow Vancouver residents and "good friends" of the headliners, The Pack A.D., were more of a pair than a pack. Two engaging girls, one singing and guitaring, the other drumming, not only were they really relaxed and humorous in their tight little grouping on stage but they also delivered a sharp set of garage punk. The drummer was full of theatrical arm-waving style when not battering out Animal beats, frontwoman Becky both demure and raw, melodic and roaring. Excellent warm-up, I took them up of their offer of a free sticker and a fondle of their merch.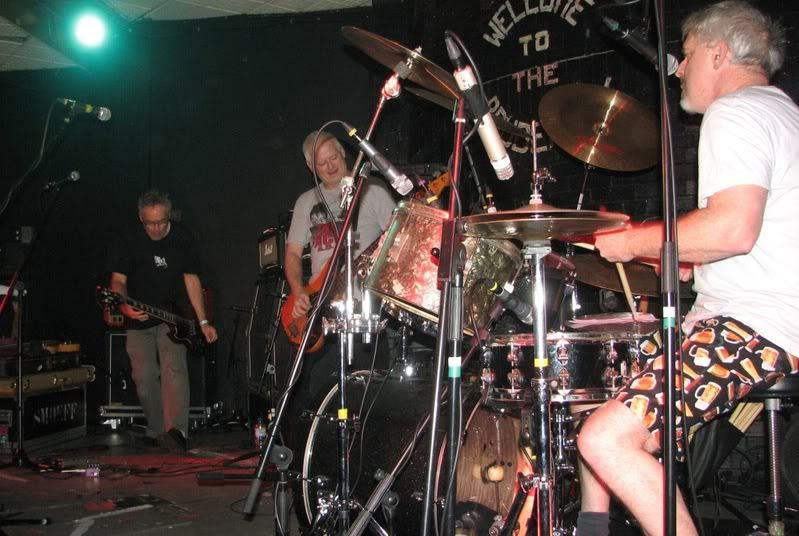 Nomeansno – Not long at all to wait for the main men, the usual arrangement of Jon to the right on the drums, Rob in the heart on the bass and Tom to the left with guitar. As if we needed reminding of their venerable status they started with "Old", and while there is a mix of tempos through the set and it's not all hardcore you feel this has nothing to do with them pacing themselves. More to do with just the sheer genius of being able to mix up a million and one tempos and structures, being overflowing with inventiveness giving them so much of their originality and appeal. I didn't know all the tracks from their copious back catalogue, but didn't feel I needed to anyway, because you could just enjoy them for what they were, the driving bass keyed into the tight drum rhythms intertwined with the insistent guitars. And whether its feedback from our own "Jubilation" they seem to be well into the show too, Rob beaming and having the craic, though Tom can always seem a little more cross though he appreciated Ste's shout for "Tulips…" saying they obviously "have a plant" in the audience. We get two other gems from the seminal Wrong album, the anguished thunder of "All Lies" and the race to the zombie apocalypse that is "It's Catching Up". Other highlights for me, "The Day Everything Became Nothing", and a couple of faster ones off last album "All Roads Lead To Ausfahrt".

They've headed off in a different direction now just selling vinyl themselves at the gigs or making them available for download, whilst previously on Alternative Tentacles roster they are proving that DIY works at many levels. There's lots of down tempo brooding/threatening numbers they excel at too, "Faceless Mary" and "Something Dark" being particularly memorable. The universal broad smiles on the bouncing folks in the crowd throughout lead to a huge round of applause at the end of the set, and in no time they are back for a satisfying encore of "Body Bag" and (of course) "Two Lips…" though it's mid section break contains a whole song ("Now") as opposed to a few guitar note bends. Great stuff. There's even a second encore with added vocalist Mikey (from hockey obsessed offshoot band The Hanson Brothers) plus Becky from The Pack as extra guitar running through what I presumed is one of their (or the Ramones) songs. The happy, bubbling atmosphere continues long after they've finished, the band themselves happy to chat while packing their stuff. We eventually get back on the road west, and the whole night is another absolute treat.
So, Canada wins again, spending so much time shut up in the winters obviously concentrates the creative juices, perhaps we'll have a little spurt ourselves following our cold snap. They remain such a rewarding band that they'll always be on my must see list when they grace us over here, next time might be as soon as next easter. Go for it!