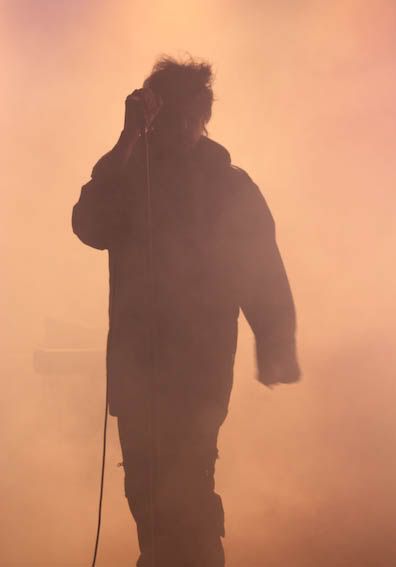 NEW ORDER –
DOVES –
ECHO & THE BUNNYMEN –
ELBOW –
ALFIE –
COMPERE/WANKER: ANTHONY H. WILSON

CRUDCREW: MR & MRS FATMAN
Following a family bout of "Fong Wong's Revenge", her indoors asked me if I was feeling up to actually going, being the "brave little soldier" I am, I told her "I'm not fuckin' missin' this FOR ANYTHING", and then hurried to the bog.
Dosed up with Immodium & packin' all kinds of gear to prevent getting pissed-wet-through again, as I had on Wednesday @ Bowie, we head to Manchester on what appears to be the hottest day of the year so far.
We purposely left later to avoid any unnecessary hanging about which unfortunately (or fortunately for us.. seen 'em before, not really taken) meant missing ALFIE.
With food purchased and a medicinal beer or 3 in hand, we made out way to the stage area.
Mrs Fatman commented on the crowd not being as big as she thought it would be, so I just thought I'd better point out to her that Pocket Venus were playing less than a mile away at the Night & Day bar.
"Oh, that'll be it, then".
Manchester's ELBOW are not the most handsome of bands what with an Andy Fatman lookalike as a singer, and a Peter Kay lookalike on keys, and a pint sized guitarist practising his James Dean Bradfield guitar hero moves. Mr Crud did me the Elbow "Asleep At The Back" album ages ago, and sadly to say it got put into the back of the drawer. It's been pulled out the drawer and I've listened to little else since. Storming set, heartfelt and played straight.
"Asleep at the Back"?, not after that set, pal! If you get the chance check them out, do it… at least check out their great website.
Fatman's perfect replacement for SWR (SMACKHEAD WILLIAM RYDER) came in the shape of Liverpool's finest and the longest running indie icons, ECHO & THE BUNNYMEN. Talk about the ridiculous to the sublime!
I'm ashamed to say that I'd never seen them before despite owning most of their back catalogue & knowing all the songs and all the words, (I bought "Songs to Learn & Sing" years ago, and took the title literally…."Mac the Mouth" slipped up a few times himself…maybe he could borrow my copy). Opening with "Lips Like Sugar", taking in Fatman favourites "Bring On The Dancing Horses", "Back Of Love", Mrs Fatmans favourite "Killing Moon", they included comeback classic "Nothing Lasts Forever", along the way, finishing with a superbly extended "Do It Clean" by way of "Roadhouse Blues" and "Jean Genie". The swagger and the attitude still there, and somehow it doesn't grate as much as those who've tried it since (are you listening Young Master Gallagher).
Opening with "Pounding" a true stomper of a track, Manchester's, DOVES gripped the crowd by the balls with their direct performance and great use of the video screens to interpret the songs. Andy abandoning drums, to take over vocal duties from Jimi on "Here It Comes", backed with some great vintage Wigan Casino footage. Stand out track "The Cedar Room" leaves no-one in doubt. Versatile and unpredictable.
Like Elbow before them, Doves are amiable & unassuming, both bands thanking the crowd for giving them a chance to play & for listening. The set consisted of songs from two brilliant albums "Lost Souls" and "The Last Broadcast", two must have staples in anyone's collection. Winning plaudits thick and fast, and gaining more & more fans along the way, they are getting better each time they play. They are THE must see band.!
I've always thought NEW ORDER were the coolest of any band in Britain, (I later discovered that it was actually THE TINDERSTICKS) and Barney always struck me as the coolest member of that band, so imagine my disbelief and disappointment upon finding he had morphed into a scally ELTON JOHN (chubby face & portly figure…an absolute ringer.
Kicking off with "Love Vigilantes", recent hits "Crystal" and "60 MPH", the band were clearly playing to Their People. Hooky name-checking family and friends at every opportunity, Barney treating the show like some relatives wedding reception (complete with 'sad dad' dancing).
"Atmosphere" strikes up and you feel every emotion race through your body and the hairs on the back of your neck go up, until Barney yelps halfway through and that feeling is lost. Just when you forgive him for that, he invites UberCunt KEITH ALLEN onto the stage, for "World in Motion" to fuck up the John Barnes rap. Tonight I'll forgive them everything/anything as Barney announces that this will be their last show as a new studio album beckons.
As a glorious encore they steal back "Blue Monday" from everybody's favourite Antipodean Sex Midget by sampling Kylie before finally leaving everyone dewy eyed and satisfied with a storming version of "Your Silent Face".
They still ooze cool , even the bootleggers have made sure the t-shirts outside are smart as fuck. .Manchester is once again "The Music Capital Of England"
(reviewed by Andy Fatman)
---
the alternative view from Robin Reliant

Saturday at Manchester's Move Festival
Organized as ever, I buy my ticket from Piccadilly
box office at 4:10pm – the gates opened at 3:30 – catch the tram to Old Trafford
at 4:20, and arrive in time to see the last 15 minutes of…
Alfie
Played a cover of Zoom by the Fat Larry Band,
it was good & They then played a few more songs, which were also good &
The singer sounded like he needed a drink & Indie guitar music with squeally
mono-synth giving it an 'experimental' sounding edge & The type of band
you could believe could get a lot better.
Elbow
These were really good & Laid back guitar
songs in a Coldplay/Radiohead vein, as tuneful as Travis but nowhere near
as lame & The only song I'd heard previously was 'Newborn', which they
played, brilliantly & The rest of the set was pretty much the same,
and sounded great while lying back on a cricket green on a lazy July afternoon
sipping warm Boddies out of a plastic bottle. Didn't see any bicycling
spinsters, but I suppose that's because we're in the North & I almost
felt I could float up to meet the fluffy white clouds overhead & Aaahh…
Echo and the Bunnymen
I was actually expecting Shaun Ryder 'cause
that's what all the posters had said. So when Tony H. Wilson came on
(to a storm of extreme verbal abuse from the crowd) and announced Echo and
the Bunnymen I thought he was taking the piss. He wasn't. I may have been
less surprised if Duran Duran or Spandau Ballet had walked on, but nowhere
near as chuffed. Rescue, Bring on the Dancing Horses, The Killing Moon, The
Cutter were among the songs I could remember – the latter almost sparking
a riot. There were also a few new songs I hadn't heard, but I couldn't
tell them apart from old songs I hadn't heard, and they all sounded excellent.
Performance-wise they were definitely on form as well, well worth seeing.
Doves
Very much anticipated by the crowd, it didn't
take long to see why. They mainly played songs off the current album, which
nicely filled a July afternoon shaped hole – even though it was evening by
then. The band was great, the songs were great, the crowd loved them. They
finished by hammering out their Sub Sub shaped dance-smash from 1995, while
footage from 2001 played on the video screens – the phrase "My God, it's
full of stars!" repeating endlessly. The crowd went mental.
New Order
The only bad thing I can think of saying is
that I'd run out of warm Boddies by now, plenty of warm bodies around though, must have been at least ten thousand!!! I can't remember the exact order, but I remember hearing Transmission, Crystal, Regret, 60 Miles an Hour, Touched by the Hand of God, Bizarre Love Triangle, True Faith, Atmosphere, World in Motion, Day in Day Out, Temptation.. & Hooky played his bass like a true rock god, in the spotlight in front of the speaker stacks – as was only expected by the freaky Ian Curtis-like dancing, Engerrrland shouting, New Order chanting pulsating mass of sweaty human flesh that was too pissed to call itself anything other than 'mate' & just when you thought they'd polished off the encore with Love Will Tear us Apart, Bernard Sumner says something like "bet you thought we'd not got any more good tunes left", and they launch into Blue Monday – with a sample of Kylie singing Can't Get You
Out of my Head layered on top & they finish by playing a really pretty tune – to "bliss us out on the way home" – that I could sing to you, I may even have a copy on tape somewhere, but I can't for the life of me remember its name.

(reviewed by Robin Reliant)