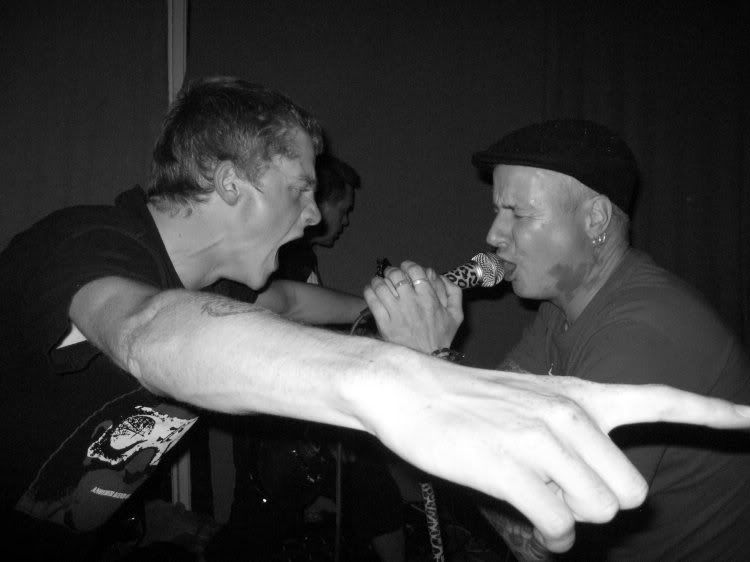 A fucking Juice Bar…! A full on punk gig… In a fucking Juice Bar…! OK, there's nothing new about this, Speaker's Corner has been putting on shows for a good 12 months now. Formerly a shoe shop, now a fucking Juice Bar – with an ironing board as a bar. And full of punks, happy to accept the non-stop hip-hop from Colwyn Bay's JuZ and Rich, under the guise of D.L.O. (Delectric Light Orchestra?) (pic below).

Spanking out something like 6000 words a song, this was serious rapping, at a speed only matched by your nagging wife / mother / girlfriend. The first two numbers in particular were of the highest standard and it would be interesting to see a vid of these two boys (from da hood), with subtitles – of course! The sound is as tuneful as it is texturally bracing and adventurous, delicately wandering between the thumping beats of Cypress Hill and something much more likely to make you actually feel an emotion.
Having narrowly escaped my poison pen last week – there was nowhere to hide for Global Parasite (pic below). this time round, and they didn't disappoint. We had dragged Tim down from Bethesda tonight, and although more accustumed to the delectable riffage of Slayer and Jimmy Page and Stevie Vai, he was mightily impressed. The tiny dance floor was soon heaving under the strain of a sea of boots as ubiquitous drummer Dave Cox provided a solid back beat, powering each song as he and guitarist Steve Brute brutalised our ear drums, with help from the quietly unassuming Matt Misfit on bass.
Czech lager, Dutch lager, Ukranian Lager, Welsh lager – nothing on draught, the strong bottles flowed and flowed. Speaker's were cautious enough to serve the stuff in plastic glasses which were fun enough to throw at the bands without maiming them.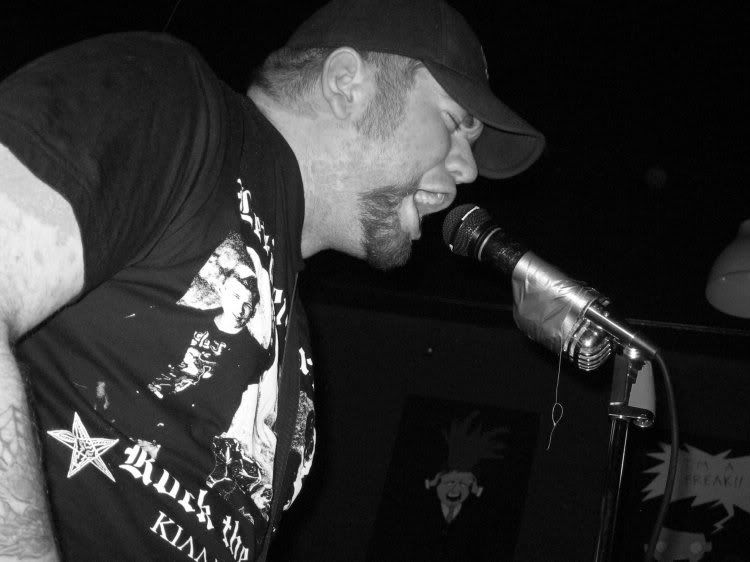 Because of this high alcohol intake I found myself dancing to the anti-heroes of my High School years as Instant Agony (pic at top), peeled away the wrinkles and nailed us to the back wall with an explosive set. Photographic evidence proves I actually picked up singer Hocky and tried to bite his belly… oh dear…


The content of their set was blurred by my fading consciousness; pricked by memories of carefully taking a 7″ single out of its sleeve, delicately placing the vinyl on the turntable, precariously putting the stylus to the record and then slamming myself all over my bedroom – 'FASHION PARADE..!' before my Mum would tell me to turn that racket down.
On the flanks is original guitarist Tabby, who must use Oil of Olay as the twat looks not a day over 30. Someone who is definately under 30 is drummer Ron who Instant Agony usurped from Rhos-On-Sea's Seize The Day, and someone who definately adds that urgency to this very active punk band. Catch 'em if you can…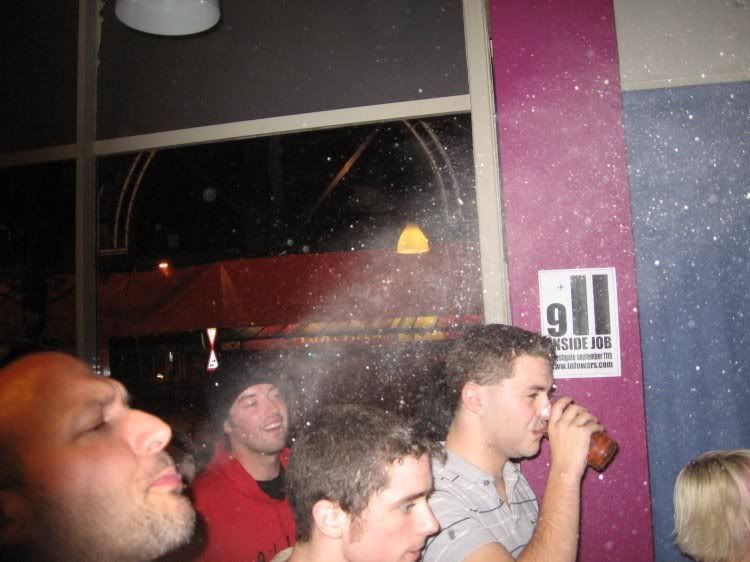 Don't say it – Spray it..!