EBGB's and Jacaranda, Liverpool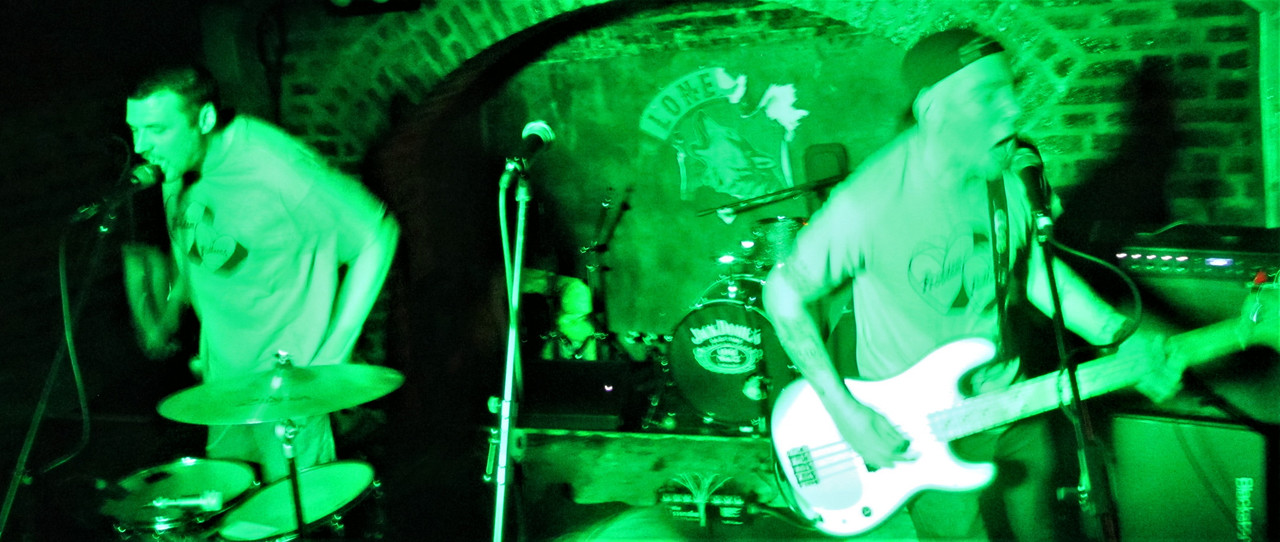 I am big fan of self-depreciation and the lowering of expectations to all the more be pleasantly surprised when anything goes right or is good, so it's great to report that Crapfest did exactly NOT what it said on the tin.  The theme stemmed from its founders, the anarchic Wirral two-piece of the Crapsons setting up a gig of friends, established band connections, and any excuse for a party.

We arrived to find Liverpool vibrant in general this bank holiday weekend, loads of people street partying and enjoying the socialising opportunity in the sunshine.  Not for us the bright lights though, we descend into the basement cellars of EBGB's to catch the first band, Bleach Sweets.  Two-piece guitar and drums combo, with the sticksman providing the vocals, it's a pretty powerful groove that brings to mind Royal Blood meeting Fu Manchu. [pic by adrian wharton]

An interlude with health and safety gone mad, a fake news film crew then things go Tits Up.  As in the three-piece band delivering an intriguing yet captivating mix of lo-fi rockabilly meets the sultry threat of PJ Harvey.  They seem to be having such fun together on stage too, and I get a birthday song dedicated to me (it was in May). [pic by adrian wharton]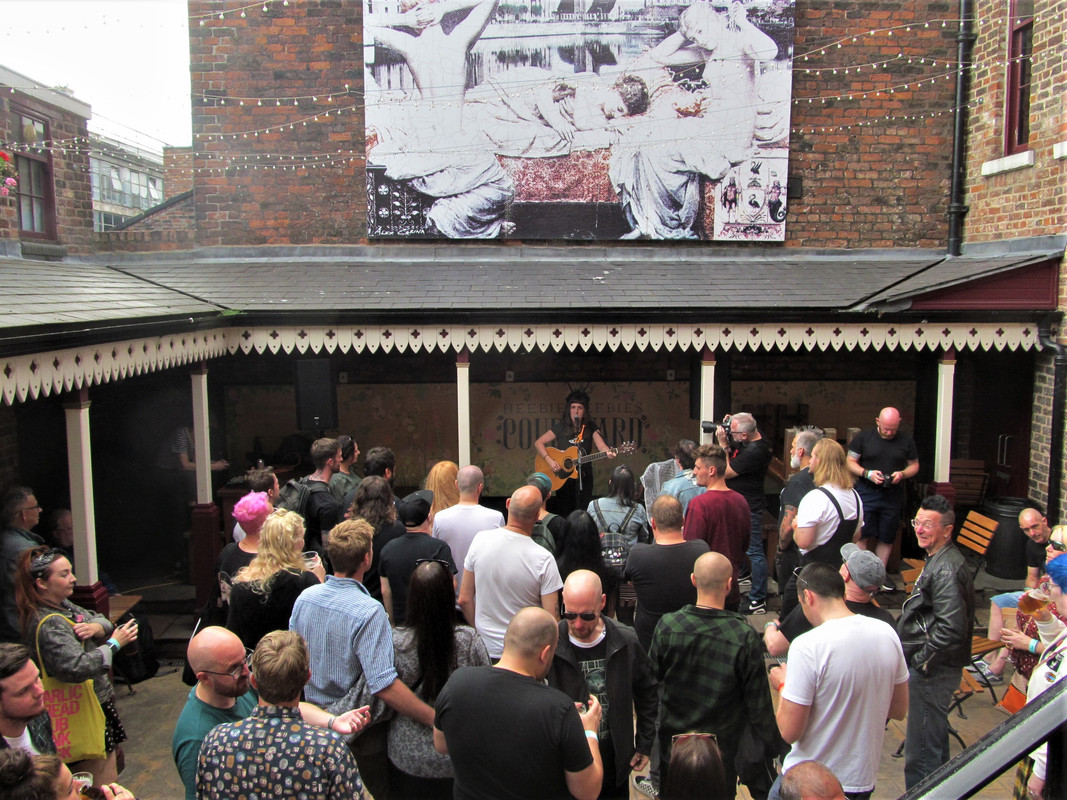 We take the first of many regular breathers on the drinks wallet out and about, but we can also enjoy the open air with performances in the Heebie Jeebies courtyard.  Oorya is a solo effort from Steph of Glove fame that contains the same poetic intensity and off-kilter experimental tuneage.  And a game of pass the giraffe.

We return to the pleasure dungeon for our North Wales representatives Spam Javelin, whose sharp and punchy old school punk had really developed into abrasive entertainment.  This is especially as they are throwing verbal grenades at more social issues than their more throwaway light-hearted earlier material.  Certainly stirs the crowd up. [pic above by richie yates – feat; Crapsons on guest vocals for Children Of The Shoe]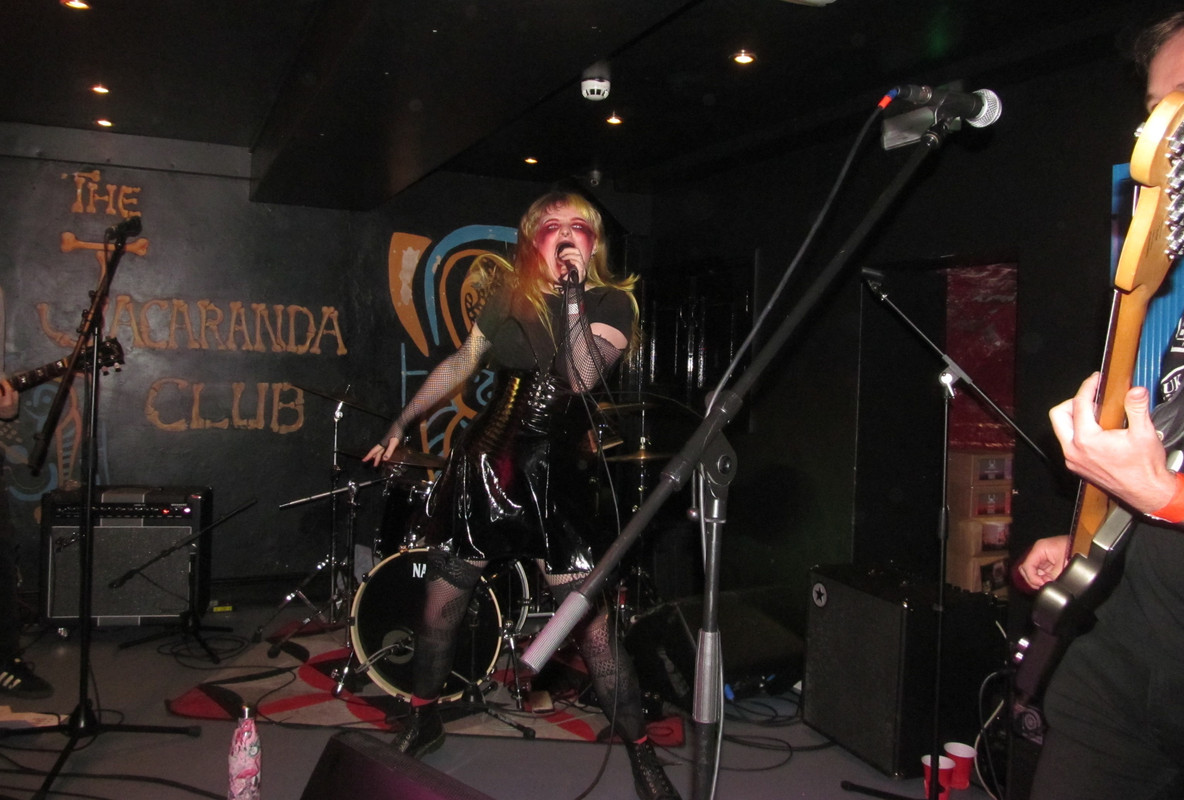 It's about time we went to the other host venue, Jacaranda is literally round the corner and again it's interesting to see normal life on the street level unaware what dark rumblings are occurring under their feet.  It was a random choice but Last Reserves were a great find, angular and inventive driving punk from a young band with a spikey vocalist genuinely opening her heart up to us with monologues of spoken word kicking into the more feisty stuff.

Feel I have neglected this place a bit but it's testament to the solid quality line up the lads have assembled that we return to complete the evening  at EBGB's, firstly with their mayhemic mates Salt the Snail.  Never a band not to come prepared for the party they have their inflatables and signs that fill the basement all the more, but also have some great relentless grooves married with provocative vocals that catches your attention by the scruff and rattles your head – their chaos is our pleasure. [pic above by gary hough]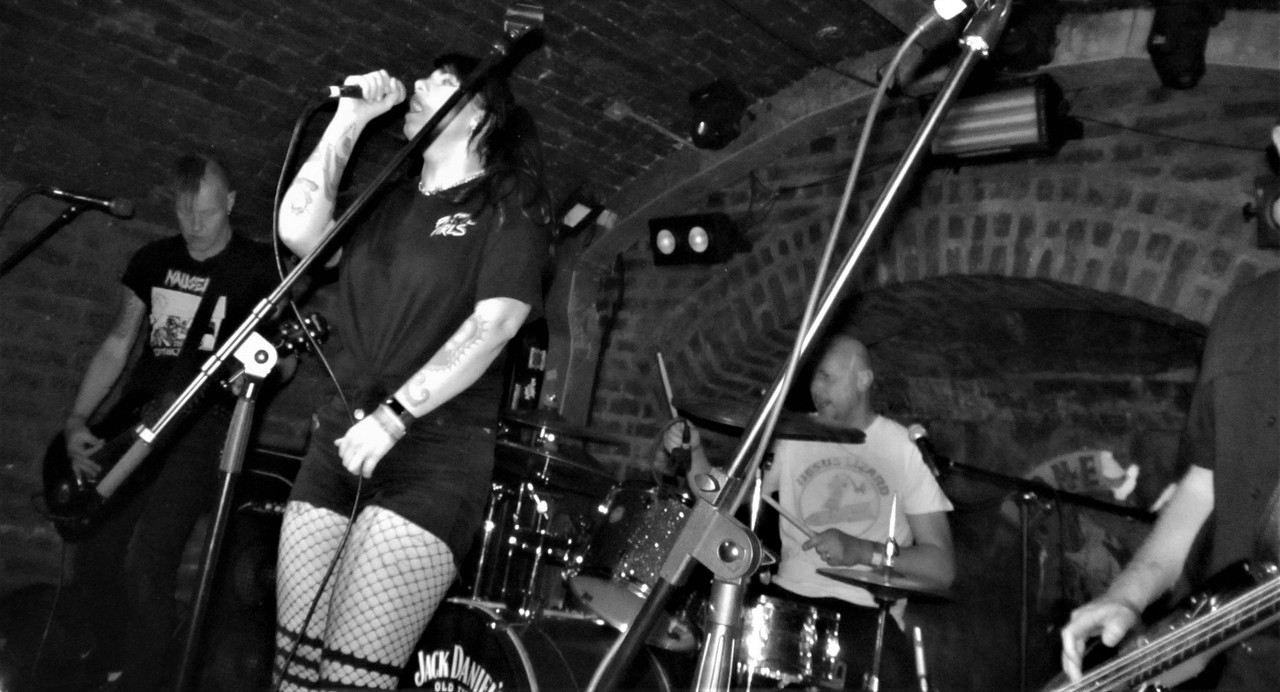 More seriousness but no less impact with Burning Flag next, who are really getting into their "post" Covid stride with new vocalist Holly. Their hardcore riffs are fantastically honed to transmit sheer power, biting social-political commentary, and lots of shared vocals really make for a cohesive force.

Incisions I hadn't seen for quite some time but have been rising fast in the scene's hearts, with their recent strong album release "Bliss".  Again, probably helped by the contained environment their hardcore hits in the face and guts, a real edge to their delivery and frontman Jordan a surly, swirly font of aggression channeling some Mark E Smith meets Dean Jones vibes.

A worthy lead into our headlining hosts, Crapsons can more than hold their own with all that's gone before, buoyed by the love and appreciation of us all here.  Literally carried over our heads at times as they have surfing interludes but when they are delivering the drum and bass punk poetry on the politics of council estate life they have a focus that really hits the spot.  We bail before the end for the train but its been a top day's/eve's entertainment and we are grateful for them getting this Crap together.  You never know when you're going to have this much fun!