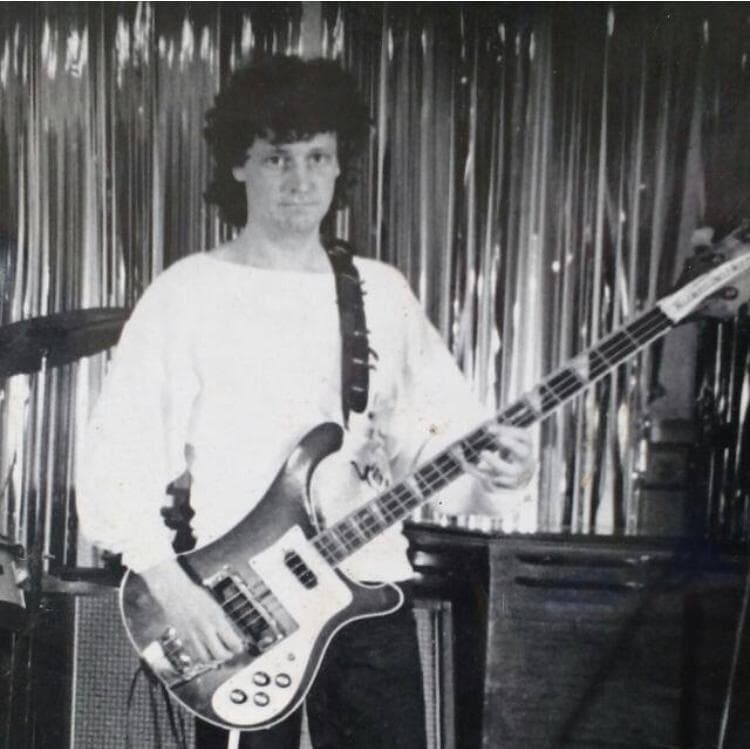 [by mark watson-jones]
Sadly, this last week I lost two people who'd featured significantly in my and local musical history so I'll take a moment in a couple of columns to celebrate the type of people they were and the positive examples that they set.
First, Dave Lewis, who I first think we met when he was doing weekend discos in the late 80's at the remnants of The Grand Hotel in Pen, a huge Shining style decaying mansion and a haunt for our underage drinking practical lessons.
Even though he was what… twice our age (!?!), he tolerated us haranguing him for more noise on the playlist, and with his PA gave us the scope to actually play our first gig there with our raw metal/punk baby faced band Blacklisted. Supporting the local notorieties 4Q, it was the start of a busy few years of stirring up the back rooms of pubs and youth clubs of North Wales.
Dave cast his eye and ear and liked us enough to offer to be a "manager" in the sense of applying his experience and contacts to help us out, and not wanting anything for it. He was enthusiastic about what we were doing and a great sounding board and guide for what ideas we had to take things forward, he wasn't looking down his nose at us as some snotty upstarts without a clue, he just wanted to chip in to encourage us. He even gave me a book to learn where the notes were on a bass (still on page 3), something I had not bothered with until then, but also ingrained my lack of respect for tuning with his phrase "It's close enough for rock and roll!".
We respected him, and were happy to listen, he had a 7" of his own rock band, Filthy Rich, on the jukebox in The Alex after all. We were flattered and at the same time that boost of faith and belief in what we were doing perhaps focused our own drive some more. He'd pull us up when we were shit, or nudge us when we were going about things the wrong way, and celebrate when we had our minor successes.
Under his wing rather than control, we went places in our small little world (sometimes with him driving the van) and did a lot of great stuff. The memory of him disappearing under a big mosh-pit pile-on at the Queens in Porthmadog will always bring a smile. And that band wound up eventually, but the way of approaching how to run a band was invaluable for the future, hardly "professional" when there's little money involved but at least going about things in an organised and efficient way. Sharing that knowledge and lessons learned saves time and effort, fine if new bands want to find their own way but the help is also there if its needed.
I'm sure he'll have done the same with his own son Phil and his band False Alibi who are another generation on again in keeping the music live. I was always chuffed to see Dave play bass occasionally with jam bands in later years as he had such a laid back classic rock style that reflected his easygoing personality.  I was always chuffed to see him at anytime just to think back on those early days that meant so much.  He (and his wife Mel) gave some love for us and what we were doing and that will always help sustains things.
All the love back to him now