13-14/7/19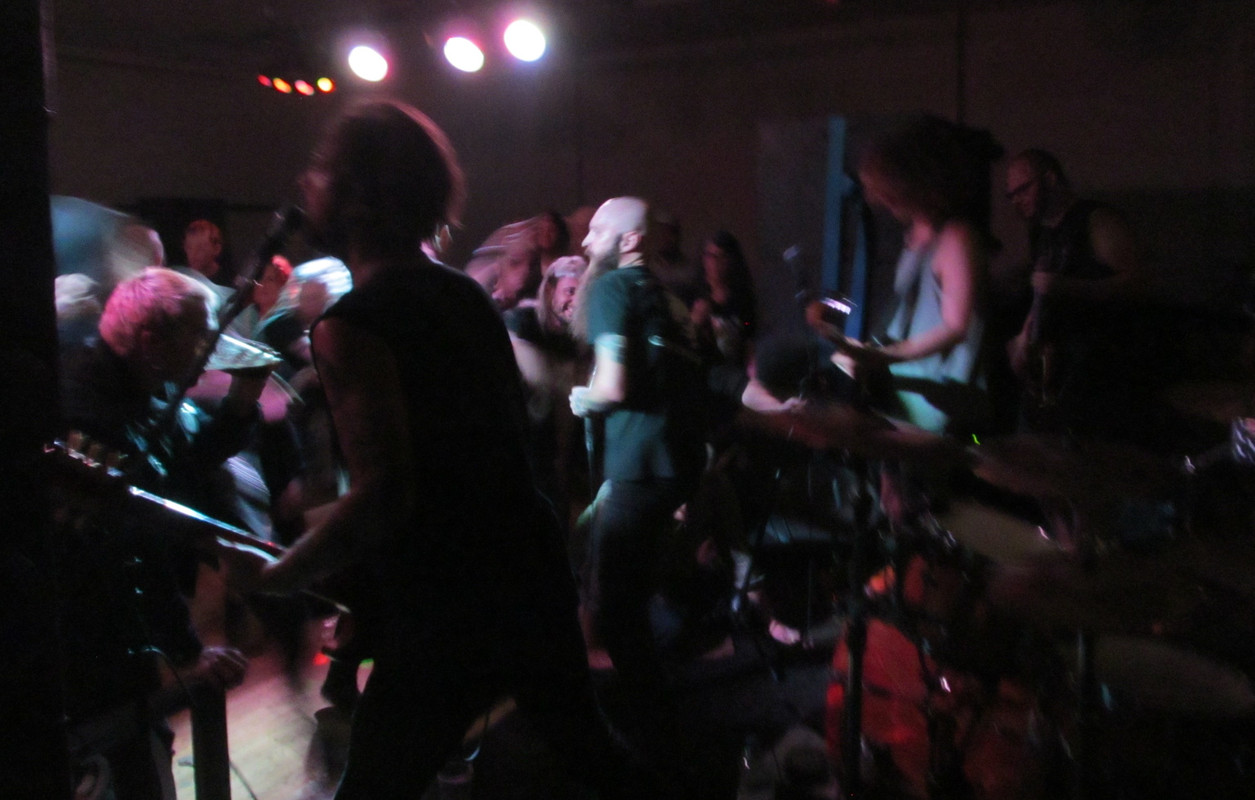 Too early for Halloween you say? This is nothing to do with autumnal veg but a determined effort by the squash based Manchseter punk record label to re-establish at least a flavour of the Dirty Weekend/Common Ground festivals they were involved in and that have sadly run out of available destinations in recent times. So while there's no camping involved the excellent community club in Levenshulme does at least have some outside green space to rig up a marquee to complement the indoor stage. Invite a similar range of alternative styles of band to what was mixed up on those previous festival fields and the ingredients are looking good for a feast. Oh don't forget to add Buckfast as a condiment.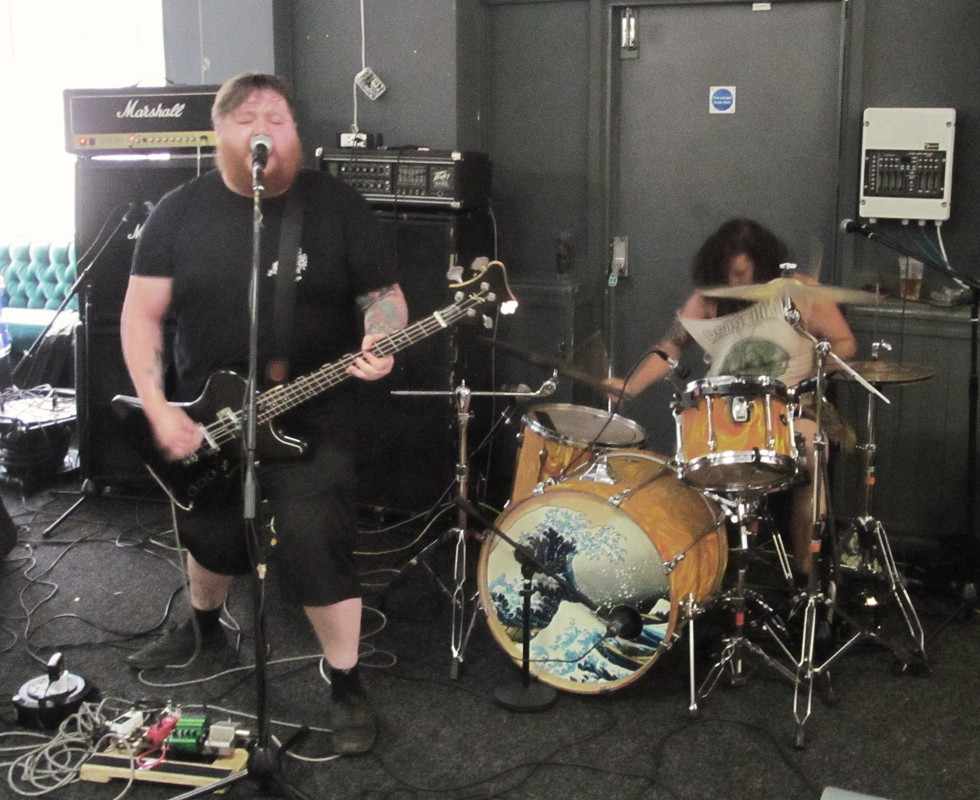 monolithian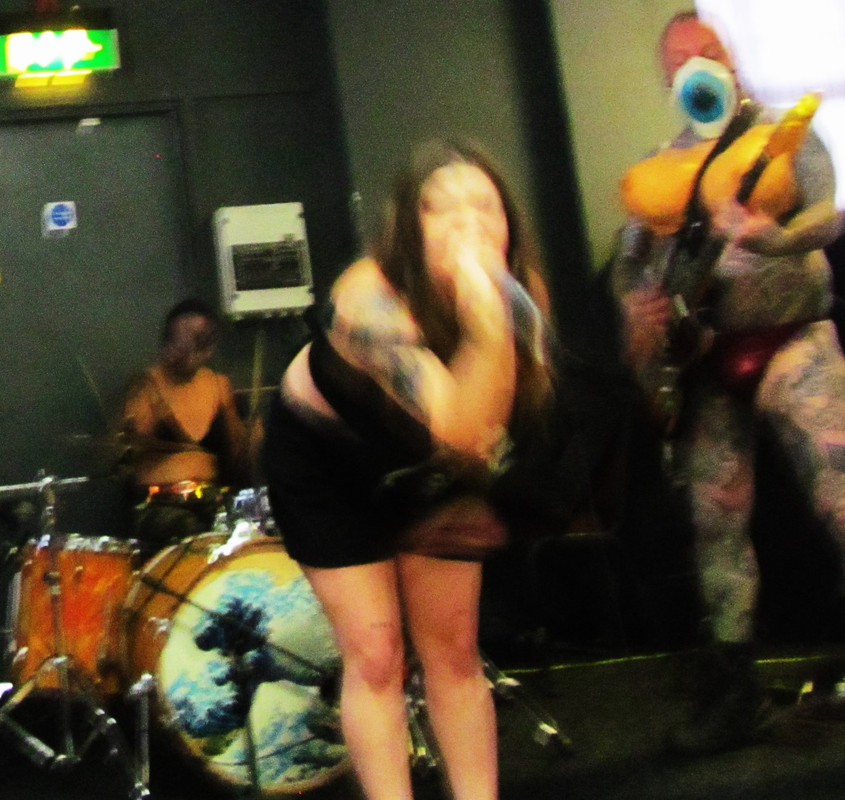 poisonous cxnt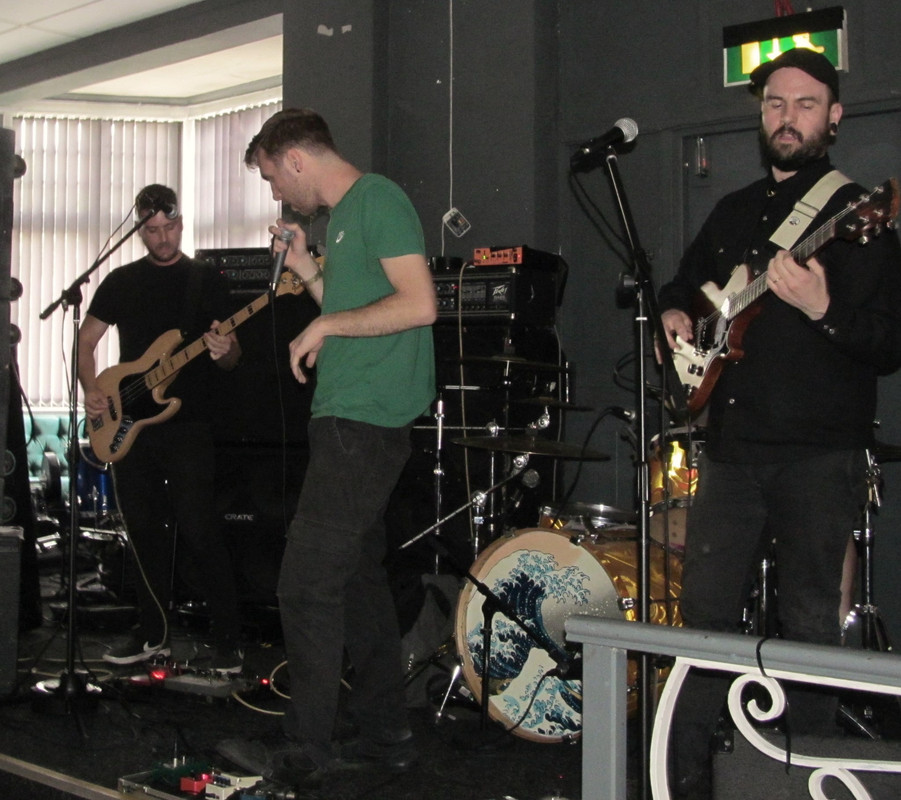 atterkop
We were up in town for lunchtime given an early afternoon start for the bands, found our super cheap b&b, the weather continued to be good as we sauntered back to the club. A little delay in running times but then we have locals Follow Your Dreams, who really impressed me round the corner at Fuel Café recently. If anything they are even better, great technical skills, and shifts in the tempo and structure of the songs, matched by the melodious or harsh vocal mix. Looking forward to seeing them again in Wales in October. We can chill outside in between the indoor bands and listen to the variety of acoustic acts and "jiggy" folk punk in the marquee whilst catching up with friends who have been drawn from near and far. Another great quality Northern band are Better Reality, and their thumping set of driving hardcore with the ever mobile Myke up front keeps the tempo up. Brought back down but not in enjoyment terms with Monolithian from Falmouth. Always a pleasure to catch Shannon and Simon and be pummelled under the waves of distorted bass vibes and battering drums, they shift from anguished doom to urgent punk effortlessly. And throw in a 2 Sick Monkeys cover as a bonus. London based real horrorshow Poisonous Cxnt are as punk as proverbial, a chaotic raw edge to their stripped down tunes and beats and a relentless raw vocal that still contains some sultriness. Plus massive tits. On Keith. Atterkop from Bristol have a lot more precision and subtleties to their melodic mix of hardcore, almost in a Propagandhi fashion, as was ably captured on their recent album, but are still a lot of fun with the deadpan moroseness of the guitarist. Rat Cage from Yorkshire are a blistering onslaught of hyperfast hardcore that flies by, before we are treated to a semi-naked Rash Decision. It's hot, it's understandable. They burn through their excellent set of thrashy metallic hardcore with no mercy and remain on top of their game. A rare and seemingly final treat to see Absolutist from Ireland and they have only reformed for this and that will be that again. So all the more reason to savour their mix of hardcore and progressive post metal epics vibes, an intense performance. A perfect lead in to our headliners from Sweden, (a coup in intself), Fredag den 13 (top and bottom). Last time I saw these I was being carried away on a crowd surf in the sunshine of Obscene Extreme a few years back, there's been some line up changes but this years album release seems to show they haven't lost any momentum. It's a freight train demolition derby of d-beat and distorted hardcore riffing . They and their countrymen have this intricate and yet relentless punk attack down to a tee, and there is a suitable wild response to use up our remaining energies.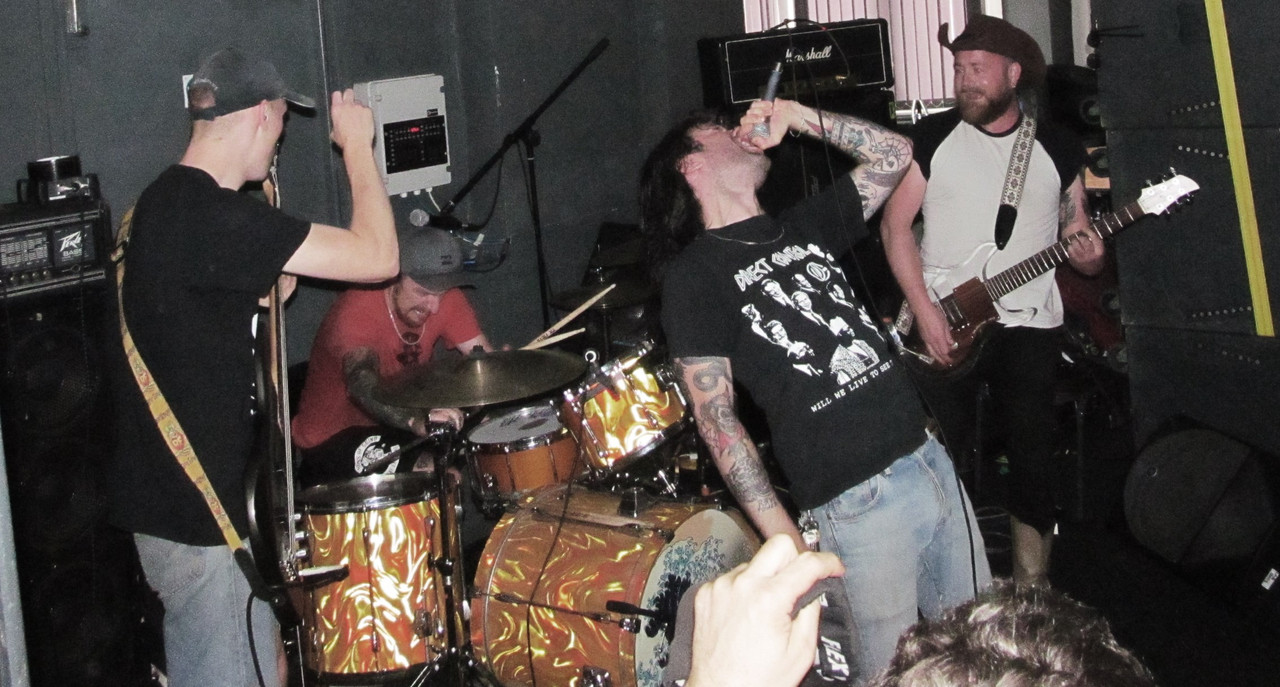 ratcage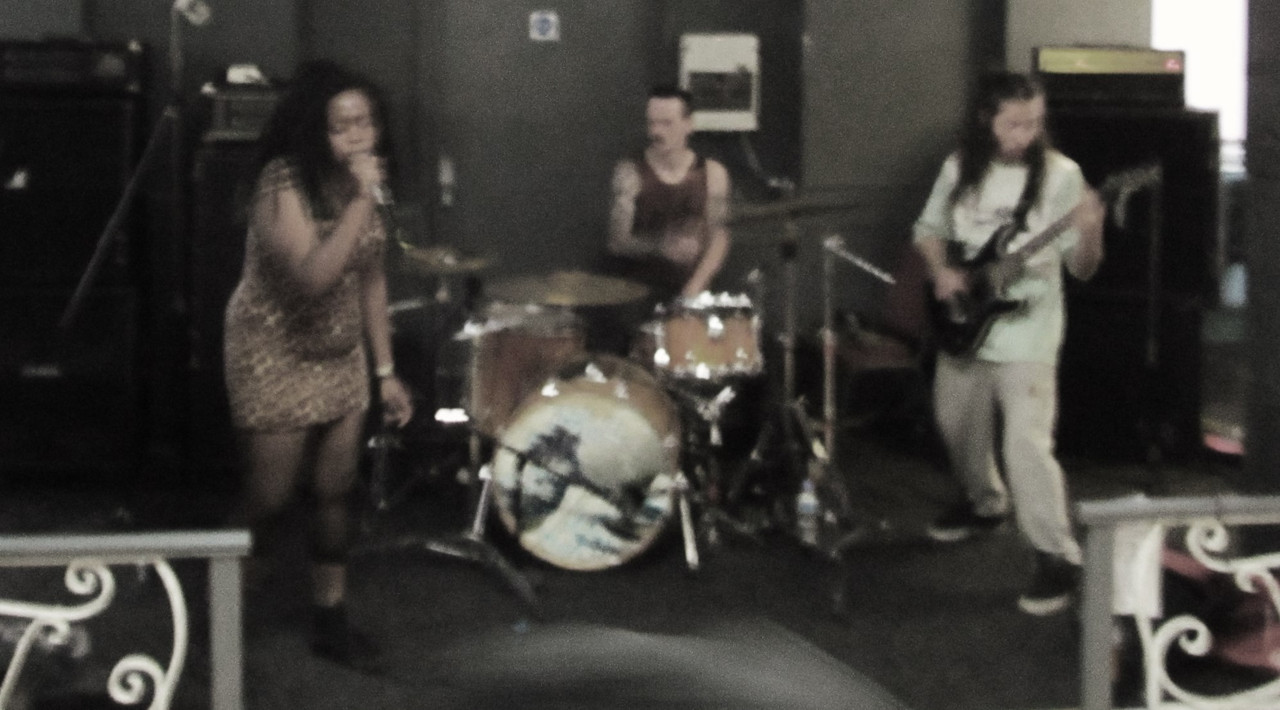 gurnal gaddafi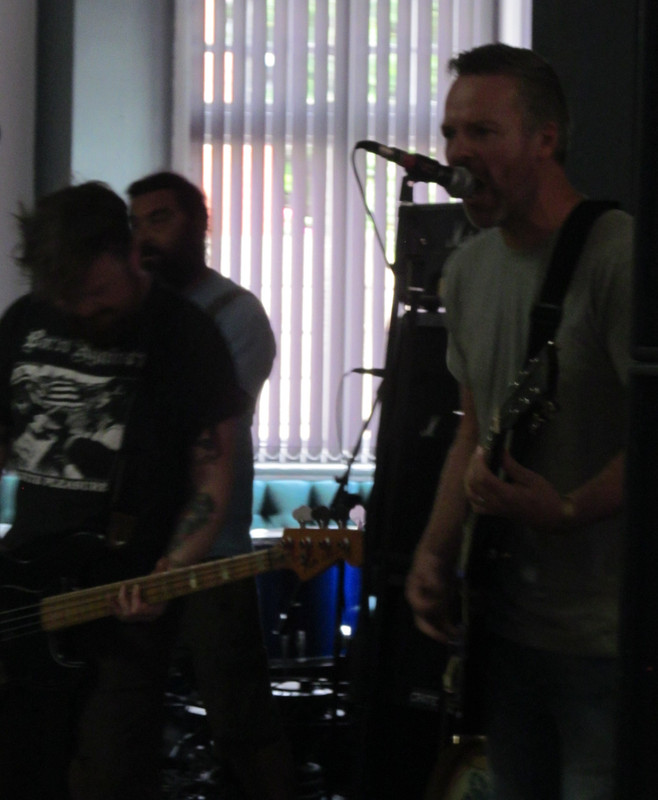 The Leif Erikson
The Sunday social initially seemed hard work but there were still plenty of early PM risers in time for first band, locals Gurnal Gadaffi. Still in formative stages with some of their material but gives them a great fresh abstract style to their punk/grind, the harshness of their content offset by the amiable attitude. Outside there's a great festy vibe with kids playing, therapeutic rubbish table tennis sessions, bouncy castles, lots of kids welcomed too, good food being made, and just the general band of celebrators/survivors feel. The opportunity to chat while not being drowned out by bands shouldn't be overestimated! Back to the noise with an even newer band, Spillage, made up of more local reprobates from other band. Melodic political hardcore, great use of backing vocals/harmonies, their previous experience if letting them hit the ground running. Luvdump I hadn't seen for a while but their ska-tinged hardcore remains effective and enjoyable, even if seemingly a little hangover subdued this afternoon. I hadn't heard of The Leif Erikson before but the "maturer" band were again a polished and practiced article that delivered their melodic punk in an excellent, driving fashion with a tempo that kept the place bouncing. A shift in gear next with One Eyed God, who were much more of the dub-skanking festival band you expect in the mix of these events, and got a suitably groovy dance going. Rotten Foxes all the way from Brighton had come prepared for the weather in their short shorts but still raised a sweat with their fast hardcore, with a lot of humour thrown in.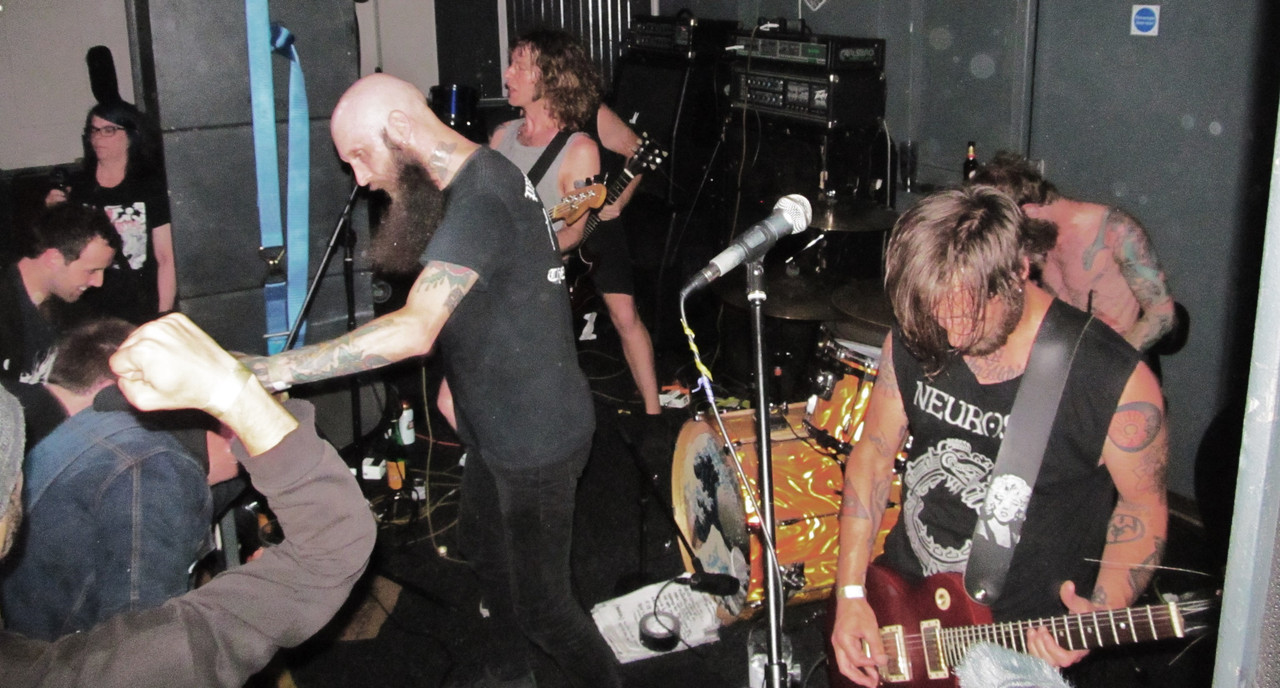 There was more to come including reformed headliners Guns and Wankers but I was pretty broked by now, sober through needing to drive, and therefore called it a day. It had been a really enjoyable weekend though with exactly the mix of music and collection of friendly folks that would hopefully mark this as a success and encourage more for the future.  they have indeed booked the dates already – July 11th and 12th.  Pumpkins are not just for Halloween!