Obscene Extreme Festival 2019
3-6/7/19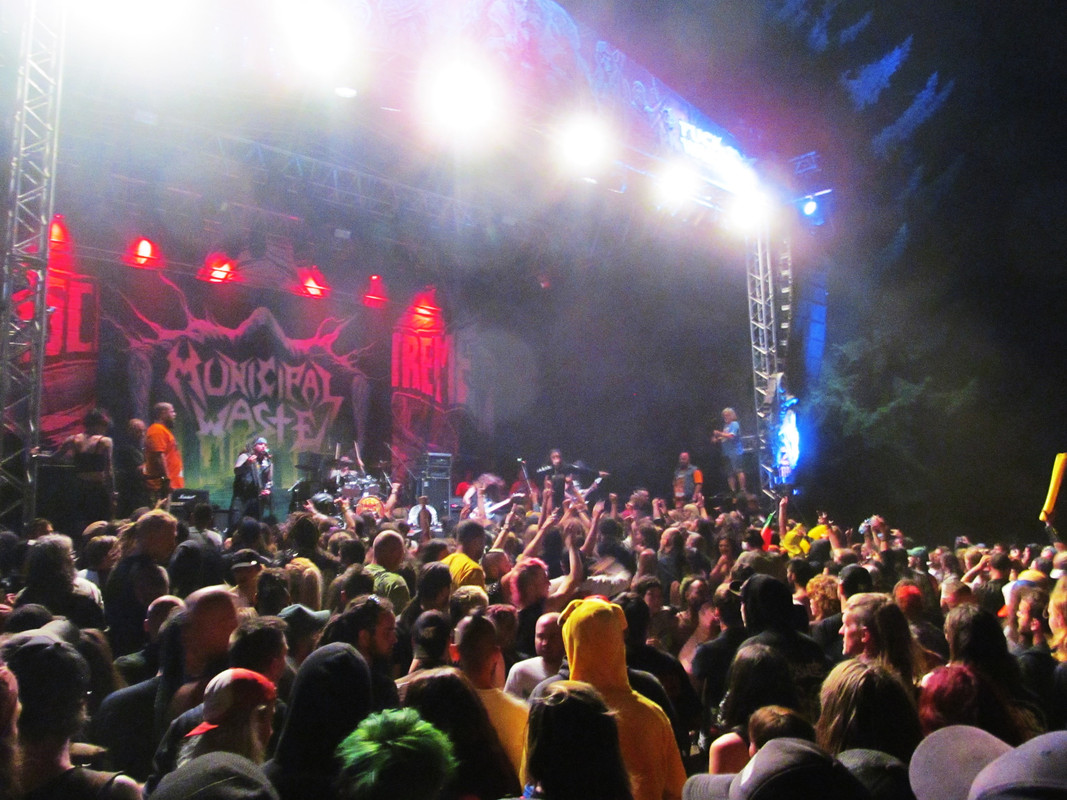 To think, for a bit, I considered not going.  With other festivals to check out and compare and contrast, and after the major milestone/mess of its 20th anniversary party last year, maybe this could take a break.  But then they announce the line-up including a top selection of American hardcore that you don't get to see a lot and what do you know, all arrangements are made a we're rushing back to the heart of the chaos.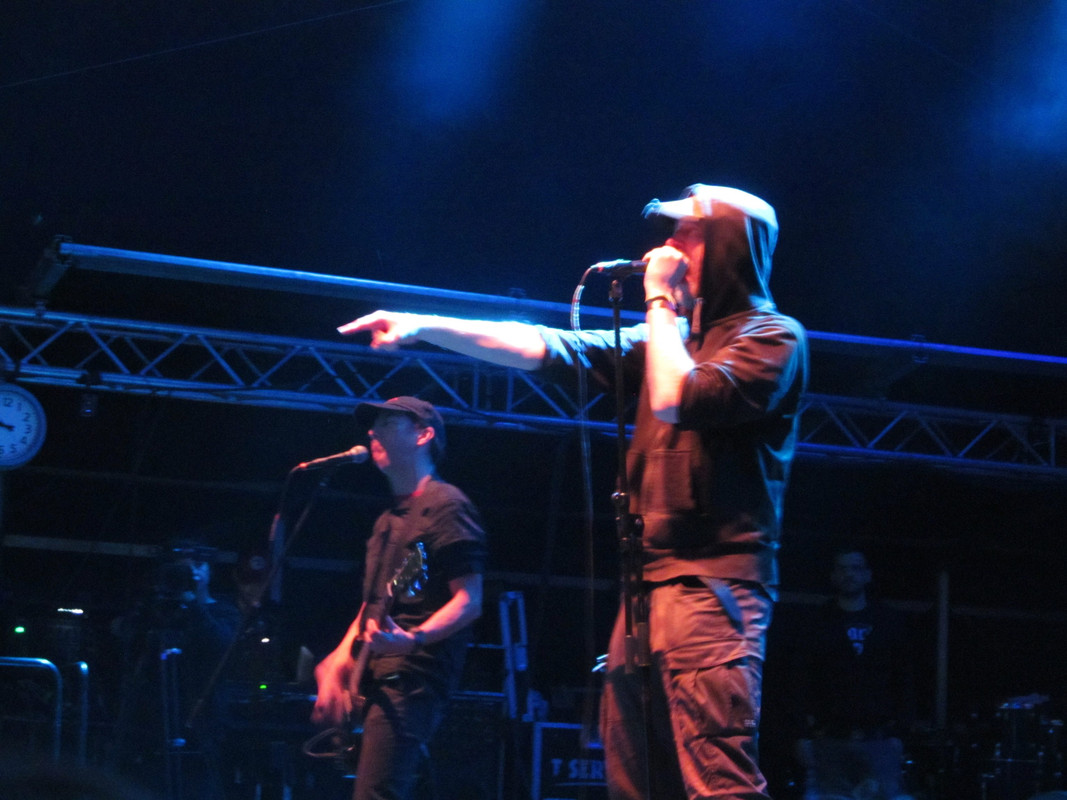 With practice the travel is pretty slick now and shared the Wednesday morning train up from Prague with some new Swiss friends and some beers, it went quickly enough.  Even the laden trek up the hill from the station to the site doesn't seem as bad as those first times, must be getting battle conditioned.  Following on from last year the warmup day has pretty much extended to a full day in itself, this time with the theme "Punk as Fxck" and celebrating the root the genre plays in all the variants and genres of extremity to come here.  So  there's local punk old-schoolers, a splash of international bangers like Mar De Rabia from Venezuela, and a top notch legends finish to the evening.  The Dutch Fleas and Lice I didn't know but they were greatly entertaining, dual-vocalled hardcore, then we had Warhead who delivered the definitive raw sub-Discharge Japanese style (repeat song title five times).  Peak punk for me was an awesome show from Oi Polloi (above) with Deek running through all their subtle subgenres of their hardcore style while simultaneously astutely provoking some political thought.  GBH to finish were great as ever but I thought the vocals weren't the best tonight and had preferred them in a pub in Lancaster last year!
stillbirth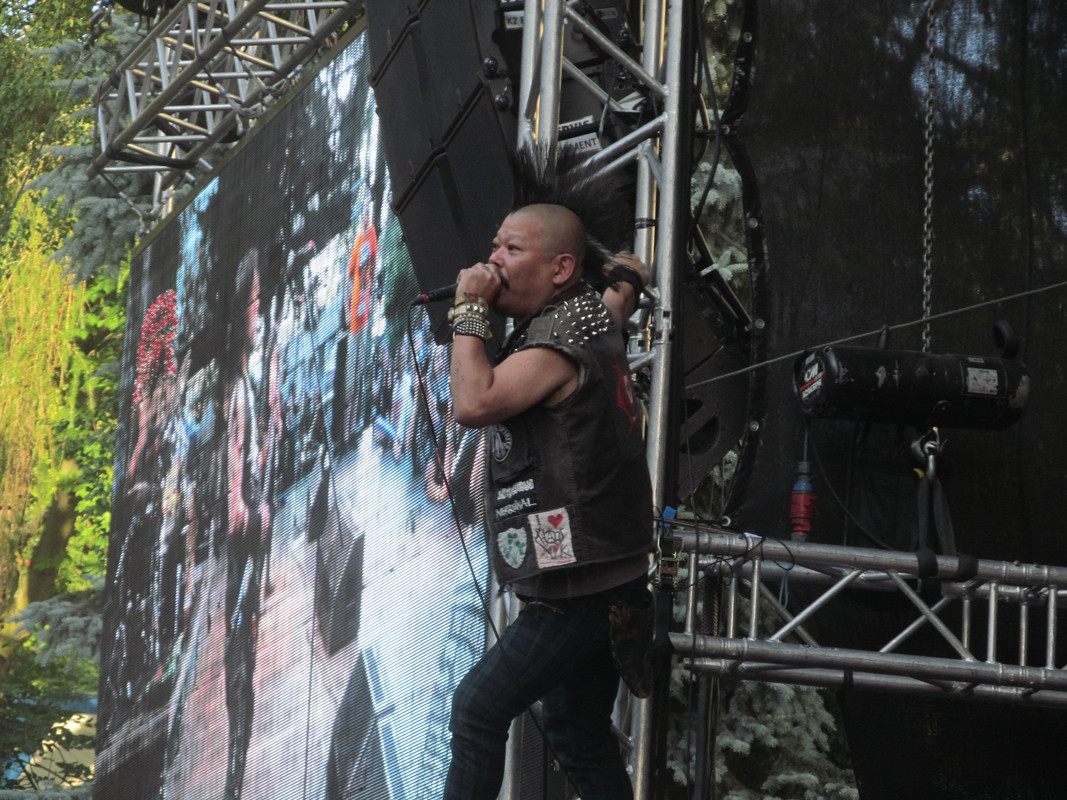 forward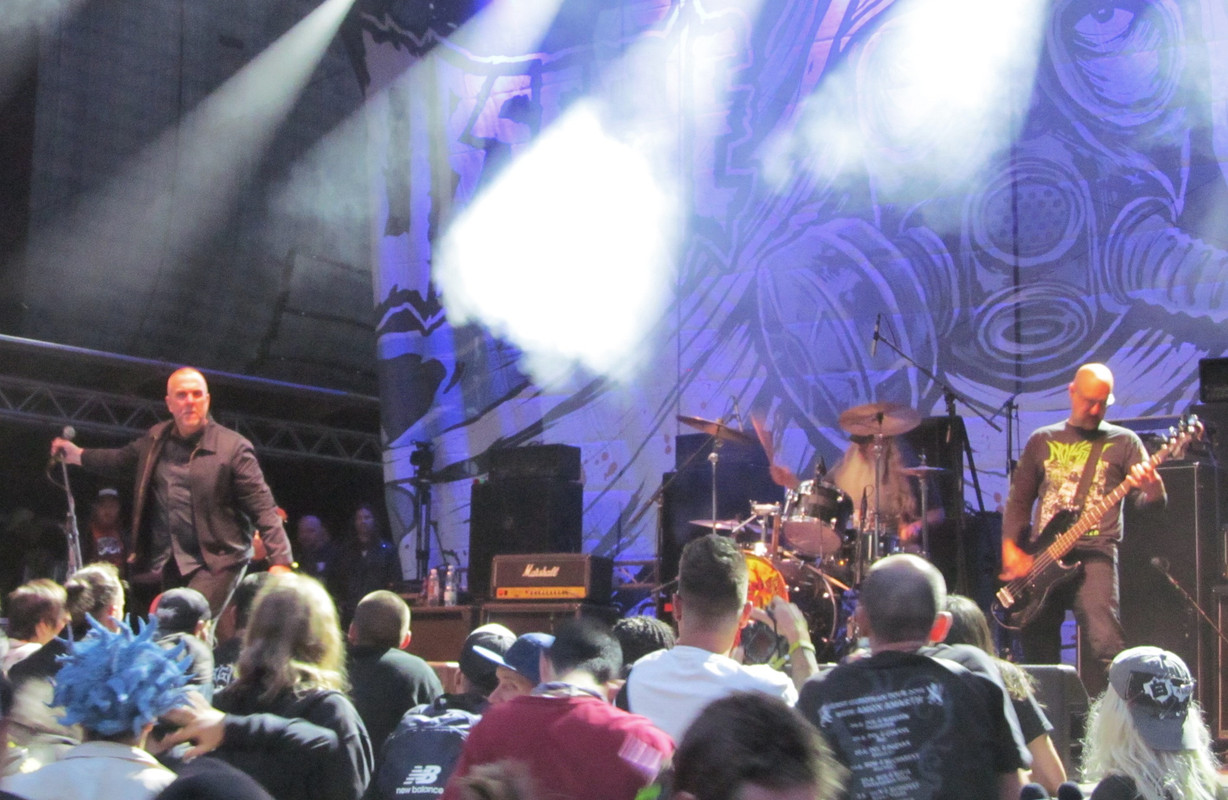 dropdead
The warmup transitions to hot as hell as we're still the back of end of the European heatwave so much fluids have to be absorbed and we're ready for a morning start for the Thursday.  Our friends from the North, Corrupt Moral Altar, certainly stir some rage in the blood with their consistent violently cathartic performance, and soon after we have more ferocious grind from The Netherlands in the form of Suffering Quota, who transferred the sonic maelstrom I'd last seen in a small Groningen club to the big stage with ease.  Cartilage from Mexico are blood soaked butchers of heavy gore-grind riff brutality before we have more progressive grind from The Public and Adacta, both local-ish and held in high regard in these parts.  The craziest party of the day erupts with Stillbirth from the US who have a great line in matching Bermudas as well as crunchingly effective slam death metal, the inflatables are out in force.  Noisem from the US I'd been looking forward to see for the first time after hearing some excellent releases, and their deathgrind storms along despite them apparently being mentally ruined through touring with CMA.  Cryptic Void from Texas also  are very precise and inventive in their grind attack, putting some good structure in to keep the interest.  Final Exit are from Japan and we could leave it there really.  I'd seen them here before and yet again its bonkers ultra-tight explosions of short grind from the two-piece, with their apparent clowning not disguising their skills.  Another welcome return from their country is Ishiya the frontman of Forward who we last saw here with Deathside.  He starts in the centre of the circle pit before hanging off the lighting rig, all the time rasping over the charging hardcore backbeat.  His broken banter is, I think intentionally, hilarious and at the same time poignant.  Misery Index next, the Americans really have taken it to another level with their technical death grind, the sound is spot on as they tear through a powerful set.  Now we are spoiled as this is followed by US hardcore legends Dropdead.  They've had a year or so of hassles at home but their focus on performance is unaffected, superfast blasts of righteous anger with frontman Bob on top form in his haranguing/encouraging the crowd.  Forthcoming material is aired which has some more measured pace amid the hyper beats but a maturity that still ensures the message is there to be embraced.  Back to caveman ways with Cannibal Corpse, the US death metal monsters arguably being one of the biggest bands booked here, the arena is as full as it will be all weekend, they are almost known in the mainstream!  It's a solid steamroller of dissection by riff but for me gets a bit blurry and repetitive, plus they decide not to allow stage divers onto "their" stage.  I sleep for a bit and discover I have missed have of Negative Approach's set, rush back to the front and savour the relentless, rabid onslaught of short sharp hardcore from the seminal US punks.  Reminds me of recent Zeke shows seen where there just is no let up from the left-right punch of short songs, with the occasional drawled thanks in between.  It is phenomenal that they are operating at this level after decades and fair play to them.  Hang around (like the naked lady) for a bit for the annual S&M theatrics but find this pretty uninspired compared to previous efforts so call it a night.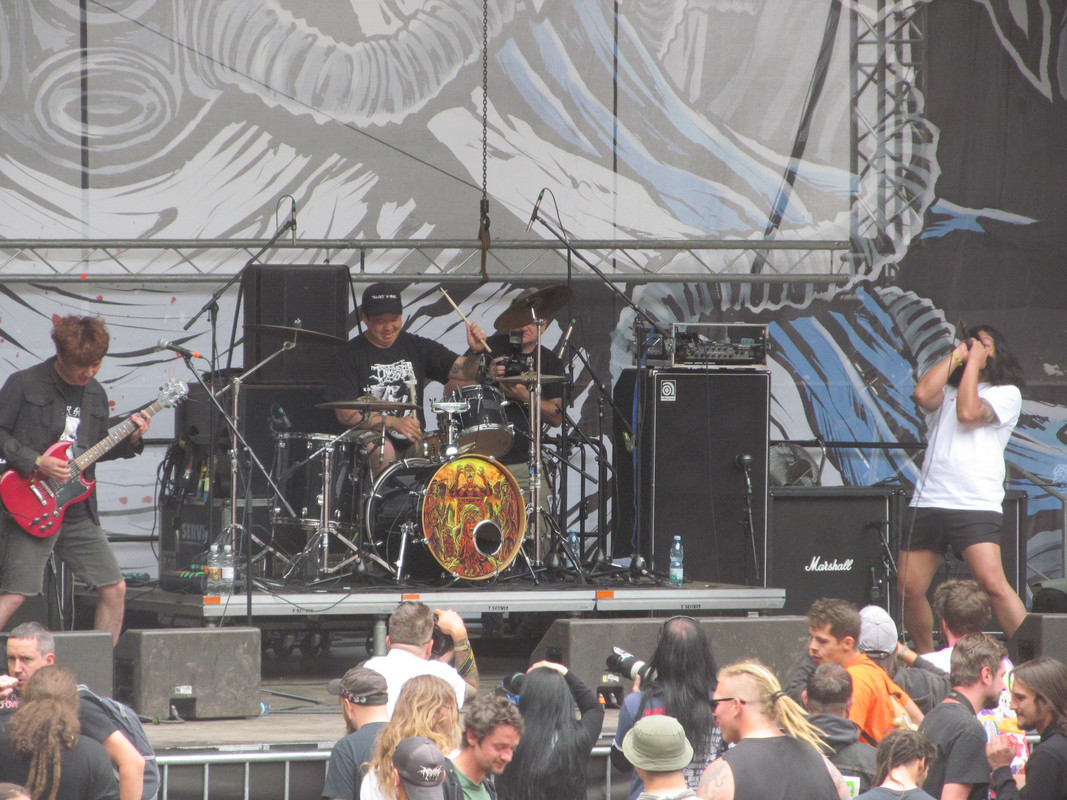 little puppy princess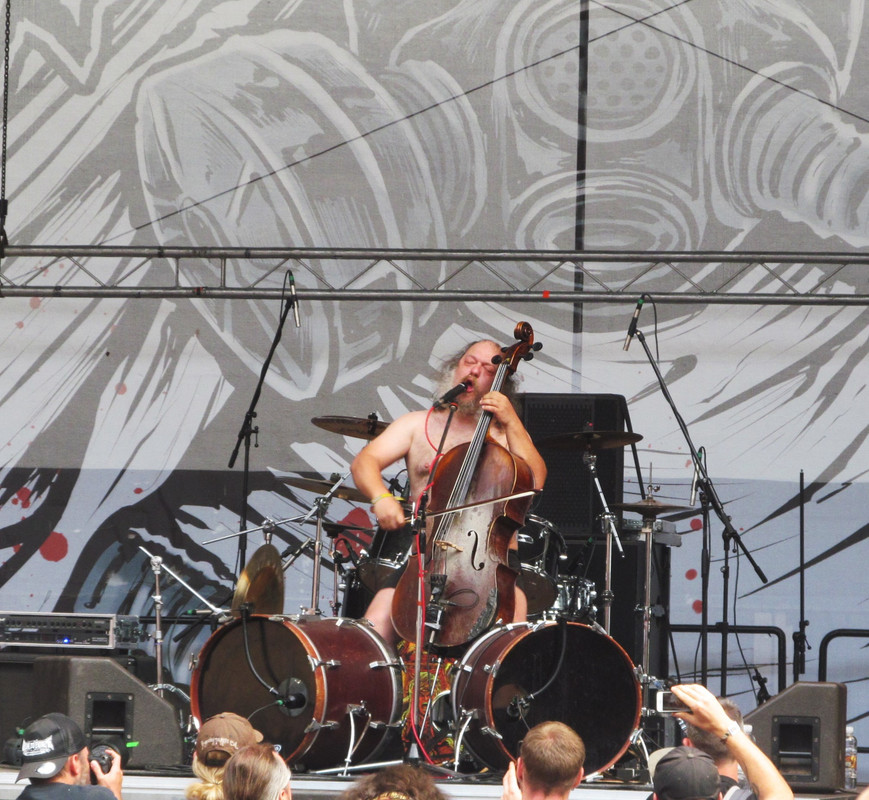 mr marcaille

anti-system
Phew, Friday, and Brutal Sphincter.  Not personally as the vegan food on site is delicious but a band you just have to see to say you've seen, even if their goregrind is pretty standard if good-humoured.  Little Puppy Princess from South Korea don't exactly do what they say on the tin as they tear through some ultra-short grind blasts but with an impressive precision live, better than what I've heard on release.  Hungary's Crippled Fox race through some crossover thrash in an early Suicidal Tendencies fashion and provide a great  link to the contemporary thrash party provided by Austria's Insanity Alert.  I saw them at Damnation Festival and know they'd be ace again but with even more space to play with it was, well, insane.  Loads of singalong signs, bizarre props and macaroni everywhere, all to the tune of some top notch thrashing.  Paracoccidioidomicosissarcomucisis.  A mouthful and goregrind earful/rearful from Mexico.  Germany's Implore blew me away with their harsh and furious deathgrind when I saw them supporting Vallenfyre in Manchester but they've changed line-up a little and whether it was big stage compared to club or just the sound in general it just didn't have the same impact.  The old-school UK two-piece of Active Minds brought things to a tighter focus as they still created a big sound and pointed prod to their political rants.  And then there was one, with the solo master that is Mr Marcaille.  I'd had the pleasure of seeing him before, and had told friends to check him out at the rather more sedate Bearded Theory fest in the UK, as surely this is the only guy who can cross all those boundaries. With his cello and double bass drums it's a sweaty, spitty, growled thunder that raises smiles all around.  Or empathy when he is suffering when its beer time!  The stage is filled once more for a glorious riot of UK anarcho-punk from Anti-System, another longstanding band operating with as much if not more vigour and intent than ever.  Fantastic fury yet with melodic hooks, on top form, and look forward to see them again.  Back to Japan for Viscera interest with apart from their blistering grind the other main interest is the insane blast speed of the drummer, really outstanding.  Plus they get everyone to lie down and wriggle like dying cockroaches.  It's that type of party.  Historic Brazilian grinders Rot are another unstoppable force, with the dark, distorted tones that you'd associate with compatriots Sepultura, just more lethal velocity.  Lowlife are Cryptic Slaughter ducking legal wrangles over the name, with added Repulsion Matt, and while their hyperspeed crossover thrashing is good I kind of sacrilegiously feel I preferred the Wehrmacht associated version that was here a few year back.  No rest for Matt as he's back with the seminal grind and death legends Repulsion next.  Their first time here and their gigs are rare but as a seasoned traveller I have seen them a few times around the world, France, USA, Holland, and they never disappoint.  Of course they've only got the one album in their back catalogue but that's what we want to here and the three-piece batter through it, like the extreme Motorhead that they are.  Into the night we have the energy level kept up by Vitamin X and their lively hardcore and then a thick layer of crust laid down by Germans Accione Mutante, who with their two vocal holocaust are a fair tribute stylistically to ENT.  I've reached capacity in many ways so now to bed.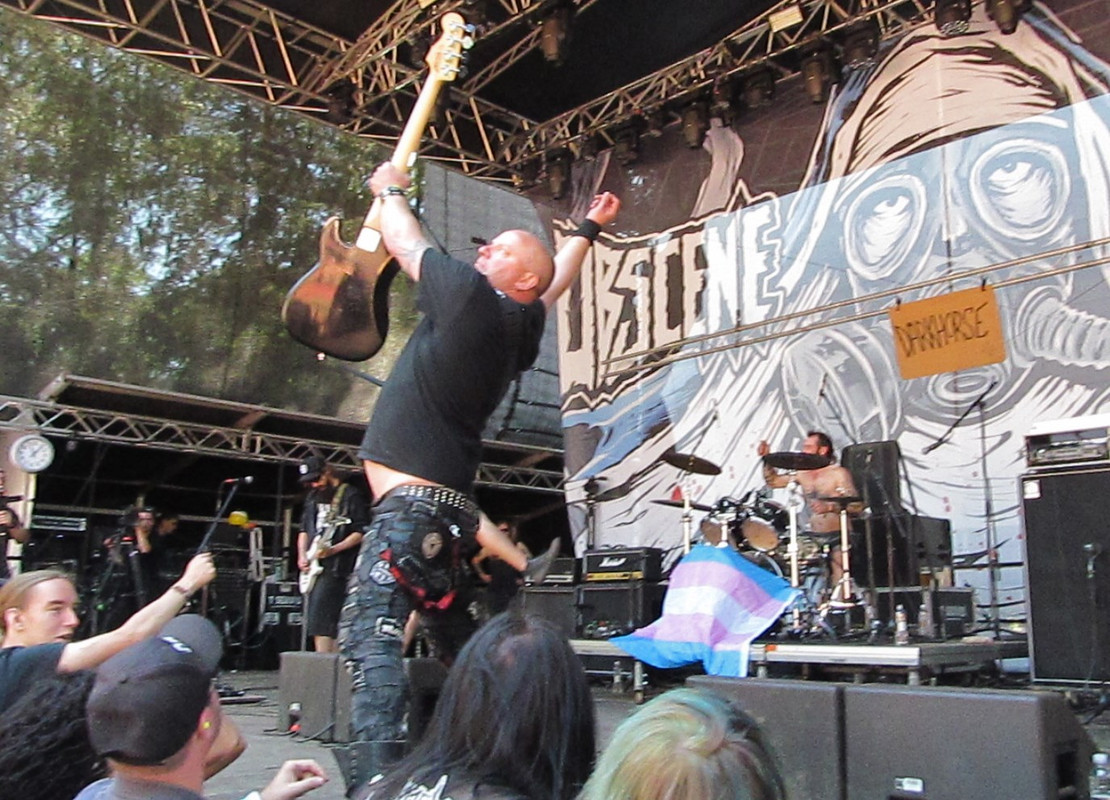 dark horse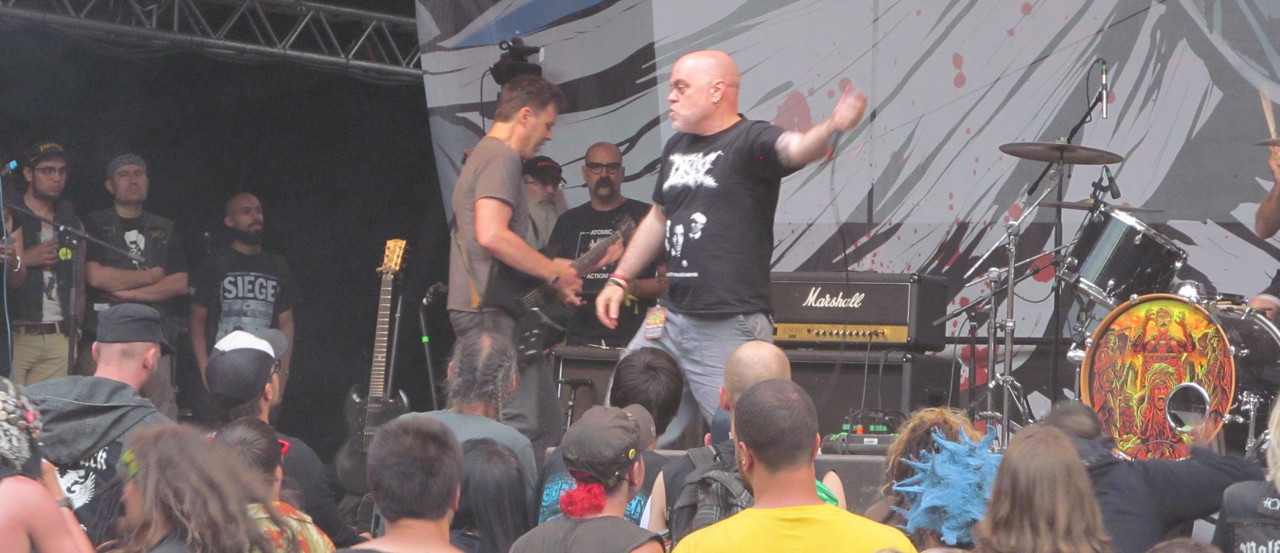 siege
The last day for me and I'm really running on fumes as I'm in from the opening bands and not feeling too hot at all.  Breakfast is not appealing and alcohol is forcefed.  The Serbs Nadimac I enjoyed, as I had when I heard their recent heavy thrash released on Xtreem Records, but what really cured my ills was the glorious filth of the Dark Horse bass tone when that was fired up.  I'd seen these Aussies at a warm up show in the Modra Vopice club a few years back , and the recent "Bomb Thrower" album was an absolute stormer, so all the ingredients came together in a great way with their lively crusty hardcore blasts and brought a big smile to my face.  The Rot side project Cruel Face were solid grind with a different slant to their mainstay but the midday heat killed me for a bit so I bailed out to the shade.  Returning for an excellent and relatively unique show here from the Belgians Butcher, all blood soaked leather and spikes and tongue in cheek speed metal excess.  Cheese whilst still providing meaty riffs and over the top fun.   More serious two-piece action with the micro grind blasts of Suppression from the US, the revered band also utilised loops and sonic experimentation that really cleared the ears.  You can never say you've seen it all at OEF and next an actual pregnant lady on stage as opposed to one featuring in tales of their abuse.  The singer of  Abnormality from the States assured us it wasn't beer and put in a good show even if I didn't find much fresh in their slam death metal.  Given their existence since the 80's Siege are hardly fresh either but as with their fellow survivors they are as vital and welcomed as possible.  Classic origins of whole fast scenes are there to be savoured and for the 20 minutes or so we get it certainly is.  Fair play to the hired saxophone hand who hadn't even rehearsed with them and still added to the layers of chaos.  Vomitory have a long history themselves and their Swedish death metal was satisfying if again unremarkable.  The final big kick-off was for the new school crossover thrash kings Municipal Waste (top) who rivalled the ' Corpse for filling the place and didn't put any restrictions on the party either.  Loads of classic songs rolled out and just a force of fun on stage.  Despite this being a final date on an arduous Euro tour for the Yanks they went out with a banger, and there was a genuine happy vibe throughout the place.  A Pungent Stench keeps us lingering and more relaxing back on the benches after that, but again this is a repeat of the death metal I'd seen them do here previously.   Gorgasm's  level of technical death metal is pretty supreme, as is their immensely tasteless subject matter and I enjoy this more, but I call this another night at an appropriate time by leaving during an excellent set from Ugrakarma, all the way from Nepal.  Their death metal is of a high standard and I'm pleased they've got this opportunity to come all this way and share it in this cauldron of chaos.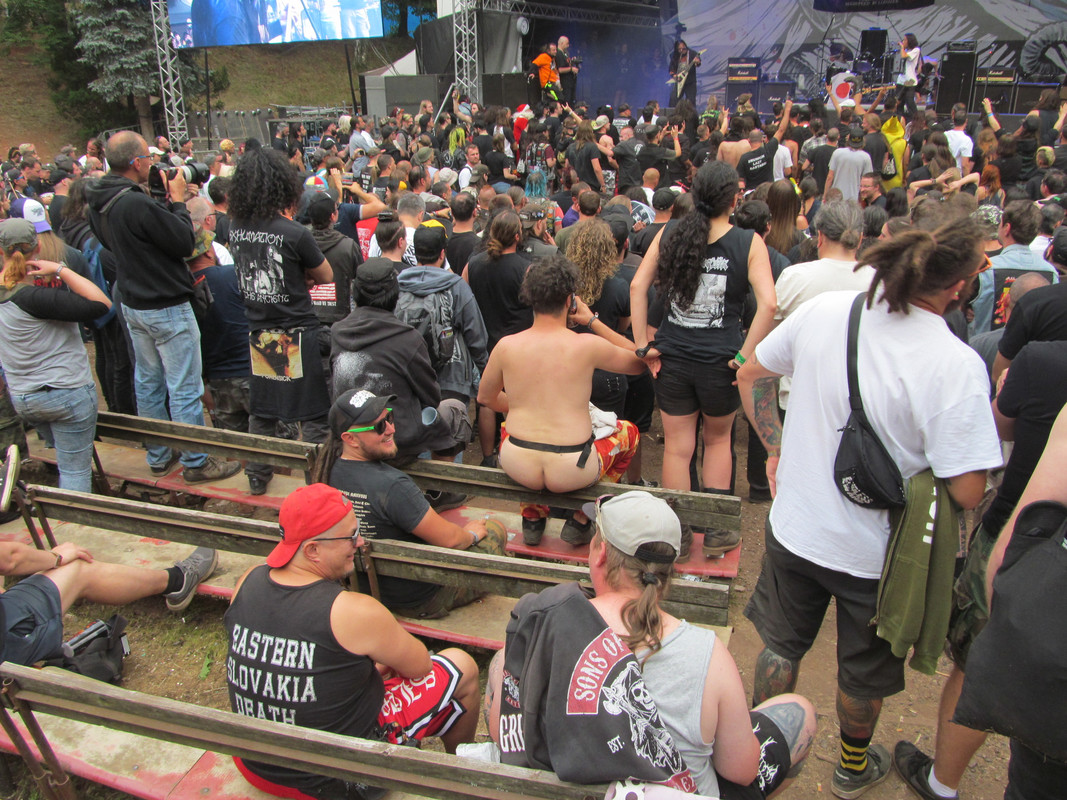 The international grind family is strong, and the organisation remains top notch here.  Maybe this year had a little "after the party" feel compared to the previous anniversary but there was some stellar performances as ever, phenomenal to have it all gathered in one place and among friends.  This year I decided to do all the other festivals and  still this,  I suspect the next year will be the same!