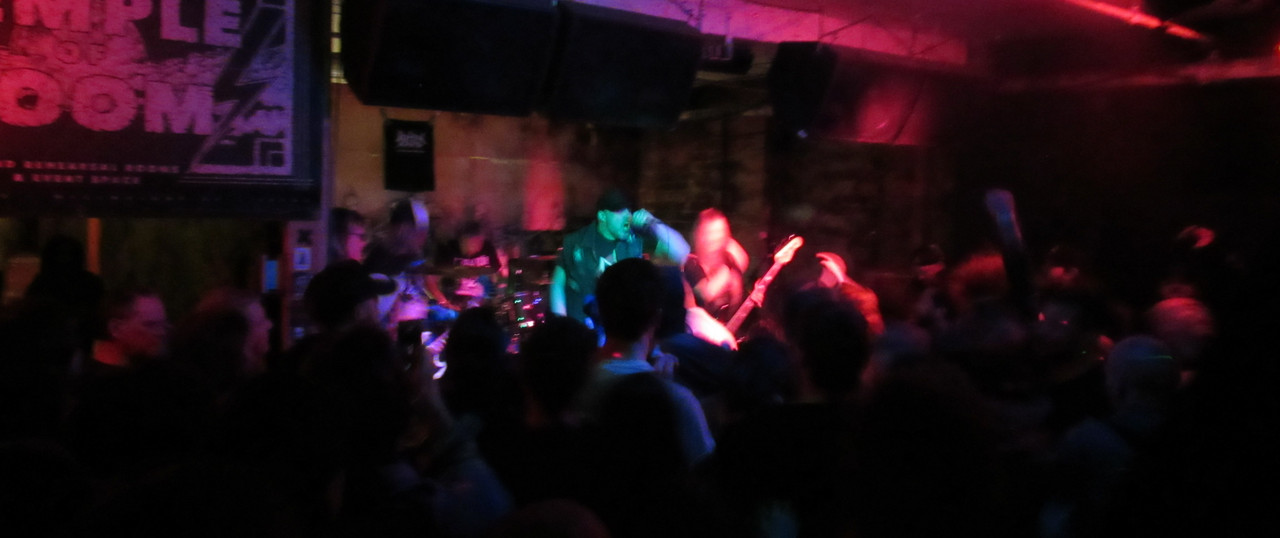 rotten sound
What is there to Dread?  Last year I combined a day in Hammerfest in North Wales with a trip up to a couple of days of this festival of chronic sonic abuse, this year I dived in soft-shoe first for the full weekend in Leeds.  Leaving Hammerfest behind in some Brexit fashion (as now it in turn seems to be leaving North Wales behind next year too), not an isolationist stay at home but embracing connections to elsewhere.  While I have had some classic messy times and been grateful for great bands on our doorstep my refined/corrupted tastes are much more rewarded by all that is to offer over the Pennines.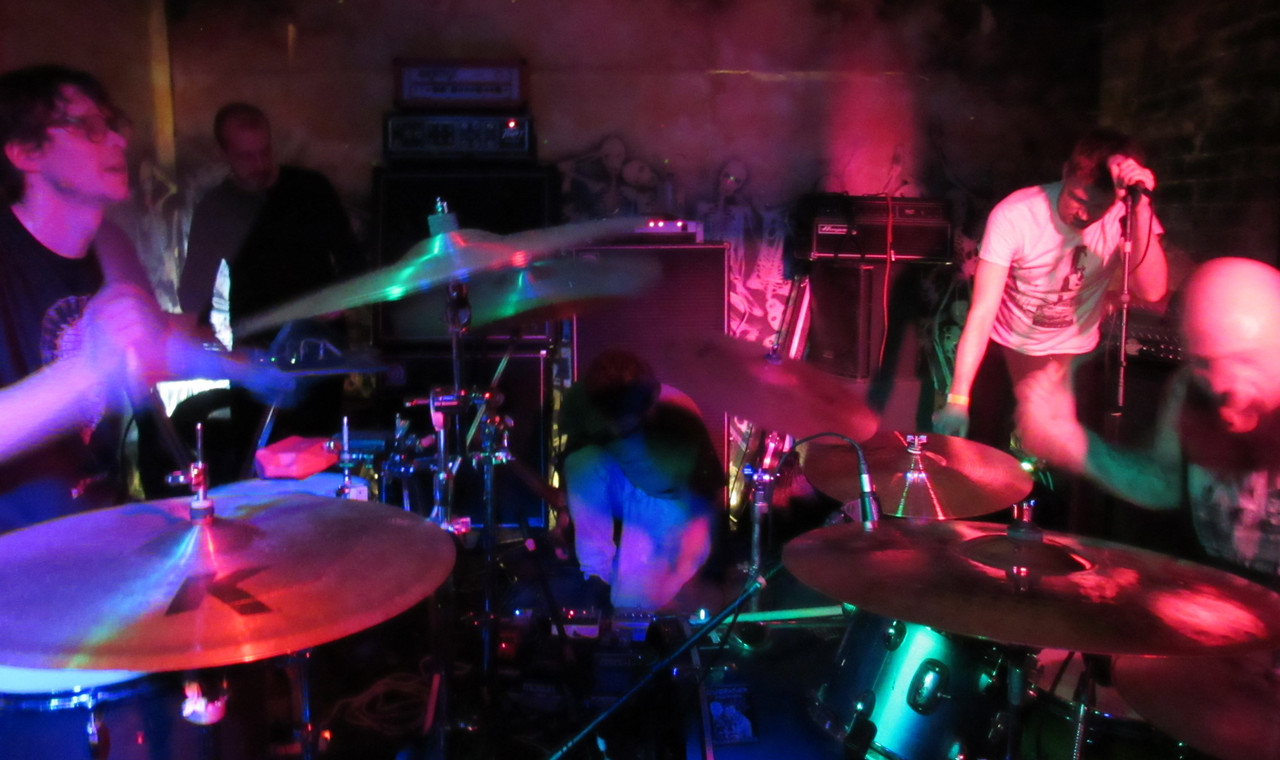 cattle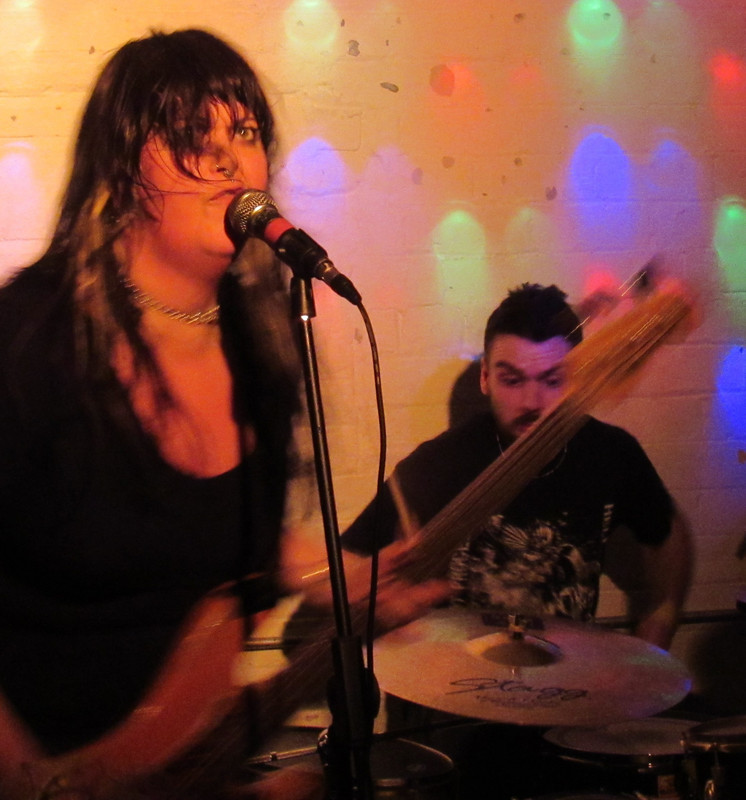 human leather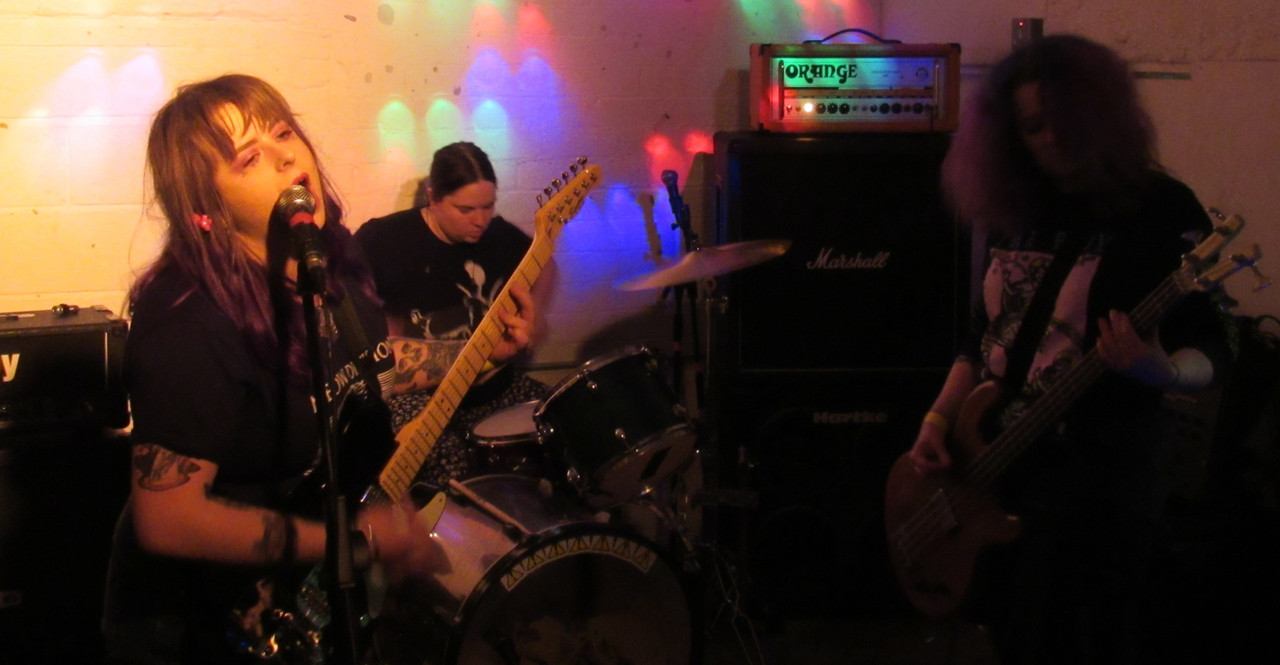 dark mother
We were still only to get away after work on the Friday so a rush job to get a head start on the beers while driving (various people sharing the load…), found our cheap hotel already filling with suspicious types resembling us, then a quick taxi to get to the venue in time for locals Cattle on the main stage..  As we've reviewed at a fair few eclectic gigs over recent years, they are quality, innovative noise rockers powered by two up front drummers.  For us a good opener to get the grooves going, but maybe the volume impact was a little restrained this time and so not so mind-blowing.  Over to the Meatlocker second stage for something new in Brighton's Human Leather, more drum and bass action.  This is slightly unhinged as the two-piece deliver some scatter-gun and stripped down pure-filth punk rock tones, while the singer goes through a whole gamut of facial expressions.  It's very entertaining.   Amid merch trawls, mate hugs, and mixed drinks we return again to this stage for Dark Mother.  Featuring Tanya from the grand levelling Bismuth this is a more conventionally structured animal, still retaining heavy doom/psych vibes but with a more retro styling, and the lead singer/guitarist has some captivating and haunting plaintive vocals.  Again, one I'd be interested to see and hear more of.  Another first for me with the first foreign visitors of the weekend, Gewoon Fucking Raggen (Just f stagger?), from Rotterdam.  Seemingly mis-fit on stage with the huge guitarist and diminutive bassist this is irrelevant to the tight blasts of power violence that are a focused team effort.  All songs seemingly under a minute and the set and people fly by.  There's no point slowing the tempo or stopping the flow of booze now so another chance to see one of Scotland's finest grind exports, Endless Swarm.  Plugging their new obnoxious opus "Imprisoned in Skin" they are a ferocious onslaught of controlled violence, mad pits erupt, us and them all enjoy.  An acknowledged privileged position and the perfect aperitif for the first headliners, all the way from Singapore, Wormrot.  Held in such high regard for what they represent within the scene at home as well as around the world (they played Glastonbury last year…), this is on the basis of killer grind tunes that tear your soul apart, and inspire pits to match it for your feeble body.  Among the blurry mayhem I suspect I may have taken a kick to the head that further confused matters, but I remember it being ace.

raggen!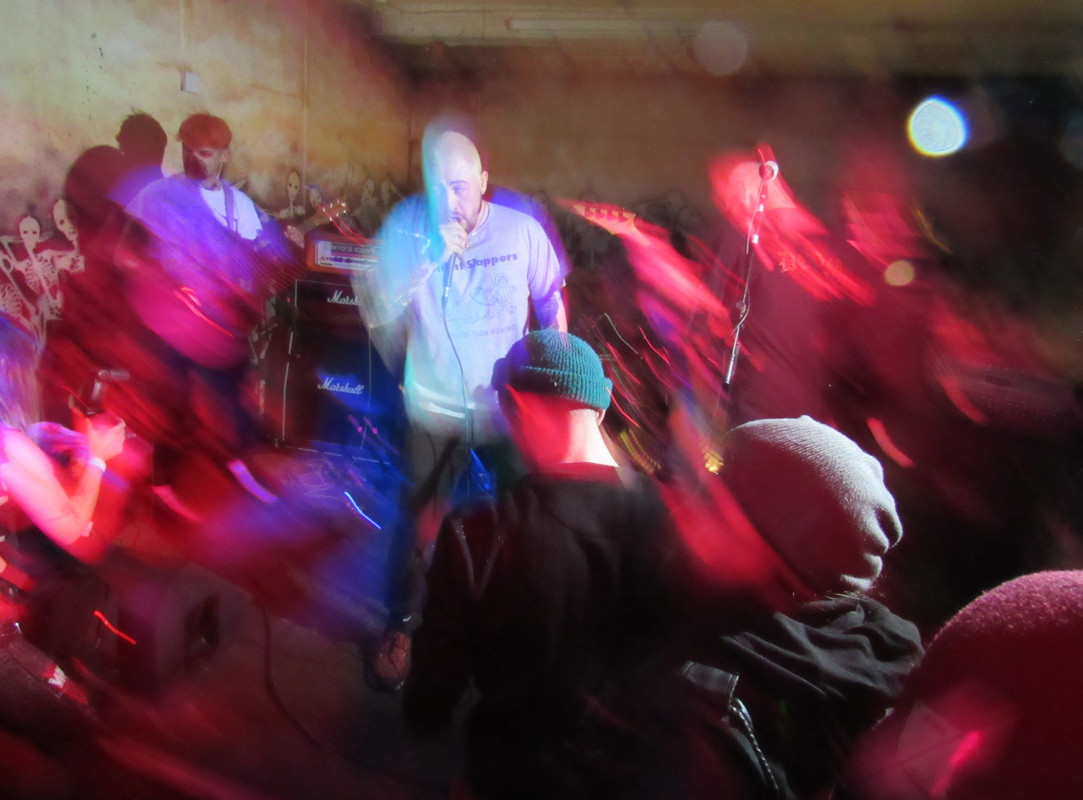 endless swarm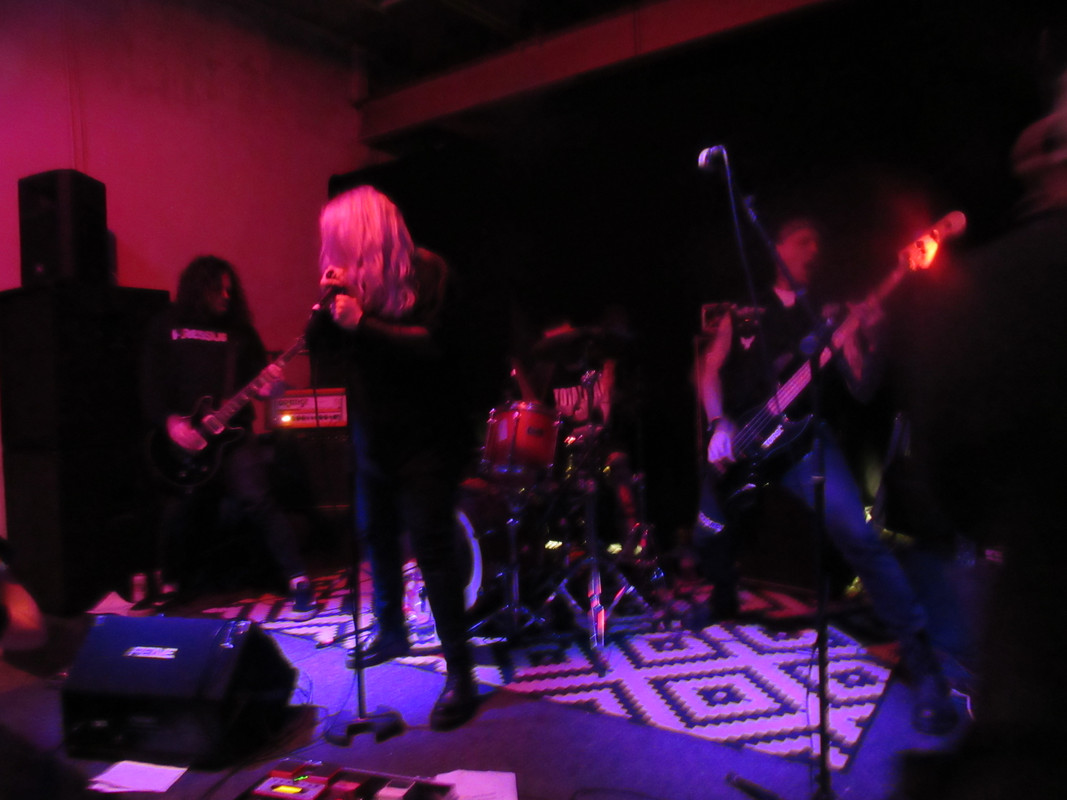 watchcries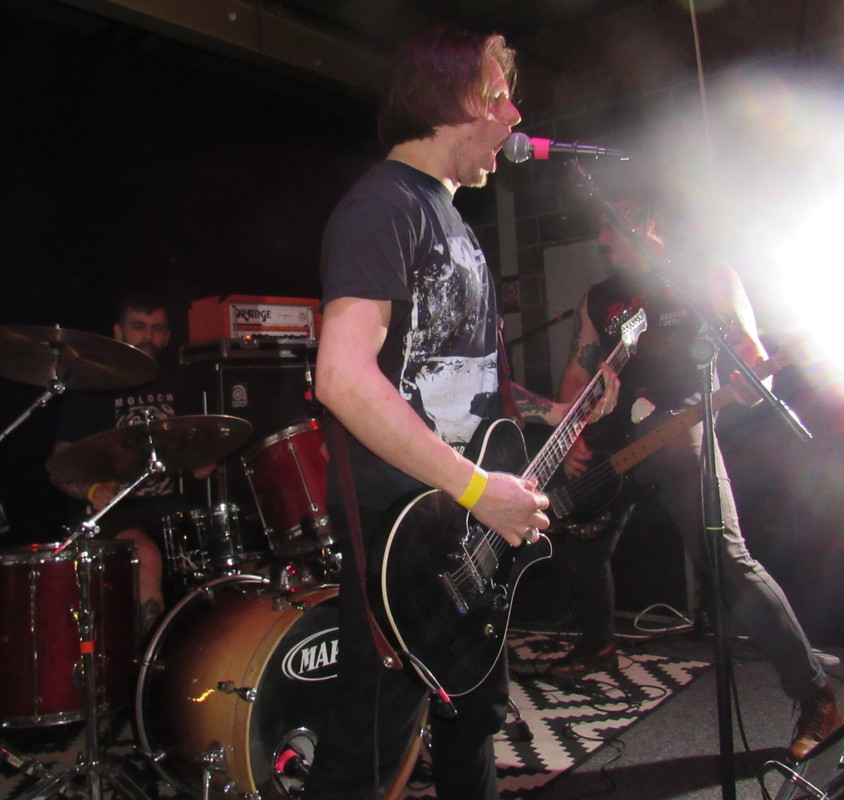 harrowed
Being reminded about pole-dancing and being sick brought up no further recollections whatsoever for which I am pleased with the way my mind wipes clean, all is pleasant in the world (apart from starting to feel more drunk the longer I don't drink).  We ease ourselves into the Saturday via a sensible meal and pint in town before heading back to the venue for the fullest of the three day sessions.  Upped to three stages for today, a lot will be spent at the mid-sized Hotbox, where we begin with Watchcries.  I hadn't seen this Brighton band before but had really enjoyed the darkly atmospheric distorted hardcore of their "Wraithes" album, and they delivered that along with new material in an energetic and satisfying fashion.  Been sometime since I'd seen The Atrocity Exhibit, but they've worked tirelessly and rolled the war machine forward.  Their "Extinction Solution" album out just before Xmas was absolutely raging in its punchy grind, and they put on a great show on the main stage here too.  Last time catching Harrowed was in the back room of a pub in Prestatyn so it was great to see they were still an absolute force, especially for a three-piece.  South Walians They Live We Sleep had been sabotaged from playing yesterday by the motorway network.  Worth the wait though with some raw and cathartic sludge, with a lot of whiplashed energy thrown in.  Helpless on the main stage were a pleasant revelation too, well, when I say pleasant I mean a horrible churning violence of riffs that sounded fresh even among the complex grindy noisecore decay.  I meant to get their album but forgot.  Back up to full speed with the two-piece grind action from Scotland that is Boak, again pretty effortlessly delivering some super tight and effective punchy blasts with a power belying their number. Into the mists of the Meatlocker for the smoke drenched Wren, a perfect atmosphere for their building layers of epic post metal.  As impressive as the last time I caught them down at Mammothfest, but I leave during the set to make sure I catch locals Gets Worse at the Hotbox.  The place is rammed but I'm securely plastered to the side of the room as all goes mental to their super heavy power violence.  Stop-start precise chaos, so focused and effective in its brutality.  Having just released their debut album "Snubbed" they really are on top of their game and get a reception to match.  With my battered can of scrumpy I escape to find that they have managed to fit a set in before Wren have even finished, so catch a quick breather with the background beatdown hardcore of Harm Done.  Return to the Hotbox for Svalbard, I've seen them a few times in various places but up close and personal here there's a fresh intensity to their darkened and emotive hardcore, the Bristolians really hit the spot with their mix of soaring musicality and hard hitting charge.  I pick up their latest album "hard to have hope" and it turns out to be a limited vinyl which is one of the most beautiful I've found, to be savoured at length!  To close the night we have guests from Finland with the grind legends Rotten Sound.  As with all the Scandinavian output, the ferocity of the filth tones is fantastic, machine-gunned riffs to rip the place up.  Their sound is not the best for some reason after such a consistently killer day (could just be my concussion…) but they storm through a battering set, obviously pleased to be visiting the land of so many of their influences.  We are ushered out into the night and more mess.  I feel rotten.

gets worse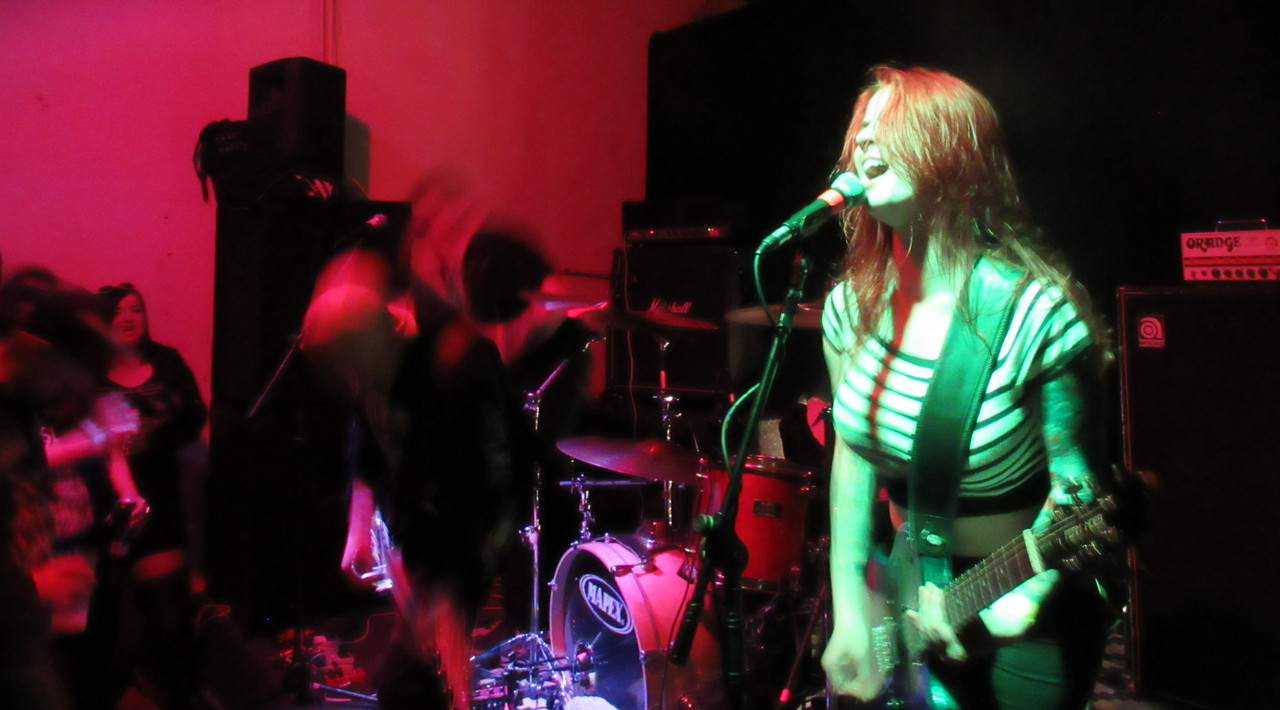 svalbard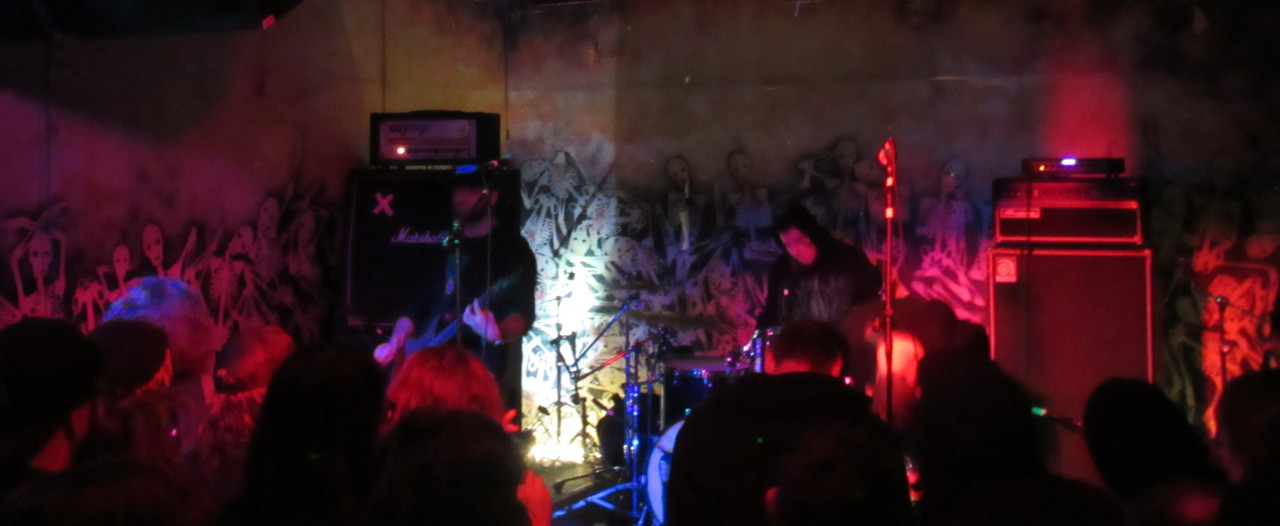 kurokuma
Back to two stages, less bands, and running on fumes for the Sunday. Just what you need to ease you into the early afternoon is some horrifically twisted dual-vocalled sludge from Wallowing, which is exactly what I feel like I am doing.  Yet again output from Brighton's apparently thriving scene, they hit many tangents from the crawling core of chaotic noise and show no mercy to us that are suffering. South Walians Tides of Sulfur have more of a measured massive groove to their sludge but it still delivered through some gloriously distortion, and an unhinged frontman performance who brings it right into the crowd.  Superb power from the three piece, I pick up their brand new "Paralysis of Reason" Lp on sexy platter of splatter.  Keeping with the down-tempo is all that my enfeebled mind can handle, and some Russian visitors in the form of IL, or however the similar Cyrillic characters are translated, alternate between drone and crushing kick-ins and seem to do the job well.  Sheffield's Kurokuma seem to have been going from strength to strength, I last caught them in Manchester holding their own against some stunning Japanese noise and they just seem to have stepped up again now.  Starting in an almost bluesy Doors groove they are as trippily hypnotic as Ohmms are in a similar vein, but jeez when they drop their riffs it's true doom heaviness in an almost industrial crusher fashion.  Stunning, and their set is spellbinding and transporting.  A little interlude in the asylum/Meatlocker for the reliable insanity of Sloth Hammer, almost resident here!  Their long ad-libbed drum and bass and screaming noise has taken some more form with a slew of recent releases but you don't know what to expect until you are assaulted by the cacophony.  It brings a smile anyway.  Not long since I was also blown away by Belfast's Unyielding Love at this very venue and was very keen to experience more of the experimental grinders.  But the evolution was strikingly relentless to me again, as the electronic noise mixed with the brutally dissonant black metal riffing put me more in mind now of the likes of Portal, truly unremitting sonic horror.  Wow.  Last trip to Meatlocker to catch a bit of Ghetto, who were entirely new to me.  Only catch the end of the set from the boys from Bordeaux but this still amounts to a handful of short sharp songs, crisp punky power violence.  To finish it all the recently reformed output of the Brum home of Metal, Fukpig, obviously as chuffed to be here as we are to have them.  They are great fun, a perfect party climax to the weekend as the seething ski-masked crew deliver stripped down but oh so effective grind awash with all that's great and genuine about the British scene.  The last pits are mixed up and we reach the sum total of a priceless weekend.  Top quality selection in a great environment with a gathering of sound people, I dread next year already!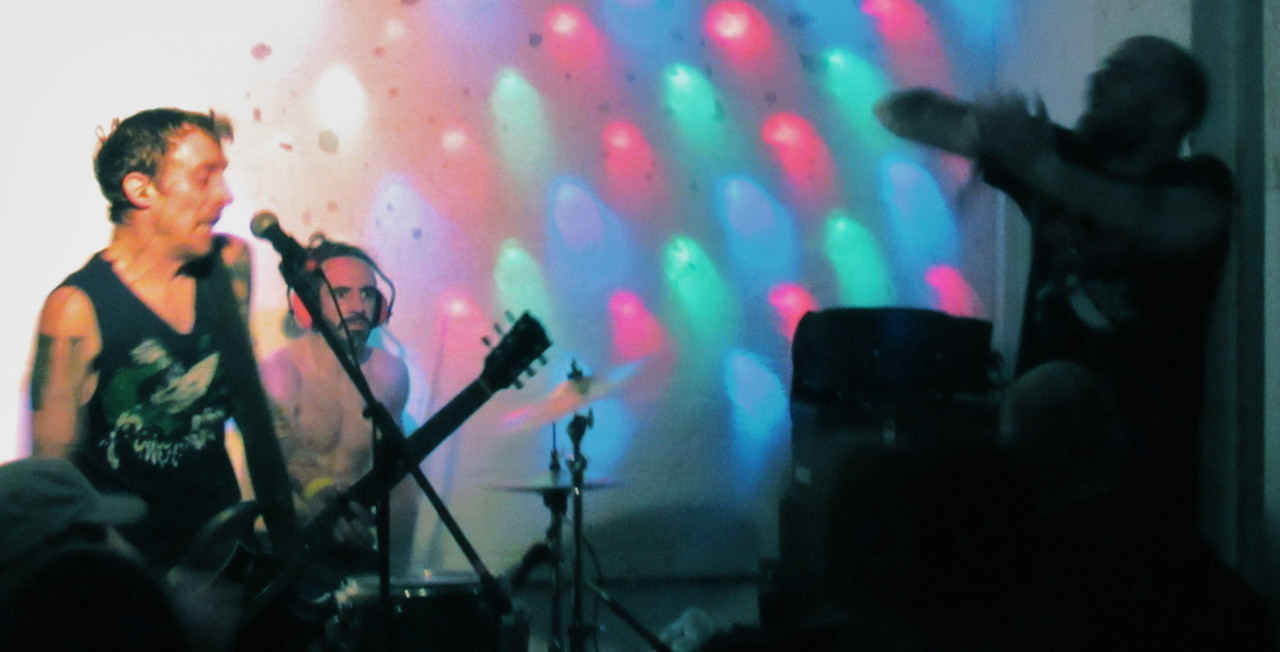 ghetto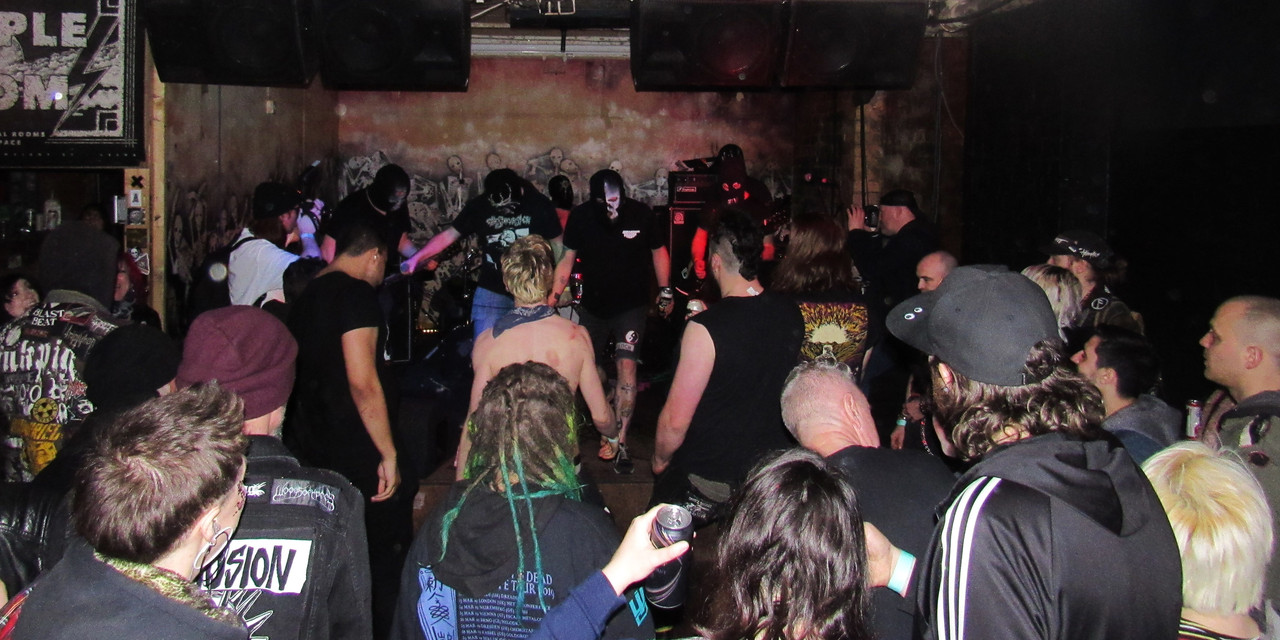 fukpig