http://i193.photobucket.com/albums/z243/mwjmwj/DSCF1847_zpsre7rqcqa.jpg
Once more into the Leeds, dear friends.  My arrival arrangements were kind of haphazard and last minute but thanks to my metal fam and evidence of previous good behaviour I got to this annual gathering of underground metal just about in time and only moderately lubricated. 
I'd even been contemplating  giving it a miss due to other upcoming commitments and some indifference to the headlining bands due to overexposure and spoiling/soiling myself at a multitude of other festivals, but ultimately I have developed faith in the organisers of this do to consistently deliver bands of interest and quality party times
So I was straight in to the Terrorizer stage for  Attan (above), over from Norway, a prime example of an "introducing" band as I was unaware of them previously.  They still had a good early attendance and while I'd anticipating them being some blackened hardcore from what little I'd listened too they had a much more epic sound at times, properly into Neurosis territory especially with the bassists roared vocal.  The main singer had boundless energy but his voice didn't cut through so well at times, but all in all it was a great opener, picked up their lovely splattered 12" too.
http://i193.photobucket.com/albums/z243/mwjmwj/DSCF1805_zpscwsvhomg.jpg
A painful clash next with the awesome intensity and diversity of Conjurer sacrificed through having seen them more recently than their Holy Roar label mates, Svalbard.  Their achingly good progressive hardcore is delivered with a measured passion, sometimes locking into a relentless punk beat that can't help but get you moving.  They seem to enjoy the setting too and hopefully win many new fans among the healthy attendance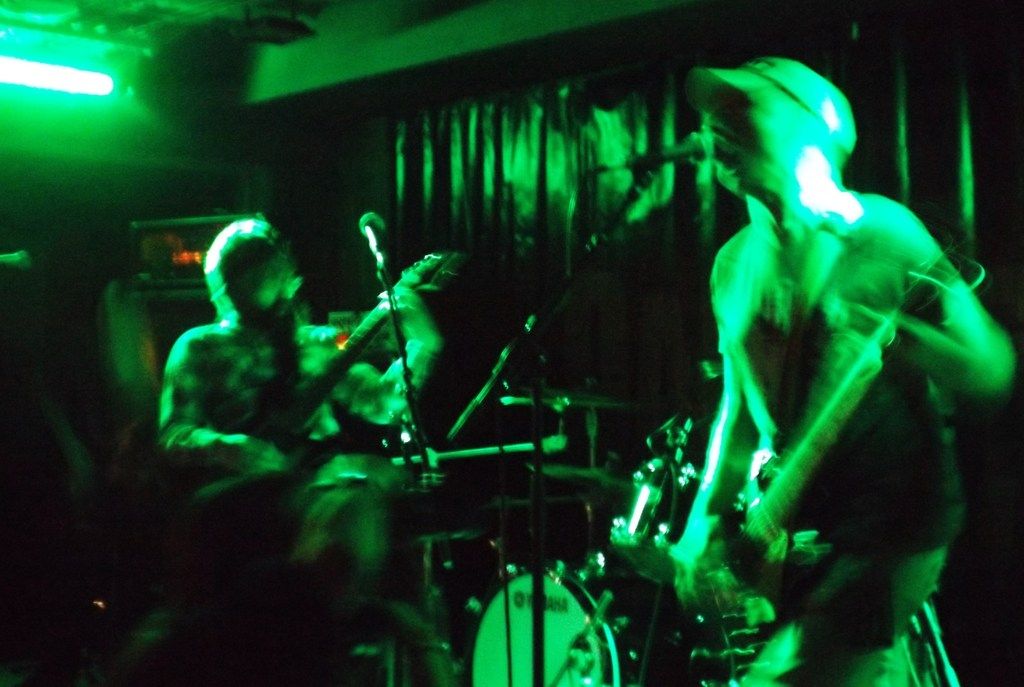 My buddies Get Worse were down at the lowest level of Stagey McStageFace, and I was able to get a proper face full of their complex, stop start fast slow power violence at the barrier.  They seemed troubled by onstage sound mix but that didn't distract from the monstrous output of punishing power out front, all the guys have great input into the sound, and they end up being more than the sum of the parts. Also featured on a marvellous tribute to Spazz compilation vinyl, available cheap to your blaggers/buds, cheers Benj.
http://i193.photobucket.com/albums/z243/mwjmwj/DSCF1822_zpskzmyv9ok.jpg
Onwards and upwards to the Eyesore Merch Stage, for a view from the balcony of Erlen Meyer, a French sludge band that was again fresh to my battered ears.  It was a great and cathartic performance and stage show, enhanced by the lights, and put me in mind of the mighty Amenra.  I did find the sound mix a little muted and lacking that ultimate crushing power though, even when I came down to stage side to see if it made any difference
Windy ways and drinking diversions meant I arrived back in the basement to only see a bit of Darkher from the back of the room, where the general hubbub of excited conversation was too much of a distraction to the haunting dark folk ambience they were creating at the other end so instead I remerged to go to the main Jagermeister Stage for the farewell performance of Hang The Bastard )above).  Glad I did, as the pummelling heaviness of the wall of groovy sludge noise they created was an absolute pleasurable force of nature.  Very satisfying and definitely leaving on a high.
Again my plans were awry as while I'd considered Sinistro from Portugal as being an intriguing post metal exercise I instead opted for some plainly horrific hardcore/death metal mix provided by the South Walians of Venom Prison.  New to me but pretty instantly converted to cause/injected with their poison.  Vicious yet bouncing filthy grooves breaking down to subterranean doom, topped by a supremely harsh vocal.  Gatefold 7" to savour afterwards, will be checking out their album too.
A brief mission to catch a bit of Employed to Serve down in the depths, they seemed to be having fun in delivering their aggressive hardcore with suitable punch, enjoyed "Greyer Than You Remember", but had to fit my pasty / press time in somewhere and here was the opportunity to take a break.  Although that did mainly end up nattering with Nick Holmes from Paradise Lost while consuming two pint pots of cider.
Set me up nicely to work my way into a very busy main room for Cult of Luna (top), with Julie Christmas.  Great to see this interest developed in them, old man here having seen their first UK show at Earache's Xmas party in Nottingham Rock City when they were still a much more hardcore act than some of their more recent progressive post-metal experimental expeditions.  And while I hadn't heard much of their latest release "Mariner", a concept album on space travel, what an absolute pleasure to find they have still drawn that heavy root through their rhythms and this is a mesmeric and amazing performance. Brilliant, stark backlighting, and the whole thing counterpointed and highlit by the excellent and powerful vocals of their US guest for this album, it was a timely reminder to me just how good they are and how i should save for a copy!
Genuinely confused now for some reason (booze) so my attempt to see the Southern grooves of Black Tusk led me instead to see the blistering precision of technical black metal that is Akercocke.  It had been in this very place a few years back that I'd been quite unimpressed at the time with their show but this evening I really enjoyed, shows you should always give a band more than one chance,  they had a really sharp punch to their sound and a good engaging presence on stage, but the biggest impression was left by the insane speed and heaviness of their material.
http://i193.photobucket.com/albums/z243/mwjmwj/DSCF1852_zpsedoawt7i.jpg
Down under once again for Dread Sovereign, a side project featuring the vocalist of Primordial.  It was an easy going atmosphere here clashing with one of the main headliners in Abbath and that in a way complemented their knowing take on retro doom.  The three-piece almost had a Motorhead / Venom vibe at times as they rocked some up tempo grooves, but also dropped off into more Pentagram-ish dawdling doom.  Classic metal.
http://i193.photobucket.com/albums/z243/mwjmwj/DSCF1874_zpsgmgaqv43.jpg
Eyesore for somewhat of a rest of my weary legs but not my mind as the Italian's Ufomammut tried their best to blow it with their heavy psychedelic riff freak outs.  I think I've missed them a couple of times before through festival clashes but this time was an absolute sensory pleasure overload.  Another three-piece producing a massive sound occasional reverbed vocals in the mix, it was a rolling proper avalanche of riff, maybe somewhere between Hawkwind and Yob, and I was soon picking up their last vinyl "Ecate".
To finish with a bit of deja vu with Electric Wizard (below) as the main stage headliners, but whether I just didn't get a sweet spot or my focus was fuzzy I found this to be another case of dimishing returns from the UK overdriven doom steamroller.  A big part of that was there didn't seem to be any huge wash of volume to the sound that has enveloped and lulled before, which left it with a bit of a feel of going through the motions.  not bad, just had better, than them and from them. Who cares when there's aftershow silliness to enjoy, where even the most sneering elitist can be drawn into a circle of headbanging to the old classics and the metal family celebrate another great union and reunion? Not me, a great day/night all round.
http://i193.photobucket.com/albums/z243/mwjmwj/DSCF1874_zpsgmgaqv43.jpg