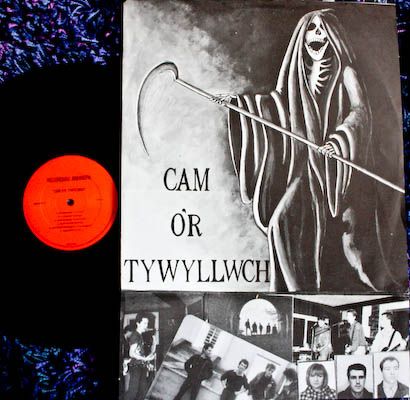 This is the DIY compilation LP released 30 years ago that kick started a Welsh music revolution that still reverberates around today.
Released by Rhys Mwyn on the Anhrefn Label and picked up by John Peel, this album spawned Anhrefn, Datblygu, Super Furry Animals and Catatonia. It made the ignorant English based music media realise there was more to Wales than just sheep shagging farmers. There were sheep shagging musicians too…!
Listening back to Cam O'r Tywyllwch after all these years, the stark realisation is the sound quality! It's so rough, with a lot of the tracks merely demo quality. This only adds authenticity and puts it on a par with the Crass label, whose compilation Bullshit Detector releases sold in their hundreds of thousands.
Sporting a single sheet folded sleeve, it probably did well to sell out the initial 1000 copies pressed, but Cam very much emulates that Bullshit DIY ethic in every sense.
Hey, it's Rhys' label and he has every right to kick off both sides of this record and end it with his own band! Anhrefn begin proceedings with a painfully slow and painfully long version of Action Man – a song that fast became their anthem of 1987-88 on the back of the subsequent John Peel Sessions and faster, shorter, harder re-recordings. This, and the better Rhywle Yn Moscow and even better Dagrau Yn Eu Llygaid perhaps show a punk band new to a studio environment and in two minds whether to go all out punk or keep it radio friendly (their choice worked!).

Datblygu fast became the bastard band of Wales. I always questioned if I liked The Fall solely because of Peel's enthusiasm for them and out of my loyalty to him or if I actually hated their music. That conundrum still exists today and the same can be said for Datblygu… Do I like them for fear of being cut down by all and sundry? Or do I think they're shit? Well… I couldn't eat a whole one, but I've always loved Datblygu's uncompromising fuck you attitude, that anarchistic sneer at anything the establishment puts in their way. David's disdain, the spiteful venom ranted with boredom over Pat's junior school keyboards that makes them almost unlistenable and at the same time very attractive.
Like Datblygu, Tynal Tywyll are represented by two tracks, Paid A Synnu and Yr Effaith. Now, Tynal Tywyll were a pet hate of mine during my screamage years, where gobbing at vocalist Ian Morris would have been a favourite pastime had I not been banned from the venues they played. Darlings of the knicker-wetting schoolgirl brigade, they jingle jangled their Smiths-esq way to brief Welsh stardom.
Machlud from the slate mines of Bethesda are more notable for featuring a very young Super Furry Gruff Rhys on drums before he Ffa Coffi'd everyone. The track Eryr Gloyw is probably as typical a Radio Cymru track that you'll find (despite the out of tune rhythm guitar).
Y Trawsblygwyr remain a bit of a mystery with their one track offering of Mwynder Maldwyn that sounds like a bedroom recording and is basically a rip of The Clash's Bankrobber with a great spazz out bit at the end.

Y Cyrff were the pretty bad boys of Welsh rock'n'roll. If Anhrefn were the Sex Pistols then Cyrff were the Rich Kids. They became the Welsh band of the Welsh scene but eventually realised that by playing in ever decreasing circles you eventually bite your own arse. They split and Mark and Paul would go on to the velvet international heights of thanking the lord they formed Catatonia. Here, back in their nascent days they are represented by the post-pop-punk Tic Toc and the excellent Lebanon, which stands head and shoulders above their fellow countryfolk on this LP.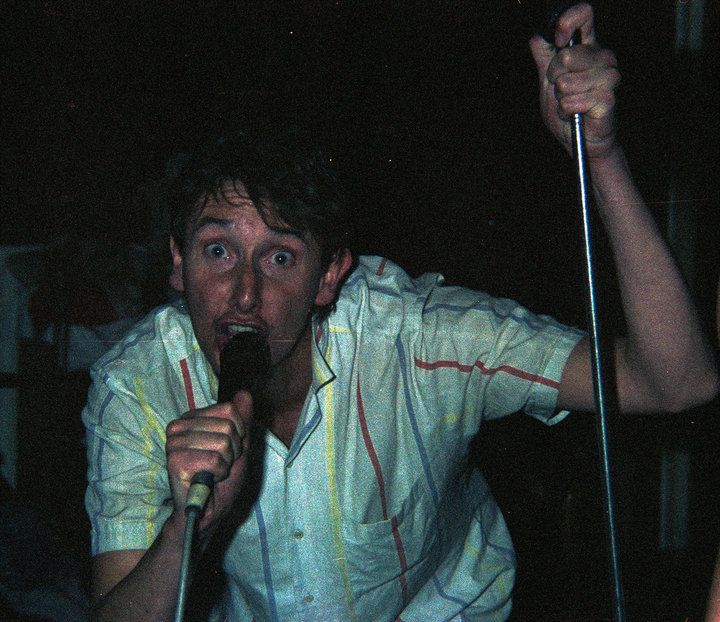 And finally… The Legendary Elfyn Presli – that crazed 12-bar punk band from the land that time forgot. It's farmercore, and Hangofyr stumbles through the haze of drugs and alcohol, the stains of which can still be found today… The greatest Welsh band that never was…
BLOG RHYS MWYN – 10 Myths About The Album