Ha ha… That was one of the most entertaining ten minutes I've had in a long while! For that is how long Mexican sludge band Los Muchachos played for…
Whereas Sun O))) has ten minute sludge songs, this donkey riding trio have eight sludge songs in a ten minute set – fucking genius!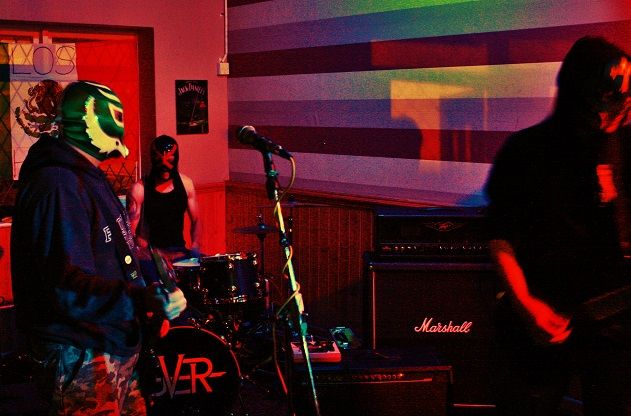 Hailing from Santo Beuno in Mexico (research it via Google Translate…!!) they wrote a song dedicated to their Welsh brothers called Hola Bore Da – fantastic!
Other 45 second highlights included Drug Mule and also Interference, which is about wrestlers who interfere. 'Interference, it's not fair. Interference, there's nothing there.'
Yeah it's a gimmick and it has a very short life span, but enjoy it while it lasts – Download Festival next year…!
There were four bands on the bill tonight, but when the opening act don't start until 10pm, there was no way I was gonna be hanging around in Rhyl til silly o'clock – so I missed out seeing Italian soft-punkers Over, and Mammals Of Cold Blood who, by other accounts played good sets.

I did catch Hometruths making their live début. They were formed from the remnants of Victims of The System and are Manchester based. Good drummer and full on confident (and angry) front man, not afraid to throw himself around this very busy night. This first gig was probably a bit too early in their career to pass any real judgement, but you can see where they're coming from and where they want to go… And if they hopefully stick at it, then they will…