When August Bank Holiday occasionally coincides with decent weather, the hoards come out to consume alcohol and enjoy music. Unfortunately the majority don't know any songs beyond With Or Without You, Dakota and Sex On Fucking Fire, which is the staple diet for bank holiday connoisseurs of fine music.
It also meant that mid-afternoon at The Big Sunday Rock Show it wasn't going to be crawling with those kind of people; or any kind of people for that matter… Only the wandering souls in search of the obscene and extreme were in attendance this early on… it was our private gathering, our meeting of minds.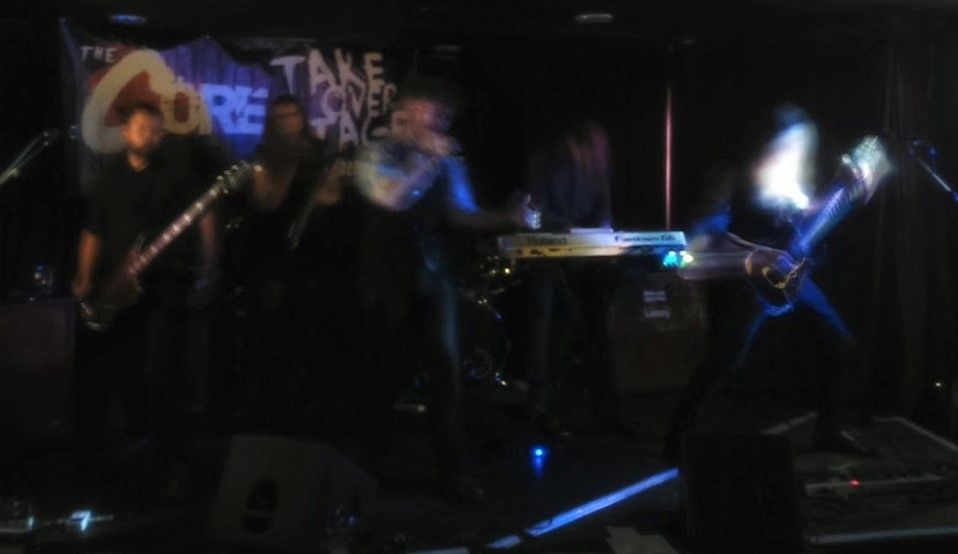 Records indicate I had not seen Northern Oak before, although maybe those darkened days of placing my liver on a stick and toasting it on an open fire have let a viewing slip my listings. They seem vaguely familiar.
Only a madman would put himself through the pressure, the stress, the anxiety of organising an all-dayer. How Dan Reed sorts out all the bands is beyond me. If a band showed up late I'd punch them. If they didn't show up at all I'd email a punch to them, but it's because of promoters like Dan that a live scene exists in Chester (and bands that behave!) (oh and people who don't like Sex On Fire).
Anyway, Northern Oak venture from that industrial wasteland called Sheffield; a barren place that is only pipped to having the highest rainfall in the whole fucking world by Blaenau Ffestiniog. They're described as a folk-metal band and just looking at the guitars, waist-coasts, beards, flutes, keyboards, small children with flowers in their hair and satanic bunting, guarantees this isn't going to be boring.
And it isn't, and although blighted by a loud bassist (you always hear him at parties) it was a riveting and entertaining thirty minutes… Think folk and metal mixed together, it's not hard… It shouldn't work… But it does… It's that screamy kind of metal but with plenty of subtleties to allow Catie's flute to the fore and enough going on in their songs without over complicating things into prog-boredom.
Research finds two albums on Spotify – I'm listening to 'Of Roots And Flesh' right now as I contemplate vacuuming  those annoying spiders with long legs that make shit-loads of webs high up on the coving.
Here's Northern Oak's website
Here's a website about spiders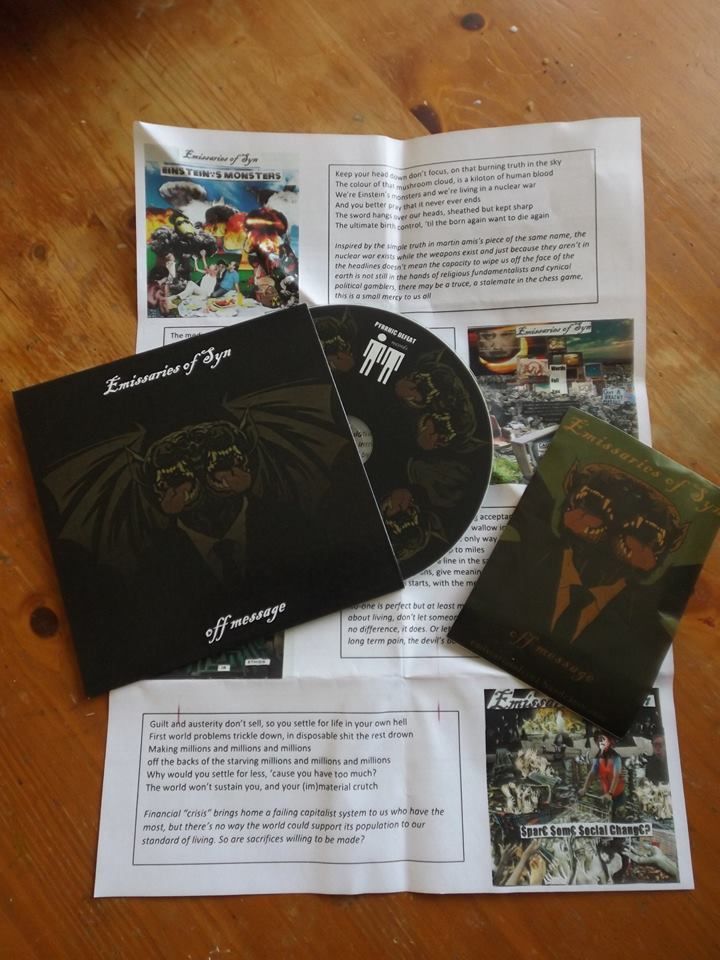 I received a demo from fellow link2wales writer MWJ late last year of his new band Emissaries Of Syn – it was wank… They then got themselves together and put together an EP – and on first listen, my thoughts were 'out of tune singing against a back ground of noise.'
So without too much back-slapping and dick sucking… Emissaries Of Syn are exactly 'out of tune singing against a back ground of noise.' and power be to EOS..!
Their 'Off Message EP' manages to throttle you with seven tracks in fifteen minutes and once you hear it and hear what they've got to say, you really do get it.
While the majority of their musical grind contemporaries are shouting 'C'mon Gwaenysgor let's make some fucking noise,' or pledging their allegiance to Satan (who doesn't exist), Emissaries Of Syn are poking your conscience with a ten tonne truck… Think break-beat Crass.
On stage they are relentless; thrashing guitar, monotone but thought provoking vocals, unforgiving bass killing and break-neck drumming.
I think the entire EP, like the cleverly titled The Only Way Is Ethics was covered along with three new songs including The Slate Is Not Clean, which depicts the slave trade that built such revered Welsh monuments like Penrhyn Castle.
Excellent stuff and truly excellent live.
This is their website
This is a website about Satan (who doesn't exist)