It was gonna be a quiet pint, watching Bad Earth for the simple fact I really like their stuff. No need to be scrawling another review a mere week or so since they were last inside my head, but I'm possessed, and automatic writing has taken me over. A tentative taste of the 3.4% hard stuff during this relatively 'dry' January and a bit of Charred Remains (pic below) to whet the appetite, was all I had planned…

No recorded work as yet from these charred delinquents of Abergele / Rhyl, and they'll one day learn that loud guitars need loud drums, and if the drums aren't mic'd up then they'll be lost in a tidal wave of distortion. All the power that should be driving some interesting songs is also lost. Perhaps the soundman should be more upfront and shout, 'Oi! Nob'ed, turn the guitars down!'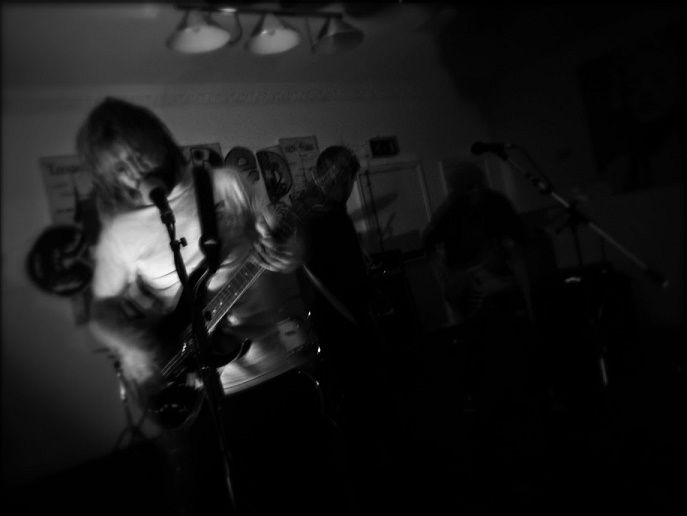 I'm not here to kick the actor from behind, so ticking off aside, Charred Remains gave us an absorbing 40 minutes of noise and entertainment. It was also a disjointed and weird show, maybe thrown together or maybe planned like that, from punk to almost funk in three-octave harmonica style and a flailing jamboree of dreadlocks.
A smattering of covers at the end and enough good bits before to warrant further investigation in the future. Plenty of animation, particularly from vocalist-guitarist Hilly, who had enough energy to light a small town.

You're once, twice, three times a bad ass southern fried suicide motherfucker – my third visitation to this Bad Earth, and dragging Steve Sync and Michael out for a sweet sherry and a wank, they both remarked, 'I hope the sound gets better.' – Fear not young men, for these guys might look like they wear their filthy Y-fronts over their oil stained jeans, but they don't fuck about when it comes to their sound.
They sounded superb, and the songs were definitely slower from their frantic set at The North last week, and all the better for it. From their shit beginnings a year ago as another bunch of arseholes playing rock covers to realising they may as well be skint and have cred, Bad Earth got it together to do their own stuff.
Since their début proper a little over six months ago, Bad Earth are developing a bit of a folklore status… It's a strange meeting of cultures… Here are these tough looking Hillbillies, a doppelgänger for 1970 German pornstars (male) playing to, and attracting the cosmic kids of Rhyl and beyond… You can take a band out of Denbigh, but you'll never take Denbigh out of a band… Or in this case, you can shove Denbigh into an audience, as those present went wild!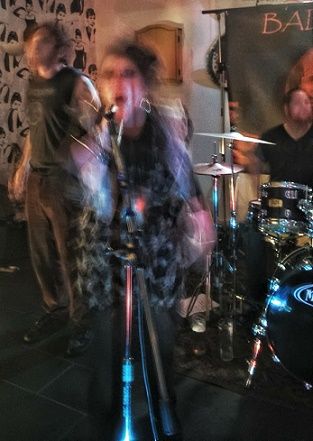 As Bad Earth went about their business like an axe murderer practising in an abattoir, there was real blood, sweat, glass and beers in the pit of this excellent venue. The audience travelled from mad to sublime, a barmaid is scurrying between broken limbs with a dustpan and brush, scooping up shattered glass, there's bare feet on the dancefloor, there's blood on the dancefloor, it's murder on the dancefloor, it's beautiful.
A crazed girl escapes from the clutches of her carer and grabs the microphone – the singer obliges and she proceeds to scream incessantly – she has a great screaming voice – she screams and screams, and the band played on – she screamed some more before the men in white coats grab her, kicking and screaming into the ambulance.
Team Bad Earth for Life! They'll torment and bend your world, you'll paint their name on your leather jacket and listen to their stuff on your iPods as you have your feet sewn back on in A+E.
Love it.. Fuckin' love it…