Andy Garside could've reviewed this entire night with his comment, 'Damo Suzuki was mind melting…' – That would've been enough, and those who saw this performance would fully appreciate it… We'll come to that in due course…
I locked up work at  5.20pm, got in the car and headed towards Wrexham… I got changed and brushed my teeth in some public toilet… This is how we rock… This is how we roll…
Day Two of Focus Wales, personally it was gonna be a short one tonight for fear of shortening my life through exhaustion… The Luvvies had spent the afternoon doing conventions and all good things for bands… Me..? 'Have ear plugs will watch gig…'

More venues opened their doors tonight as the engine began getting more and more cranked up in preparation for the full throttle, no baffles of tomorrow and Saturday… South was the place of starters tonight and Obe got things under way to an empty room apart from myself, the barmaid and the freelancing elbowing photographers.
Their superb sound soon brought the gig zombies staggering upstairs. It was instrumental proggy guitar stuff with power. None of that wanky solo bollocks that sounds colourful for a short while before turning grey, no; this was good enough to keep me here for the whole bloody gig (having pre-planned to see only a couple of numbers). Full on and mighty fine! To keep your audience interested with no vocals takes some doing, but they pull it off. Like an instrumental Orient Machine dancing on a Radiohead album whilst eating Black Sabbath. Bandcamp them here.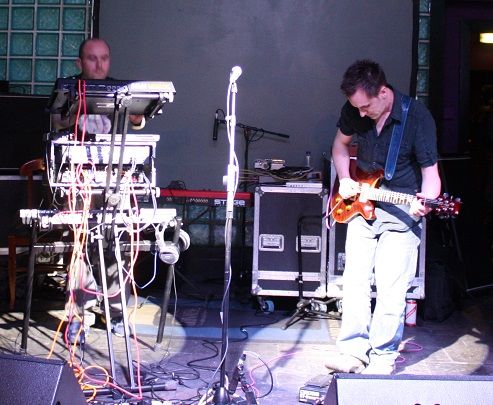 Victorian Hardware are already ramping it up downstairs – it's heavily synthed out samples with guitar, and again, no vocals (for the time I was there). It really worked well in an Orby bake-off with a token Goth kinda way. (bandcamp)
There's no time to lose, get me to the church on time, The Mexican Walking Fish are performing to saints and sinners and I need to be there. I wander up a path toward the magnificent St Giles' Church, The Delta Academy Choir try to rough me up on their way past to wreak havoc on Wrexham after a successful gig, tearing the pulpit apart…
Kyle and his Fish from Afar are sound-checking (they call it line checking at festivals), and it's all very hush hush in here, almost like a Church Ceremony. The band should've worn white dog collars for added effect, or angel wings.
Puns aside, this is an incredible building, and what a place to hold a gig, and a good way to utilise these seldom used buildings! How they allowed a heathen like Kyle Lee in here, only the Lord will know! Having said that, there is such solemn beauty in the Mexican Walking Fish repertoire that this setting is near perfect.
'I'm not the same as before, a little bit broken and torn…' They are far better in their full six piece glory, and God and Jesus both nod in appreciation at the melancholy I Tried My Best and the absolutely sublime Things They Never Change. (facebook)
Like all good punk bands, No Name Janes split before Focus Wales could change the programme, so brand new Wrexham band, Hunting Crows filled the void at Un Deg Un venue with their Americana rock… (website)
It was a fleeting visit as Secateurs were on at Central Station and they owed me some postage money (charging me more in shipping costs than their EP!)


Opening with their single She Lost Her Mind, and it is instantly recognisable when it hits you between the eyes like an espresso coffee at 6am. There's no messin' about, it's wham-bam-fuck-off-mam into the next tune – it's rocking and it's good, and they have a drummer who shouts at the band a lot – that's all you need at this moment in time. Secateurs have a new single out on June 7th, it's more up tempo after a ballady type tune with a I Am The Resurrection type beat… All good dirty fun and you can get more here.
Bob Spectrum demanded I head up to Un Deg Un to see Arms Like Legs, and the pics I took do the band a dis-service. This is EntErtainmEnt with capital E's – There's plenty of great bands out there, but only a few extra special ones, and Aberystwyth's Arms Like Legs have been added to my list. I had only heard of them minutes before when Bob (Brendan to the police) mentioned them, and this is why we do these festivals, this makes it all the more worth doing.
Stephanie Finegan is a possessed Hazel o'Connor, living and breathing every second of the performance, fronting a turbo-stoner rock band. Great voice, great stage presence, great band. Not dissimilar sounding to that 70s band who did an amazing progged out-tripped out version of Eleanor Rigby (anyone tell me their name?). She's a caged tiger, prowling up and down the stage before pirouetting into a Hammer House of Horror dance and sometimes sounding a like a Japanese B-motion Movie, bouncing across syllables like Zebedey on a trampoline. It's captivating and the song Organmetronic with it's Taste In Men style bass line (but played live) just iced a cake that was iced already – FUCKING ACE!
I dunno how often they play on the circuit but you have to see them! (website)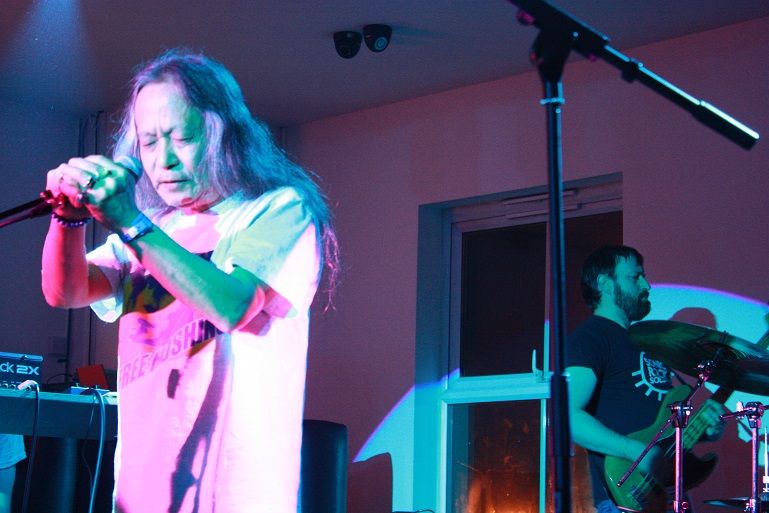 'The mind finds it very hard to comprehend seeing Damo Suzuki walking down past the the Horse and Jockey in Wrexham,' explained an exasperated Adam Walton on BBC Radio Wales the other night.
Myself, I'd have probably said, 'Fuck me! It's Damo Suzuki!' in a Half Man Half John Cooper-Clarke manner, and I guess that's why they don't let me on the radio any more!
For those of you not-in-the-know, Damo is the Japanese born singer who was in legendary German krautrock band Can in the early 70s, who has gone on to release a superabundance of material since. I have also learnt that he is renowned for appearing in venues with an improvised band made from local musicians.
Tonight is no exception… Damo Suzuki's ensemble is Wrexham band Baron La Croix, themselves an ensemble of Gallops and Cameras etc.
There's air of anticipation, South is bustling with people…  Conversations ebb away as the mantra begins… Let the service commence… Those stood before Damo are now officially dead; zombies, hypnotised, mesmerised… We are all being voodoo dolled by a one-song 45 minute long jamming session… The backing is pure class; improvised and seamless… Acid driven student bedsit music and nothing like that shite BT Broadband series of adverts. This music has vinyl and CDs strewn across a filthy bedsit floor, potted with resin burns, and mouldy pizza…
This is scintillating and brilliant, it's compelling. You stand there; jaw agape as Damo hangs onto his microphone stand, Yoda-like, endlessly ranting incoherently… Was it in German, Japanese, Welsh, English, Klingon? Nobody cares, we are now disciples of antimatter, of nonspace and nontime… (DamoSuzuki.com)
I went home, nothing else mattered…