I first saw Kentucky AFC in early 2003 when they played at Bar Blu and began a long relationship with the venue and the Rhyl crowd. Like many others they too surfed the edges of being a Welsh language / English language band, and (unlike many others) won many plaudits from both sides.
Their sound and performances were infectious and within a year I had seen them no fewer than eight times!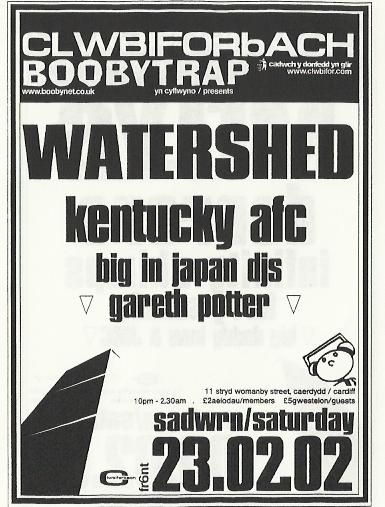 Previously they were called Cacan Wy Experience, as bassist Huw Owen explains, 'Endaf and I were in a band together before the birth of Kentucky so we've known each other for years. But Kentucky AFC started off as a bedroom project between the two of us in 2000 if I remember correctly. Just recording on a 4-track, sending demos out to whoever would listen or we'd send them anyway whether people would listen or not. We used to send shitloads of cassettes down to Huw and Baz at Boobytrap, pile in a handful of sweets in order to bribe them into listening, and it worked. Boobytrap gave us our first gig in 2002 at some point at Clwb Ifor Bach. We only could play one Kentucky AFC song because of the set-up we had, so we ended up playing our old band's songs to fill up the set.'
Endaf Roberts (b.1978) (voc,gtr), Huw Owen (b.1977) (bass), Gethin Evans (b.1979) (drms) made up this spiky three piece line up after former drummer Robyn Williams had left.
Sessions and airplay on Radio Cymru were aplenty as they were on Adam Walton's BBC Radio Wales Show (the first being aired 23.11.2002). They released an excellent demo with the song Left To Die showing brilliance for the three minute wonder of song writing and were picked up by Complete Control records to release the equally brilliant Outlaw in December 2003.
They received a record five gongs at The BBC Radio Cymru Rock and Pop Awards, which as Huw says, 'Was a bit weird, we just went into the studio, released singles, played everywhere and anywhere to whoever would listen and have us really. Obviously the hard work meant something to others, we really didn't give a shit, we just wanted to do as much as we could in any way possible. I suppose it's nice that people recognise the work we put in to what we enjoyed doing.'

Cardiff based Boobytrap Records released a debut eponymous LP (Sep05). Link2wales reviewer, Mark Watson-Jones described KAFC as, 'Raucous, bluesy hyper-rock'n'roll – something fresh for these parts. As a three-piece they achieved a lot of subtle complexities and variety within this familiar genre, confident stage presence and vocals too. Reminded me most of John Spencer Blues Explosion, cool.'
The Boobytrap release was unfortunately not as strong as their earlier demos and singles, lacking in the production department, and Huw agrees, 'I think we rushed it, thinking back. It would have been nice to have spent more time on it, but saying that we wanted to record us playing live and have a live feel to the album. I like it, it's what we did at that time. I don't think the awards helped, we wanted to release an album as fast as we could after all that.'
Steve Sync (also of link2wales) was full of praise for their live shows, 'My first impressions were – an excellent band showing true talent with some great songs, they burst into what I can only describe as a superb, but short set of great songs including – Bodlon, Left To Die, Un Arddeg, and Pills. I found them very easy to listen to, they have an alternative edge, but keep it tamed by a strong melodic sound. I think that they play a style of music which is more likely to receive interest from the music industry than other North Walian bands treading the same boards.'

The Kentucky wagon eventually lost its wheels and ground to a halt, 'We slowed down in order to make a second album, that took for fucking ever to finish and release. We sat on it for over two years. Boobytrap stopped functioning so there was no label to release it, that didn't help. Gethin started the Genod Droog project and that took off, so he was off doing stuff with them. The main problem was that all three of us should have been pulling the equivalent amount of weight, and that never happened. Looking back, if we wanted it to work, all of us should have made it work together. So soon after the lack of motivation I started taking my Mr Huw messing around project a bit more serious. So it's an accumulation of things really, the main ones being a lack of motivation and drive.'
He later added, 'The music did start to change a bit towards the end. When we did our last radio session for Huw Stephens the last couple of songs we wrote had changed a bit. But it wasn't a factor. The decision had been made before then.'
Huw's Mr Huw project is 'peachy' according to the man himself, having added the finishing touches to his second album at the time of writing. Produced by David Wrench, Huw is, 'Happier than a pig in shit that I've finished it. It's taken a little longer than I expected, but what can you do? I'm happy so it's okay.'
Endaf has since 2007 been spotted under the guise of Endaf Presli (or Presley), very much in a country and western vain, which isn't surprising when you consider the cow-punk element that was Kentucky AFC. He has also been recording with his brother as Pry Cry and has been travelling the world.
While Gethin is now a dad and has his own show on Radio Cymru, along with presenting slots on S4C TV, 'Proper Mr Showbiz!' as Huw calls him.
Huw threatens that they'll, 'Probably do something together musically one day, maybe a rock opera or an album for the elderly.'