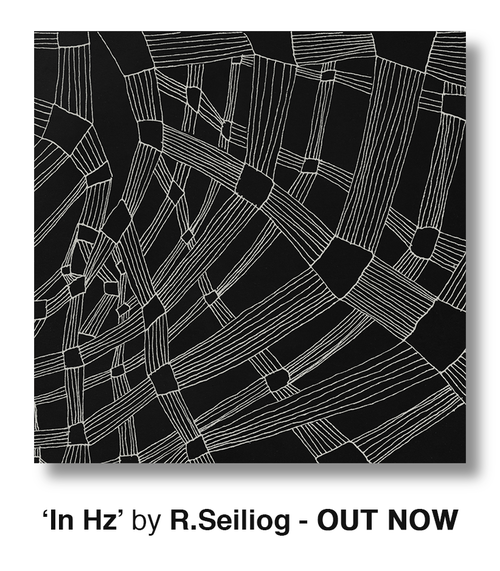 Track three – Cymatic Modes is about four minutes old and has convinced me I'm experiencing a flashback from my college days (I studied magic mushrooms from under a table in the common room). My head is awash from wave upon wave of transcendent sounds caressing the cortex in a sub-Rhythm & Stealth, post-Future Sound of Denbigh world.
'In Hz' is the début album from R.Seiliog who has teased us over the past two years with ten inch vinyl releases of maestronic wonderment, remixes sliced with Occam's razor and diverse and abstractive live performances.
Being on the good ship Turnstile means he's in good company, but far from being a passenger on this fine label, he's in the kitchen cooking up diethylamide lasagne for his ergoline family.
The next trip is Wow Signal and it is correctly descriptive in it's title (and nowhere near long enough) – it is subsonic bliss in a liquid dreamland of quasi-colour and happiness… Remarkable.
The ten minute epic Constellation Drip that is wedged bang in the middle of this great album is more of a tribal gathering, but this is no ordinary tribe… Think the descendants of Dr. Dave Bowman in '2001, A Space Odyssey' jamming with that tribe of herbivorous early hominids at the beginning of the film in some freaked out Google Time Hangout and you're still nowhere near what this track is about.
Peripheral Thermal (Left) is a vibrating prelude to Peripheral Thermal (Right) – the former pulling you gently over a banned substance dune (illegal on this planet) until you seamlessly drift over to the (Right) and head first into a wormhole… Everything is black; total darkness, but your vision is flooded with shapes and colours as you traverse through this omniverse and beyond our cosmological horizon.
Best not spoil the start or the end of this fine piece of work that's out now on Turnstile Records… You need to spoil yourself… Get it here…