Always interesting when your entertainment choices have a wider context than just distraction from the day-to-day.  Doesn't have to, it could be your choice to switch off and blow out, fuck it all with fucking no regrets but maybe there'd be a gnawing dissatisfied undercurrent to the eventual return to the ever greying reality.  Yes, I actively seek oblivion but while trying to retain an active mind at the same time, hard but rewarding work on both counts!
This weekend's endeavours started on the Thursday with taking part in the democratic process, the church(hall)/state.  With the sad state of affairs of arguably 5 fascist parties represented on the ballot paper I resisted the urge to place a swastika in each of their boxes and voted for the National Socialist Party of Wales ("Leek Heil!").  Then proceeded over the border to the militant republic of Liverpool where us Mersey d-beaters Skitvarld and Auralskit supported a Canadian invasion in the form of Napalm Raid.  They themselves were heading down to play Scumfest on the Sunday and what a treat they were, the three-piece playing some furious fast crust with harsh reverbed vocals, excellent punchy tunes.  Seemed a bit reticent while playing but turned out they were a bunch of lovely guys who we ended up repeatedly bumping into over the course of the forthcoming party.  The rest of the evening descended into madness with a particular hi/lo point being seeing GG Allin's "Bite it you scum" sung at a karaoke bar to the horror of chavs present, he would have approved…
Surprised myself by hitting the road dull and early on the Friday to swing by Wrexham fetching Ell and Ste and trek down south.  It is a slog overcome by good company, refreshments, and tunes, Rodney Smith aka Roots Manuva seeming very appropriate for us cruising the jams and bouncing the speed bumps to end up at the Islington flat where we were staying.  After briefly disguising ourselves as "respectable family men" to get in, there was still plenty of time for us to head out and undertake a pilgrimage to The Southampton Arms before eagerly getting back to Tufnell Park for close to 7pm opening, absolutely slaughtered already.
The Dome has hosted these events before, it's a great set up and the organisation by the Scumfest Collective has been practised and polished enough as this year they celebrate their 10th anniversary.  Dregs are not found at the end but at the start of the evening,  but the stripped down punk from the female fronted youngsters did seem a little too rough and ready in terms of perhaps early days in their playing, need to tighten up a bit.  Hitting the spot a lot better were Halifax's Burning Flag (above), who we'd played with recently in Oldham, and they have a great groove to their melodic, driving punk, topped off with MD's spat lyrics as she stalks the stage panther-like.  They even got Stick from Doom smiling!  Things get sick (as I believe the kids say) with Cancer Spreading next.  Had been looking forward to these Italians and their Bolt Thrower worshipping stench-core after hearing their recordings but as good as those rumbly vibes were thought they lacked a little power and life in their performance.  Far more lively were the women of Las Otras  (below) from Barcelona, really up-tempo, shouty hardcore, short and sharp and featuring probably the most smiley bassist ever.  Finnish hardcore legends Rattus are the nominal headliner for the evening, given that they started in the 70's I am suspicious that the more youthful current singer/guitarist is not original and this is the case.  Doesn't detract from their raw, chaotic blasts of punk, great fun and much appreciated all round including by Dean ENT in the pit.  Finally, Random Blackouts (from Germany) seem appropriately named for this time of night, and while their more straightforward rough Exploited punk is satisfying enough they are plagued by technical difficulties, including putting the bass drum skin through which kind of breaks up their performance a bit.
As usual, there is massive social pleasure to the gathering, old friends and new, ironic and polar opposite to the knee jerk ignorance of the electorate sheep where here bands and fans from all over Europe and beyond are happy and celebrant in the melting pot that London already is.  Among many chats I meet a guy from Transylvania who vouches for the country's own continued existence despite being absorbed into Romania a long time back and experiencing all kinds of so-far-left-its-right wing suffering under Ceausescu.  "Sounds just like Wales, mate".  Ultimately all borders dissolve as there is European unity with purpose found here in supporting the scene, and enjoying all it brings.  Including Seitan burgers and cheap merch and the fact that this years benefit the whole event is run for is Antifascist Action.
A morning person gets us up in the morning, and in no way revived we head out for another little cultural interlude and opportunity of temporary salvation.  My friend Rebecca (formerly of Science) invites us on a bus ride down the road to a free lunchtime concert at the Union Chapel in Highgate.  A glorious setting (I think their definition of chapel varies massively from the Welsh versions, the Southern show-offs) but the world music/ambient and general silent homage goes down badly with some wannabe drunken sinners accompanying me, especially when their Slayer ring-tone goes off.  I catch up with them on the crawl back north flying high at the Shite Wwan, we enjoy hanging out the back at The Famous Cock, The Coronet is hardly our crowning achievement, crucified again at the Oak and Pastor, and the only hand I see at the Aces and Eights is pointing at the 70's porn on the wall.  The venue is still quiet for the first band of this early evening, Semi, and while there's a fair bit of energy put into their show from the spazzing out singer I'm not overly into this kind of Swanky's style noise-punk.  More atune with my feelings are France's Lust for Death, with their excellent combination of filthy crust and more epic post-metal structures, bringing to mind the heady days of early Neurosis.  Next up it's another anticipated highlight delivered in spades, Contorture (below) from Sweden.  Four crusty ladies ripping through a set of short blasts of radical punk, almost edging into grind territory, with a fantastic violent edge to their sound and some intense drumming.
Through the haze and the joy though the serious, almost resigned between song introductions and dis-courses by the singer really cut through.  This includes pointing out that while yes, they are female, why should that be the first thing they are judged and commented on?  There's no need to say "the all-male band".  I am always pleased to see females in bands, yeah not rising above my base instincts all the time, corrupted by Jo Bench at an early age, but also from experience the passion and rage channelled through the music is universal, and in terms of equality the representation here, on stage and off, is maybe both deliberate and hopefully naturally fair.  For me that representation is if anything a form of union between the sexes in this joyous middle ground of music with meaning, getting over divides same as we are with borders.  A simple test of how we are getting along is where I find an abandoned bunch of flowers and randomly select a lady to give them too, she doesn't give me a slap but says it was "lovely" and had cheered her up.   There is also the theme expanded with the pieces in the fanzines and the stall of "love sex, hate sexism" merch (though I'm not sure me and Ste wearing the logo panties did anything for either sex) and as I said at the start, the fact that thought is provoked amidst the party chaos is testament to the whole motivation behind the event.
Next, another…  err…  all-female band.  Saturnine (above) from Italy I'd seen before in Bradford but their crushing doom –death has been further enhanced by the addition of ex-Last Legion Alive powerhouse vocalist Katrinity.  In incense fog and hellish lighting they are a captivating spectacle and lull along with devastating heaviness.  Perhaps in contrast, Poland's Antidotum are not as striking with a bit more traditional strident anarcho-punk that pounds along with good pace but is a bit unremarkable otherwise.  Wonder if there is some sit-down protest going on next but it's more likely a lot of people taking a wise breather ahead of the insanity of Raw Noise (top).  Dean from ENT fronts the band that is a long standing but rarely occurring off-shoot of his main band, but not far different really – metallic hardcore / proto-grind, a relentless machine-gunned assault that sees bodies flying everywhere.  If anything, and maybe helped by the environment, it probably tops recent ENT appearances for me too.  And yet there's still even more peaks to come, as Sweden's Infernoh (below) take it too another level and destroy the place with their charging hardcore, like the Motorhead of crust with their melodies barrelling along with no remorse.  A great ending in itself that still leaves us to reel in the more challenging aural output of Part 1.  Stemming from the early 80's as contemporaries of Rudimentary Peni the speed is changed down a few gears to some brooding but stomping death rock, with gothic over- and undertones to their style and look.  It is an intriguing tangent but my attention wavers after a bit, what with all the exertions of the weekend,  and it's time to hit the road back to our flat, via taking on the entire Shaolin Temple of London (they were asleep) and settling down for a nice nightcap tea-bagging.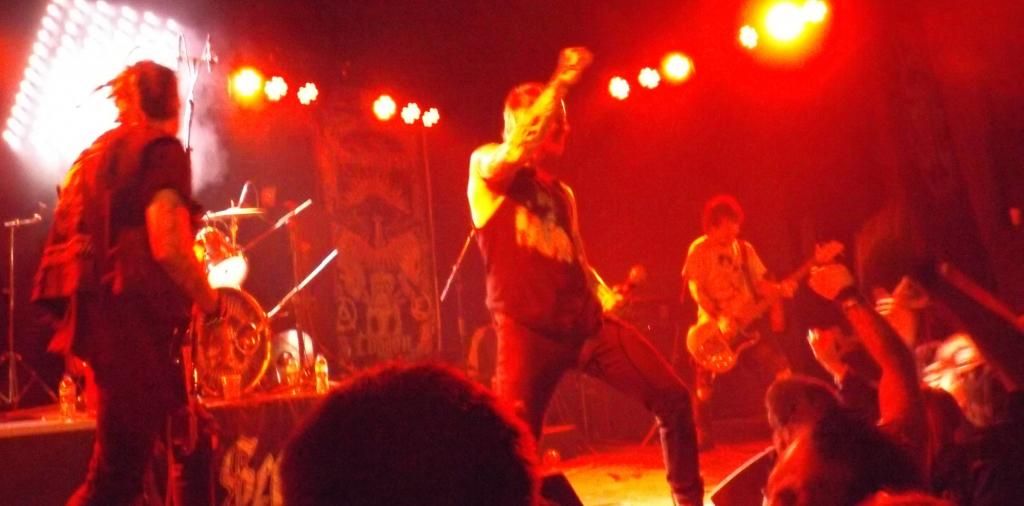 Couldn't stay for the continuing Sunday of the fest but undoubtedly had already witnessed a great success and glad to have travelled to be part of it.  Not so much the Scum rising as the crust on the cream of the crop. Up the punks.  Up the immigrants