My weekend itinerary was supposed to take in Strummercamp, Bearded Theory and Nice 'n' Sleazy Festivals in a whirlwind behind the scenes scoop with Louise Distras, but it fell through at the 11th hour.
So second choice was to see the amazing White Noise Sound at Telfords Warehouse in Chester, but the heavens opened and the A55 closed.
Sitting at home contemplating an evening of online porn I noticed Mr Huw had instagrammed a pic of their soundcheck at Hen Cob… This became my first choice (the porn can wait…).
Hen Cob (or Old Cob if you like) is the old Cob Records building on Bangor High Street; steeped in history and the obvious choice for courageous couple Llio and Aled to do something positive since the demise of that fine record shop.
It's barely recognisable now, but makes a great venue… The kind of place you'd find in a city (*Bangor is a city), bustling with people, with the in crowd, people who go there to be seen / scene.
I say courageous because to set up such a venture in this odd city way out west is going to be tough going… Things take time to get established, people have too much choice, people like their comfort zones. Huw and I spoke of how things have changed, facebook is the way to advertise these days… The only way… But you receive a deluge of notifications and quite often things just don't get to the people intended.
Bands used to go and covertly advertise their gigs with posters and a bucket of paste. I remember hitch-hiking to Sheffield armed with just that a week before I was to play there, such was my dedication… We played the gig on a Monday night to two people (we were shit).
The local paper is delivered free to every home in the area and yet you read the entertainment page and find almost zero support for the local scene as it's edited by people completely out of touch with what's going on…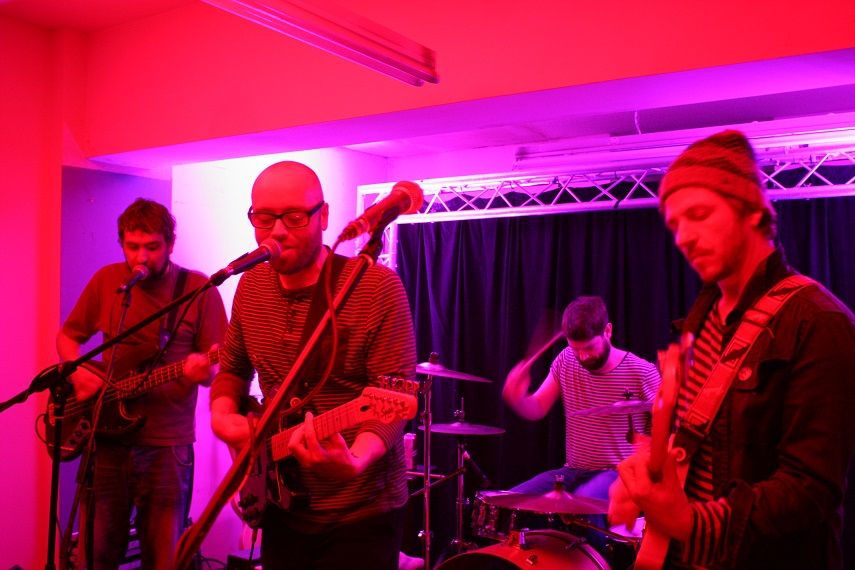 Mr Huw were, as you will have read previously, ace… They were the last band on; the headliners if you like, although all three acts tonight are headliners. They've added a second guitarist to the line-up, which subtly puts a layer into their cow-punk sound. Check out the links below for great interview, previous gig reviews and write up on their excellent Cariad Afiach album.
Remarkably, across all these years of correspondence since his Gabrielle 25 days, Dan Amor and myself have never met… It was such a disappointment when we did tonight ha ha!!
Dan is a prolific songwriter… No sooner have you burnt his latest release onto your thigh-pod when along comes another one. This is in the shape of a CD sleeve sized postcard and a free download. 'Rainhill Trials' as I would expect, is a welcome addition to my bulging Dan Amor collection.

It's nice to put flesh to the voice and we politely settled down as Dan and his harmonious gimp set about enchanting us with their Welsh-English-Welsh repertoire. The accompanying vocal harmonies are sweeter than segur, as you'd expect from Sen Segur's vocalist and we are transfixed and drawn in by songs old and new. Town Spectacle (very old), Sister Anne (very new).
The finale is ace, and I want one of those digital tanpura box things, I'd leave it on in the house all day! Dan loops a guitar on the floor, there's subtle feedback going on, harmonies galore and even a Rolf Harris Stylophone playing (very topical!)… I was sucked in… Enchanting and mesmerising…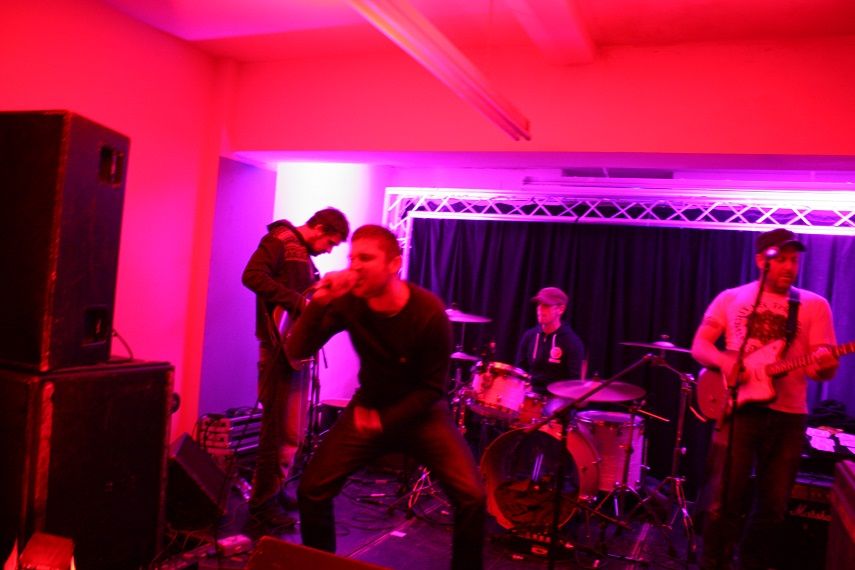 Three gigs into their illustrious career, Brython Shag are worthy of checking out for that name alone! Delve slightly deeper and you'll learn they are made up of musical misfits from Blaenau Ffestiniog.
Dewi Llwyd Evans said, 'I got glam punky Happy Mondays meets MC5 Cymraeg. What did you get?'
I think that pretty much nails it… The band, minus the singer alone are of a calibre not seen too often and MC5 is a pretty damn fine accolade to have, it's not plod punk that's been chucked together; it may have been jammed out in a rehearsal room but this is song construction of a high calibre. That alone is worth the £5 entrance fee… However… Add Ceri Cunnington on vocals into the equation and you have clash of cultures that explodes in your face…
Tonight there's hundreds (and I mean hundreds) of students on the streets outside, queuing up to get into shit nightclubs, (un)blissfully unaware of what's going on so nearby. Oh how they need culture in their lives, maybe a bit of real Welsh culture…?
Who cares what language this is in… This is universal… We all speak the same language where Brython Shag are concerned… We're all fucked but we're going out with a bang.
Ceri is that drunk in the street, that guy at a festival, covered in shit, clutching a can and wandering around at five in the morning. He's the one who passes out on the couch at a party and has his face written on… He is exactly the same on stage… Sometimes a clown (almost Captain Sensible-esq), but he is also a genius, he's in the zone… The perfect foil for this band, a true entertainer.
When a band come along and play the fuck out of a place and fill you with excitement it makes your shit life worthwhile, and the handful of people who witnessed this have just seen something very special.
Brython Shag's hardest task is emulating and capturing that edge and that energy in a sanitised studio where everyone is sober and nervous… If they do, they will rock your world…