Some semblance of a lie-in or at least an extra hour before the endurance test of this final day is faced.  Even then there wasn't particularly much that we knew of, the opener turned out to be Cobra (with a nice line in matching T-shirts) at the Warzone.  Was expecting sharp, heavy punk from the Frenchmen but pleasantly surprised to find that they had a digital hardcore element (notably missing from the lineup after being spoilt last year).  Electronic drum and bass, 3 guitars, and two vocals almost had a Senser vibe at times.  Made the next visit kind of blend well as we headed over to the Temple for late additions, Blacklodge (below).  I had described them to friends as a black metal Combi-christ and the Swedes definitely came close to that with some truly chest reverberating beats underpinning their riffing and shrieking "Satan", got the cyber goths grooving anyway and was pretty enjoyable.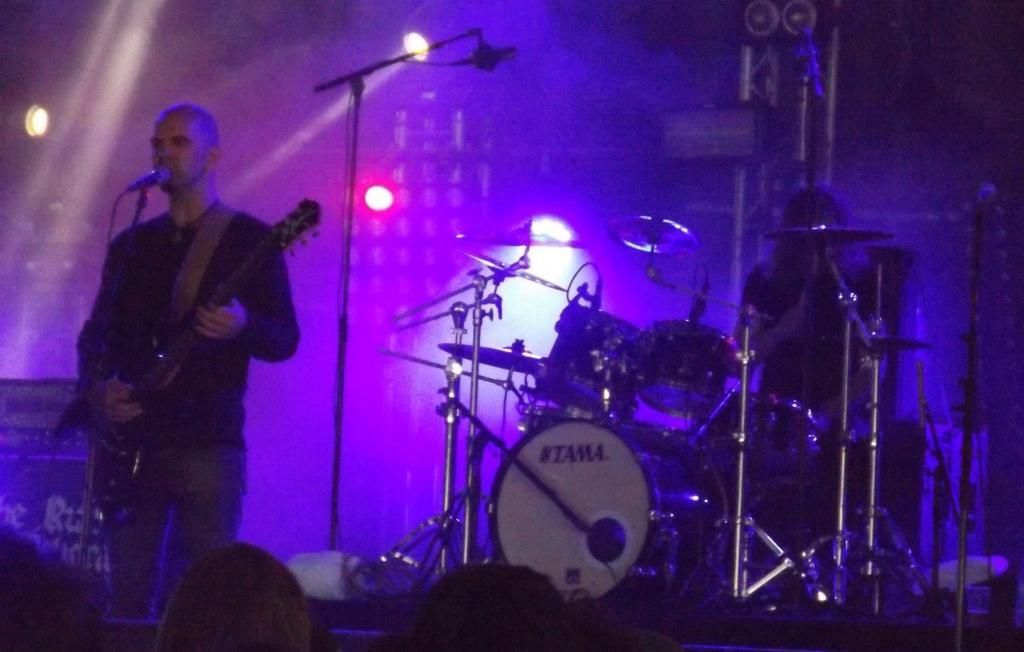 Next there was the more conventional black of The Ruins of Beverast (above), didn't know much of them apart from my German friend played drums for them!  All the more pleased then with their hypnotic blasting epics, apparently stripped down for live from some of their more eclectic, orchestral sonic layers.  Must have been hard work in the sweltering temperatures in here too.  Keeping up the harshness on the opposite stage we had Ulcerate (down under) from New Zealand.  Obviously a rare opportunity to see these travellers, the three piece have been garnering some good reviews for their recent "Vermis" album.  It comes across well too, beautiful distorted tones and a real different vibe that hears elements of post-metal atmospherics interspersing the dark and dirty technical death.  There are few more dark and dirty than the old schoolers Repulsion (further below) here next, another three piece that is the perfect classic mix to give the "Motorhead of death metal" sound that I've appreciated here and elsewhere before.  Initially I am drooling at how massive the bass is sounding before they fix the mix (boooo!) but it's still a great headlong charge through their very limited back catalogue, leaving us suitably "Horrified".
Staggering into the open and radiation sickness once more I treat myself to an ice cream which is so orgasmically cooling I describe it as sex in the mouth, not that I am overly familiar with this of course. We gathered next for Black Tusk (above) at the Valley, as I'd only been close to seeing them at a previous Roadburn that was just too busy to stand.  Here it was still hard work but great fun to be up front and centre for a really entertaining three piece, hard hitting sleazy sludge from Savannah, powered along with a punkish vibe too.  Watch the start of Swe-death legends Unleashed (below) surprisingly at their first time here, they are pretty solid if not quite as impressive as at Hammerfest earlier in the year and my own longship is sinking fast so it's time for a break.
Mainly tactical as we are heading to the main stage for Dark Angel (above) next.  The old school heavy thrash band were one of my big hopes for an announcement when I heard they were reforming last year, but it seemed the opportunity had gone until Megadeth dropped out late in the day and they were brought in as a missive bonus.  Maybe not as universally/mainstream popular as them, but that is the ignorants loss as these guys were putting out thunderous riff mania before even Slayers "Reign in Blood" and once the sound is sorted it is a relentless headbanging paradise in the sun. Gene Hoglan on the drums is an absolute beast.  In fact I think it's only the by the time we get to the bass intro to my favourite "Merciless Death" as the penultimate song that we get anything resembling an even midtempo slow down.  A real old school pleasure.  Next the pride of Poland with the blackened death of Behemoth.  Initially I had been not overly fussed on seeing this show as their previous one here with frontman Nergal just back from illness had been a little wavering compared to their earlier brutality.  However it turned out to be a huge spectacle and perfectly weighted barrage of epic ritual darkness, even in the daytime, I was won over once more.
Swap main stages once more for the first chance to see Soundgarden.  Obviously decades into their career (although there was a big break in the middle) but I was still hoping to hear some of the gems from their ultra-heavy grooves from their early "Badmotorfinger" album and certainly wasn't disappointed.  Odd though that even close to the main stage you are getting people sitting in the middle apparently uninterested, presumable camping out for the later headliners.  Also amused by Chris Cornell's attempts to get along with the crowd by talking about them "beating some guys in the soccer".  Knowing that I would have the chance to see them again in a couple of weeks I bailed on them to head over to the warzone to see the Misfits, once again.  Never sure what to expect with this version of the band, especially into relation to the Danzig/Doyle version of last year practically moving me to tears, but as I'd missed their new album material and came to a relentless one-two combination of classics I was beaming, bouncing and singing my heart out once more.  Ultimately it's the songs I'm in love with and can't get enough, I have the bonus of catching one of Jerry Only's wristbands thrown in my direction.  Except then I realise he was actually aiming for the little girl on her dads shoulders behind me, oops, but she got the next one anyway.
Staying firmly on the dark side with another first for me, reunited Norwegian black metal originators, Emperor.  Playing their debut album "In the Nightside Eclipse" to celebrate its 20th anniversary there really is no doubting their credentials as innovative and original exponents of the art, slightly more ethical doubts had been raised on having a convicted murderer and church burner on the drums but this still reminds how level of extremity that this scene reached and the elements of worship or acolyte devotion it still inspires today. It's an atmospheric and satisfying show, technicality delivered effortlessly, and we're even treated to a couple of ancient demo tracks as an encore.  The hour of midnight is upon us, so technically we are leaving the Sabbath but the sirens ring out to warn us the Brummies are coming and the War Pigs are unleashed once more.  When we had the unfortunate circumstance of Tony Iommi's illness a couple of years back rob us of a chance to see the original, complete Black Sabbath we were "treated" instead to the absolute shambles of Ozzy and Friendz.  This was like a whole new band, not just in terms of performance but also the huge scale of the stage show with its back screens and pyro.  The new drummer is hard hitting and gives a real energy to the classics, the bell tone heralding "Black Sabbath" itself just spine tingling.  They've made an interesting move in making extended versions of some of the songs though, allowing Tony and Geezer to jam on and let us bask in the presence of genuine legends.  Ozzy though, well, he's f*cked isn't he?  Yes he can sing (with technology assistance?)  but he can barely string sentences together and resorts to a mainstay of "cuckoo" when he's got nothing else to say.  We love the embarrassing old uncle but it's also pretty sad after a bit.
Again, in the knowledge of another forthcoming gig to see them at for me I decide to end the fest once again in the company of John Garcia.  After his couple of recent shows here with versions of his seminal desert rockers Kyuss we are now treated to an even rarer outing of his later Unida project.  From the off, it's a hugely overdriven, driving rhythms locked into grooves, with John's strident but melodic excellent vocals over the top.  As a French guy also says to me at the time, "He has great hair".  I'd only heard some of their stuff previously but I'm so carried away by the reverberating majesty of this I'm thinking it's the most consistent of all their output.  About ten minutes from the finish though I see him looking at the setlist and whisper to himself as an aside "Holy shi*tballs, what are we going to do?" Ha, with only one official album they had run out of songs!  So much for forward planning! So, instead we have an impromptu jam which was special in its own right before they hit us with one more closer.  For the first year I am happy to leave before the end on this high instead of drag it out with the closing bands I'm not bothered about and am glad I did.
Well, survived the test, saw some amazing performances, had great time with friends and strangers.  Our reflection was that now with it hitting c. 50,000 a day its twice as big as it was when we started coming and starting to lose a little of the intimacy and convenience.  We may go looking elsewhere among the great selection of smaller Euro-fests and feasts but when they keeping laying out such a spread here it will be hard to resist as always