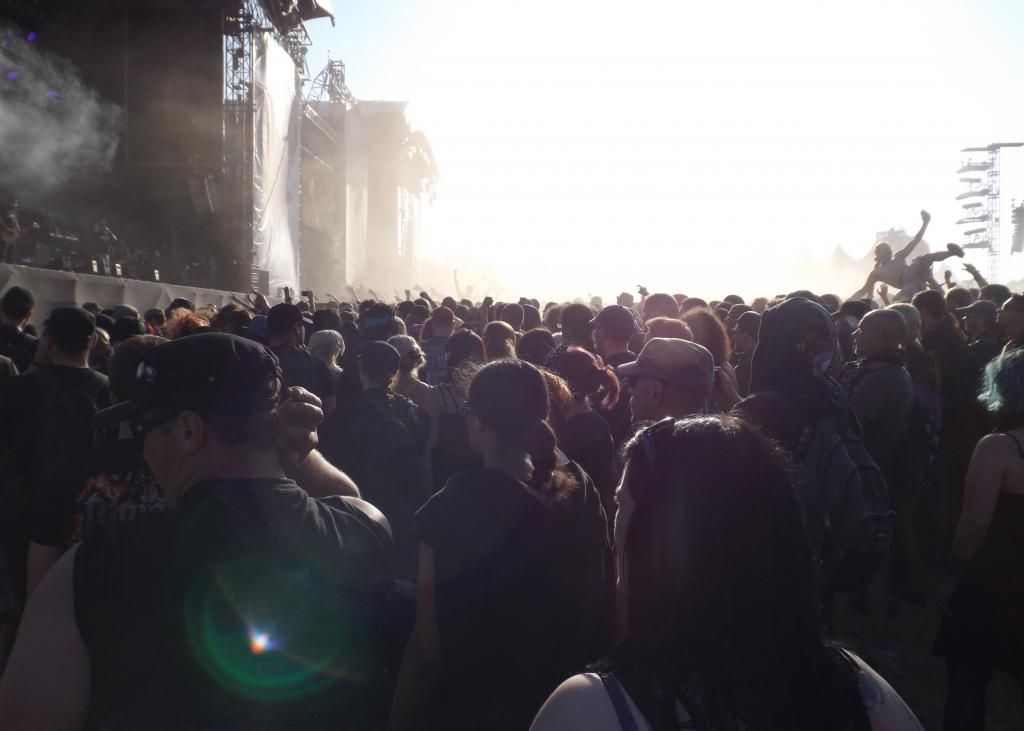 Despite no change in the weather conditions and me aged plates of meat feeling like they've had no rest at all, we are still in first thing on the Saturday (no queues today, although I am punished by not being allowed to take my jug of wine in and having to polish it off at the gates!) as we head to give support for our compatriots Hark.  Even if they are from the dirty south of Wales.  Had enjoyed them at Hammerfest previously and they give an energetic opening of their convoluted riff and groove workouts, and seem pleased with their early morning reception. 
I'm mixing it up with French death metal at the nearby Altar in the form of Mercyless.  Been going some time, but only just picked up their recent "Unholy Black Splendour" album (and "negotiated" a bargain/steal on the vinyl here!).  Live they capture that fast and atmospheric darkness well, at the same time being satisfyingly retro while having a contemporary bite.  Back to the Valley for Herder, I'd been looking forward to the Dutch guys for having a particularly rough edge to their sludgy hardcore grooves, it was good but for all the singers provocation I wasn't overly moved.  Good that they'd brought their old singer back to guest on a couple of tracks for the occasion.  More natives with Benighted (below) next, bringing a decent gathering and making a lot of dust in the process.  More of a grind edge to their death, their recent "Carnivore Sublime" album had been impressive and while that showed quite eclectic and even accessible touches here they concentrated on the nasty and were all the more enjoyable for it.  Caught a little of Mos Generator heavy vibes from the back after they had again been recommended via a Hammerfest show, but while it got into your bones the doom was not suiting me in this melting heat so I had another break back at the tents.
Next sortie into the furnace, somewhat revived, was unfortunately alone but with the strangers and distant friends congregated for Subrosa shared an amazing experience.  Most associations with denizens of Salt Lake City are of a different kind of spirituality but this mix of achingly beautiful sung, almost folk-like, chants and twin violin mood enhancing psychedelic layers contrasted with devastatingly heavy, thundering epic doom riffs was entrancing, uplifting, majikal as intended.  Recent old school shows of Voivod and Danzig have tapped deep into my musical soul, this achieved similar levels of wonderful emotional connection, I was welling up like the emo I am.  A new favourite band for me, straight off to the merch I go, for some of the most reasonably priced stuff there too.   No let up next as I am drawn deep into the heart of Incantation, one of the few old school death metal bands I had yet to see.  I was raised on this stuff and it was so glorious to find the New Yorkers mix of the essential ingredients being so spot on and satisfying to my tastes, like finding a forgotten present under the Xmas tree!  Driving riffs, dark breakdowns, chugging build-ups, guttural vocals, evil incarnate, lovely.  Again, while I enjoy hearing some of the lilting doomy vibes of Witch Mountain this time around I'm just not motivated to chill, skipping them and their similarly female fronted US fellows Acid King, (though I have seen them a couple of times in recent years) and instead to the war zone for another revered old school US hardcore band, Bl'ast (below).  I knew of little of them apart from hearing of their fresh impetus with re-recordings of a couple of their classic albums (with the help of Dave Grohl) and despite some initial amp hiccups was soon enjoying their hugely overdriven and heavy riffing punk, topped with snarling vocals and again belying their age with their power.
Speaking of immortality, we all gather for the eternally unchanging Status Quo (above).  With only a slight amount of irony, after the marvellously entertaining experience off ZZ Top here last year, it is similarly hard rocking fun in the sun. Classic songs with some genuine power in the older ones, great Cockernee banter, it's a fantastic atmosphere all round and the patented Quobotics exercise/dance routine does ease my elderly aching back from standing round all day.  So much fun I even miss the opportunity to blend it with some Gorguts!  Watch the start of Hatebreed (below) on the adjacent mainstage and it's typically fierce and solid stuff, metallic hardcore crossover, clouds of dust rising from the pits again, I wander off particularly enjoying their cover of Slayer's "Ghosts of War".
Wanted to conserve a little energy as it was surely going to be tested next with the penultimate (I'll be seeing the ultimate one too) European farewell show from Brutal Truth (above).  With ubiquitous bass hero Dan Lilker calling it a day the whole band is wound up, and there's a heartfelt chat from front man Kevin on what it has meant to "live a life of grind".  An excellent retrospective set, showing some of their diversity and experimentation around their insanely explosive core, certainly inspires me into the heart of madness, "Time" to surf! (and possible crack a rib, again).  There's a bit of a deja doom feeling with last night as again I am content to sit outside the Valley (recovering) to absorb the power of Monster Magnet, and they seem to be on good form,  Dave's voice strong and beguiling and the band delivering the epitome of stoner grooves.  I wander off to tick a box with a little of Deep Purple from a distance, not a band I've ever been particularly into but I time it well in the set to hear "Smoke on the Water" and "Hush".   Even with low expectations it's a pretty lifeless performance though by the old guys, and that can't be an excuse in itself when we've been thoroughly entertained by other veterans here.
With the classic  contrast in eclecticism that Hellfest provide I dive into Nile (above) and the Egyptologists of Death Metal are crisp as an unearthed mummy.  From the opening of "Sacrifice unto Sebek" (not quite as devastating as Bloodstock the other year) they were on top technical masterful form as ever, and with a killer sound to get that across.  In good humour too, though we got the message through the multiple new album plugs, thanks.  Pretty much dead on my feet by this time again so pick a curious spot on the ground to have a blend of Phil Anselmo and the Gorgoroths before dragging my corpse into Carcass.  Like Slayer, it was a whole different ball game when they reformed to play here seven years ago, and even though being from the North West I had seen them a stack of times from the start it was still a treat to have them back.  Now though, a new album of sharp modern death metal that has pleased many but not me makes up the bulk of the set, and while I love the airing of a couple of old school ones I find the more guitar virtuoso orientated stuff tiresome when I'm already tired.  Added to that the ultra cynical Jeff not seeing any irony berating Avenged Sevenfold on the main stage as "False Metal" while organising hand claps to their own songs…  They will always have a place in my heart/vomited anal tract but this set was the last nail in the coffin for me and I really don't feel like seeing them again.  Whatever debates about bands moving on and me not, I liked them for a particular sound/feeling and when that's not there any more I seek it elsewhere.  Some can stay loyal to a bands evolutions (look at topical Metallica situation), good luck to them and the band.  Thus ends the coroners report, further sermons tomorrow.