(review by dewi llwyd – pics by Gareth Smith)

Another Green Man morning (Sunday), and another early start to watch a Welsh language band playing the main stage. Happily the sun is over the yardarm this time so a shot of tequila is clearly justified under the circumstances.  
9Bach have a spring in their step these days. Signing to Real World records has worked out well for them and they arguably have the highest global profile of any band currently working wholly in Welsh. The four and five star reviews for the latest album Tincian have deservedly praised a great record. As a seasoned North Wales WOMAD-er it's a thrill to see a band from Bethesda hitting these heights and gaining such recognition for Welsh music; it's been a long time coming in world music circles.
The six piece band ooze class; and live the rhythm section of drummer Ali Byworth and bassist Dan Swain take the music to places only hinted at on record, while guitarist Martin Hoyland is a master of restraint adding colour, power and texture in equal measure. I'm sure they could all be really flashy and show-off if they wanted to, but they seem to instinctively know that less is more – the songs are what matter and this is a band which layers and blends together magnificently. They shore up an equally talented frontline, piano and harmonium, the exquisite harmonies of Mirain Hâf and Esyllt Glyn (who also plays excellent harp) all framing the beautiful vocals and songs of Lisa Jên who today is modelling what can only be described as a designer onesie. 9Bach is most definitely a band, and celebrating the fact that they originally formed in order to come and play a gig at a previous Green Man. Nine years later here they are playing the main stage. I guess that's what you call a slowburn.
The set leans heavily on tunes from Tincian, the first time Lisa has written any original material although you wouldn't think so listening to the depth beauty and power of songs like Llwynog and Ffarwel. The acapella harmonies from the three singers cause me to wipe a tear from my eye and even a clumsy stage hand noisily plugging in a cable can't ruin the moment. They finish with Plentyn, a heart wrenching song about the stolen generation of aboriginal children in Australia. I've seen it develop from basic beginnings via a workshop in a studio in Caernarfon's Galeri, to a  full blown multimedia presentation with the Black Arm Band, but this version is the best I've seen. If anyone thinks 9Bach are wimpy they should witness them play this song through a big festival PA; for me what happened just then was the best moment of the entire festival. A  little dazed I walk away at the end and see a woman down the front with a sketch book – she'd spent the entire set speed drawing the band – how very Green Man.

I return to my tent and listen to the nearby strains of the hardest working band at the festival as they tune up for their sixth and final show over the weekend. These are the musicians of No Fit State Circus and by the end of the afternoon the trio will have clocked up an impressive 12 hours of performance; all the music they play is original material and I've enjoyed every single minute I've heard.
The Cardiff based circus have a whole field to themselves with a selection of lorries, wagons and caravans scattered around decked out in black and white livery – the setting for the Open House show. MC Howie scales a ladder and stands atop the central lorry with a radio mike providing a running commentary which never hectors but always encourages, enticing people to come into the field and get involved.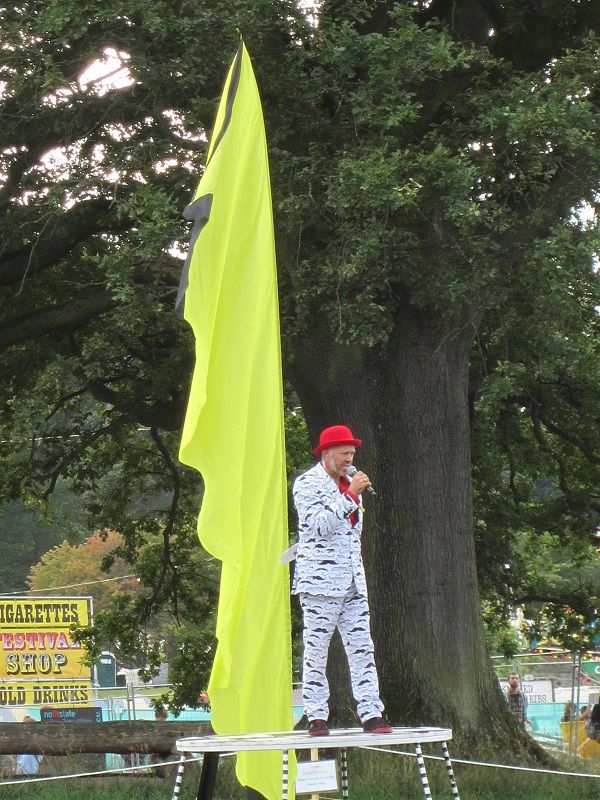 From the outset you can tell this is not your normal circus show, for example when was the last time you heard bilingual announcements from a ringmaster? The focus is very much on the audience themselves becoming part of the proceedings – learning to juggle, hula hoop, and trapeze as the crowd moves to different parts of the field promenade style. There's some talented No Fit State performers and support staff dotted around to support and teach, and bits of the show morph seamlessly from workshop to real performance with dazzling acrobatic skills and jaw-dropping trampoline-ing from the No Fit State crew. It's totally immersive, great fun and captures the attention of all ages. 2 hours fly by without me even noticing and in the background the band are still playing.
Open House is very different to the Bianco show No Fit State brought to Bangor last year, maybe less of a spectacle but equally as impressive and purely from an audience perspective I think this one is even better. This internationally renowned troupe are a real credit to Wales and it was  great to see them playing here.
The Circus is one of many attractions at Green Man for children and having spent several years being a festival parent I'm really impressed by the range and quality of what's on offer- there's even an interactive science area called Einstein's Garden. It's approaching the most child friendly festival I've been too – the Zorb football looked great fun and great to see a space for those challenging early teens who are always too cool to get face painted or to make pottery with mum and dad. For those still tied to the pushchairs the tiered gardens in front of the main stage offered a great vantage point to watch bands and chill out on picnic mats. Many of the people I talked to up there freely admitted they didn't have a clue who the bands were, but thought it  "a great festy to take kids too".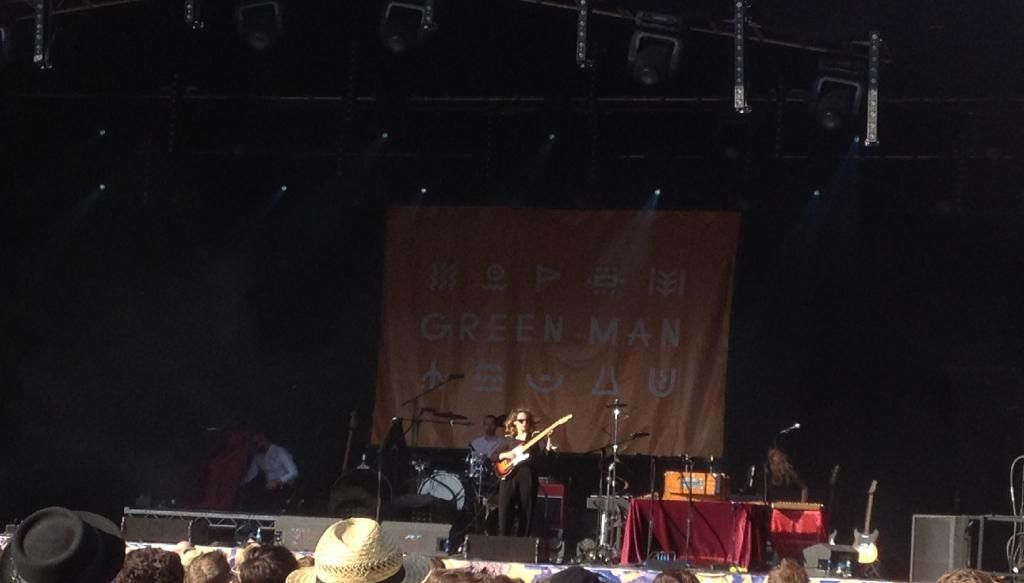 Those tiers and indeed the whole field is packed for Anna Calvi's show on Sunday afternoon and I watch from the pushchair section trying to get a handle on her. She completely owns the video screens, coming over all 1930's film starlet with tumbling blond hair, sunglasses, bright red lipstick and possessing a fine voice truly operatic in its range and power. Her band are really good too, handling all manner of instruments including a full size marimba which must be a real challenge to take round the world. She has a strong and committed fan base down the front. Being unfamiliar with the songs I give it a good try, but I'm frustrated that every time things get going she insists on cranking up the guitar histrionics in a way that's not nearly as impressive as she thinks it is. I don't have a problem with guitar solos nor women guitarists smashing their axe against the glass ceiling, but it's got to add something to the song surely? Guitar wise, take it from me she ain't no Kelly Johnson, although I suspect that most of this audience would run a mile kicking and screaming if they'd ever found themselves at a Girlschool gig.
I myself run back to Chai Wallahs Stage and a good thing too because this is where I catch Bristol reggae band Talisman. I realise that part of the reason they sound so good is that I've been in a reggae desert for the last 72 hours and Jah knows it feels good to be drinking at this oasis. The band were contemporaries of Misty and Aswad and on this showing can give them a decent run for their money. They play authentic 70's roots reggae with sweet vocals and a mean drum and bass. Guitarist Dehvan Othieno and bassist Dennison Joseph take turns to sing lead and both sound equally good, teasing and cajoling the crowd in the way that only seasoned professionals can. The audience is eating from the palm of their hands and when they slip in their last number – a cover of Jimmy Cliff's "you can get it if you really want" the whole place is jumping. You can spot everyone who's over 40 in the crowd because they're singing along to the verses as well as the chorus-a proper festival moment.
I venture quickly for a shifty to the spoken word marquee which also doubles up as a comedy tent. There's been a really strong line up here  but as it duplicates much of the Machynlleth Comedy festival acts I opt out for most of the weekend.  I'm a regular attender of the Machynlleth event and thoroughly recommend it to anyone who loves stand up comedy. The tent is packed and I get lured in to watch Joe Lycett's  camp observations and am in there for ages laughing heartily. A really great atmosphere and some of the comfiest chairs on site. It's really tempting to stay and watch the mighty Nick Helm and his band but I opt for a final wander.
By now First Aid Kit are on the main stage and I shuffle over more out of a sense of duty to this blog, rather than with any burning desire to see them. I'd done some homework and found their you tube clips to be pleasant enough without being earth shattering. I have to say they were much better live,  and I really enjoyed their set not least because they have a good line in self-deprecating humour. It still baffles me why two Swedish women in their early twenties would want to sing in American accents but they are polished performers, looking like they just rode in from Rivendell in their spangly dresses. Their voices harmonise nicely and they hilariously start head-banging in the instrumental sections; proper head-banging mind, with circular shakes of their gloriously healthy long hair. It's like a Timotei advert on steroids.

Four days of traipsing round a big site is starting to tell and I'm flagging a little, the occasional drizzly shower adding to the ennui of Sunday night festival blues. I head over to see Simian Mobile Disco play to an enthusiastic crowd in the Far Out tent. The duo are playing the new album "Whorl" and trying to keep it real building up the tunes from one synthesiser and one keyboard each. I certainly applaud the approach but to be honest it doesn't sound that different to what they normally do, and with this lightshow they could be stood behind ranks of Tangerine Dream-like electronics for all we know. The set is a bit of a curate's egg – good in parts but also by turns discordant and jarring.
As I take my last look round, I pass a food stall pumping out "I Feel Love" really loud. I can't resist the urge to dance and such is the power of the record there are 10 of us near  the Big Wheel and Helter Skelter queues waving our arms in the air like we just don't care. We grin at each other and more people join in the dancing, as the record ends we spontaneously burst into applause and move on.
So as the green man burns and fireworks crackle overhead I take stock of the last few days. There is so much that Green Man gets right – a beautiful site, atmospheric and chilled ambience, lovely installations and decoration, some great stages and a family friendly environment – for a non commercial festival that's ticking all the right boxes and I'd give them an 8/10 for that alone. But I also have to say  in conclusion that I wasn't really feeling "it". You can wave goodbye to the best part of a tenner if you want a decent meal with a drink and it's not as friendly as Beatherder or Shambala. Most of the music I caught wasn't very uplifting and I saw too many bands saying  "can I have more guitar in the monitor please" instead of first acknowledging the crowd that had just applauded them. Me, I'd want a decent reggae tent, some world music on the main stage, louder soundsystems and DJs at night who played something other than Swing or Drum'n'Bass.
Maybe it's a self fulfilling prophecy but the indie alt:folk line up and the high prices leads to a very middle class and very white audience. I don't blame Green Man for playing to its strengths and the gentrification of our music festivals is a national curse not of their making. The blame for this incidentally I put firmly at the door of the increasing costs successive governments, police and local authorities have stacked  on event organisers, as well as the televising of Glastonbury. So there.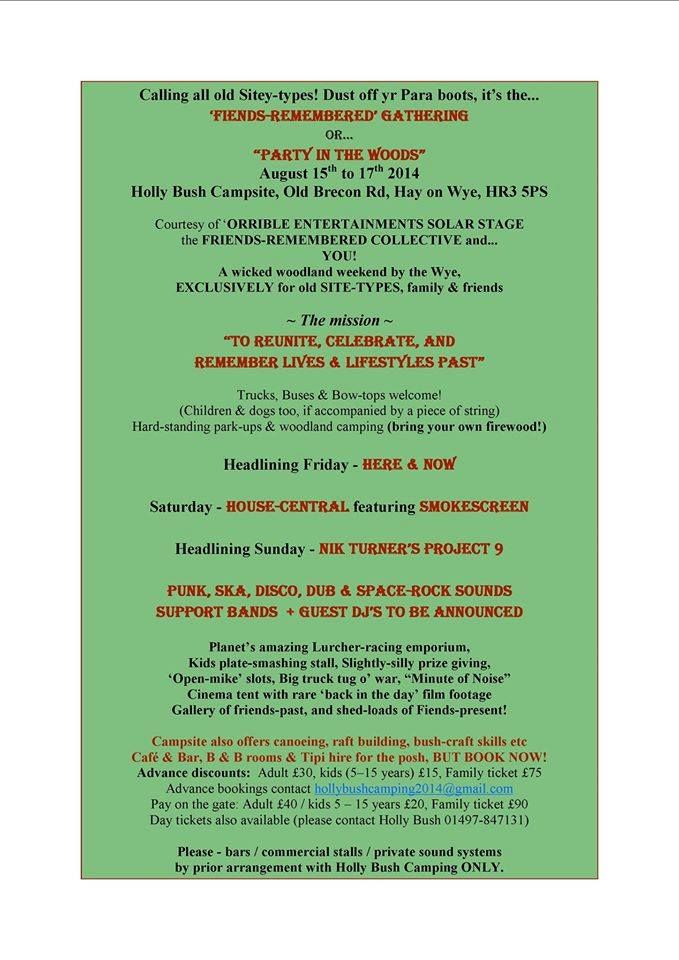 Half an hour down the road from Green Man on the same weekend there was another event  targeting "old site types" for a bring your own firewood party to celebrate and remember lives and lifestyles past with Here and Now and Nik Turner. The genius marketing promised spacerock, lurcher racing and "slightly silly prize giving".  I knew where I really wanted to be but logistics and transport caused my head to rule my heart. I took great solace from the thought that 20 years ago there's no way the authorities would have allowed either of these events to take place in Powys at all. We've come a long way since then and I'm both proud and relieved that Wales can host both on the same weekend within thirty miles of each other.
My thanks to all at Green Man and to Neil Crud and Link2Wales for giving me the opportunity to attend