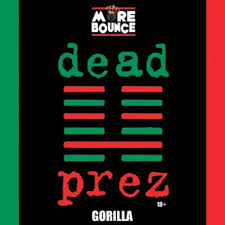 An evening of  good company,  ale and Beastie Boys videos was interrupted by Raz dropping the bomb that Dead Prez were in Manchester in a fortnight and in that suitably fluid frame of mind the plans were formulated.  A sparse city-hopping tour that was only taking in here and London was the first time the US hip-hop duo and entourage had been over since 2000, in the meantime of which I'd picked up their colossal "Let's Get Free" album and was completely won over by their reverberating bass and beats topped up with right and righteous politically conscious message.  So had to grab this opportunity to see them,  even though it was a school night… "those schools don't teach us shit".
Gathered a car load and was up in the centre of the city by half 8.  First time at this venue round the back and under the arches of Oxford Road station, very salubrious bar and restaurant up front but we are shuffled in a side door to the venue space deeper within.  It's a nice set up open hall, decent stage and meaty PA, and even though the scheduled start time slips somewhat it gives the DJ time to get the gathering crowd of 400 or so warmed up with some old school gems.   When their own DJ takes over and initially is just spinning some tunes himself I have a concern it's going to be more filler and no killer but then the main men take the stage too.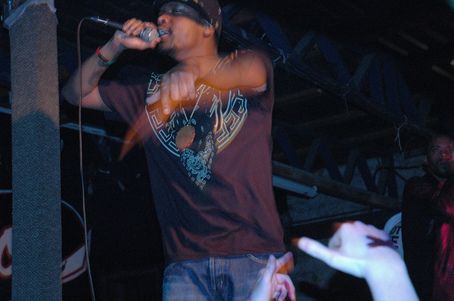 Hoodied, or even buried under layers of clothes Stic Man and M1 are initially made up to a trio with their friend MC from the Bronx,  Divine and are soon into a slick flow of interchanging rapping.  They've obviously had a lot more material out that I haven't caught up with, although they are have only just released their third formal album "Information Age".  But even in plugging this unfamiliar material the quality of the delivery, either rapid fire or slick, can be marvelled at, as can the chest shaking bass lines, "Runaway Slave" in particular hitting the spot.  They pause to give a shout out to Paul in the crowd who had produced the huge backdrop for them which I had initially thought was their own, fair play it was a good piece of work and set the scene well.  The reception is full on for an early outing of the old school "They Schools" and they also ease into some free banter between themselves and the crowd.  We are introduced to the concept of "Healthy is the new Gangsta" as they have evidently continued their self-improvement message present from the early days into whole fitness regimes (although doubts are cast on whether Stic Man's use weight gain powder is actually working out), the DJ/MC Mike Flow dropping to give us twenty to the beat.   They are gradually stripping down themselves as the constant interweaving on stage and the bouncing crowd is certainly raising the temperature in here.  Gone are their dreadlocks of old, instead they have matured into an almost dapper aspect.
Neither have they ever been self-conscious when it comes to matters of the opposite sex, although no crass sex rhymes are required here.  Instead equality celebrations like "Intelligence is sexy", extolling "Good head… on her shoulders".  The mutual love-in between us all leads to things being dragged back to the origins with an amusing airing of some Motown ballad.  It is true that there may have been a somewhat mellowing in their approach, with their own melodious and gentle singing of choruses but the passion comes in many forms and they undoubtedly retain the militancy and anti-system/socialist  purpose of old too.  Their big hit "(It's bigger than) HipHop " is trailed to an explosive reaction, only for them to break it down and start again to hype people up to all the more fervour.   They are pretty effusive themselves about the warm welcome they've received and encourage everyone to get them back here soon.  They wind things up strongly with something to which we can all relate, "Police State", and leave to pretty universally rapturous applause.
The crowd had thinned a little by this point and was contemplating a visit to the merch and preparing for the road but then they are back for an encore, and a half hour one at that.  This leans heavily on the material from their debut much to my and others satisfaction, and while "I'm an African" might seem odd to sing along to the massive rolling bass line is irresistible, and "Psychology" and "Discipline" is ultimately what we're all understanding.   Through cutting some down in length we get a steady combination finish that leaves it all on a high.  Really impressed with their performance and their validity maintained after all this time, just the tonic and alternative to the moribund mainstream of chart hiphop.
the bass ever so slightly destroying the vocals…