(review n pix by mwj)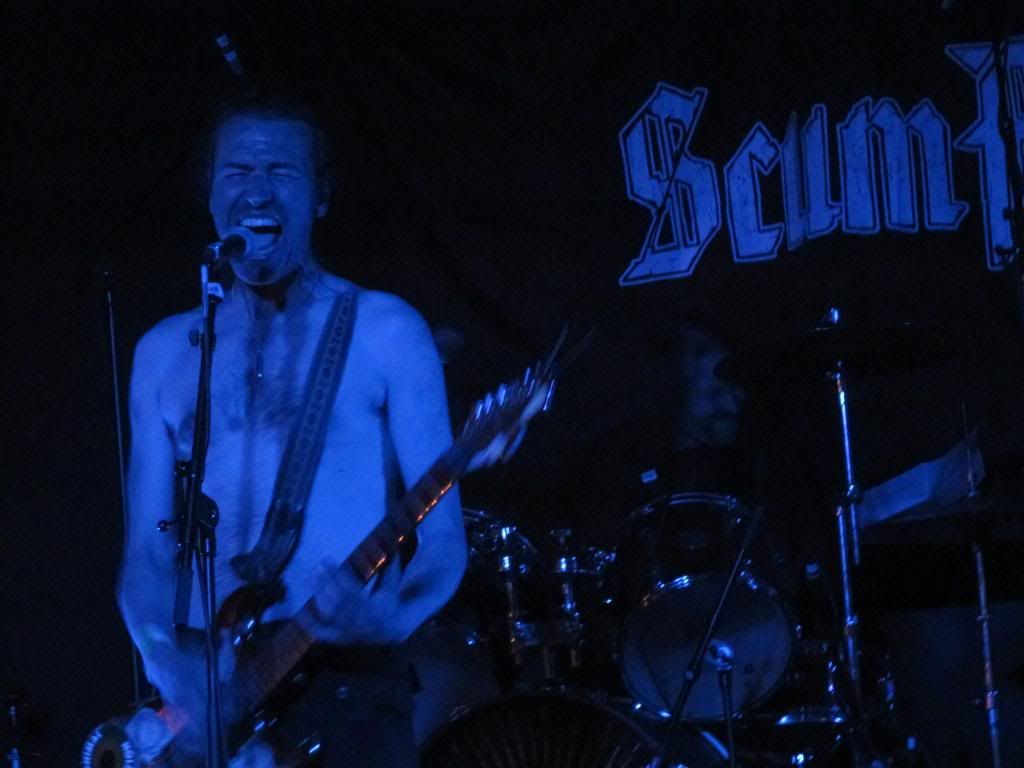 Some confusion may have arisen on our drive down to London, (probably due to us drinking Oranjeboom 8.5 on the journey), were we really going to see Bryan Doomich play to 80,000 fans at Wembley Stadium this bank holiday weekend? No, the mists if not the rain cleared and we recalled it was another Scumfest springtime special that we were heading to ,and just coincided with Operation Sealion Part II. Back at the Dome venue where me and Ell had first ventured down to have a mad time at one of these in 2008, the usual ingredients were all there. Some known bands, a chance to check out some new stuff, the DIY fund raising support to give, and general crust punk party times with folks from all over.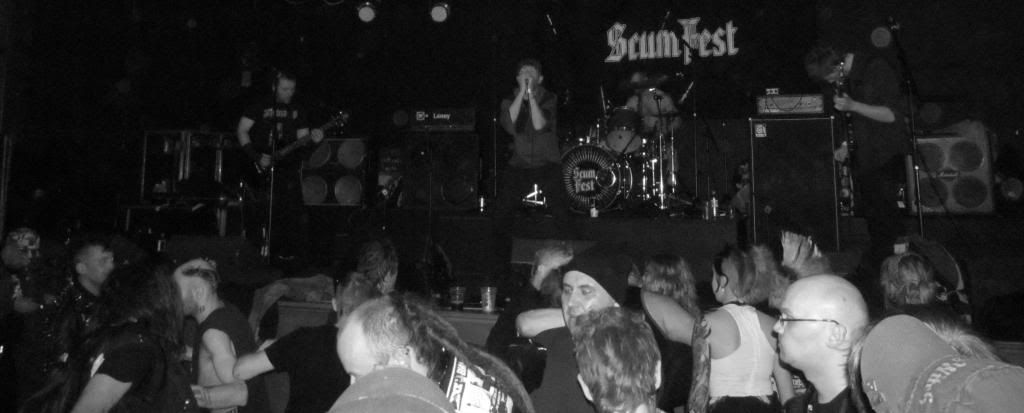 After finding some blessed parking and a not so much shabby chic as shabby hotel in Paddington, we ventured on the tubes across town to the venue. We had just timed it nicely for the first band of the evening, although the place was still to fill, and the eyes were distracted to the good value merch and distros, and the anarcho banners lining the walls. Anyway, Slow Plague were if not a gentle introduction to the night at least a pace our initially sluggish brains could handle. A two-piece, bass and drums, producing some overdriven sludgey riff work outs, it was certainly heavy stuff and a bit of an ear opener. Perhaps the fit to the rest of the weekend was through the occasional pick ups in pace and the raw vocals, was interesting stuff though. Active Minds (main pic) presented us with another two-piece next, but in style was much more of the expected anarcho-punk raging. They have a reputation built over time and while they certainly produced a full sound and a lot of energy the set did seem to go on a bit long. Not much surprise in what's delivered by a band named The Wankys. Rough and ready punk-noise with a quirky vocal, fun enough but not really doing a lot for me.
In complete contrast, the thundering intensity of Black Code (pic below), over from France. Fast and punchy crust with a huge metallic edge, they are spot on to my taste and a revelation, the ensuing pit chaos indicates a similar reception all round. Finally, effortless scene legends Doom. Starting by bringing back classic "No Religion" as an opener (through popular/my demand!) it's a winner from the off and the fierce d-beat driven riffs inspire the usual chaos. Including a misplaced stagedive from me, a monitor crushed hand to Sue, and Ell actually waking up! So via A & E and rickshaw journeys round the block, it's a bruised but happy return to the hotel.

Naturally we didn't want to miss out on our included breakfast so we were up early and what else was there to do but hit the pub for 10am. Lots of cheerfully rowdy Germans crowding the pubs and the underground, it was lovely and sunny as well which worked well in drying my pants after spilling a pint over them at the Euston Tap. We got up to the venue well before hand so again were able to relax in the pub downstairs with our fiends from the North, too much in fact as we missed the first band on in the afternoon. We made it for Cydernide to find the lady singer bouncing down onto the floor from the high stage to take the show to the early attendees. Straight up street punk, it was lively enough without being particularly remarkable. Something different again now, with a little insight into the self-perpetuating and -effacing scene. Thisclose are a tribute to the Japanese d-beat legends Disclose, who in turn were complete Discharge worshippers. So we get effective relentless riffing but topped with ludicrous Rob Halford style high pitched singing, until the finale where he actually shows he can do gruff. Mental but funny.


Back to the serious business with the boys from Ireland next, Putrefaction (pic above). Had enjoyed them levelling the 1 in 12 before and the three-piece again raise a huge wall of metallic crust noise, with great shared vocals too. My attention/focus is wavering like a lot here after the full weekend sesh so the short sharp shocks to the senses that Poland's Infekcya (pic below) deliver in a grind fashion are most welcome. The front man is all over the stage raging and the set is delivered in a blistering fashion.

Next the shock and awesome Last Legion Alive, from Belgium. Ell had been hyping these up to me but I was not prepared to be so blown away by what Bolt Thrower might have sounded like if they'd stayed mired in crust as opposed to digging into death. Monstrous steamroller riffs and melodic downturns, the petite singer summons inhuman growls from god knows where. Such a shame they were calling it a day with this show.
Also from Ireland, Contort are a bit mad with a gimpily attired front man but there music hhas a bit more direct bite, heavy punk exploding into speed at times. Finally to close some more old school mainstays in Scotland's Oi Polloi. Last time I'd seen them would have been in the early 90's in a pub in Bethesda with local leg ends Vaffan Coulo, but they are still going strong, funny to hear their anti Major song updated to Cameron. Frontman effortlessly banters with the crowd and handing out free whiskey to lubricate the fun always works a treat. Great up tempo punk raging with cutting message attached, nothing better to motivate for action, look forward to them gracing North Wales with their presence and presents ath Dirty Weekend Festival. A real feel good ending for us, though there is still a Punk Olympics in the park and hangover gig in South London tomorrow, but its back up the road for us. The scum always rises!