I may well buy festival tickets 9 months in advance to give my self something to look forward to on the horizon but it's a rarity these days to actually worry about picking one up for a gig.  This was one was a definite exception though, because cramming the visit from the fast rising and raging Californian hardcore act into this upstairs pub room was an experience to be ensured and secured early.  To the extent that in the intervening months I'd forgotten I actually had a spare ticket too and could have got rid of it 5 times over with the gig sold out.
Been a fair while since I'd been to the Star and Garter but it remains one of my favourite venues, only slightly on the seedy side that suits me fine, decent stage and powerful PA.  Good get together of people from across the North too, so much chatting missed the start of the first band!
Glad I got to see the rest of Esoteric Youth's set though, the self styled "most evil band out of Manchester since Oasis".  Evidently from a different circle of hell though as it wasn't so much swagger as slaughter as they tore through a mix of brutally heavy blackened hardcore, with lots of doomy breakdowns and general noise assault.  A fantastic tone and impact to the music, hadn't really been captured on the couple of compilation tracks I'd heard previously so came as a very satisfying surprise.  The singer and bass player were both down on floor level bringing the fury into people's faces, and they definitely got a good reception in return.  Check out their releases on Church of Fuck label.
Belgium's Blind to Faith may have got a slightly tamer but no less warm reaction.  What came to mind was the Swe-death distorted thrash riff mania of the likes of Black Breath, except with a singer who came across as more of a traditional shouty hardcore vocalist.  Excellent drop outs and build-ups of their strong structures, gave catchy and head banging dynamics to the songs. Was great to see the guys on stage enjoying their metal too, savouring the volume.  Picked up their "Under the Heptagram" 12", but discovered that it only amounted to two songs and an etched b-side on the sexy red vinyl.  Still, beautiful, and glad to support.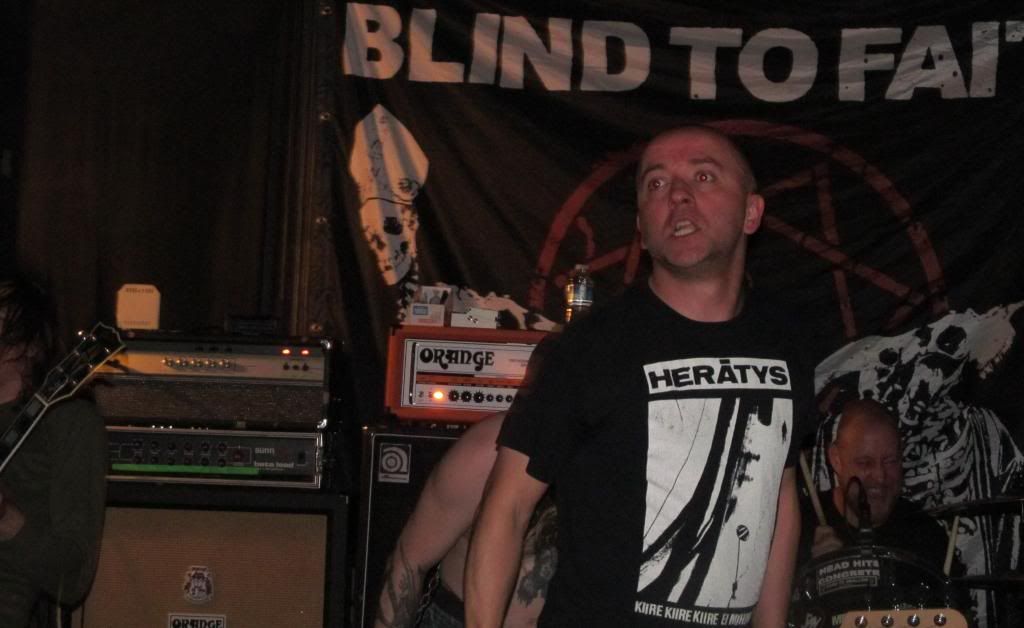 Finally, Nails unleashed and as expected one of the most ludicrously explosive action/reactions seen at a show for a while.  Their albums (latest is "Abandon all Life") are as furiously to the point, 20 minute exercises in the darkest hardcore infused with elements of grind and the filthy, distorted detuned tones of  Swedish death, and this is delivered really well live.  Any breakdown into thrashier or doomy territory results in insanely violent pit kick-offs, and there is a steady stream of nihilistic stage divers.  A full on fight breaks out at one point, has a few song recess, and then starts afresh, blood everywhere.  But the band are positive in their banter, celebrating their motivations and appreciation of this support.  They get through a huge chunk of their material, and throw in a Rudimentary Peni cover too, recommending them to all.  All in all a fantastically intense exercise in ferocity, the band leave sweat soaked and the rest of us are left reeling.