KEN Mode, Unkind, We Came Out Like Tigers
With one band from Canada and another from Finland meeting not quite in the middle to blaze a trail of noise through Europe it was the least I could do to head a couple of hours east to catch them in a bar in Leeds.  After an after work rush over it turned out I could have relaxed a bit as while one hometown support band (Tree of sores) had split up a week or so before the show, another (Iced Out) was a no show due to breaking down on the way from the Durham.  So I was able to savour a beer and a chat with Yorkshire types before heading up for the one remaining localish (Liverpool) support, We Came Out Like Tigers.
While the name was familiar to some of us none had had the opportunity to see them and all were pleasantly surprised.  Although things were a bit cramped in the small upstairs room to get much of a view, offset by the amazingly colourful mural backdrop and chandelier, there was a shifting and swirling intensity to their show that drew you in like a maelstrom.  Haunting instrumental passages overlaid with violin progressed to screamo crust vaguely reminding me of elements of Bastions, pounding with fervent, serious message (excellent backing vocal interplay too), before descending into blasting blackened onslaught. And back again.  A really interesting mix, check it out for yourself on their "Agelessness and Lack" album available online.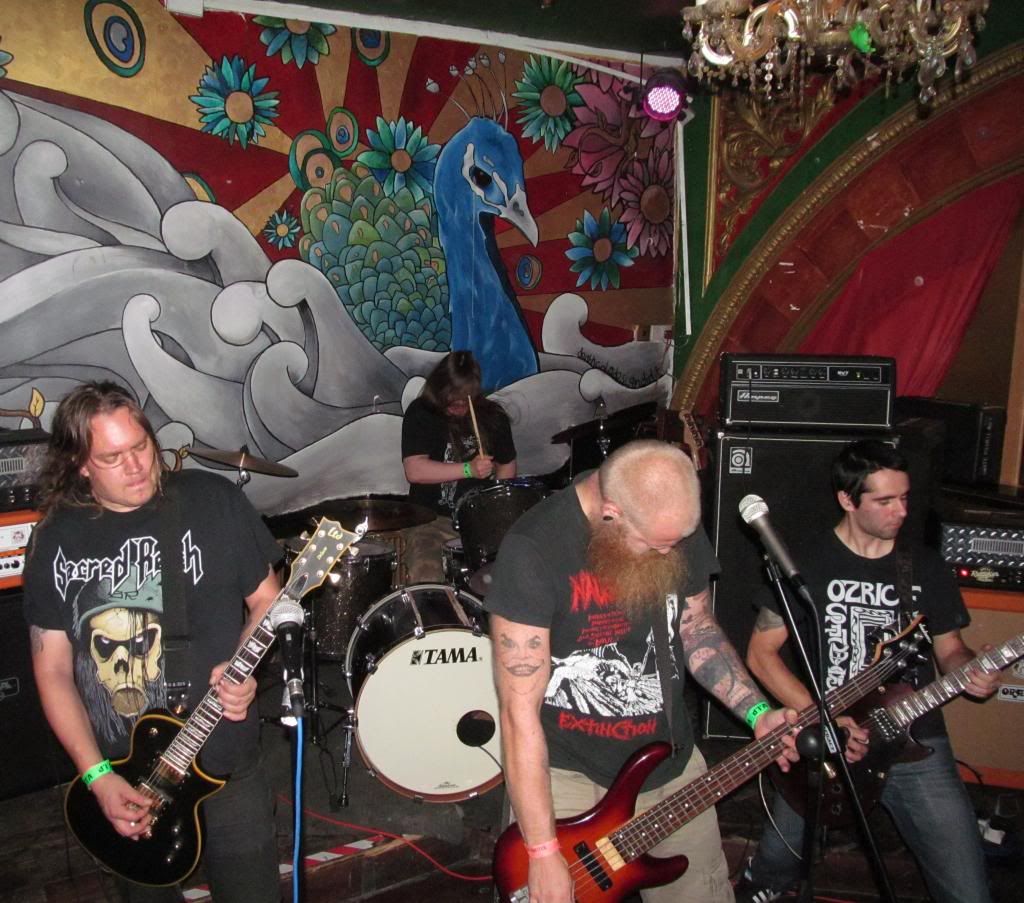 Unkind were the main draw for me tonight, as in their way they were an apple that had fallen not far from the Yggdrasil of Scandinavian hardcore crust that seems to be at the core of my tastes.  And yet with their recent releases they have demonstrated enough progression and variation on the theme to deliver the fury as well as maintaining the interest.  Earned respect too, by being put out by renowned Relapse Records, including latest release "Pelon Juuret".  Up close and personal it's great to see them battering out the bouncing d-beat riffs, with a good deal of melody/harmony laid on from their stand-in Scot/Finn on guitar, two-way roared vocals from the bass and other guitar.  They do break down to the brooding slower sections that conjure atmospheres of impending doom before, sure enough, it does all kick off again.  Really satisfying stuff for me, hail to Finland!  I discuss with them doing a covers band, Kind of Unkind.  Could be a winner.
Finally, the honed ferocity of Ken Mode.  They'd been quite a revelation at Hellfest when I saw them 2 or 3 years back, and again in this intimate setting all the more enjoyable.  Even if that was with added element of fear from flailing guitars, capturing the Rollins inspired "Kill Everything Now" of their moniker.  It's really punchy and angular heavy riffing, although another friend dislikes them for being all rhythm and no riff.  What's wrong with that?!? Don't have their latest album "Entrench" that they are promoting through this but doesn't matter, they have a consistent and powerful sound.   The drummer is a hard-hitting beast underpinning the raw metal, the frequently shrieked vocals opening up the sound to a more punky noise-rock vibe, all good.  They have a slight technical hiccup that interrupts their flow but are soon raging again, building to a classic climax with "Never Was", an almost Godflesh-esque dirge that sees the singer/guitarist getting into some Mexican/Canadian stand/stare-off with local scamps who try to put him off by tickling his beard and kissing him.  All ends well, and with volume.
Fair play, given they were in the last few of a non-stop 23 day tour this was a top notch, full-on show from a couple of bands not letting up in venting their spleens and having fun at the same time.  Cheers for sharing!