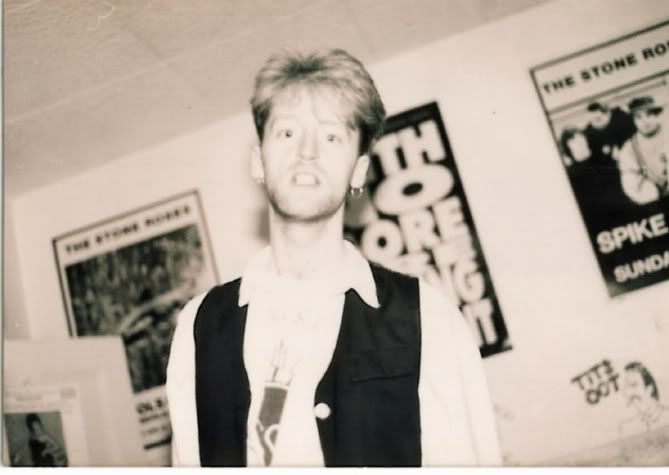 Paul Hammond was once that irritating Scouse Git that fronted Psycho Sexual Sex Terrestrials (PSST), the cartoon early-nineties punk band from the roughest part of Rhyl. Two singles, a fight offer to the Manics and a fan in (ahem..) Steve Wright on Radio One later and they fizzled away and Hammond resurfaced in GMX Stuns, embracing the electro-punk stance of the mid-90s and spearheading the Smash Apathy Campaign in North Wales.
Remixing projects, collaborations with punk svengali Malcolm McLaren and building a budget recording studio followed before Paul found a nifty niche as a radio presenter (infamously playing Friggin in The Riggin and ANWL's So What) and also as MC Jester during Trance Nights in Rhyl and at Raves.
The PSST moniker was resurrected as a studio project at the turn of the century, releasing a handful of albums that were a far cry and far superior to the previous output. Several reinventions took place, including deadsexys and managing Liverpool band CarbonAtom and running The Breeding Ground venue in Rhyl and Mr Big Time Records.
Latter day escapades are more mixed orientated and Hammond can boast Sigue Sigue Sputnik and Apoptygma Bezerk amongst official projects, along with several unofficial mixes and mash-ups. You will also find him as one half of the 2013 post-apocalyptic Zombie Dub.
Anyway, enough of all this bollocks… We asked him for his Top Ten Albums and Why…

01 -Skids – Scared to dance –
THE best album in my opinion, the guitar work by Stuart Adamson is genius, every track is superb. One of the most collectable albums ever for vinyl enthusiasts is the very rare (as in rarer than Steve Robins paying for a round) the 'Blue Vinyl' edition. The story goes, Virgin produced between 20 – 50 (numbers vary) of the blue vinyl which Stuart Adamson 'didn't like', no further copies were produced. The holy grail of Skids collectors now fetches over £700 on ebay.
I have recently done a set of 5 Skids remixes which are on the official Skids & Stuart Adamson websites as FREE DOWNLOADS.
02 -The Damned – Machine Gun Etiquette –
I love The Damned! I remember seeing 'Love Song' on Top Of The Pops when it 1st came out and rushing out to buy it. It was available in 4 different sleeves and a red vinyl, I've got them all framed in my hallway! I got the album for xmas soon after Love Song was released, I loved the inner sleeve notes and pics, as well as the music. 'Melody Lee' is one of my all time fave tracks with its beautiful piano intro that lulls you into a false sense of security before arse dropping into that 3 chord punk sound. I've seen the Damned a few times over the years and had the pleasure of meeting them several times. This album is one I can play from start to finish and still stands up today some 35 years later!
03 -Sex Pistols – Never Mind The Bollocks –
I was 14 when this came out (old bastard). I was instantly attracted to punk by its image as well as the music. This was the only 'Real' album they made in my opinion, Steve Jones's guitar sound is what appeals to me most and is what I try to recreate in my own music. Holidays In The Sun, Bodies, & EMI are my fave tracks although the whole album is a brilliant piece of production. I have a massive Pistols vinyl collection which will probably pay for my funeral one day!
04 -Buzzcocks – Love Bites –
One of the best 'singles' bands ever! 'Ever fallen in love' was the 1st track I heard, great all round album this, Operators Manual, Nothing Left, Real World are all great non-single tracks. The simplicity of the music is engaging and Pete Shelley's high voice & lyrics fit perfectly capturing that youthful, spotty, teenage, angst & innocence of relationship problems. The Buzzcocks are still writing and performing today. Their most recent album (their 7th) is simply called 'Buzzcocks' and stands right up there with their early work.

05 – Stranglers – Black & White –
I liked all of the early Stranglers albums, but for me this just tops 'No More Heroes'. The stand out element for me is JJ Burnells bass sound especially on 'Nice n Sleazy' which has to be one of the best ever riffs. Burnell also does vocals on 'Threatened' which is my fave track on the album and has that monumentous lyric at the end… 'Bring me a piece of my mummy………..she was quite close to me!' Classic!
06 – The Cure – Pornography –
I'm not a massive fan of The Cure but this is a great album. 'Primary' was the 1st track I ever heard and I loved the phasing guitar sound. Primary wasn't on the album but all the tracks caught my ear. The magnificent '100 years', 'A Strange Day' 'Cold', 'Hanging Garden'. It's a very dark album and very suffocating, I used to play it in the dark to realize its full impact. I went to see the Cure live just after and remember not being very impressed, Pornography was one of those records that just didn't feel the same in a live environment!
07 – Adam & The Ants – Kings of The Wild Frontier
I recently read Adam's autobiography whilst I was lying in hospital waiting for an op. When I came out I put on 'Kings Of The Wild Frontier' the Ants 2nd album after 'Dirk Wears White Sox'. I listened to the album and it really did sound 'dated' if I'm honest, it didn't excite me like it did when it came out. I was a massive Adam Ant fan and even own up to having a white stripe across my nose at some point. I went to see them at Deeside Leisure Center in 1980? ish. Live, on stage it was great, 2 drummers looked amazing as did Adam Ant's image……….this I guess is what attracted many young kids (like me) in the 1st place. When they appeared on Top Of The Pops doing 'Dog Eat Dog' it was like 'wow!' this is so different………..and it was….then. I played the album endlessly and it's in my top 10 because it inspired me at the time…..and I thought his book was good!
08 – Spear Of Destiny – Outland –
I think just about everyone knows I am a massive Kirk Brandon fan, he has such a powerful voice! I heard him for the 1st time on the John Peel show doing a session with 'Theatre Of Hate', the band preceeding S.O.D. Any Spear album could make my top 10 but this one shades it. When I moved from Liverpool to Rhyl in 1987 this was the album we used to play on the coach travelling back and forth, it marks a big turning point in my life and so sticks out big time. Great songs include 'Never Take Me Alive', 'Land Of Shame' & 'The Whole World's Waiting'. I saw Spear of Destiny at Liverpool Royal court in '88 and it was the loudest gig I've ever been to. I had the honour of putting them on myself in 2001 at The Breeding Ground in Rhyl.

09 – The Cramps – Off The Bone –
I was in Planet X in Liverpool one night when I heard 'Human Fly'. I was instantly hooked to the Cramps sound. I bought the album 'Off The Bone' shortly after, it has a 3D cover and came with 3D glasses. So many great tracks on this album, Garbage Man, She Said, Surfin Bird, The Crusher blah blah, the whole album is great. I love the thumping drum sound and that big dark psychobilly guitar sound.
Was the 1st album I ever had (my dad bought it for me in 1973). Merry Xmas Everybody was the 1st record I ever bought, it cost me 49p from Woolworths in Runcorn, I've still got the record today. I have 2 copies of this album after virtually wearing out the 1st copy playing it to death as a kid. I appreciate this album even more today. One of the best ever bands apart from the brummie accents, Noddy's clothes and Dave Hill's fringe!
**
A top 10 is really hard to do as I love so many other albums too, a couple that missed out include – Killing Joke 'Revelations', Echo & The Bunnymen 'Heaven Up Here', The Cult 'Dreamtime', Stone Roses debut album, The Prodigy, Ramones, blah blah………….my list is endless….