Hellfest 2013, Day 3
Clisson, France
Woohoo a potential extra half hour in bed so conserve what little energy we had left for the last haul of the Sunday's entertainment.  This still meant in for 11am for the Spanish goregrind legends Haemorrhage (above), though I had still had trepidation approaching the stage that they might repeat last year's no-show. 
No worries though, and we're treated to an excellent sub-Carcass bouncy party, complete with medical gear for the band and the clearly deranged vocalist munching on legs and brains he happens to find lying about. After that pathological exercise I find the rocky stoner of Truckfighters over at the Valley a bit tame relatively so sit out for a bit enjoying the ambiance/weary leg rest before we regroup to head over to the Warzone for the more industrial/alternative flavours of this day.  First up the French guitar driven industrialists Treponem Pal, who I hadn't seen since Liverpool Krazy House in the early 90's and had the impression they had gone a bit more rock orientated in recent times.  This however was far more pleasing, with the rather rotund singer leading the repetitive mantras to a backing of thumping beats and looped riffs and effects.  Plus the added bonus of dancing ladies… .  In the Liverpool gig they had supported Prong and they are next up on Main stage 2 in a nice little bit of time travelling synchronicity.  Again not long since I'd seen them and while I think some of the intensity to their guitar driven groove metal/hardcore is lost in the wide they still put in a strong show of some classic tracks.  Late shifts in the running orders had freed up the rare opportunity to see Cryptopsy over from Canada.  Some of their early material was a too tech take on death metal but their latest album and what was reproduced live here was far more effectively hard hitting, proper brutality and relentless pace.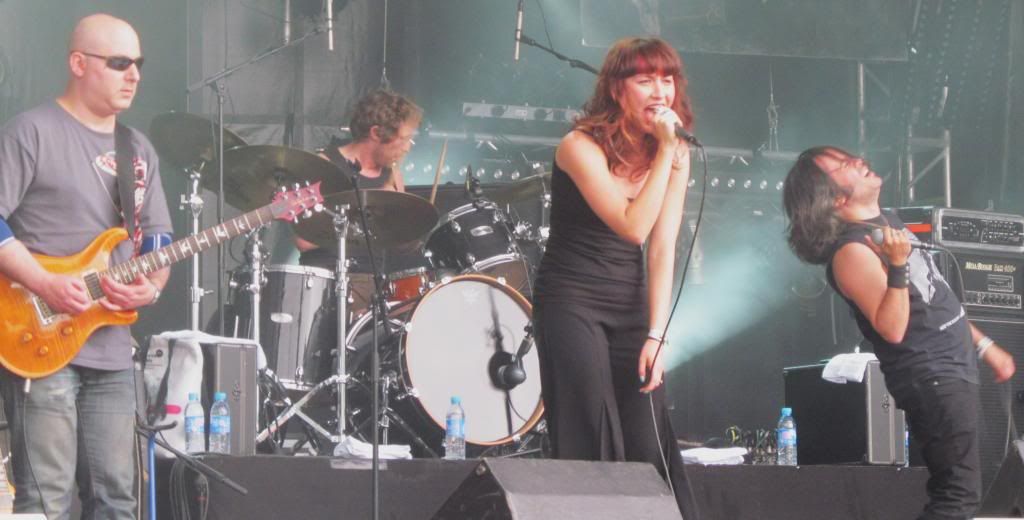 After which we definitely needed a break before returning to give our support to Senser (above).  Recently they have seem revitalised and re-emergent, and still largely operating to a DIY/independent ethic that is all the more laudable.  The sound is spot on at the Warzone for them and the mix of classics and forthcoming music is an amazing blend of hardcore thrash outs, drifting and soaring melodies and machinegun rapping.  Main man Heitham is fluent in French it seems and their whole effort is really well received.  Picking up the intensity further is Misery Index back at the Altar. Ferocious death/grind, there's a real seriousness in their approach matched by their political content that I appreciate all the more.  There are chuggier build-ups at times with their material off the recent "Heirs to Thievery" but only as a prelude to the explosively fast mainstay.  We leave after a while to see how the boy Newsted is doing now on the main stage. The ex-Metallica bassist is fronting his own band, a celebration of straight up metal but it comes across a bit like Black album-era material, not overly interesting.  The highlight is a cover of the anthem "Whiplash", wonder where the royalties go?  Speaking of mainstays, another must be about the 8th time I've seen the progressive Canadian thrashers Voivod (below) in recent years, back over at the second main stage. They seem to be having such fun in the sun it would be rude not to join in, and the new stuff from "Target Earth" holds up well against the stone cold classics.  The "Psychic Vacuum" in my head gets me mindless in the pit, am told off in no uncertain terms not to repeat my crowd surfs, but then Graham kidnaps me back in on his shoulders anyway. The ubiquitous Phil Anselmo guests with them for "Astronomie Dominie", as does Jason Newsted on bass for a track.  It's party central!  But after the exertions we only have a bit of energy for the arguably the biggest current French band Gojira's set on the main stage, polished and epic heaviness but a breather is needed.
Return in time for the end of the jam band replacing Clutch who had last minute cancelled.  Its Phil and Down again, plus Jason, and Phil's missus too, doing covers of a collection from the NOLA scene, and we get too hear the much anticipated (by many) Pantera track thrown in too, half of "Walk".  Which is what we do, off to see The Toy Dolls (above) over at the Warzone.  Like most, I think the only track I knew from the Geordies was the chart topping "Nelly the Elephant", but there was a sense that it would be good craic and it certainly was.  Very smart in their matching suits, black'n'white shirts beneath, their quirky delivery and subject matter was hilarious as well as being some energetic stop start uptempo punk, and it rapidly dawned where NOFX may have garnered a lot of their schtick from.  We were heading back to the main stages next, as had picked up rumours earlier in the day that there were running order changes afoot again, but after catching the end of Stone Sour (whose last couple were much heavier and better than the commercial toss I was expecting) the unveiling of the Lordi (yes, the Eurovision winners) banner suggested that things weren't different at all.  Only for our friend Tony who'd gone to see Ghost in the Valley text to say "It's Danzig!". (pic below) Leg it!  This had been one of the anticipated highlights and was meant to be a main stage event but apparently transport changes meant they'd had to switch to an earlier slot.  Missed the start but soon had slinked into the heart of it and all was good.  All was bloody marvellous.  It was essential as who knows how many more opportunities there may be to see this old man of hardcore punk turned gothic rock over here from the States, already doing his 25th anniversary tour of his last band never mind his first.  We get both though as his own dark anthems are a joy enough only for him them to be joined by the muscle bound beast that is the ex-Misfits guitarist Doyle for a set of their material.  Oh. The. Joy.  I sing myself stupid to the old school classics, it is an absolutely storming set, Glenn even seems in good humour – unheard of!  One of the best hour's musical entertainments I've had in a long while and the best I'd seen him, also outstripping the other current version of the Misfits™ knocking about.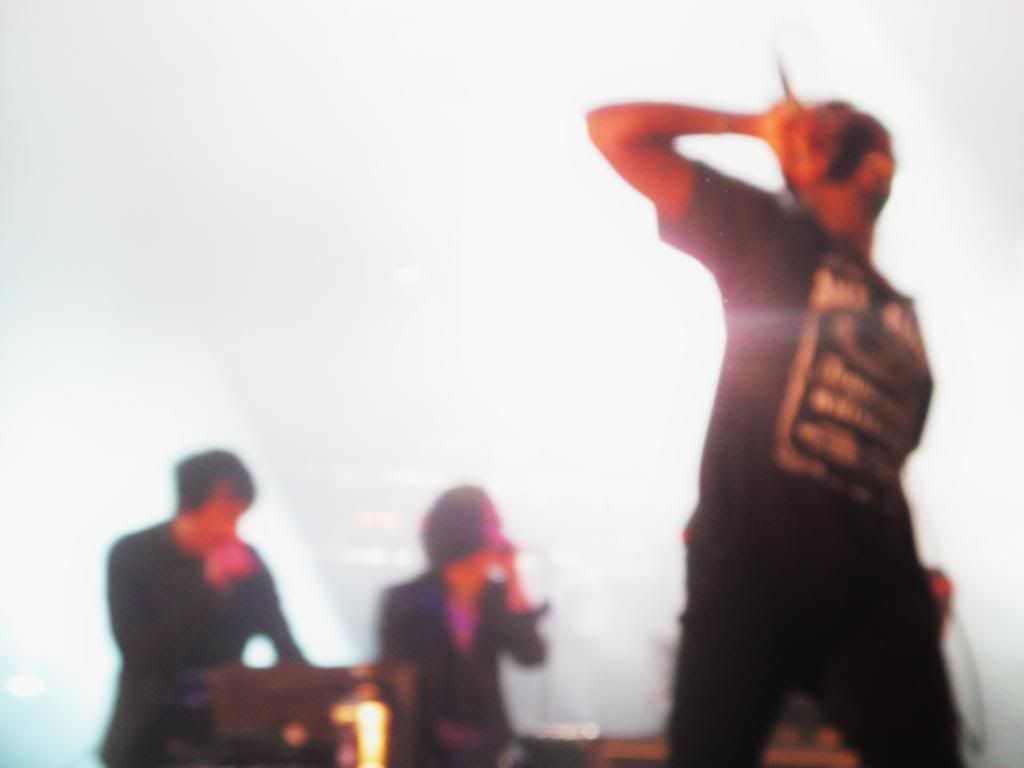 Like a bad penny back to the Warzone for more French action from Punish Yourself who'd been a revelation when we last saw them unawares here.  More pounding electro beats, with a fluorescent/psychedelic stage and light show, underpinning some driven industrial metal riffing, somewhat like Rob Zombie meets Hawkwind.  Excellent sombrero action from the lady bassist too.  Final break out back to a somewhat quieter Valley for a little insight to a two hour Swans set, initially we were a bit non-plussed with their jazz attack of randomness plus trombone.  Shifting into more familiar if still experimental and challenging territory with the slower structuring of layered clean guitar strumming and insistent tumbling rhythms, before an avalanche of punishing dirgy riffing powers you up into ethereal spaces.  We have our dose and fill but then the shifting sets have freed us up for a classic punch-drunk finish with Atari Teenage Riot (above) over at the Warzone.  The sound had been excellent here all day for this crossover to the heavy electronics and certainly delivered again, along with a blinding lightshow.  Alec Empire, Nic Endo (my wife), and Rowdy Superstar are like circling wolves, filling the stage with their continual movement, sharing the strident political polemic of their vocals between dropping back to create further digital hardcore mayhem, a sharp contrast to all that gone before but a perfect summation of what the eclecticism of this festival achieves.  A much more up to date set than their "greatest hits" one recently seen in Manchester, it showed to me they are as on fire and vital as ever.  Incendiary action.  The fires are burning low and we are some of the last escorted of the arena with our sad/happy faces.  Thoughts of knocking this trip on the head with the ever increasing costs (though still cheaper than the UK ones) are again wiped away with the sheer joy of the damage done, to ears, brains, and livers.  I strongly suspect we'll be back.  If it's not broke… break it some more!