(review n pix by mwj)

It was lying on a moonscape volcanic beach over Easter that I was temporarily transported via a satellite transmission to a conversation I'd had in space ship on another world, asking me to return to the source of the sound and light waves. Or, Paul texted me in Tenerife reminding we had talked while in El's camper van at Hammerfest about going to see Hawkwind again, and as I fought through the collective haze of Oranjeboom and rhubarb wine there and 1euro a litre San Miguel here the scattered memories came back to me, and with them my original excitement and conviction to go. The main factor being this time they were airing in its entirety "Warrior at the Edge of Time" due to its imminent re-release and this being my favourite album of theirs. So I strapped on the jetpack and headed to the northern lights. Via passport control.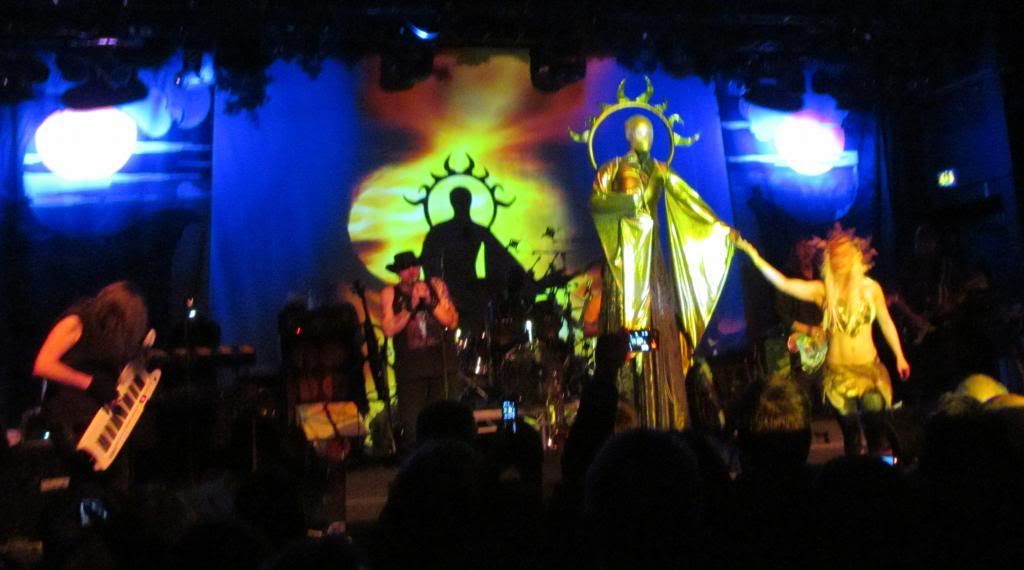 Meeting earlier in the day in Chester as Paul and Lorraine had won the opportunity to sit in on the soundcheck before the gig, we were up in sunny Preston early afternoon, and after a Wetherspoons beer festival interlude rolled up in the Mad Ferret across the road from the university based venue. This pub and its Bitter Suite offshoot is a venue in its own right but it was dead as a doornail at this time, so I hung around talking to the only fan ("saw them in 82") while the others went off at the allotted time to their special event. Which was also dead as a doornail, as the organisers were in general ignorance of anything going on, the soundcheck being finished already, and eventually the legend Dave Brock took a break from his cup of tea (he is 71) to say hello and sign some vinyl and that was that. This led to a degree of disgruntling from "Mr Happy" Paul but then we spied keyboardist Tim (also in Gong) across the road having a fag, so thought, why not, lets nip over for a photo. Very accommodating he was to, and upon hearing the soundcheck tale invited us round the back of the venue to meet the rest. After some polite chatting we pointed out that they might have a more relaxing time with us in the pub across the road and with no great arm-twisting next thing you know they are. Much craic was had, including with the surprised expressions of others in the know coming into the pub ("Yeah, they're with us" 😉 ) until they eventually returned to their day/night job.
So we were already off to a winner as well as well on the way to another state of consciousness by the time we got over to the venue, which fair play was an excellent set up, similar to the Manchester Academy in some ways. And also a pleasant surprise was that the place got very busy, far more massive relative turnout than the last time I'd seen them in Buckley. We were in in time for the Polish support band Hipiersonik but to be honest their electro jazz washed over me a bit, and I was reflecting for a bit after on whether the main reason for them being there might have been that Hawkwind utilised their sax player lots in their set. The main event was underway soon enough and the sonic spectacle that is Hawkwind took off. No build up, just straight into the space rock overload, initially with a few other classic tracks that could possibly have been amped up a bit more for total immersion but I heard afterwards the venue is treading a fine line with "the man" regarding noise limits. Yet again we have new designs and theatrics from their dancers/stilt walkers, two lovely ladies and one menacing dwarf, or vice versa. With no great introduction apart from the warbling bass line we are next into "Warrior…" with the first track "Assault And Battery" ("…of the human anatomy".) The place is bouncing and obviously all is being gratefully received. We drift through the "Golden Void" and have a childish chuckle as "The Warrior Blew His Horn" but it is in "Opa-loka" that the sensory hypnotism really kicks in, with the relentless motorik drum rhythm underpinning the waves and swashes synth and guitar sound. Maybe helped by the general sound being sorted but the rest of the set is also a you, climaxing with classic raucous shout along album closer "Kings of Speed" before we are treated to encore gems of "Spirit of the Age" and, inevitably but quite happily, leaving in the "Silver Machine". Definitely one of the best of the few shows of theirs I've seen in recent years, perhaps musically the strongest, while again demonstrating that their constant variations on their central core keep it really engaging and keeps people coming back for more. Maybe the universe is infinite after all!