If you don't ask, you don't get…
We asked and we got…

My previous Aberystwyth encounters were playing twice at the University with 4Q, once in 1989 to a packed out house with U Thant, Fflaps, Byd Afiach and the second time to an empty house for a Hunt Saboteurs Benefit with the excellent Mavis Riley Experience and some free hash cakes that made the journey back to Colwyn Bay a very colourful one!

It had long been on the tick list to visit The National Library of Wales and had not Manic Tiger suggested it while we were in Aberystwyth, I'd have undoubtedly driven home without adding 1+1 to realise the library is in this West Walian seaside town.
Dan Bach at the library had on occasion emailed me to scrounge Sons of Selina and Secrets of Sound Records releases in the name of heritage – to protect our heritage. I was always happy to send him our little contribution to the world of Welsh based music. Dan's email address has been long lost on a damaged hard drive and thrown in the 'must retrieve one day' pile, so it was thanks to Andy of Andy's Records to remind me of Dan's name, and his suggestion that we simply turn up and he'd be happy to show us around the vaults.
Andy is a twat in the envious sense of the word. How I'd love to live above my own record shop, open up at 11.30am each day and play records and CDs while I sell them for a living. He's been here peddling his wares since 1985, having first started behind Record Shop counters in Scotland. 'We don't have the space for live music,' he said when we asked if he was doing anything for this weekend's Record Store Day, but he will be selling those ultra rare releases contributed by bands for that very day that 'You'll no doubt find on eBay for hundreds of pounds.' he said.
Andy's Records is a dying breed, that needs to be kept alive, record shops are falling off the download cliffs at a saddening rate, Cob, Kavern, Phase One, Penny Lane – all gone. Support your local record shop NOW… (facebook Andy's)
Manic Tiger pointed out that we had to 'Pay and Focking Display' at The National Library, and thankfully, the pound coin we contributed to the council for the excellent upkeep of our car parks went unnoticed when our hour's entertainment stretch into two.


Dan Bach had been to a wedding over the weekend and had wisely anticipated a very sore head and booked the Monday off. So the receptionist called Lyn down saying there was a Neil Crud (she pronounced it 'creed' as in Welsh for 'meadows'). Lyn was a bit cagey at first, why did this couple not from round 'ere want to rummage through their wonderful collection?
'We are very short staffed.' He eventually succumbed to our charms and we went through a security that would put Ocean's Eleven to shame. Through this security door, through that security door, down this corridor, round this corner, down that corridor to the vaults. Copper lined rooms behind heavy steel doors;rooms that, in the event of a fire fill with carbon dioxide to suffocate any flames. These are, after all our national treasures.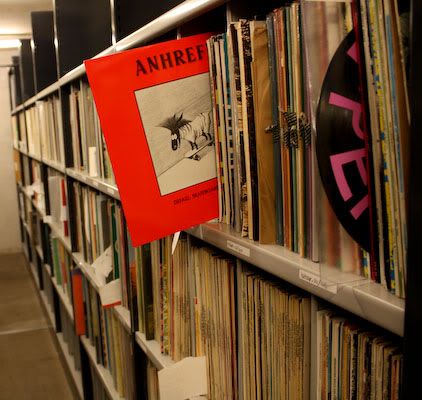 The album vinyl count stands at around 4500, the 7″ singles at over 3,400, which would be an incredible collection for anyone, but when you consider this is only a collection of music related to Wales makes it jaw dropping.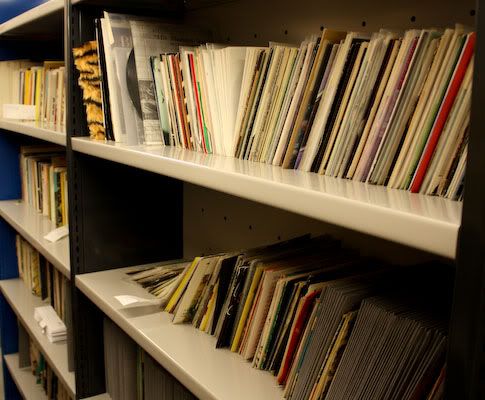 And (like this website) it is by no means complete.
We were like children in a sweet shop… 'Look at this!' 'Oh my God, have you seen this!'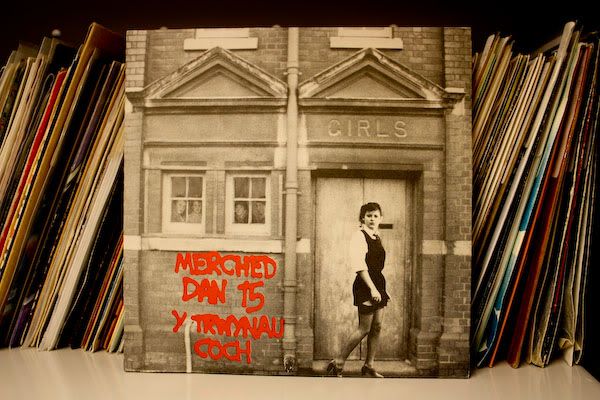 Lyn and Dan collect all things in the name of Welsh heritage with regards to music and media related. There are racks upon racks of VHS video tapes of Welsh TV programmes, news items, documentaries and reel to reel tapes, CDs, mini-discs of Radio Sessions, interviews, live recordings. All documented for the greater good. Lyn (pic below) says it's much easier nowadays as they can 'Listen Again' on the BBC and Sky+ items directly onto the library's huge hard drives.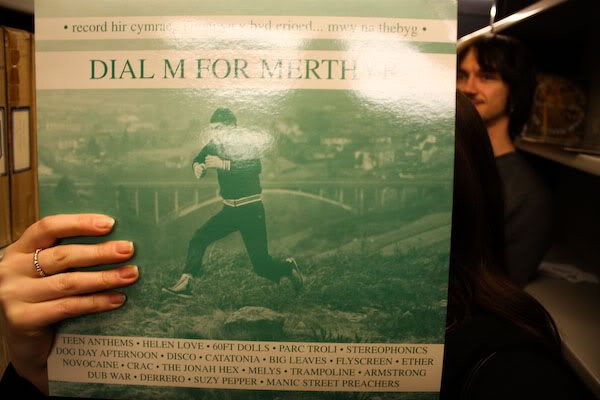 The CD count also racks up into the thousands and as producing a CD was far easier than pressing vinyl, the shelves are filled with Super Furry and Manics bootlegs as well as countless demos from the likes of Jack Sharp and Something Personal.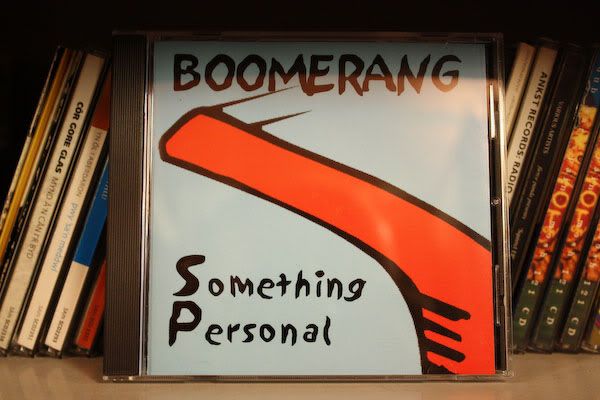 'We even have a pile of Motorhead stuff because of Lemmy's North Wales connections,' says Lyn, who's a big fan of the Rolling Stones, 'I've seen them five times.'
We would have happily stayed for a week, and a huge thanks to Lyn (and Dan in his absence) for going above and beyond the call of duty in allowing us into their world.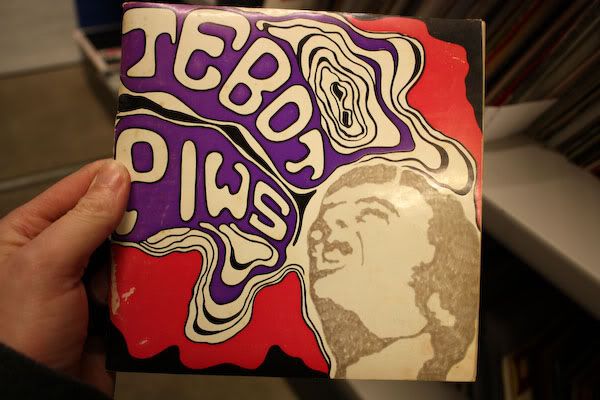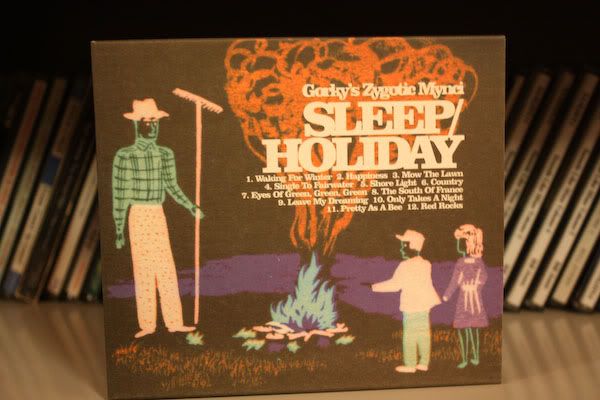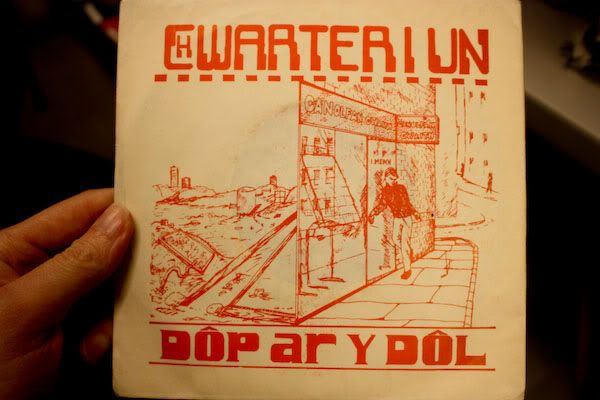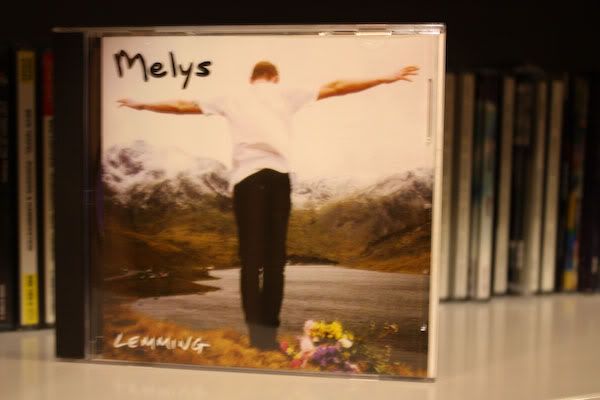 And lo and behold; on the way home, the Lord Rhys Mwyn looked upon us..!!!