(review n pix by mwj)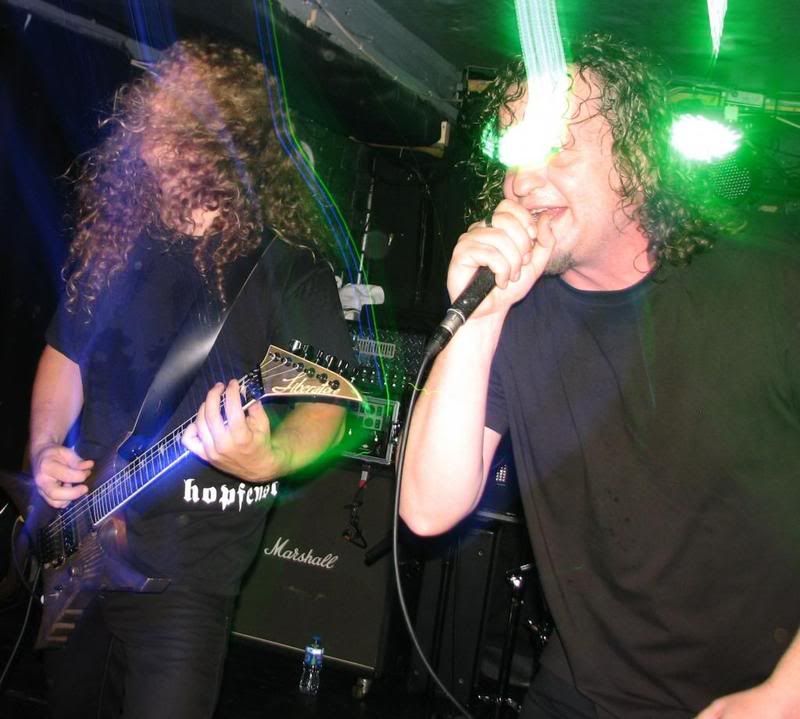 Hope you not getting bored of hearing about these two, what with me seeing Voivod some 5 times in the past few years, and Doom probably about twice that! But after this years back to back combo of the two at Roadburn being a major part in one of the best music experiences of all my venerable gig going years, the opportunity to see them again and close to home couldn't be passed up. It was off the back of the Dutch experience that this prospect of the ongoing legends love-in arose, with the Canadian experimental thrashers offering the whole of the European tour to the Yorkshire crust punks who they cited as a long term influence when inviting them there via their position as "curators", but work commitments now meant they were only together for this handful of UK and Eire dates.
Upon arrival we got to see why the minor confusion of Moho being rebranded NQ had arisen, with some superficial refurbishment having taken place but not the major problem of the awkward mid venue stairvase. Local openers Jacknife Holiday were under way, punky sludge maybe taking an influence from EyeHateGod but their groves seemed a bit disjointed in the little I saw of them. Maybe they'll get in to a flow soon enough, as did Doom when after a surprisingly reserved response (too early/sober is my excuse, maybe just coming from unfamiliar territory to the thrash fans) a somersault into the crowd from Denis the vocalist gets things going. Powered along with the relentless d-beat as ever, their sound is really good and heavy tonight, and in spite of the same old same old set its classics so I'm just being greedy. Picked up their most recent recordings (including a Celtic Frost cover) via a Japanese import cd and it shows they are still producing the goods, I'd like to hear some of these coming in.
Voivod have always been in an eminently amiable/wrecked form when I've seen them, and no different tonight (even topped up at half time by Jager shots passed on by Doom!). With the opening call to arms of their self-titled track its great to see them up close like this as opposed to on festival stages and despite their non-English first language they are very entertaining in their banter, accusing us of it being "English teatime" if the reaction wasn't enough,, The sound did have to be ironed out a bit to start with but then you could hear Blacky's bass through the floor and when we had Overraction there was a bit. A real bonus was to hear 3 new tracks from their forthcoming "Target Earth" album sound well up to speed and a return to their more technical thrashing as opposed to the psychedelic rock they drifted to for a bit. Recorded in winter snows they also reference a track as being about Canadian tribal traditions and the sprits of the forests, Propagandhi bringing the same respects is brought to mind. I picked up the sexy tour 7" of the "Mechanical Mind" track (for stupid money ;/ but resisted the tab book of "Killing Technology" as I haven't made much inroads into the complication of the "Dimension Hatross" one I picked up in the Netherlands!). But the new all balanced nicely among a generous cherry pick of classics from there discography, building to a killer finish of "Psychic Vacuum" and "Tribal Convictions" off Dimension Hatross, before the usual closer and drawing down of the spirit of passed on guitarist Piggy through the thumping trip-out of Floyd's "Astronomie Domine". They continue to operate at a far lower level than a lot of their North American thrash contemporaries but it does seem the affection to the cult is growing stronger all the time, they are obviously having a lot of fun in this revitalised form and that is shared with the faithful.