(review n pix by mwj)

As I'm sure you'll remember, in my review of my first visit to Roadburn last year I said after the joy of two of their sets how wonderful it would be to get Voivod playing one of their albums in its entirety. Lo and behold, the power of my will triumphed again and not only were they back to play my favourite "Dimension Hatross" but they were also curating a day of the event. That album would be enough to get me here (3000 tickets selling out in 7 minutes permitting), as was Godflesh's "Streetcleaner" last year, but as time went on gem after gem of salivating prospects were unveiled and for all its relative expense it was a blow out to look forward too.

Unfortunately a trip to/from Manchester airport meant a 6am start but at least refreshments were available at the airport for me and my fellow traveller Emma. More than that, flying KLM meant that free beer and wine were also available in mid air, that kind of shock I can embrace! Learnt the lesson of last year on restricted Dutch alcohol sales and picked up the Jagermedicine at duty free. The efficient and comfortable train system allowed 40 winks on the 90 minute journey south to Tilburg, where we emerged to welcoming flags on the street, as the town accepted and celebrated the heavy invasion for the weekend. Bussed to the campsite on the edge of town and back, we were warmed up for the madness with the drivers Dutch Radio 2 style jolly folk dancing music, broad smiles all round.

Couldn't possibly be a bigger musical contrast as we entered the main hall of the 013 venue to catch the second half of D.usk's set. Snail's pace reverberating funereal doom, with ultra harsh and deep roared vocals over the top. This is a semi-reformation of the Australians diSEMBOWELMENT playing their only release, the highly regarded "Transcending the Periphery" and it is a stirring and harrowing experience, potential to catch them again at Hellfest. Armed with the house beers took Emma on a tour of the fantastic set up that is the main hall with its stepped levels and balcony, plus the second stage and upstairs small room stage, leading us back to Agalloch. Their blackened folk is raved about by some and while I appreciated some of the heavier sections I still find it a bit fiddly and uninspiring to my tastes, though better than the somewhat similar Alcest who I saw this time last year. Far more involving was an up close spot for Washington State's Christian Mistress at the small stage. I'd heard the album courtesy of Gwyn from The Broken Jukebox radio show and was struck favourably by it sounding like a female-fronted Di'Anno era Maiden. Live they certainly delivered a powerful metal show, good twin guitar action and an urgent drive, plus the focus of the first of a load of strong female voices for the weekend with Christine, husky, fierce and soulful. As well as great 'tache action (Not from her!).

Head out to the new venue for this year (since the recent closure of the Midi Theatre), just across the road to the converted church that is Het Patronaat. It has a downstairs merch, bar and eating, plus small stage space (where Doom were going to quit the festival when they thought they were originally playing there!) but upstairs is a 600 capacity hall. It's already 1 in, 1 out as Red Fang have proved popular but we work our way in and get up close as we can to enjoy the uptempo stoner grooves. The Americans have only been going a couple of years or so but have really tapped into a fine vein of accessible rock/metal form and are attracting a lot of new fans. We also explore the balcony here for the first time which gives a great perspective but is also a mad chillout zone with its too comfy seats and carpeted floors and walls. Voivod's special guests for this night are Killing Joke back at the main hall, where we meet fellow big fans Doom at the bar before heading down for a closer look. Needless to say the old time post-punk industrialists are at home in a big environment like this, and I think this is the first time I've seen the full original line-up back together. However, a bit like Hellfest a couple of years back it's a mid paced set to start with, only the incredible power of Jaz's vocals providing some hook. Guitarist Geordie looks like he gone a bit transcendental already but then gets involved in some bizarre altercation off-stage right, kicking his monitors over and threatening to kill someone. The show goes on but the atmosphere gets a bit tense with some disgruntled crowd bottling him for spoiling the atmosphere, and others (including Doom rent-a-security mob) defending the band. Geordie bottles back then brandishes a mike stand, duck for cover, but things are dragged back around to enjoyment with the thunder of "Asteroid" and the classic stomp of "The Wait". Pretty mad show though.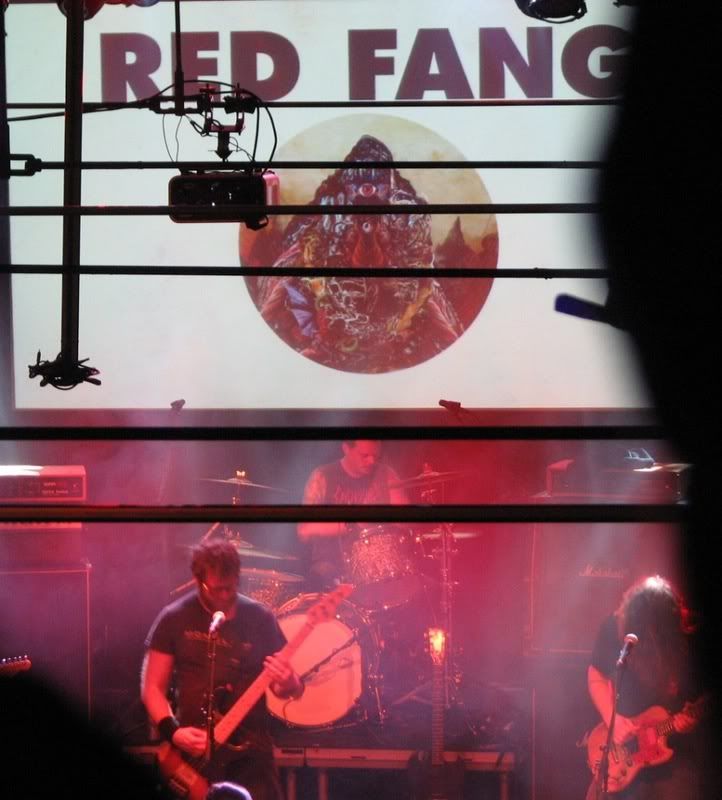 The Swede's Spiders I wouldn't necessarily have gone to see at the second stage but was pleasantly surprised by the catchiness of their hard rocking, especially the girl singer and the bassist getting thoroughly into it. We were passing through to try and catch Black Tusk but at the small stage this was a hopeless exercise as it was rammed, so to the sound swamp metal party we caught some fresh air.

The end of the night saw a potential 4 way clash so as I was reeling already it seemed easy enough to stagger between bits of at least 3. Started with Chelsea Wolfe, an female singer with more than a touch of the Jarboe's about her. Starting singing solo with just her guitar there's a haunting torch singer aspect and look similar to PJ Harvey but when joined by her band a more experimental feel comes in, with vocal loops and a hypnotic rhythm. Darkly beautiful, works for me. Though tomorrow was a must for me, couldn't resist passing by Voivod on the main stage and inevitably was hooked by them playing some of the old school progressive thrash, more rare songs from the back catalogue. Which made us a bit late in getting over to Patronaat for JK Flesh vs. White Static Demon, two aliases of Justin Broadrick's solo experimental tendencies. I had missed the earlier guitar bassed (sic) distorted dirges that had been heavy enough to vibrate his laptop off the table but still enjoyed the random vocal and power electronic manipulations, noise core all the way. It seemed that this was a bit much for the majority of laidback (to the horizontal) attendees as there was probably less than a hundred there but I for one will be hoping for more of the same at Supersonic in Birmingham this autumn (will power, will power…). Finish here left us still able to catch the cover of "Astronomie Dominie" in the main hall before bussing back to the wilds.