(review n pix by neil crud)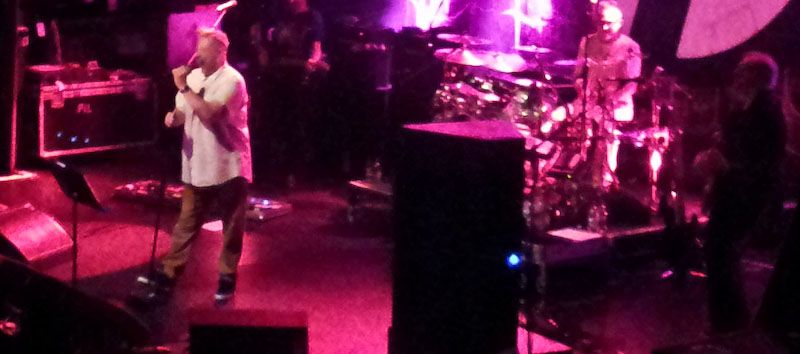 'Good evening Manchester, we've been friends a long long long time.'
A gig for the punk tourist? They pay their £26 door entry fee and their £20 for a souvenir t-shirt (cost price £3.00 – quality £1.50) and the old punk will probably go home satisfied having heard the songs he wanted to hear that took him back to his bedroom years, where he'd buy the album, play the album, read the lyrics and hang the poster on the wall. But this is PiL, Public Image Limited – and one thing you don't get with PiL is a greatest hits package.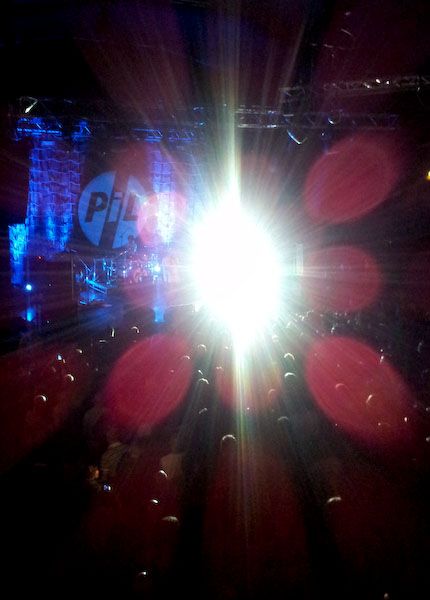 Johnny Rotten, John Lydon, call him what you want, and he's been called far worse, is the last big one for me to see. Having met The Jam, Clash and The Damned as a kid and seen Buzzcocks, Ruts, Stiff Little Fingers in later life, I needed to see this gig, or this persona to complete the set of bands that bare significance in the shaping of my life. The Ramones are dead and the Sex Pistols remain untouched, I turned down the chance to see the Reunion tours.
I was as cynical as Mr Lydon himself before the show and only really came along when Manic Tiger got us guest list tickets. Stories from Rebellion festival did put me off. Hearing of people walking out of the show in Blackpool because they didn't 'get it' and didn't get the inevitable self indulgence that ensued. Perhaps playing a punk festival was the wrong thing for PiL to do, and this environment; their own environment was far better… His own lair.
'Hello, this is PiL,' announced the ego on the stage and a funky version of This Is Not A Love Song began. The PiL ensemble includes Lu Edmunds, a man included on that ill fated Damned second album 'Music For Pleasure' and these days looking like Papillion did after 5 years in solitary confinement.
I guess for Mr Rotten, at 56, there's not a lot left to say, and he probably doesn't give a flying fuck whether EMI have an unlimited supply anymore. This is his job, and when you analyse his lyrical content, the worlds most opinionated man ran out of things to say long ago.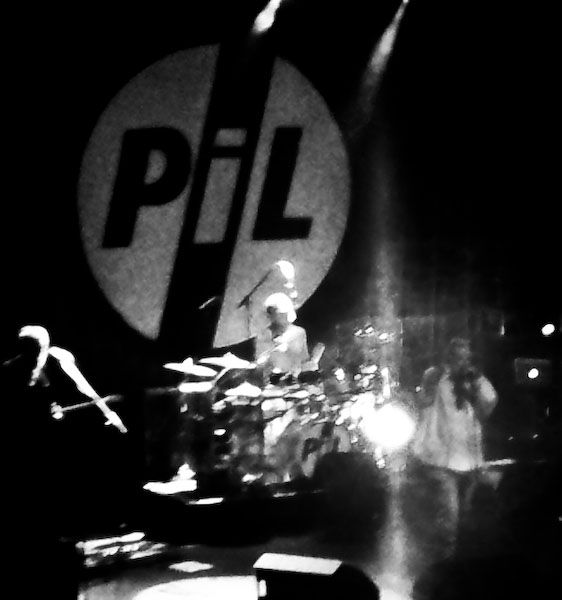 If you like heavy bass dub, then you're in for a treat, we've got buckets of it. If you want phlegm, John's got buckets of it, literally, with a great big house size family waste bin in front of the drum kit and a bottle of what looked like whisky. John frequently gargled and spat out this fluid between every song! Look for it on eBay today!
Rule No.1… If you go to see a band tour a new album, buy it and play it before going to see them! It'll make your experience all the more fulfilling. And with This Is PiL on the shelves (and in my CD tray), there was no surprise it was well represented tonight. Deeper Water (new) and Slow Motion (off Metal Box) came in quick, well, slow procession, 'Walter, I think the PA may be a tad too low… Turn it up!' Walter turned it up.
The Ritz is a great little venue, I used to frequent it in 1987 on Monday nights for the punk discos! They always ended with the Dam Busters and we'd all mimic fighter planes and run round the perimeter of the dancefloor… No room to do that tonight, far too many people here… 'Requests? Do we look like a fucking wedding band?' spat Mr Rotten, but all in good humour, as Home (I think) was followed by Friends of Ours, breaking the stepping dub mould for a bit.
That distinctive drumbeat of Flowers of Romance opened and Uncle John began his demented dancing, his loose white shirt covering that middle aged spread, he can't be blamed for that, as he's never had a better bit of butter on his knife.
Liam Gallagher is stood next to us leaning on the balcony, soaking up the almost danceable Lollipop Opera, which you'll find on the new LP.
Single No.2 in the Public Image Limited back catalogue gets a welcome airing, Death Disco, it's hard to believe something so left field, so avant garde could have ever made the Top Ten, and John can still let out a Pistols era foundation shaking bellow when the mood takes him.
Bags next, 'Black rubber bags, black rubber bags', then a 15 minute crescendo of Religion, PiL's very own Stigmata Martyr, throbbing, gristly, pulsing, mesmerising… The whole set was, and I think I caught this band at exactly the right time. Musically you have matured very well John, you old vintage cheese.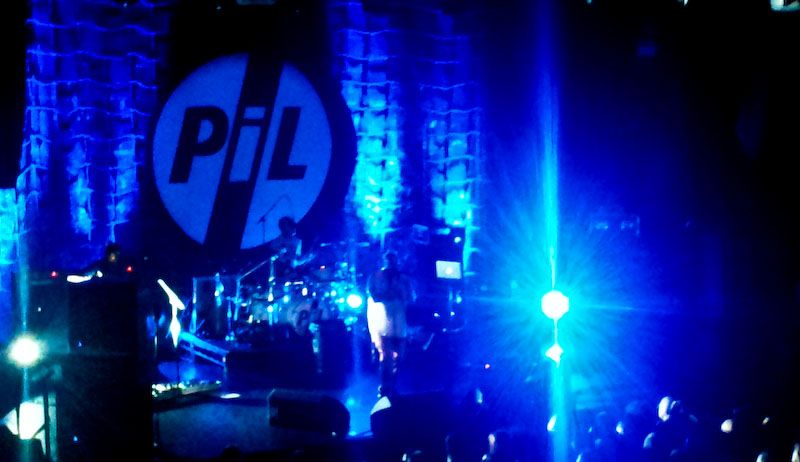 An encore was demanded and he did threaten to play for another hour, and after what some had described as a flat performance in Newcastle the night before, this was simply class… Four songs, two new and two classics, Out Of The Woods, One Drop, Rise and Open Up.
I came here to slag him off, I left with nothing but total respect.