(review n pix by mwj)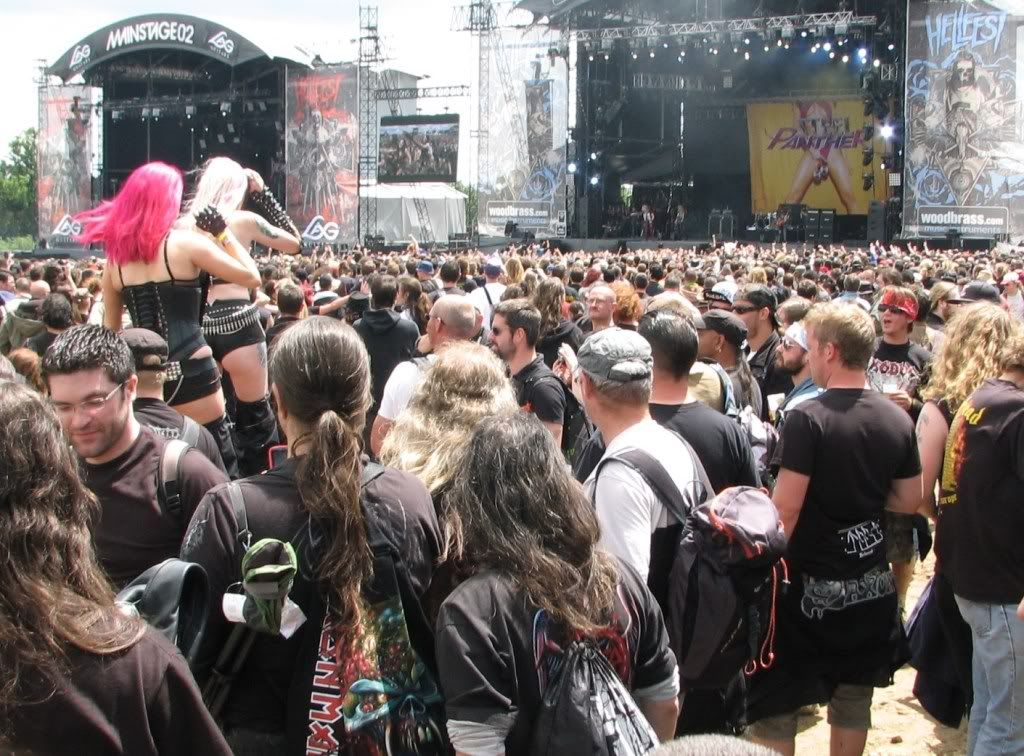 Again, it's the moment's reflection on the closing Sunday of the festival that sums up the chaos of the proceding. On the last leg and our last legs with NY hardcore legends Madball at the punkish Warzone Tent, they exhorted us to expend our last energies in the pit acknowledging what a GRUELLING time these festivals were. And we had to admit it, why put ourselves through this uncivilised punishment? Have we sinned so badly? Ha, yes of course, with our hedonistic debauchery to the tune of countless (well, a ludicrous 50+ for me) unholy racket bands. The piper (and the bassist) must be paid!

Our discomfort zone was shifted somewhat with the whole site being reorganised as compared to our previous 4 visits, only in terms of a few hundred metres in location but giving them the chance to set up a whole new "battleground" for the arena. But as we were there ready from Thursday lunchtime, warmed up at the Capper Arms and on airport ales, we quickly worked out the campsite was even closer to the supermarket, the Metal Corner entertainments were as good as ever (especially locals Loco Muerte with their Suicidal-esque hardcore), and we all peaked too soon with all the reunions and the bubbling anticipation – I even forgot to stay for the strippers, that bad!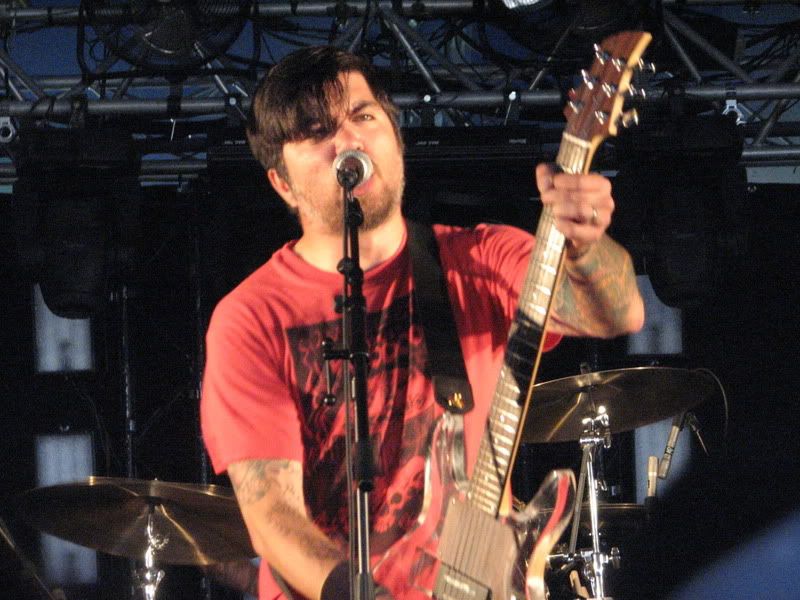 With 2 extra stages to make 6 altogether the sheer quantity of quality bands to be seen meant I was driven to get in for the 10.30am start every day. On the Friday this didn't work so well as there was the usual mad mosh at the entry and natives Celeste had started up at the Doom orientated stage of The Valley alongside the entrance. Got in for the latter half of their set and enough to savour their crushing Cult of Luna style post-metal with relentless strobes tripping my eyes out no end. Then over to The Warzone for compatriots Strong As Ten, thrashy blasts of hardcore like Municipal Waste, throwing in covers of "Sailin' On" and "Hang the Pope" among their own excellent up-tempo mayhem. They were obviously loving the opportunity and their fun was infectious. Back to The Valley for Doomriders (pic above), new to me before being announced but their split with Disfear was a positive indication of their groovy distorted heaviness, excellent stuff. To be fair there would always be crossovers between the nominal tent "themes" and these could have as easily played in The Warzone with a punkish drive to them too. Back over there next for northern scum Extinction of Mankind who we'd shared the flight with from Manchester. Crust punk again proving a great success here, the sound at this tent was the probably the best of all and they started so heavy it was almost in Bolt Thrower territory. Vocal hooks from Ste stuck in the head for a long time after, and as with Doom previously they were selling their merch direct on the grass outside the show after, couldn't be more down to earth. The new layout included some wooded areas that provided either shade or shelter from the variable weather conditions. Also retaining and expanding the fantastic visual elements of sculpture and artwork throughout the site, such a bonus incidental pleasure that adds to the all round joy.

A taste of Thou from the back of The Valley still enabled enjoyment of their gargantuan lumbering doom, at a similar seismic pace to d.USK at Roadburn (they had pulled out of this one unfortunately). Polar opposites at Warzone for the intense hyper punk energy provided by Vitamin X (pic above). So much exuberant energy in their performance illicits the same from the crowd, and the frontman is repeatedly in among us along with inflatable walrus and crocodile. At least take a breather from this onslaught chilling out at in the woods at the back of the tent before another ripping set from Victims. Not long since we'd seen these with Black Breath in Manchester but their crusty melodic punk with the lovely Swe-death distortion gets the place raging. A slightly bigger break now to head back to the camp site and refill out 1 ½ litre jugs that no one seems bothered about us shipping back into the arena full of discount drinks, a proper recipe for disaster!

The first visit to the new stage of The Temple with its dark/black metal theme, sharing a colossal combined tent with the death metal orientated The Altar. The draw here was the hypnotic intensity of Darkspace (pic above), Swiss ambient black metallers. As would be a recurring sound problem theme of this huge space it initially seemed a little quiet but soon enough the waves and layers of relentless almost industrial harshness were soon washing over, insane drum machine backing and three way screamathon. Swapped facing direction for the slightly less serious but just as enjoyable Brujeria. Jeff Carcass, Shane Napalm, Adrian At the Gates jamming with a couple of Mexican gangster types? What's not to like? The stripped down death/hardcore is completely infectious party metal, everyone wants to be a hombre and sing along in Spanglish, the sombreros are in full effect, as is the machete on stage!

A return to the Warzone to at least have a listen in on punk old school of GBH who I had never seen before and was pleasantly surprised as they had a bit more Brummie bite than the less striking stuff I had heard on record. There's bite and there's biting your face off and back at The Altar there's a return and farewell to Swedish grind legends Nasum. I hadn't seen them before their singer died in the Indian Ocean tsunami and back with Rotten Sound's singer taking his place for this last round of shows there was some cynical view on cash-in but right from the little theatric of the gas mask wedding scene at the start the songs undoubtedly are blisteringly delivered and a joy. The pummelling continues over at the Warzone with Integrity (pic above) who must be the heaviest hardcore of the weekend, practically sludge in their breakdown with the raw vocals and an almost southern blues undercurrent.

An appropriate, seamless blend for Lynyrd Skynyrd on the main stage then? Hmmm. As you may have noticed I've gone best part of 12 hours without venturing to near these "main" attractions. For all my claims of eclectic tastes between back to back soporific doom and explosive hardcore the festival itself has definitely gone beyond my envelope of tastes with its inclusion and celebration of the accessible in the more traditional metal and classic rock that fills the two main stages. However there's plenty who do like it, but in the latter parts of the day there is more time to sample just what all the fuss is about, and while we check a song or so for the experience we soon head off for another breather, "Freebird" sending us on our way. And still going on our return. This time for the Dropkick Murphys and their polished Oirish punk rock, entertaining enough in a latter day Pogues way and fitting in with our jovial drunkenness. The nominal headliner for the day next was Megadeth, who I hadn't seen since about 1991. My expectations weren't particularly high given the knowledge that Dave Mustaine is no longer the snotty teenage punk thrasher of old, rather than the born-again guitar god but I'd hoped a few of the classic tunes would have once again given me that flashback thrill. No luck, a pretty soulless going through the motions performance of stuff I didn't know and was still completely indifferent to. Megadeth UK do a better job. Leaving after a handful of songs to a band I was almost attempted to bail on due to a clash and having seen them a lot before, all became right in the (under)world once more.
Obituary always, always deliver the goods, and even when down to the single guitarist for this show at The Altar they levelled the place with their epitome of death metal riffmania. After being "chopped in half" and "turned inside out" I still had time to get over to The Warzone for From Ashes Rise (pic above). A rare and welcome opportunity to see the American crust band, and they hit my d(beat)-spot effortlessly, raw and dissonant at times and furiously charging at others. Awaiting a change over here there's time to wander and hear closer "Peace Sells…" vaguely redeem a little credibility, Amon Amarth looking quite impressive from a distance with their darkly thunderous Viking metal, King Diamond shrieking over there somewhere, gas flare shows at the exit gates to impress those leaving after the main event, and the usual random meetings and camaraderie by the fire pits. For those of us with staying power there is still the killer finale of Tragedy (pic below) at The Warzone. More US crust, this melodic evolution of His Hero Is Gone were introduced to me by Mr Peel a long time back. Again it's a superb mix of huge, filthy, fast tones with adrenaline pumping tunes, there's new stuff and old and for all the bleakness the whole thing re-energises after a long day, smiles all round.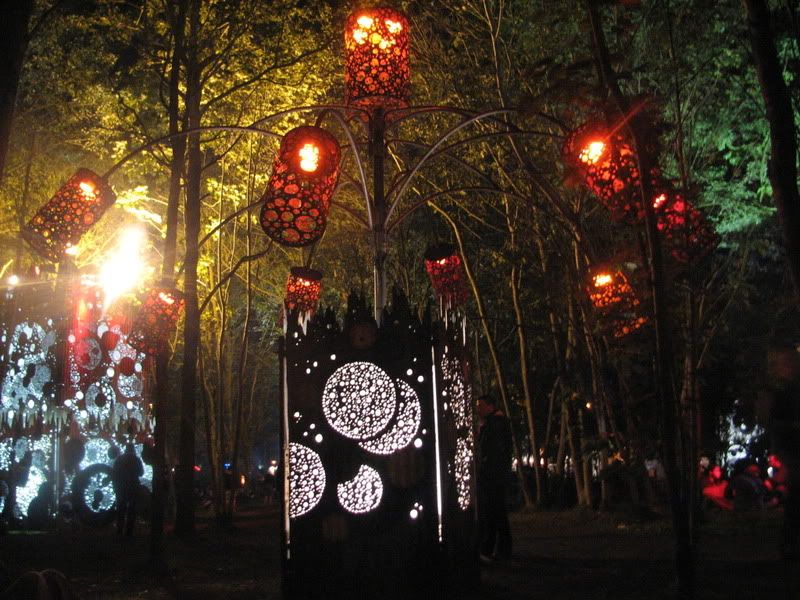 day 2
Confounding medical science/running on Jager fumes once again we are back in first thing in the morning. The options here are two two piece bands.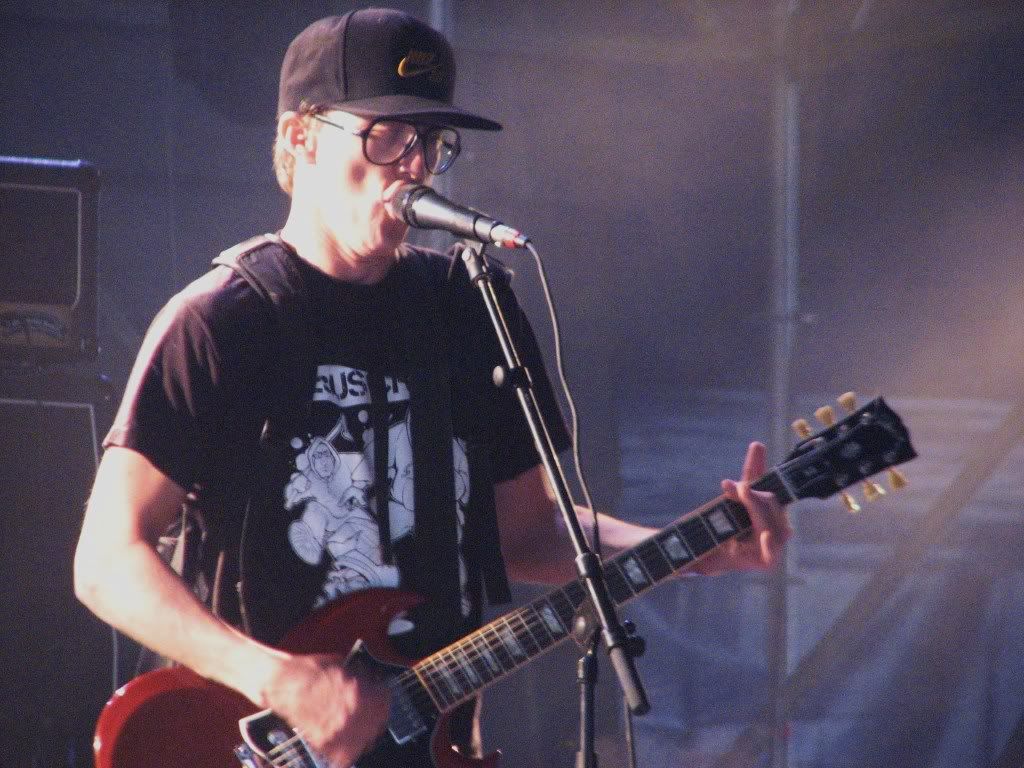 First Jesus Crost (pic above), Dutch extreme grinders with a nice early Carcass guitar tone, ultra short and guttural outbursts of sickness from a young bespectacled fellow who turns up on stage still wearing his rucksack. And Dyse (pronounced "doozer"), Germans who have an arty vibe to their noise rock but without pretension, it is just really interesting music that reminds me of Nomeansno despite them not even having a bass player. They are obviously having a great time on stage too and the happiness is shared in the early crowd.
Over at The Altar I'd been intrigued to see Glorior Belli after hearing their odd but working mix of southern blues rock and black metal. And while it was ok if a bit underpowered they also had a bit too much posturing and a really annoying photographer on stage obscuring the view.

No worries, next we have the hilarity of the "groovy goregrind" of Rompeprop (pic above) at the opposite Altar. Blood spattered medical gowns, skeleton suits, basses in the shape of a woman's parts, an avalanche of inflatables into the pit, and songs like "Embyoyo", this is the recipe for success. It's top up time at the tent after our early start and I have to leave the slackers to return alone in the hope of Haemorrhage only to find in the suspiciously quiet tent they have cancelled. Bah, like an autopsy without anaesthetic ;)This gives the opportunity to enjoy the reverberations of the churning heaviness of Amenra from the valley before considering the spectacle of Steel Panther (pic below). Now I wouldn't touch glam metal with someone else's barge pole but with the sun streaming and the tits oot on a regular basis my attention was somehow grabbed. And I have to say it was absolutely hilarious, not only with their self depreciating/aggrandising banter but sheer genius pisstake lyrics. A welcome tonic for all the genre rubbish of old!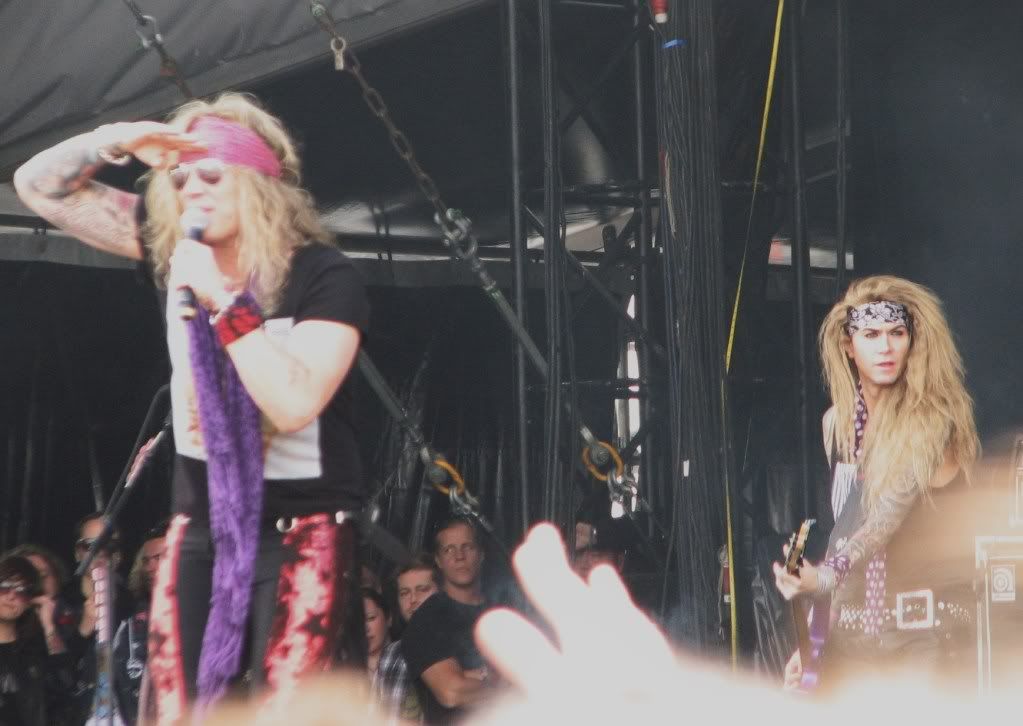 Appropriate consolation for the previous cancellation came in the form of Avulsed, fellow Spanish Death metallers blast through a vicious set, the singer a force of nature still able to deliver his roars while windmilling his head a foot of the ground. Whether it's the heat or a bit of thirst ( 😉 ) but my legs are giving way before long so I resolve to catch up with the latter half of a clash and chill out at the back watching US thrashers Death Angel on the main stage. As enjoyable with 10,000 as they were with a 100 in Wrexham they are playing their debut album "The Ultraviolence" in full. "Mistress of Pain" that I had on the Speed Kills 3 compilation cures all ill and I head down to the front to discover the rest of the party posse in full effect.
We then have fun in the sun for a while, classic festival craic, while waiting for the next of a triple thrash treat with Sacred Reich (pic above). And as a similarly aged 80's band they gave Megadeth a lesson on how to do it, (and with their "War Pigs" cover, Ozzy too) ok they did have a break in their existence, but they played with energy, fire and enjoyment and that is always evident and appreciated by those in attendance. As were the random breasts that were delivered unto us, by the Reverend Graham.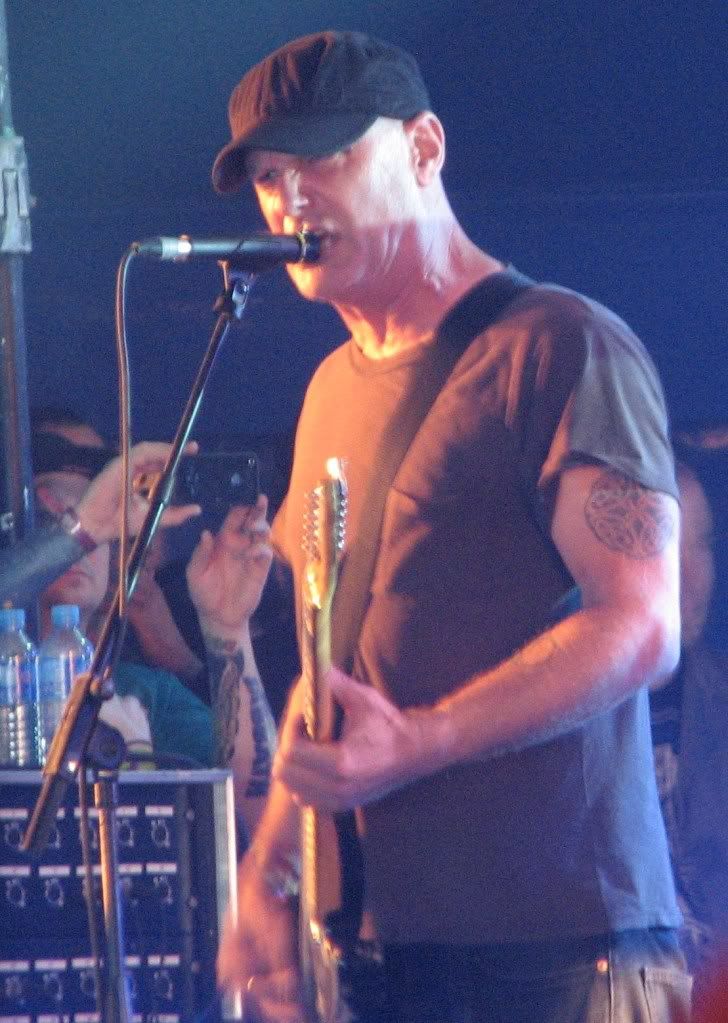 I head over to The Valley for one of my must-see opportunities with Unsane (pic above), after my last chance in Manchester had been bizarrely lost due to changes of venue/date. They unleash raw, ground out noise rock with that innate toughness that seems endemic to residents of New York, the same vibe seen recently with Tombs who undoubtedly tip their hats to this seminal act. I am satisfied enough to head back over to join up with the folks at the main stage for the end of Exodus (pic below), who continue that solid heavy thrash attack, the dust is rising now from fierce pit action.

Not quite the same for Sebastian Bach maybe, next on the adjacent stage but I give him a little time of day for the humorous sake of it and because I appreciated his appearance in Trailer Park Boys. Not long though, as I weave myself into the heart of the Valley for another beating by Yob. Had only enjoyed a partial set at Roadburn (and now meeting other survivors from there in here) due to clashes but had the full monty here and it was glorious exercise in distorted doom and groove from the three-piece. Time flew by as you were rocked by the build up and break down of riffs and drones, a definite highlight.

Probably one of the killer clashes of the weekend next was St Vitus where I started in the Valley, but their droning, bare proto-doom didn't have the same entrancing impact as when they'd been on the main stage a couple of years back, and so it was with Napalm Death (pic above) I ended up at the Altar. Unfortunately this was not their best set seen, either because of the general sound weakness or the blown amp head interruption, but even Barney seeming a little subdued compared to normal. Didn't stop us getting down to the old school classics like "Scum" though. Out into the open for a foretaste of Machinehead and their nu-thrash, soon to be headlining Bloodstock. I'd succeeded in not bothering a couple of times here previously and to be honest my mood wasn't greatly shifted, for every good riff there was a lot of not so good, and accompanied by the rawk bull.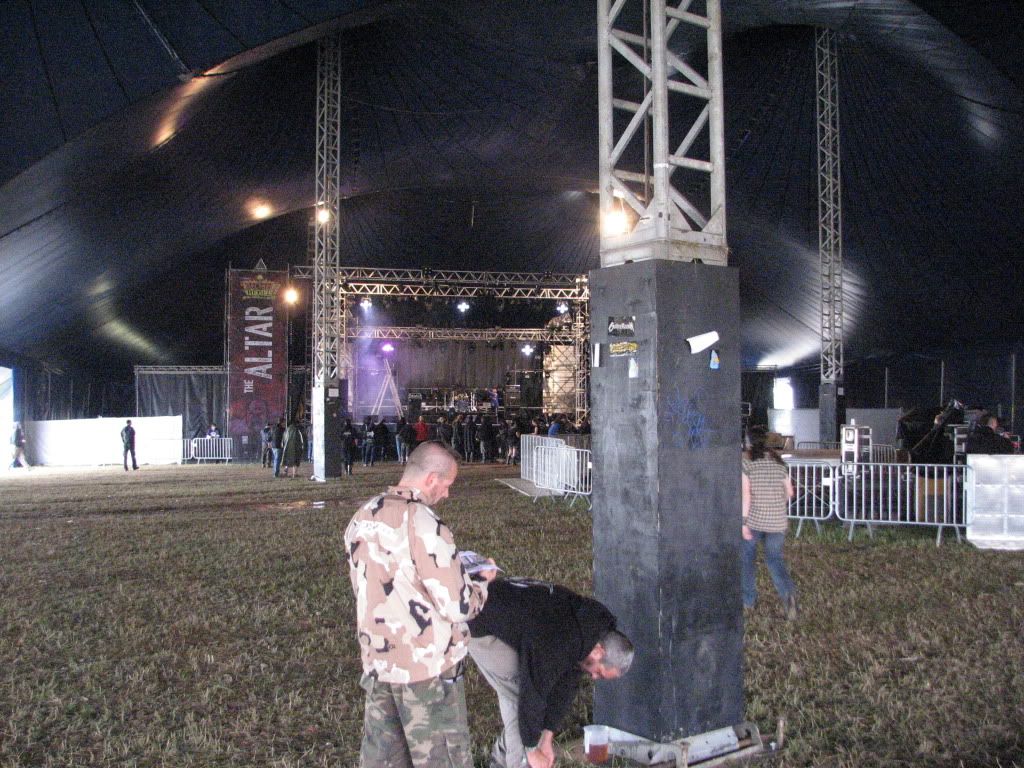 This left us lined up next for the day's headliners and the legendary rock force/farce that is Guns n Roses. The last and only time I saw them people died, and they were second on the bill of a six band alldayer. Soon after I taped over my copy of "Appetite for Destruction" with "Reek of Putrefaction". But there was still a morbid interest to see just what kind of diva monster Axl and his session musicians had become. No justification for them charging 35 euros for a tshirt when you could pick up an Avulsed one for 12 either. We were doing other stuff but surprisingly they actually came on on time, with a song I didn't know but then a few of the classics from "Appetite…" and… actually… sounded quite good! I was singing along godddamit! The full spectacle neon stage show added to it and leaving after that small dose before the interminable piano solos etc was probably a good thing.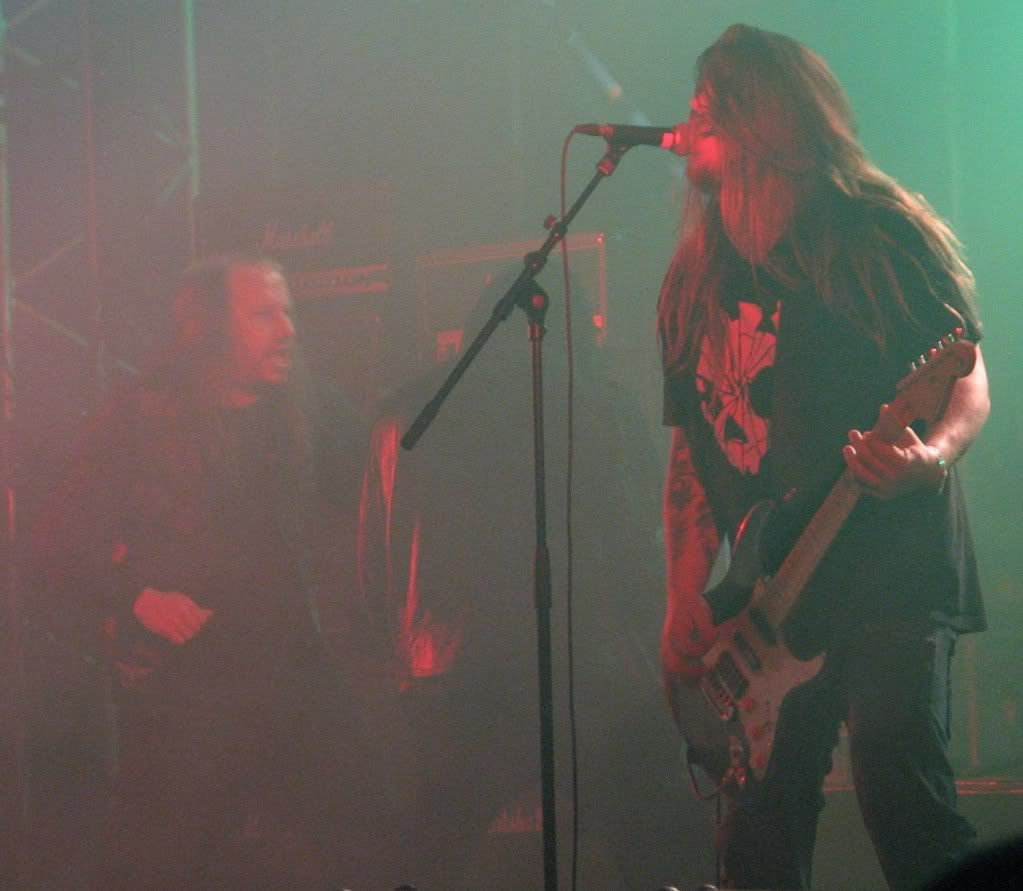 An even better thing was entering the Altar to the tune of "Living Dead" from Entombed (pic above), the long reigning kings of Swedish death still majestic. Another example of the old school not to be taken for granted and slaying us in such a welcome fashion. We negotiated the swampy areas not drying out under the canvas to finish having a hoedown to "Left Hand Path" on the dry if not moral high ground. About turn to the Altar and another closer for Bloodstock, Behemoth (pic below). Doubts had been cast on their headliner potential but on this showing I think they'll do fine, but maybe I am biased with a love of their sharp and intense blackened death metal. A good stage show too, can't beat a 12 foot high burning inverted cross whether you are down with the KKK or not. The later songs and encore slowed the tempo right down to a heavy stomp and took the edge off a touch but if the leukaemia recovering front man Nergal has to pace himself it is understandable. i wish i had learnt that lesson 😉
day 3
No Sabbath on the Sabbath for us but we once again made early doors on the Sunday, though none of us could talk much never mind pronounce Sublime Cadaveric Decomposition. Still, once they and the sound man had got into their stride the solid, structured death/grind was a good wake-up call. Added to by returning to tap into the hardcore energy of Lasting Values (pic below) at the Warzone, bouncing around stage as they were with some punchy riffing to match.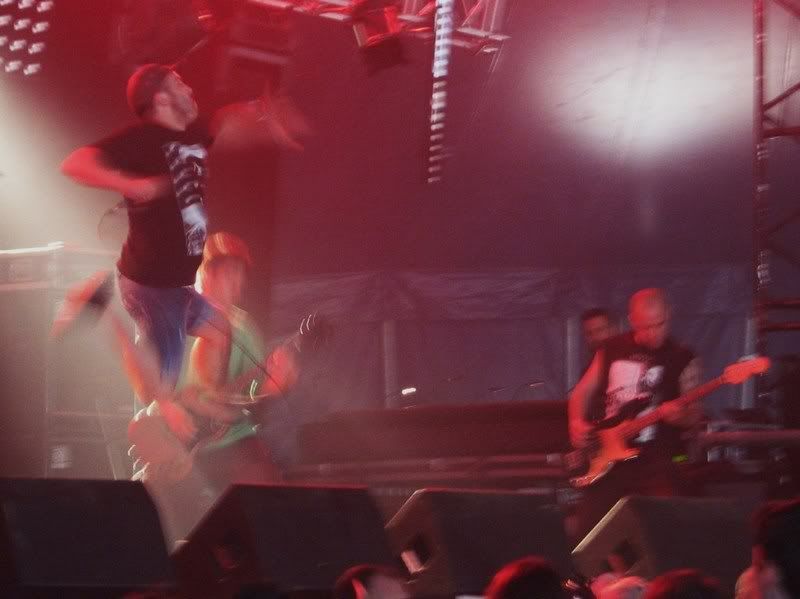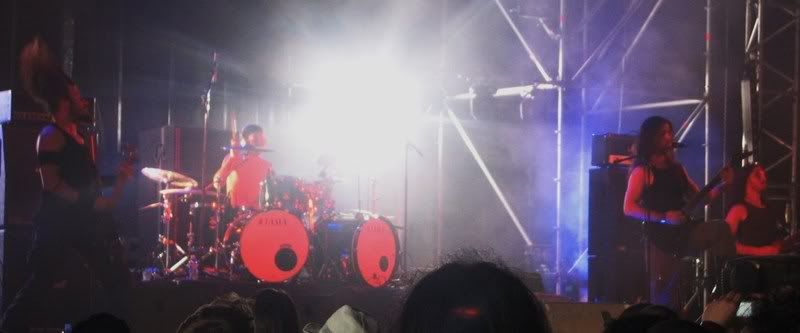 Returned to the Altar for handsome Italian death metal in the shape of Hour of Penance (pic above), who came across with a much better sound than when I'd caught them at Leeds Deathfest previously, and really hit the spot with their Behemoth style brutality. More traditional hardcore with the engaging female fronted All For Nothing before the urge for a midday siesta/feet-up hits like a hammer again.

Nothing to perk you up better than the Brutal Truth (pic below) though and again in spite of a weak overall sound and the more experimental aspects of some of their more recent stuff its still a rabid performance, always a treat to see Mr Hoak blasting away. The monstrous "Time" from their debut album shifted the tempos and was devastating bliss, for those of us that way inclined.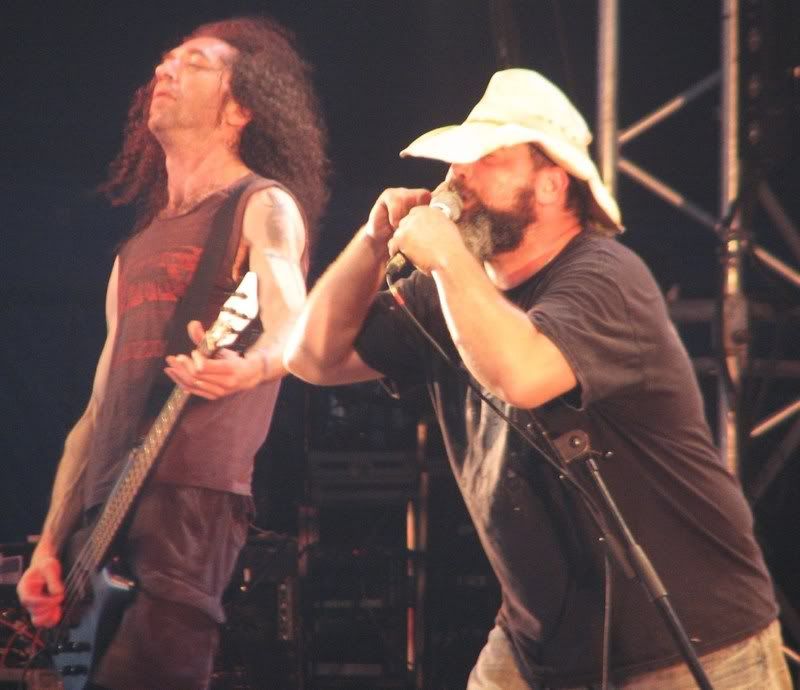 A further dragging down in speed with a visit to Acid King in the Valley, back to monolithic doom riffing, with occasional melodic layer of vocals from the female guitarist of the three piece. On tour with St Vitus but I enjoyed them much more, with their Electric Wizard style sending me straight to the land of the nod. Like the afore mentioned Peelie discovering he's been playing a 78 at 33rpm we are jerked back to harsh reality by another storming performance from Anaal Nathrakh, the Brummie black metallers mixing progressive with traditional in a beautiful cacophony. Drunk is fast becoming one of my favourite bass players for what he puts into the shows and there's no doubting there authenticity when they say their previous show here (which I heard, but at the time I was unable to walk too 😉 ) was one of their best and Dave asking politely if they could have their photo taken at the end of this one in front of the crowd summed up the mutual appreciation. Not far at all to walk this time to further precise brutality from Dying Fetus. The US three-piece produce an incredible level of death ferocity, I'm not normally a fan of things that get too techy but they showed enough truth to their roots in the classics (as demonstrated by their recent covers album) that the riff offensive was a real winner.
The sun is out and its time to rest the weary feet on the main field in the presence of Blue Oyster Cult (pic above). Now I was of course familiar with "Don't fear the Reaper" and precisely nothing else but a lot of people did give them props and lazing around having the craic they did provide perfectly pleasant summery background rock, as well as seeming to have their own tongues in cheek with their Swiss cheese guitar and mad songs like "Godzilla". I wouldn't go out of my way to see them but thanks to the organisers we have these kind of odd tangents that do at least give you different persepectives and memories to keep.

Or Lock Up (pic above) if you will, as rejuvenated (well, a few years off maybe) head in to see the next grind supergroup on offer at the Altar. If you already had Tomos At the Gates, and Nick Cradle/Dimmu but for some reason this time you couldn't get Shane Napalm on bass why not replace him with Dan Brutal? Job done. The express train of straight forward machine gun riffing is topped off by the ever charismatic Tomos' humble fronting, and to be honest I think Dan puts in an even better show than earlier. Over to Warzone as I know I'll catch up with folks enjoying H20, and their bouncy and diverse hardcore comes across better than their own show in Wrexham not long back, though they still haven't managed to lose that kid who hangs round with them! Seriously though, that son of the singer is without a doubt in it for life. Unless in his teenage rebellion he becomes a banker.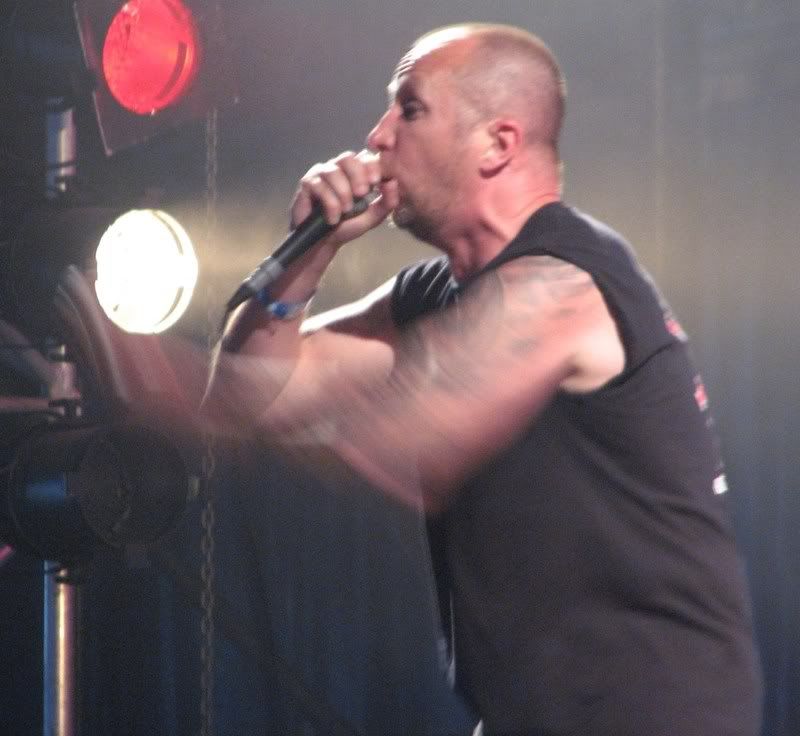 Time for another cast iron guarantee with Suffocation (pic above) at the Altar. Even with a fill-in vocalist they were immense at Liverpool recently but Frank Mullen is back in the house, all guns blazing, all hands chopping, all tongue flapping. They manage to get one of the best sounds of the weekend out of this tents system, devastatingly heavy, death metal destruction of the finest order. We are offered 3 ways to leave the place, the "Frank Mullen Special" involving a wodchipper, but when we eventually stagger out it is only to the relative relaxation of Madball, if that were at all possible. First chance for me to check them after a previous one had gone through a set-swap and whether it was formulaic or not I enjoyed the heaviness and energy of their NY hardcore, it kept the motors running. The last headliner was upon us and the heavens opened to (further) piss on the parade. Originally we were meant to be getting the reformed Black Sabbath but Tony Iommi's cancer had put paid to that and instead it was Ozzy and Friendz. Spelt like that. Hmmm, didn't we have Ozzy with some other friends last year? Oh well, rumours that Lemmy might be one of them made us endure to give it a chance but after one song and Ozzy saying his voice was going the omens were not good. Slash and Zak Wylde are not the stuff to impress me, neither is 10 minutes of drum and guitar solo. The worse nail in the coffin is the backing track of Ozzy's vocal that he may or may not be singing along/miming with going out of synch. The only things to drag it up from the mire we were standing in and listening to was Geezer joining them to playing THE bass for a few Sabbath tunes, including the warbling intro to N.I.B. And we have great fun, with my drunken friends, singing our hearts out to these classics, as the memories of just how short changed we are wash away, literally as tears in the rain.
One more thing to wash everything away aurally is zipping over to catch the end of SunnO))) at the Valley, the ultimate bastardised son of Sabbath and for the few minutes of earth quaking drone, harsh screams and raised claws appearing from the mist on stage is probably exactly what had been going on for the proceeding hour.

The few masochists left gathered back at the Warzone for another energetic finale provided by Biohazard (pic above). Probably best part of a couple of decades since I saw these in Buckley, or bouncing through the stage downstairs at the Royal Court Liverpool, but they are a literally slimmed down and streamlined fighting unit now. And they generate enough heat from their metallic hardcore in the tent without the bizarre addition of a random fire juggler appearing in the pit! Good to hear some of the old stuff from "Urban Discipline" and they finish with a great stage invasion leaving the whole thing on a high. A last warm by the firepits and some Belgians dissing the rain in Wales while I diss… well, Belgium before we retire hurt but happy once more.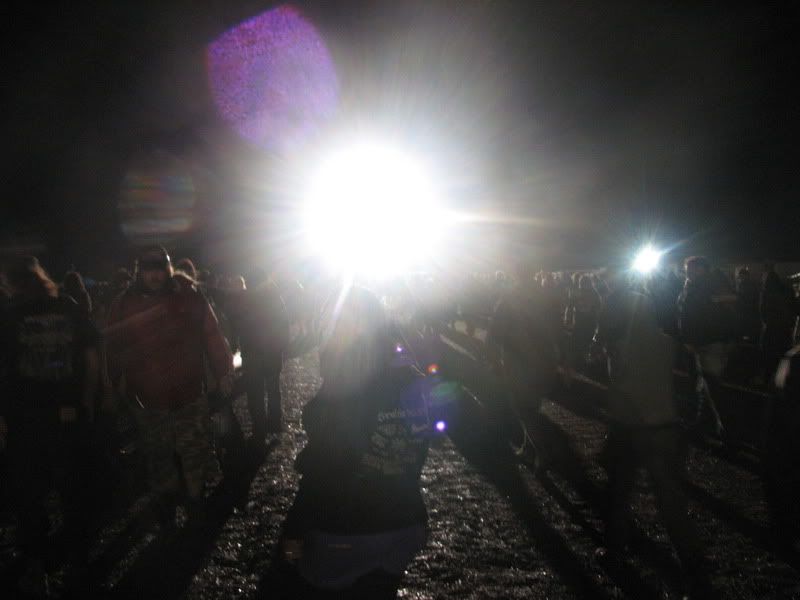 Our worries over the reorganised festival proved unfounded, it remained a superbly set up and organised event and the quality and quantity of the alternative bands seemed absolutely peerless. Relatively poor headliners and the slightly noticeable increase in numbers attending over last year were the only downsides, but they were far outweighed by good. Those returning and those there anew all raved about it, and we avowed to seek ever more fresh troops for our expeditionary force next year. Sign up, your conts need you!