(review n pix by mwj)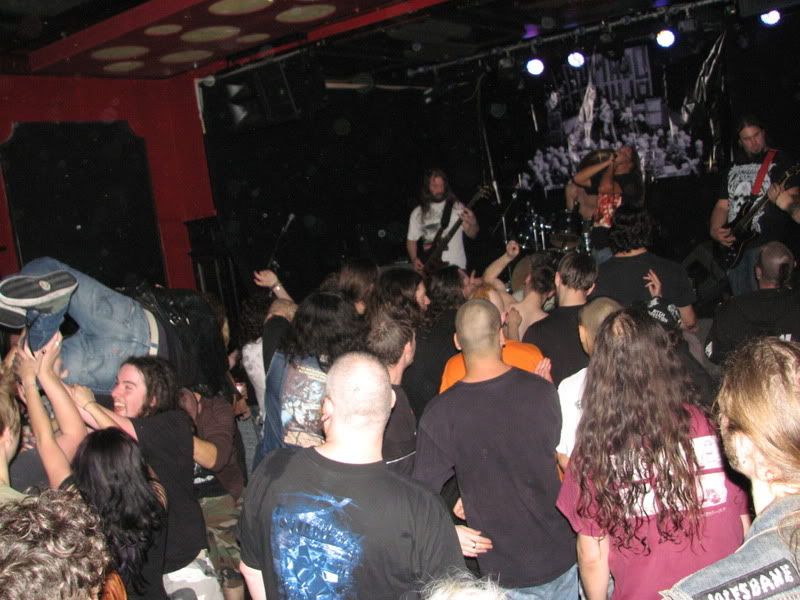 The very name of this Fastevil perfectly sums up the glorious tongue in arse-cheek nature of this celebration of the fast and filthy underground. This is the 5th year of the roving event, having disgraced the stages of Sunderland and Edinburgh previously but now finding a bit more focus to the mayhem in Leeds, with arguably its' most ambitious lineup yet. A selection of international cult grind acts with some of the cream of the UK's brutal noisemongers, a perfect excuse to continue the weekends already downward spiral.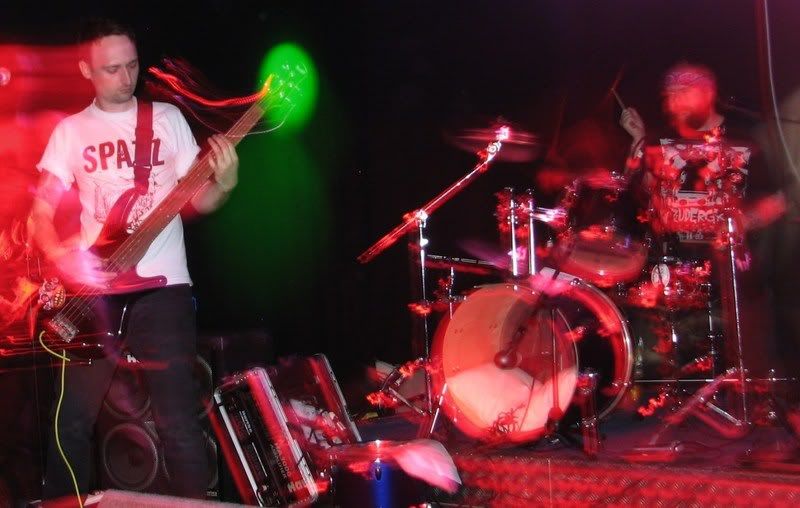 The Well is a great venue and I was pleased to find it surviving in general and not just for the sake of this show as its future has been uncertain recently. Even though we were late over after sneaking away in the sunshine from Liverpool we discovered on arrival that times had already slipped a bit and we hadn't missed much. So the opener for us turned out to be Living With Disfigurement who set the bar high with their punishing slamming death/grind, a very entertaining frontman who would be returning again tomorrow. It also set the scene for the ongoing twisted hilarity of the song titles that is evident in this warped scene, Shakespeare meets sickness. And fair play, even though their native language was Swedish this trend continued with the awesomely named Disgusting Piece of Shit next. Pretty basic/ropey party goregrind reminds of Rompeprop and is similarly mad. A bit more serious next with the sharp body hammering powerviolence of locals Gets Worse (pic above), who I'd enjoyed recently at the Library up here. Again their precise, storming set is great stuff, especially with the intricate drum work. The combination punch continues with heavy death metal of Leeds' Revokation, really thunderous stuff with their latest song aired almost having sections of black metal extremity to it. This also marked the hopefully seamless transition of their name to Proskynesis, guess they were fed up of any mix up with the lesser Revocation. Final killer blow of this trilogy comes from the other side of the Pennines with Magpyes (pic below), who are really pushing into a league of their own with super fast and feral grind, massively crushing breakdowns at times but the blurred fret speed is a sight to try and behold if your eyes can keep up.

Back to foreign invaders now with another name that loses nothing in the translation, Shit Fucking Shit. All there would agree it's just a great phrase to shout out, repeatedly, and there seems to be a fair Italian contingent who've come with them to share the fun. It's pretty stripped down bouncy grind but entertaining enough, especially with guest vocals from Dr Aids for some covers at the end. The strangely familiar Razor Rape, which turns out to be the same guys from DPOS with a more serious proposition now in terms of relentlessly heavy and impressive grind, immense blastathons that threaten to drop the jaw even in the face of all the amazing musicianship that has already gone before. Out of all for me some of the drummers over the course of the weekend have defined the incredible skills behind pushing the envelope achieved by this extreme genre. I miss the Portuguese Raw Decimating Brutality due to me coming and going from greedily fitting in some crust gig round the corner but apparently this is one of the first mixed reactions of the day to their apparently construction obsessed grind.

Returning to the second half of Italy's Dysmophic (pic above) the much quieter hall may also reflect the reported sound problems they had at the start but to my fresh ears they have more than sorted it and I love this raw and distorted Nasum style grind, and they are a highlight for me. That just leaves us with the days headliners, the renowned Czech grinders Ahumado Granujo (main pic). They provide yet another bizarre tangent with their less than seamless combination of breakbeat techno into silly grind onslaughts, but its all massively entertaining and the stage invasion party at the end tops of a day of great fun and really highly consistency of bands and performances. Punch drunk, retire to the corner for round two.