(by neil crud)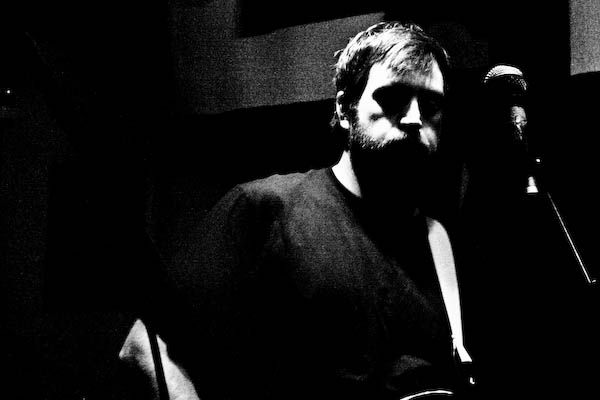 The days of the Annual link2wales Poll have long since gone, only because it was too much like hard work keeping count of the votes as they came in. Although it was good for a giggle. However, the internet has changed so much since those old HTML days, and there's undoubtedly a form online that you can use.. So I'll get my Dad onto it for next year.
This year, I'll just skit across some of the highlights and see what happens.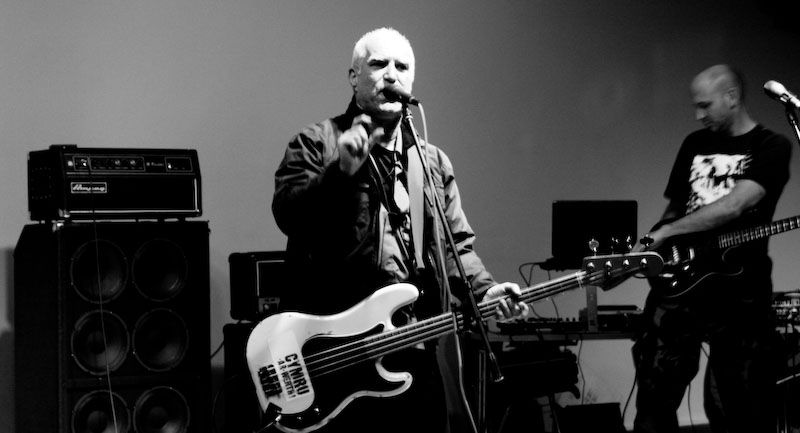 Guest Blogs on link2wales – I thought newspapers have columns so why not link2wales. They've been running for two or three months and have been very entertaining. From Rhys Mwyn's outlook on the scene past and present, Matt Mischief and Johnny R's poetic tales of yore, Mick Magic's plans for the future, Steve Rastin's views and Joe Hovis' Top Ten album of all time. All superb. (blogs)
Playing in a Band Again – This is a personal highlight and probably not for yourself! But it had been 13 long years since I played in a band after laying Sons of Selina to rest in 1999, so when Joe Hovis caught me unawares and I agreed to form Braxton Hicks with him in July, we've since played 4 gigs, had UK Subs' drummer stand in when Gwion was stranded, released an EP and had national airplay, which is not bad for an unambitious punk band. I also got drafted in to sing and play guitar for Rhys Mwyn's project Welsh Rebel Outpost, playing a one-off (so far) gig in the outbacks. Great fun.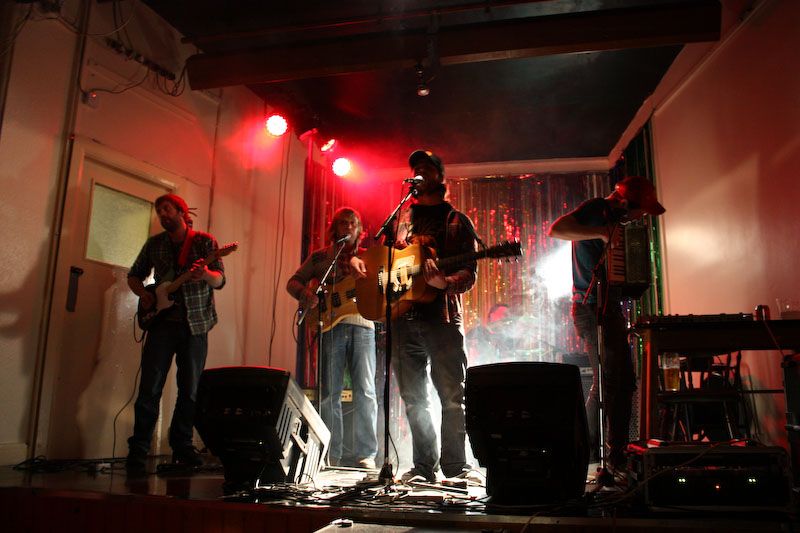 Boom (With God on My Side) by Wobbly Hearts – Carl Gintis has a habit of doing this; being involved in a band where the song just knocks me off my feet. When I heard Boom for the first time earlier this year I couldn't believe my ears, it possesses everything you want from a song. Uplifting yet melancholic, country yet western yet indie, with words and a melody to die for.  There are preliminary talks for this to be the debut release for link2wales Records, I do hope so…Love it – fuckin' love it… (reviews)
Festival No.6 – Our own festival on our doorstep in Portmeirion Village! What a great (and brave idea), with acts carefully chosen so it didn't end up a teenage wank and vomit festival (like Wakestock) or a beer boys shag and fight fest (like Heaton Park). (reviews)
Dirty Weekend Festival – From it's very humble beginnings at the Dudley Arms in grotty Rhyl, to the amazing spectacle that was Hendre Hall, to its resurrection in the centre of Wrexham. Properly organised with top quality bands headed by Doom and Nev Staple. 2013 looks like it's gonna be another cracker. (reviews)
Rebellion Festival, Blackpool – for an old twat like me, this was just blissful… All my favourite bands from my teenage years under one roof for four days with no rip off prices and loads of new bands to discover too…! (reviews)
Pesda Roc – keeping the luvvies happy in Bethesda, Pesda Roc has run and run for years, and long may it do so. Pencore in Penmaenmawr suffered a semi-washout, as did several events this 'summer' due to the poor weather. Osfest just about survived the weather down in Oswestry, as did Copperfest in Amlwch and Llangollen Fringe Festival.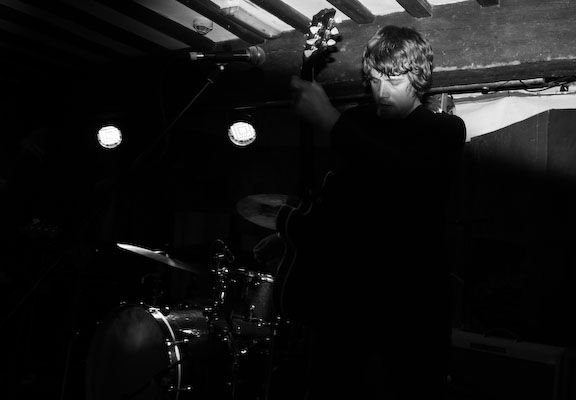 Bright Young People live at Telfords Warehouse, Chester – they may have a baghead attitude but as soon as they get on stage they become the coolest people on the planet bar none! And they have a filthy dirty killer set to boot. (review)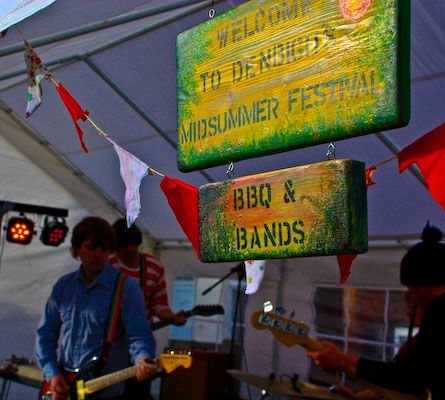 Y Niwl / Gruff Rhys – the Y Niwl formula is so simple I'm surprised no one's thought of it before. Why not play instrumentals in Welsh! And with the added bonus of also being Gruff Rhys' backing band they've taken it worldwide to become one of our biggest current Welsh language exports without actually speaking! As well as beautifully crafted vinyl releases, they played at least 2 live sessions this year for Marc Riley's Show on 6music. While Gruff never ceases to amaze and amuse with his sometimes shambolic yet symbolic live sets, his typical Gruff website and the enchanting voyage of discovery to Patagonia as told in his 2010 film Seperado, which was recently aired on TV.
Zebedy who are probably the most prolific live band of 2012, rip roaring from Holyhead to Chester and beyond, and released a video of They'll Speak of Us For Years and a new EP 'This Is My City'. Equally as busy were Race Horses who released their 2nd album Furniture and gigged all over, with sessions and airplay on 6music.
Future of The Left – From releasing the incredible album The Plot Against Common Sense in June to seeing them play an incredible set at the Deaf Institute in Manchester the same week – Falco and co can do no wrong (reviews)
Face of Christ  – from Chester, twats, very arrogant, very dark, very American hardcore and very good. I saw them at Vegas Bar in Rhyl. They walked in, grunted at us, set up, smashed their set into the wall, packed up and fucked off home. Brilliant. (review)
Pocket Venus performed in January in Camden with the legendary Ultrasound and the relationship continued when both bands played at 147 Club, Llandudno in December. They also win a Battle of The Bands at Venue Cymru and get to perform with err.. Olly Murs at Eirias Park, Colwyn Bay.
Cob Records Final Day – the end of an era and another death knell for the independent record store as the long established Cob Records of Bangor ceased to be. It did however bow out with an instore gig and loads of bargains (reviews)
Turquoise Coal Website / Records – If it's obscure, it'll be here. Put together by Ectogram's Alan Holmes who takes time out to periodically share some of the most esoteric corners of his music collection (he owns over 200 Fall albums I kid you not!). A brilliant insight into bands you never knew from in and around Bangor since the late 70s. Also released the equally challenging debut album 'Ha Ha Ha' by Irma Vep. (website)
Keeping The Scene Alive – Hats off and a big tick and a star off teacher to those promoters and bands who put on gigs in their hometowns simply for the love of music. Sometimes no fucker turns up (which costs the promoter money!) and sometimes they have brilliant nights. That's the live scene – it's like a game of football – you never know what's gonna happen! So a big up to the following, and those I've not mentioned – Rozzys Rock Nights in Holyhead. North By North Wales in Bangor, Graham Pritchard and the guys who put the metal nights on in Bangor, Dilwyn Llwyd in Bethesda, Steve Rastin at Vegas Bar in Rhyl giving so many new/young bands a chance to play live. Central Station in Wrexham, Adam Walton's Crackling Vinyl at Telfords Warehouse in Chester, Twisted Banana in Deeside, Dan Read's Core Promotions covering Chester / Wrexham / Deeside, Focus Wales who put on a great event in Wrexham, as do Saith Seren who keep the Welsh scene pumping and throbbing in Wrexham.
Thanks also goes to Righteous Anger Records for their tireless battling for the cause. Run by Global Parasite, they act as both a label and distribution service for all things punk, they released the compilations Ask Questions, Demand Answers and A Free Sampler.

On a tragic note was the death of BBC webmaster James McLaren who was killed in a car accident in August. James was responsible for Soundnation and Honk zines, which in their day brought news and reviews of new bands in Wales. (link)
Keeping The Memories Alive / Recording History – I steal quite a lot of stuff for this website, some people get a bit narky with me when they realise I've pilfered their treasured pictures and info, but I'm not here to boost my ratings or my ego – I do it to simply record history, and I've learnt, much to my own (and your) peril that simply linking to other websites ends in tears when that website inevitably disappears, or the user moves/deletes their account – myspace being a great example where pics and info of bands have disappeared en masse! So here's a big-up to me (ha ha ha!), and the others who keep records of days gone by like Turquoise Coal, Pigstock The Movie, Dan Griffiths at The National Library of Wales in Aberystwyth, Dyl Mei and his archive of pre-punk Welshness, Deeside Leisure Centre, North Wales Past Bands, The Bistro Rhyl (last 3 all on facebook),
Adam Walton continues to tirelessly promote new Welsh music through the medium of his BBC Radio Wales Saturday night show. There are those that'll knock him for not playing their band or playing things they don't agree with, but can you find anyone who has the proficiency to introduce an entire nation to countless new bands as Adam does? Acts who would never even have a sniff at national airplay. He also broadcast from the USA this year while on a tour blog with Joy Formidable, the Mold band who have toured the States endlessly. The 3-piece also supported Muse in the UK and played an initmate show in Hendre Hall, Bangor. Also keeping it Stateside was Cate Le Bon, promoting her album Cyrk and the EP Cyrk2, she spent more time over there than over here, quite often with H Hawkline hot on her heels.
Also broadcasting a lot of things Welsh is Cloud Sounds, a monthly podcast done by Ted from his mansion in uptown Manchester, which is well worth checking out.
MWJ – link2wales' dark reviewer and Merciless Savage bassman, has brought us countless gigs and pics over years as he grinds his deathly ways across the country, and this year was no different with well crafted festival reviews of (amongst others) Hammerfest, Damnation, Means To An End, Blastonbury, Supersonic, Dirty Weekend, Bloodstock, Obscene Extreme Czech, Hellfest France, Roadburn Holland, as well as loads of gigs – I'd hate to be his liver (what's left of it..!)

There's been some great bands and releases in 2012, including,
Kyle Lee & The Mexican Walking Fish who made their live bow this year with their mellowed out alt-indie-country music.
Something Personal released 'Tro fo 'mlaen' ( Turn it on ) EP in January, but have had a relatively quiet year by their standards.
Bastions released the wonderfully packaged debut album 'Hospital Corners' with ace splattered vinyl and toured the UK and beyond.
Holy Coves were busy during the first half of 2012 releasing their album Peruvian Mistake.
Gai Toms proved there is life in Blaenau with a double album called Bethel.
Loving Cup released and toured their new album 'One Last Hard Goodbye.'
Rosary release the single Attack
Ectogram released their album Exo-Celestial.
Braxton Hicks brought out their debut EP 'Never Kill Yourself.'
Ex-PSST frontman Paul Hammond was commissioned by Sigue Sigue Sputnik to remix their latest LP.
West Coast Sick Line bring out their debut album 'I Hope You All Have Nightmares, Except Kirsty'
Inferno go on a UK tour.
Courteous Thief single Eyes Wide Open is made Single of The Week on BBC Radio Wales, coupled with a live daytime session on the station, the band also played countless gigs throughout the year.
Isaac Birchall released his self produced / recorded debut album Projekt Noiz.
Sarah Louise played gig after gig after gig and released her album Dreamcatcher.
Skinflick, after a 2 year hiatus bring out the album Kozlowskis Bomb.
Kickstart Kitty change their name to ArtisFiction, produce a great video and continue to rip venues apart.
Plyci releases an eponymous EP on Peski Records.
Mr Huw releases Afiechydon EP.
Impaled Existence spat their new EP 'These Lifeless Plains' at us.
Revolutionary Spirit release new single Last Memories.
No Name Janes have kept themselves busy all year with gigs, including a slot at the 100 Club in London.
Iris3 released their album Battle Crashed & Bleeding, and like many bands, got the post-release blues and split up. As did Seagull Kinevil, who having gone one drummer problem too many decided to call it a day.
I Am Austin released a new EP then disappeared to re-emerge as Beard of Wolves with the single My Dad Drives The Death Star.
Clockwork Radio released a couple of EPs and toured the UK and Europe.
We Are Animal continue to drive forward and announced they'll be supporting Joy Formidable on their UK tour in Jan13.
Keeping it in the family Masters in France made the iTunes Charts with their single Playin' With My Friends thanks to having it on an IKEA TV advert.
Pulco released a new album A Man of Lists.
The Maligned emerged from the depths of Rhyl with an 8-track demo.
Milestone from Colwyn Bay took the trend of giving music away for free with their 'Choices EP', as did Wolves with their 'Cycles EP'.
Mike Peters never stops working, as he kicked off the year in Pontins, Prestatyn with the annual Gathering as The Alarm, alongside endless touring with them and also fronting Big Country. He was also in New York for the premiere of Vinyl The Movie, which was filmed in Rhyl.
Golden Fable got them all excited with their debut album 'Star Map' and enchanting shows, and receiving airplay courtesy of 6music. As did Dan Amor with his Lakeside single.
Gallops brought us the much anticipated Yours Sincerely, Dr Hardcore album, also heard on 6music.
Datblygu returned after donkeys years with a 7″ EP on Ankst Records 'Darluniau Ogof o'r Unfed.'
Euros Childs kept us entertained with a Summer Special album and appearances at just about every venue and festival you can think of.

Adam Ant played a gig at the Tivoli in Buckley, as did Hawkwind, UK Subs, Wedding Present, Cockney Rejects, The Farm, Space, Howard Marks, Bay City Rollers, Stiff Little Fingers, Terrorvision, Subhumans.
Other notable names worth mentioning were Jonathan Richman at Hendre Hall, Turin Brakes, Chris Helme, Kaiser Chiefs in Llandudno. Pop Will Eat Itself, Death In Vegas, Islet, Skindred, Electric Six, Therapy?, Ugly Kid Joe, Agnostic Front, Wooden Shjips, Less Than Jake, DOA at Central Station. Peter & The Test Tube Babies played a Scooter Run in Beaumaris.
Hard Rock Hell Festival was hosted in Pwllheli for the first time.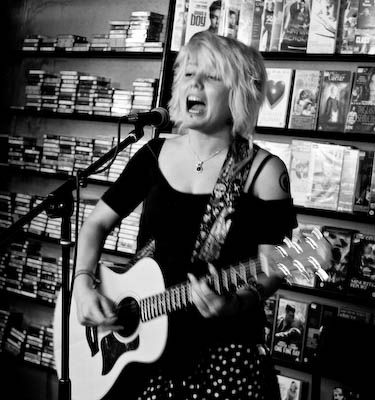 Don't forget all those bands who have been active in North Wales year, including, Morffe, Babylon Leaf, Rotten Plasma, Creision Hud, Poket Trez, Mucus, Cowbois Celtaidd, Cartoon Violence, Mighty Vipers, Shy & The Fight, Houdini Dax, Punchdrunx, Vices, Addicted To Fish, Sue Denim, John Lawrence, Not Onlys, Silver Back Club, Jed Is Dead, Arcade Avenue, The Fades, Bad Excuses. His Finest Hour, Mother of Six, Mayors of ARC, Denuo, Electric Valves, Sona, Gintis, Neil Maffia, Heldinky, Decidian, Leaning On Gravity, Sen Segur, Yr Oen, Afal Drwg, Efa, Chillingtons, Radio Rhydd. Terminal, Rosary, Bet It All In Vegas, Sicknote, Gridlocked, Cowbois Rhos Bottwnog, Burning Out, Standby, Primary Colours, The Intimates, King of The Juice, Wonderlust, Psycodeth, Fag Machine, Nemonix, Danny Gruff & Peacemakers, Bring The Soul, Doppelganger, Orient Machine, Leo's Hide, Deaf Club, Revolutionary Spirit, Mowbird, Baby Brave & The Love Bites, The Uninvited, The Maydays, Seer, Shoot The Rabbit, Straight Jacket Legends, Next Up, Steve Pablo Jones, Luminova, Burning Out, Jack Knife, Catfish & The Bottlemen, Secateurs, El Diablo Rojo, Turnstone, Black Years, Obelisks, Bluebottle Veins, Cold Committee, Tacsi Crew, Hogchild, Heavy Metal Kids, I Fight Lions, Aire, Gallows, Facefish, Memory Clinic, Villanova Junction, Wet Bandits, Subliminal, My Best Attempt, Arkangel, Julyornever, Silverside, Charazard Shiney, Motion Empire, Ben Jackson, Jagged Skies, 3Way, Cythrol, High Nines, Audiobloom, Skambomambo, Warsisters, Fails, Real 7, Fun Spoilers, Metallic KO, Subvoid, Forgetting Last Friday, Crwydro, Quantum Nudle, RedrumMurder, As Titans Fall,  And Abide, Colorama, Detours, After An Alibi, Afterglow, Lucy Was A Decoy, New Suburbia, Flight 49, Future Perfect, Jagged Skies, Vintage Magpie, Three Times Worse, Goat Roper Rodeo Band, Baba Yaga, Taken by Time, Unanswered Fatality, Kryptonite, Hywel Pitts, Carl Foulkes-Jones, The Reads, Sooto, Efa Supertramp, Paper Aeroplanes, Al Lewis, Screaming Witches, Contagious, Taken By Time, Entity, Geraint Lovgreen, Rebel Aces, Unanswered Fatality, Sound Effects Included, John Morris, Pearl Necklace, Dave Elwyn Band, Forgetting Last Friday, Polly, Dinosaur Garden, Radio Friendlies, Beach Skulls, Meurig Roberts, Fall To The Sky, Match House, The Clan, WildFire, The Wreckles, Mainline Power Squadron, Rachel Fox, Drug Couple, Stuck in A Rut, The Universal,  Modern Culprits, 9Bach, Heather Jones, Here Lies A Warning, Georgia Ruth, Defy All Reason, Pressure Drop, Alun Tan Lan, Drymbago, 3AC, The Promise, Waves, Shivering Hills, The Origin, Trwbador, The Ginellis, Entropy, 7 Day Weekend, Leopards, Wee Bag Band, Unit 1, Run Down, Lipstick Traces, Absolute Worst, Adventures In Audio, Ocean City, Andy Gallagher, Plastic Cup Politics, Bob Delyn – and many many more.
Who said the North Wales music scene was dying? Oh, that was me… I stand corrected…
I do this website to satisfy my obsessive compulsive disorder with music, underground music. You need to support it, contribute to it, record it, buy it, see it, read it and love it. Just like I do.
Thanks
Neil Crud
(December 2012)
Should you wish to be involved with link2wales, be it a gig review, record review, photos, tickets stubs, blog, to contribute information or to submit music for review / airplay then please get in touch here to add your band or to talk via the link2wales facebook forum or hit 'Reply' after any page on this site.
I'd still do the site if you didn't, but it makes it all the more worthwhile when you do.