(review n pix by rhys mwyn)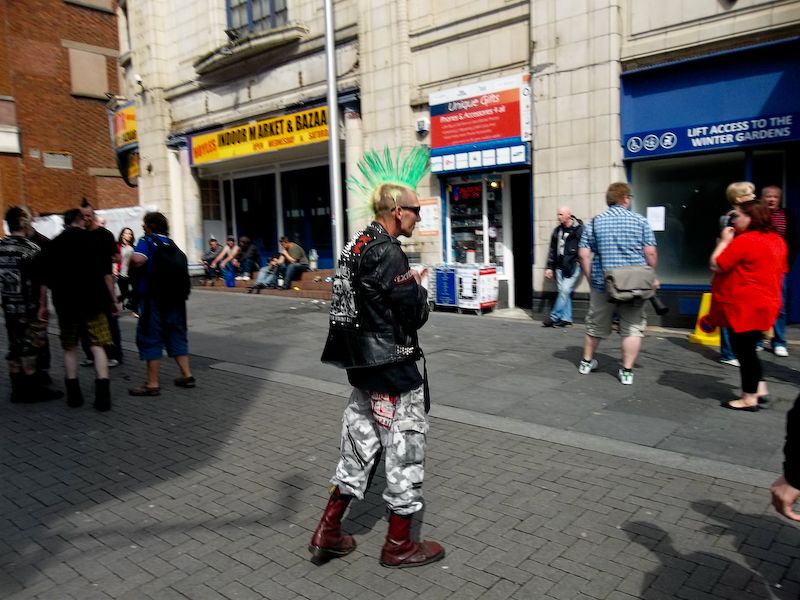 Fel arfer mae gennyf reol, dwi ddim ond yn mynd i gigs os dwi'n gweithio yno. Byddaf yn torri'r rheol weithiau ond ar y cyfan rwy'n llawer hapusach hefo rhywbeth i'w wneud felly pan ffoniodd Viv Albertine a holi os byddwn yn hoffi dod fyny i Rebellion hefo hi dyma fachu'r cyfle, wedi'r cwbl roedd PIL yn chwarae a byddai'n gyfle i ddal fyny hefo nifer o artistiaid rwy'n eu hadnabod.
        Felly dyma ni yn neidio i'r car a theithio fyny am Blackpool, a chyrraedd jest mewn pryd i sortio prawf sain  Viv a oedd yn perfformio ar y llwyfan Bizzare Bazzar. Dyma un o'r llwyfannau gorau yn Rebellion mewn ffordd achos mae'n lwyfan fwy amgen a llai amlwg punky, felly addas i Viv sydd ar ben ei hyn, jest hi a'r gitar, caneuon newydd a dim o gatalog y Slits. Mae'n set heriol mewn rhai ffyrdd, yn sicr i'r dynion, ond yn llawn hwyl hefyd. Hi di un o'r chydig artistiaid sydd yn cymeryd rhan yn Rebellion, sydd wedi symud ymlaen a ddim yn ail-gylchu'r un hen stwff. Ond dwi'n "biased" ac yn cyhoeddi ei chaneuon felly …………

            Dwi'n ffonio Mr Crud i weld os di'o di cyrraedd. Mae o yma ers diwrnod yn blogio. Dyma Neil yn troi fyny i gig Viv a braf cael cwmni. Dwi yn y cefn hefo'r stondin Crysau T a'r CDs – a mae yna werthiant. Am hanner awr ar ol y sioe mae'r hen punk rockers yn cael cyfarfod Viv, cael llun di'r peth mawr dyddiau yma, yn yr Oes Digidol.
            Ar ol i Viv a finnau roi y Byd yn ei Le yn yr ystafell newid dwi'n mynd a hi n'ol i'r Gwesty a wedyn dwi'n rhydd i fynd i weld dipyn o bands. Fe fuo'n i weld Chelsea yn gynharach yn y pnawn, mi o'n wedi cymeryd fod Viv yn nabod Gene October ond doedd hi ddim medda hi. Mi oedd ei lais yn dda, y band yn swnio'n dda ond yn trio rhy galed i wenud Clash poses, yn sicr James Stevenson. Fe paro ni un gan ……..
            Mae'n tynnu am hanner nos, ac ar ol rhedeg o gwmpas yn gweithio ers 6pm hefo Albertine dwi'n barod i eistedd lawr. Diolch byth roedd Bow Wow Wow yn perfformio yn yr ystafell Opera – sydd a seddi. Dwi'n eistedd lawr, ac yn sylwi fod 600 o bobl arall, hen punks, yn meddwl ac yn gwneud yr un peth – hy knackered ac isho eistedd lawr. Rhaid chwerthin.
            Dwi'n gweld for Dave drums a Lee bass yn aelodau gwreiddiol, mae Mathew y gitarydd wedi hen farw, mae Annabella yn amlwg wedi hedfan drosodd i'r gig. Mae nhw'n dda heb os, yn gerddorol fedrith rhywun ddim eu beirniadu, ond o ran pwrpas – be di pwynt Bow Wow Wow ym 2012 ? Dwi'n mwynhau clywed yr hen ganeuon, ond o ran grwp a greuwyd o grwp Adam and The Ants gan Malcolm McLaren, grwp o gyfnod The Face yn ei anterth, cyfuniad o Punk Rock a New Romantics, fedrith rhywun ddim helpu teimlo fod y cyd-destun wedi hen ddiflannu.
            Mae Annabella yn canu'n dda ond mae hi yn fyr o bethau diddorol i'w dweud. Mae hi'n son am "this was a hit in the US" ac yn swnio fel rhywun sydd yn dibynnu ar y gorffennol i gyfiawnhau bod ar y llwyfan, ond wedyn mae hynny yn gorfod bod yn wir o 90% o'r artistiaid yn Rebellion. Dwi ddim yn siwr beth i'w feddwl go iawn.
            Y tro cyntaf i Bow Wow Wow fynd ar daith, dechrau'r 80au, fe wrthodais fynd ar egwyddor – doeddwn ddim isho cefnogi hype arall gan Malcolm ond mi fuais i weld y band wedyn ym Mhrifysgol Caerdydd a'u mwynhau. Heno dw'i mor falch i gael eistedd lawr dwi ddim yn poeni gormod. Mae fel bod yn y Sinema. Fyddwn i ddim yn Rhys Mwyn onibai fy mod yn treulio gormod o amser yn dadansoddi ond heno dwi'n eistedd yn ol ac yn trin Bow Wow Wow yn yr un ffordd a byddwn yn gwylio gig ar y teledu.

            Erbyn i mi gyrraedd yn ol i'r gwesty mae'n 3am. Bore wedyn ar ol brecwast dwi'n teimlo'n dda ac yn ol yn y Winter Gardens erbyn 12pm i sortio gig nesa Viv, sef cyfweliad ar y llwyfan hefo'r blogiwr John Robb. Roedd Viv wedi dweud ei bod ymlaen am 12-30pm ond 3pm oedd yr amser cywir felly dwi'n mynd i'r caffi i gael egwyl ac yn taro mewn i Crud a chael sgwrs dda iawn a mwy o roi y Byd Pop yn ei le.
            Dwi'n gweld TV Smith o bell ond mae o yn ofnadwy o brysur yn gwrthu Crysau T felly da ni'n gaddo cael sgwrs yn hwyrach. Nes i ddim ei weld eto, ond mae Gaye Advert yn dod draw am sgwrs ac i ddymuno yn dda i Viv. Erbyn hyn mae dau aelod o Slaughter and the Dogs yn cael eu cyfweld gan Robb ac yn son am eu dyddiau pan roedd Morrissey, ie Y Morrissey yn gwneud demos hefo'r band fel lleisydd.
            Mi ryddhaodd Slaughter and the Dogs un gan o bwys "Where have all the Bootboy's Gone ?"  Clasur heb os, ond ar y llwyfan mae nhw'n trio rhy galed i swnio fel "ser pop" neu rhywbeth, mae nhw mewn shades, ac a bod yn onest yn swnio fel dickheads, dwi ddim yn eu hoffi, yn colli mynedd. Mae yna ferch o Rachub yn gweiddi "Helo Rhys !" a da ni'n cael sgwrs sydun.
            Mae yna griw da i wrando ar Viv. Mae hi'n son am bob math o bethau doniol, treulio diwrnod wedi ei chylymu a handcuffs yn sownd i Sid Vicious, sut oedd ei pherthynas ar y llwyfan ac oddiar y llwyfan a Ari Up, ei charwriaeth a Mick Jones Clash ac am yr album newydd. Llwyddodd Robb i gadw'r sgwrs i fynd gan roi digon o ryddid i Viv ond hefyd gwneud yn siwr fod y Clash, Pistols a'r Slits yn cael eu trafod er lles y gynulleidfa.
            Rhaid mi ddweud, mae Viv yn dweud pethau mawr weithiau ond mae hi yn ddoniol, a fel dywedodd Strummer – mae rhan o hyn yn wir. Mae hi newydd gael deal gan Faber i gyhoeddi llyfr. Fe fydd hyn yn wych dwi'n siwr. Mae Crud wedi ymuno eto. Mae Carl o fanzine Creemcrop o gwmpas. Braf cael sgwrs, cwmni, nabod rhywun, mae'r ferch o Rachub dal yno. Dwi'n dod o draws criw Port, ffrindiau i Bern Elfyn Presli – rwan dyna chi band ddylia fod wedi cael gig yn Rebellion – er byddai'n anodd bellach heb yr hen Bern – ond mi fydda fo wedi rhoi dipyn o Punk Rock yn Rebellion dwi'n siwr.
            Does dim dwy waith fod 'Parti Billy Thomas' a 'Jackboots Maggie Thatcher' cystal os nad gwell nac unrhywbeth dwi'n glywed dros y penwythnos, ac mae lle i ddadlau fod cymeriadau fel Bern yn llawer mwy real, fel mae Dave Datblygu, beth bynnag da chi'n feddwl mae nhw yn "real deal". Yep, piti mawr na fydda Bern hefo ni i allu chwistrellu dipyn o agwedd i mewn i Rebellion achos ar y cyfan yr un peth oedd ar goll yn Rebellion oedd "rebellion" !!!! Dwi'n taro mewn i Attila the Stockbroker fel mae rhywun ar y ffordd i'r toiledau, dyna ugain munud o sgwrs ar y grisiau yn son am Dave Datblygu.
            Uchafbwynt yr wyl o bell fordd oedd Ruts DC hefo Molara. Da ni'n nabod Molara o'r band Zion Train a fe gannodd hi hefo ni sawl gwaith hefo Hen Wlad Fy Mamau. Cefn llwyfan cyn iddynt fynd ymlaen mae hi'n amau os bydd y punks yn derbyn set o dub a reggae ond mae'r gynulleidfa yn Rebellion yn rhai annwyl iawn – unrhywbeth ond bygythiol –  a mae nhw i weld yn mwynhau bob band.
            Dau aelod o'r Ruts sydd yn Ruts DC, mae Malcolm Owen y canwr wedi hen fynd a Paul Fox wedi ein gadael yn ddiweddar. Mae Molara yn codi ysbryd yr holl Wyl, dyma beth ydi "positive vibes, positive energy" fel 'sa pobl reggae yn ddweud. Mae hi'n bownsio o gwmpas y llwyfan hefo'r fath egni, yn serenu lle roedd Annabella druan yn methu. Mae nhw'n gwenud "In a Rut", gwych, mae nhw'n gwneud "Rude Boys" a mae'r holl neuadd yn mynd yn mental.
            Gwelais y Ruts yn y Music Hall, Amwythig, tua 1979, o bosib y gig gorau i mi weld erioed, yn sicr yn y 5 ucha ac yn Rebellion dyma weld fod rhywbeth yn dal yna, agwedd, ddim yn trio rhy galed ond yn rhoi bob dim, yn gwybod sut i drin y gynulleidfa, a ddim yn edrych fel rejects o'r Clash. Tra roedd Rude Boys yn cael ei chwarae a Molara yn bownsio o amgylch y llwyfan dyma gael fy atgoffa o pob dim roeddwn wedi ei fwynhau am gerddoriaeth yn ystod fy ieuenctyd – dyma'r peth gorau i mi weld ers amser – mae Rude Boys yn gan mor mor dda ………….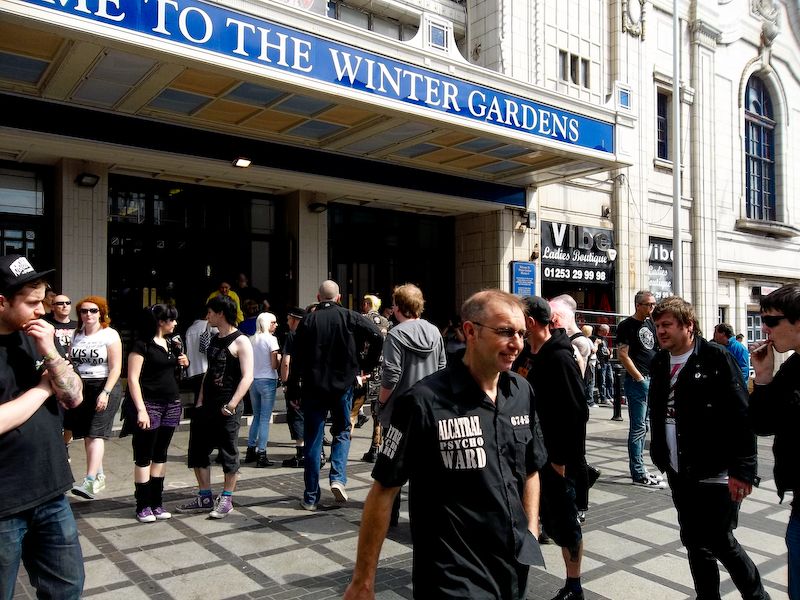 Anodd curo Ruts DC, wel fe fethodd PIL yn sicr. Erbyn 12.30am roedd angen amynedd hyd yn oed sefyll, a reoddwn wedi cael cwmni Richard England o gwmni dosbarthu Cadiz a Robert a Pauline o Penetration, pawb am weld PIl ond erbyn diwedd "This is not a Love Song" roedd pawb am fynd nol gefn llwyfan – a hon oedd y gan gyntaf.
            Roedd Penetration yn gorfod gyrru nol i Newcastle yr un noson, Viv wedi mynd i eistedd yn y balcony felly fe aeth Richard a finnau draw i'r Opera eto, i eistedd lawr, a gwylio The Only Ones. Rwan mae Another Girl yn glasur arall a braf oedd cael ei chlywed yn fyw, dwi rioed di gweld The Only Ones yn fyw o'r blaen. Roedd llais Perret ddigon da, caneuon ddigon Da ond y band (gwreiddiol) ddim cweit yn gweddu, sgidiau rhy lan, jeans rhy daclus fel fydda Datblygu yn ddweud. Mae Richard yn eu mwynhau. Dwi'n gymysgedd o fwynhau'r  tiwns a siom hefo'r band.
            Penwythnos ddiddorol, chydig o bands welais i go iawn, nes i ddim gweld TV Smith na Attila. Mi nes fwynhau penetration ond doedd fawr o gyffro iddynt go iawn. Fe ddisgleirodd Molara felly mi oedd werth mynd yno jest i weld Ruts DC. Siom enfawr oedd PIL. Fel dywedodd Richard wrthyf – doedd ddim yn malio digon i'w gwylio……………..