(review n pix by mwj)

Knowing that there was an imminent weekend's Hammering coming up this was a timely warm up with a concentrated level of extremity that would be in relatively short supply over in Prestatyn. This was a colossal bill from the local Whiplash promoters put together backing the strength of the U.S. headliners reputation as death metal legends, but the rug was somewhat pulled out from under it with the news that vocalist Frank Mullen couldn't make this tour due to day to day commitments. As one of the most entertaining and charismatic frontmen I've seen there was a wonder whether their level of impact could be maintained with a stand-in but the ticket was already bought so lets dive in anyway.

In the unusual position of going up alone for a gig for the first time in a while, but at least the Academy is really easy to get to by Lime Street. The other advantage of driving is I am not tempted by the wallet-raping beer prices in the venue. Think the last time I was here was for a Cult of Luna/Textures show a few years back, and while there's considerably more than was here that time it's still not packed out really. Apparently there were a few who asked for a refund due to Frank's non attendance.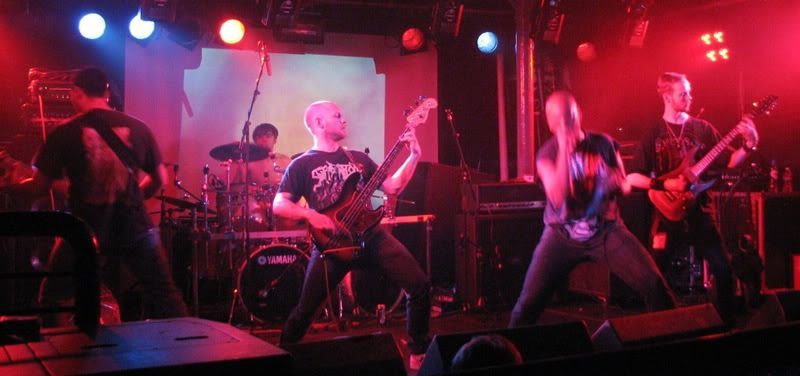 First band, the Dutch Carceri, are a late addition for another drop-out and are underway on arrival. It's some progression on death metal but lacking somewhat of a spark between their performance and the limited numbers paying attention this early on. There are some good shifts in the structure of their songs that keep the attention going, mixing the faster side with some more chugging build-ups, a touch of Cephalic Carnage without going to spazzy.

Had a spell of seeing Cerebral Bore recently, but a gathering impression that they are as much miss as hit (though that hit is repeatedly with blunt object). Its another short set like the rest of the squeezed in line-up and as they specialise in grindcore blasts you'd think you'd get value for money. But for all the times when a song will hit some churning groove there's a lot that just blurs by, and unearthly vocalist Som can seem awkward with her attempts to motivate the crowd.
Mixed opinions on Italians Sadist, some really liked the contrast of their progressive gothic opera tinged metal in amongst all this brutality, I thought it was weak and cheesy and smacked of being bought on to the tour. Fair play, the guitarist was a juggler between his main job and the big keyboard setup he had but I think they would have done better with a rhythm guitarist. Especially as the bass was of the 7 string jazz odyssey style, and the vocalist generally quite shrieky. Still, they've been plugging away since the early 90's so there must be some support for it.
The final half of the bill represented some incredible solidity of reputation and performance. First time I've got to see Norwegians Blood Red Throne and the simple plain font of their backdrop logo proved an apt match for their straightforward but incredibly relentless onslaught. As did the severed head on a spike that adorned the stage. Truly blistering drum patterns underpinned a vicious riffing, and their active pacing of their performance space matched the energy of the songs, highlighting the set with some from their recent "Brutalitarian Regime" release. They may have had some lineup shifts recently but it's a full on show and really stirs the blood.

It was a quiet Central station in Wrexham that last hosted Cattle Decapitation and they seem to have progressed even more in their intensity of delivery of their rabid technical grind. Musically its precise in its sharp shifting multi-tangents from its core and vocalist Travis is horrific in the best way, especially with his control over his higher pitched screams that would convince you there were some kind of effect if he wasn't standing a few feet in front of you. They air some new material from imminent album "Monoliths of Inhumanity" and its monstrous heaviness reverberates through your guts in a most satisfying manner, I will be picking that up for sure.
Finally, Suffocation and from they off they are pretty much on the spot in terms of delivery of their measured violence. Musically faultless, the riffing is almost casual in its effortless keying into an adrenaline shot, I love the bass player's technique of vertical playing with his instrument virtually standing on the floor, the drums are truly battering. With the confidence in the music of a band he considers heroes himself, stand-in vocalist Bill from fellow US deathsters Decrepit Birth takes no time at all in endearing himself to the crowd. Not only can he deliver the guttural roars in fine style but he has great banter in relation to his Godlike appearance, his fathership to us all in the metal family, and his crybaby son, Jebus. He wins in spades by delivering some of Franks' trademark death chops and finger machine gun action, big smile all round. Much referencing back to the '91 classic "Effigy of the Forgotten" in their set, they end with "Suspended in Tribulation" which leaves us hanging for a bit as you kind of know the absence of "Infecting the Crypts" hints strongly at an encore that they duly deliver.
All in all there should have been no doubts that this version of Suffocation and the quality of their main support would have been able to cut the mustard and several important arteries, which will make it all the more of a pleasure if the stars and the clashes align to see them back at full strength at Hellfest this summer.