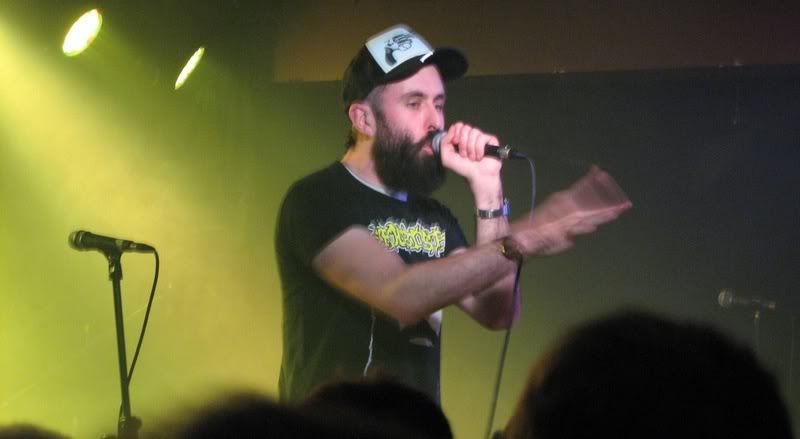 (review n pix by mwj)
It was a bit of a roundabout route that brought me to my latest favourite spoken word rap stylings from the mighty pen and word of Mr Pip. His recent regular collaborator and touring partner from the U.S. B. Dolan had been recommended to me by friends over the pond for its hard hitting beats and intelligent socio-political stance which always wins over the bling for me, and then it was just a hip hop, skipping record and jump across the Atlantic to darkest Essex to be spell bound and tongue-tied by the similarly genius wordsmanship of Scroobius.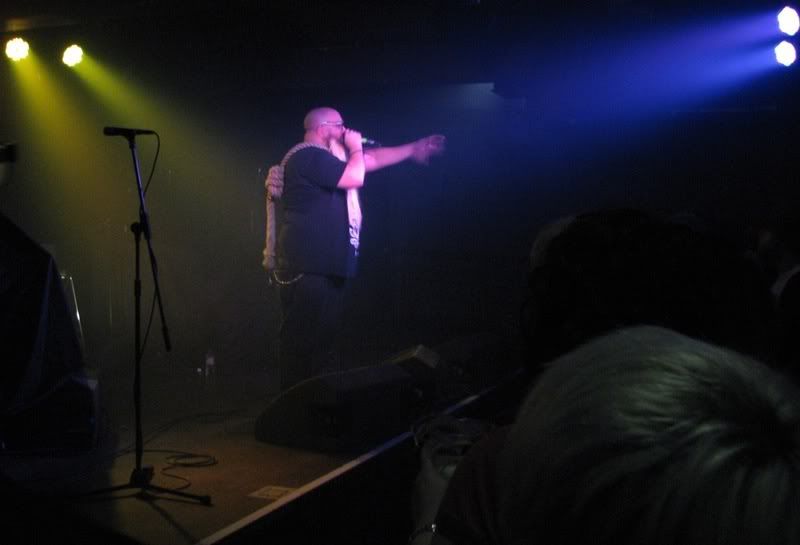 Late to the party for me maybe but I was surprised to see given the rising popularity this gig squashed into the smaller confines of Club Academy, ensuring a sell out at least. We arrived with Mr Dolan (Brendan to his mum) already in flow on stage, commanding attention not just from his imposing bulk but adding to his familiar hefty noose around his neck with a phenomenal bleach blonde ultra beard. Closer inspection and research (no, I didn't tug on it) revealed it was just woven in but cool all the same. Very much the stripped down solo poet, with heavy backing beats that are gradually upped to the required gut punching level, he's also got the confidence to go alone with pure spoken section, with great pacing and clarity. In sharp contrast the complete disassembling of the cunt that is Justin Timberlake to the requiem for Russell Jones (Ol' Dirty Bastard) are just stunning pieces where you can laugh at the extremity at the same time as feeling the pangs of a needle sharp truth slid between your ribs. He throws in random brief covers or samples to add to his own easy going humour and interaction, particularly special was his mimed version of "America (Fuck Yeah)". He only has a short set which goes a long way to promoting his recent "Fallen Houses, Sunken City" album on his own label which I take the opportunity to pick up on double vinyl with some impromptu new artwork done by the man himself. There's a new one coming as well and it's on the shopping list too.
Both him and Scroobious are running their own merch at the back of the hall and yet again it's affirming to their down to earth approach and realism, no rock star distance developed even if the latter has moved on from playing to queues at other peoples shows. He does have a live band though in the form of a guitarist and drummer to add to his backing beats and samples but when he joins them on stage, armed with a bottle of wine for refreshment, there's no kick in but just the start of ongoing random chattiness. Charisma is there in spades and his digs at the crowd can't help but break out smiles all round. He has some storming songs to get things going of his latest "Distraction Pieces" album, with this set up I am much reminded of the revitalised Senser I saw here in mancland before Xmas, or even the electronic intensity of Atari Teenage Riot. In "Death of a Journalist" or "Try dying" here's a union of punk/rock and hiphop but with so many more ingredients and facets to it that makes for something else altogether.

The less hectically paced songs over the space for thought and appreciation on his sharp rhymes, and the reflection of his acknowledged influence Gil Scott Heron is plain, making me a touch sadder that I never got the opportunity to see him. Even brings out an armchair to chill in while reciting "1000 words", I suspect he knows it but a good opportunity to flick though his excellent illustrated words book that I also invest in. It's taken right back and dropped right down to the slowest ballads on the album, where he also has the beautiful vocals (and vocalist) Tasha Fox to join him, and everyone has the patience and attention to drift along with the melodious pace. B Dolan's back to help for the raucous "Soldier Boy" and we even get a bit of Sabbath's "Iron Man" as backing to an earlier song. With most of the wine gone it looks like things are winding up and with some final wind ups of the crowd "Let 'Em Come" bounces the room to the roof, and then we still get treated to an encore of the final stomp of "The Struggle".

And yet time to squeeze in another "sexy tune" that has everyone back on stage (Dolan in pimp/disco suit, Tasha Fox in considerably less) for a cover of Prince's "Get off". The whole thing is fantastically entertaining, a proper party of a gig that at the same time has the capacity to ram home some of the thought provocation intended. These guys have the ability to talk to you as a friend, whether that's deadly serious or hilarious, and I've always got the time to listen and learn.