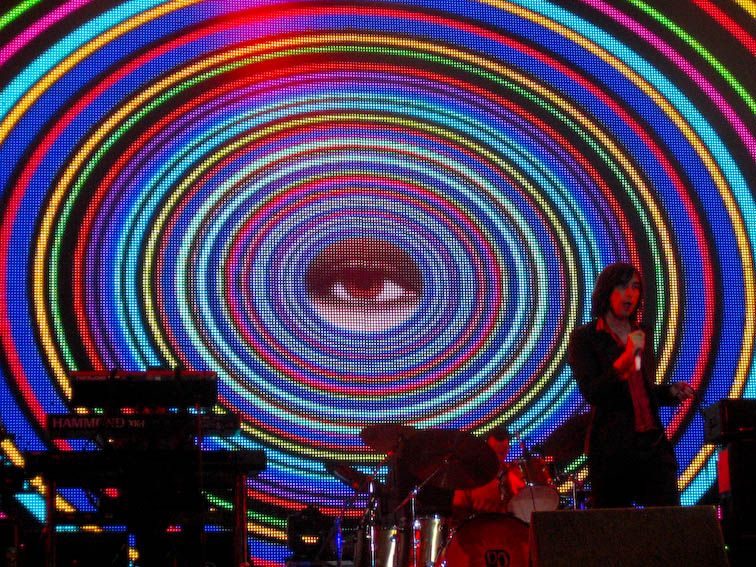 It's all about the money honey… No kiddin'!!! After numbing the pain of the V line-up two years ago with more cider than a Wurzel could handle – I vowed to leave this long term friend to the people who it was gearing itself toward in latter years.
But when I was offered cheap last minute tickets I thought we could spend the weekend hunting out new life and new civilisations in Weston Park. A tall order now for a festival with the sole purpose of bleeding you dry, pumping you with safe music and says bollocks to anything like a 'fringe tent' for up and coming bands.
'Up and coming? Has Cowell or Chris Moyles ok'd them?… No..? Well fuck 'em, the kids aren't interested in discovering anything we've not shoved in their faces…' (Will the last one out please turn off the light, oh, and mind the syrup!)
All my recent reviews have been moan, moan, moan and then a little bit about the bands… So while I'm on a roll, let's have a whinge…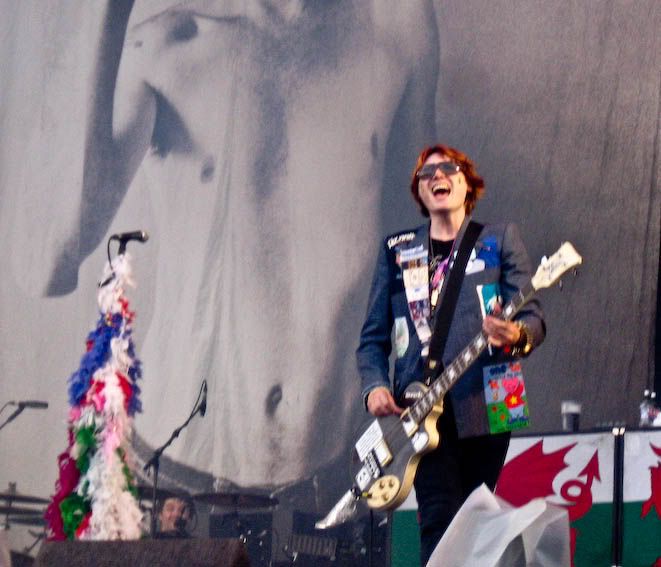 Even having my brother Jordan on car parking duties didn't stop the Vastards charging £15 to stick the Crudmobile in a field – Don't get me wrong, money makes the world go round, it's what our society was built on (blame the Romans) – I love money – I love to buy things and I love a bargain – I have to earn it to spend it. What I hate is being ripped off… Fuel prices spring immediately to mind! I'm not writing this review with revolutionary thoughts (the chavs would only go looting anyway, and then stab you).
It's so easy – easy! Marketing reaps BIG money and you can't blame the kids – they're force fed shit and they believe it, scoff it up. They won't subvert, and the majority wouldn't dream of seeing a band they've never heard of. Maybe 50,000 saw Manic Street Preachers and only 5 of us got it and 3 were in the band! The crush at the front were kids crammed in awaiting (fucking) Rhianna and the soon to be £2m richer Eminem. They (the kids) were totally bemused by the Manics, and the Manics were bemused by them, and I wouldn't have blamed the band had they said 'Thanks for your money, wankers. Enjoy your syrup dripping pop.' They sadly didn't; the normally outspoken Nicky Wire instead chose to play Motown Junk with his back to an audience new to this seeing band's game.
If you think for one minute that Radio One and even daytime 6Music or the NME is anywhere near cutting edge or risque, then you're so wide of the mark you may as well join the Blind Amputees Darts Pub Team. Everything you hear thru those mediums has been paid for by some corporate pimp – pushing his whores, his drugs, his filth, for ONE THING… your money, or more importantly… THE KIDS MONEY.
This isn't new, Stock, Aitken & Waterman manufactured Kylie, Jason and Rick Astley. Chinn & Chapman helped turn The Sweet into a knicker wetting phenomenon in the 70s, even Leiber (RIP) and Stoller pen pushed Elvis… These song writing factories taught the Cowells of this world all they know, and now they're clever enough to control and own the TV companies that push this shit onto our screens. When you hear The Script in the background on a radio on Coronation Street, it's not by chance, RCA have paid for it to be there. When the same band are telling you should dig deep for Children In Need, they're really thinking 'Fuck the kids, buy our new single,' or at least RCA or Epic are thinking that.
A new disaster? Let's line up the cattle and get them to make a single – we need the add on sales. If they really gave a fuck they'd work in a soup kitchen.
It's all about Product Placement – from the shelves of Tesco to The V Festival to the next tsunami – it'll wash over you and you'll duly part with your fivers and tenners. As HMV demises, despite it too being a consumer pimp that crushed the independent stores; the supermarket takes the lion's share of the pocket money and snuffs out the opposition. This of course isn't just music – 20% of high street premises are now empty in some towns because the supermarket has squeezed the lifeblood out of the small trader. Know Your Enemy!
Yes, yes, yes I know I shouldn't even be at V, and yes, maybe I should pass on the baton at my age and gracefully accept that time and music moves on. Stop clinging onto times gone by…but… V was once a great festival – great mix of bands, not too big and better marshalled (less tent ransacking, less trouble and less heroin than other fests).
The writing was on the wall years ago when the likes of a Spice Girl crept her way onto the line up (& was duly pelted with mud) and year on year, the novelty acts like Sugababes, McFly, Chipfuckinmonk began populating the line up more and more until the likes of The Manics become the novelty act and Olly Fucking Murs, an X-Fuctor runner up with the pedigree of a council estate mongrel has 80,000 screaming kids lapping up this new star.
You can't blame da kidz – they're brimming with a need for The Wanted and The Saturdays, some will learn that there is an underground of real talent and I also know if all these kids started loving our music, it would stop being our music and the fat cat fucker would be muscling in on our scene. This weekend just came as a shock, seeing mass hysteria and a realisation that the masses will never rise against the classes, and it's hard to think of a reason why they should, when there's nothing left to believe in.
They're clever these corporate pimps – education and indoctrination; get 'em young, force feed them your propaganda – make them believe – don't give them a choice – let them think they're being subversive for buying an album called Doo-wops & Hooligans when they're really paying into your hands.
How can I rave about the music when I'm so cynical about coming to what is now basically a money laundering operation one rung down from a motorway service station – Programme (pamphlet with some glossy pics in it) £10 – where's the line up times? They're an extra £7 in the shape of a laminate.. Got you by the balls… Luckily for ourselves a Richard Branson in the making was at the car park selling photocopies of the line-up times for a quid (clever boy).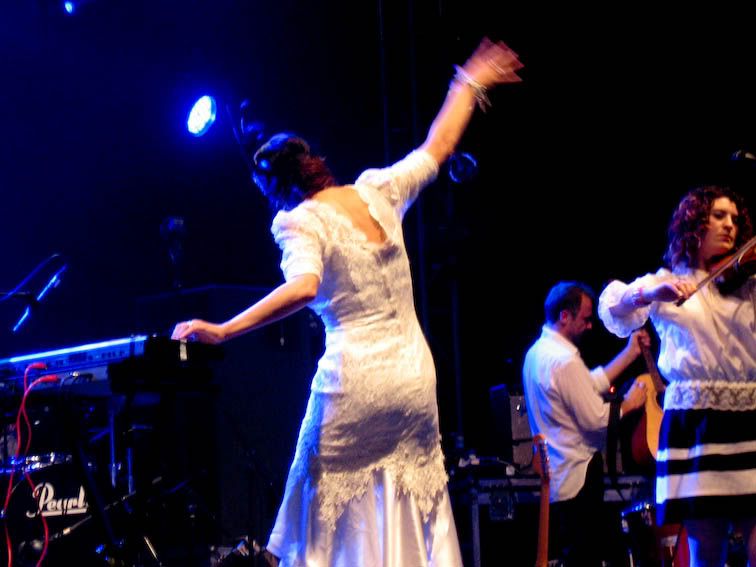 So to chance upon a great new discovery like The Mummers (new to me anyway – pic above) was a godsend. In a tent, to only a few people (like British Sea Power a coupla years ago), was a bonus. A stunning front girl in the form of Raissa Khan-Panni, in a wedding dress and hi-top converse trainers, who scored media interest a good 10 years ago before re-emerging in 2009 with a style of music that sounds like a film score. She has the sweetest voice this side of land of my fathers.
Kicking off the weekend however on the main stage was that Irish Rockabilly Lass, Imelda May (pic above), and despite sporting a sprained ankle she hopped and bopped her way through a quick half hour of greatest hits (which has gotta be done at a festival I guess) from her 3 albums, No Turning Back, Love Tattoo and the more recent Mayhem. After the penultimate and brilliant Johnny's Got a Boom-Boom we were treated to a psychobilly version of Tainted Love (on Mayhem), which even got the hungover zombies going, who had totally xs'd at Fatman's Disco the night before.
Changeover between bands gave the big screens a chance to peddle you more of their filth; The Wanted, those pioneers, those modern day Geldofs urging you to help the starving children in Africa – product placement people! Pictures of Starving Children Sell Records.
I don't know The Wanted, never met them, but their debut (and No.1) single was called All Time Low, which just about sums it up. They're probably very nice boys and I'd probably do the same if I was in their position, but they do need piss throwing at them for what they stand for, and it's a shame V is a bit more reserved on the piss throwing front as had The Wanted turned up at Reading, they'd have made the Piss Piss Piss porno trilogy look like a trickle.
And I guess that one day one of them will make it to Reading when he decides he really wants to be a rock star and forms a rock band; but the Reading crowd will see through that shit… and cover him with piss…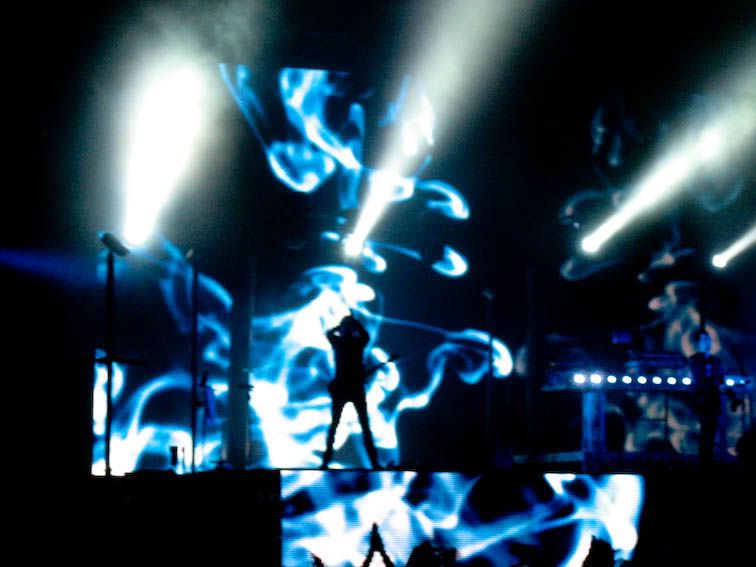 I've seen Pendulum (pic above) twice before. On my watch they were twice upstaged by Prodigy, who showed them how to do it properly. Today, there wasn't a flint in sight and Pendulum put on a spectacular show. An incredible stage set up, even more so when you realise this is a festival and not their own gig. When you consider Imelda May could've brought herself, the band & the gear in two cars, Pendulum need a convoy of trucks to cart that lot around with them. It was a feast for the senses and the godsend that was Rhianna and Eminem guaranteed a chav free 2nd stage. This is how The KLF would perform if they were around today. Looking forward to their more punk orientated forthcoming release.
A wee bit drunk, we chanced our luck after Pendulum and headed down to the front between bands. Lady Luck looked upon us and gave us front row railings to lean on and tickets to see Primal Scream (pic below) end proceedings for the night. Pendulum were a hard act to follow, but P.Scream are old hands at this and treated us to a funky screamadelic showcase of that pivotal album of 25 years ago. Loved it.. Fucking loved it….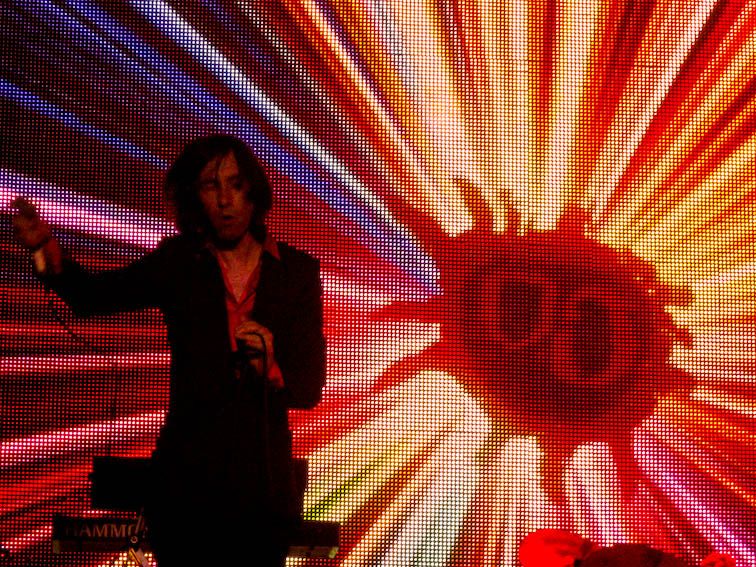 Rain overnight put paid to our tent neighbours from Bury keeping us awake for a second stint of campsite partying, and we were fresh faced and bright eyed to catch Fun Lovin Criminals (pic below) open up on a glorious Sunday at high-noon. Cocaine does make you thinner like they said, and FLC are happy to prove via their waistlines that they most certainly don't take it! I've waiting a long time to see this band and they didn't let anyone down, being cool enough to shit Cornettos and ace enough to get even the most dreary of last night's toxin takers dancing. Check out Huey Morgan's ace Sunday show on 6Music (HE chooses the tracks!).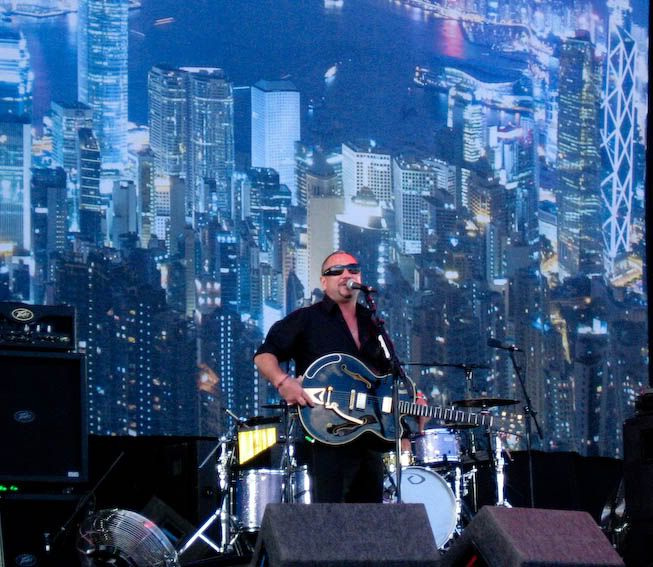 We met up with Steve Sync's entourage and headed over to see our very own Mike Peters (we own him you know!) front Big Country (pic below) on the 2nd stage, with an appreciated and energetic set (Sync said it's the best he's heard them – this being the 3rd time this year). Then a jaunt back to the main stage for a sit down and sunburn amongst the litter while Ziggy Marley throbbed his reggaeness across the landscape.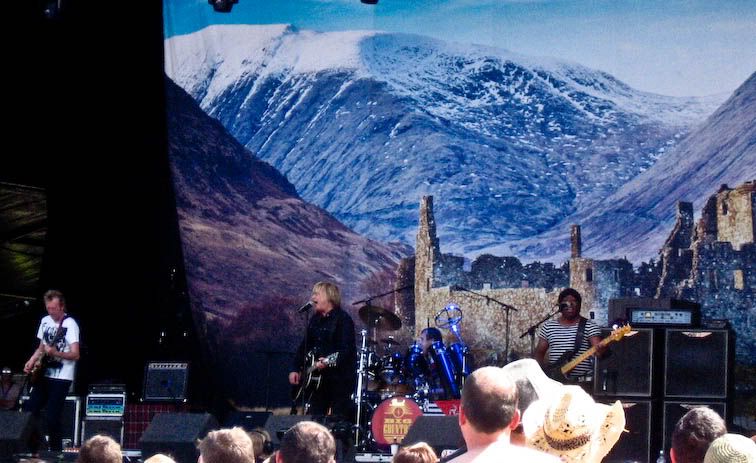 Really should've made the effort to see Airbourne Toxic Event, Morcheeba, BAD and The Pierces, but hey-ho, let's go and see Beardyman (pic below), a must-see in the 12000 capacity Undercover Tent – we got there a bit early and felt out of place as Maverick Sabre had those 12000 chavs eating out of his hands for a long time – so long that the plug was eventually pulled on him (there is a God after all!). Anyway Beardyman – or Darren Foreman to his old headmaster, is someone who can tour in a car as all he needs is a table to house his Effects Unit. What he does is build songs up around his human beat box skills, looping them to create fantastic pieces, full of self-depreciation and a wicked sense of humour – check him out on YouTube before you check out the album 'Mum I Done an Album.'
We decided to finish the festival with 70 people rather than the 70,000 crammed to see Plan B, Arctic Monkeys or 12000 for Chase & Status or the 3 who watched Dizee Rascal – we took it on ourselves to bop the night away to the DJing skills of Dom and Brad, better known as The Nextmen (pic below), and despite the fact we brought them some Jagermeister, they opted to scoff all the Maryland Cookies themselves. They may have been making your neighbours complain since 1999, but they've been doing it in style. Great way to end the weekend…