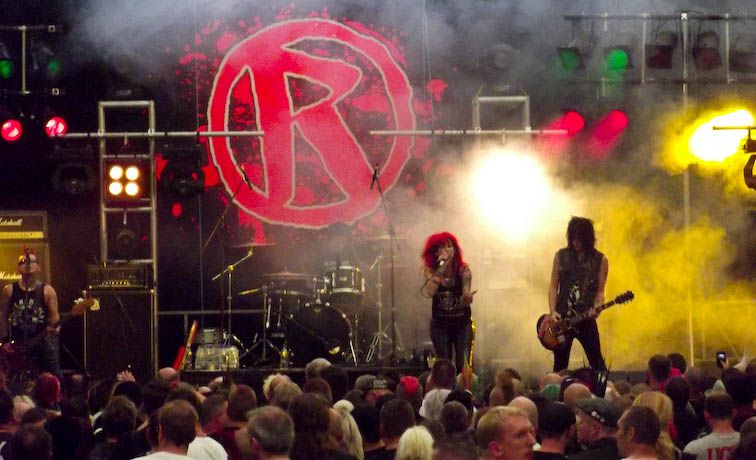 Hey, it only took 15 years to actually get round to doing Rebellion (silly boy) – how I have missed out on this gathering of the clans, the masses against the classes – or (what it really is) a damn good piss up with like minded people all here for the love of our music.
Crass once told us that punk was once an answer to years of crap, a way of saying no, where we'd always say yep. Once that initial second wave of punk petered out into the dustbin end of Riot City's label output (Chaotic Dischord etc), it was split into numerous factions, politicised beyond even the imagination of a left-wing lesbian sociology student of mixed race brought up by a muslim/jewish couple in a flat above the BNP's head quarters. It sucked big time… The anarchists were merely Nazis, hell bent on you believing in their way of life, and god help you if you found anything involving sex remotely interesting or funny. Getting drunk and having a laugh? Not a chance.. Fuck off… (I'm ranting again…)
For people like myself who produced the Crud fanzine and Trev who did HAGL (Have a Good Laugh), I was barracked and Obama'd out of places like Leeds, Bradford and Manchester for being a sexist pig, how fucking dare I mention PMT in a jocular way and snigger like a school boy at the mere mention of farts, willys and bottoms. What I should've been doing was preaching about how shit life was and that we could smash the system by growing our own vegetables and bricking butcher shops, but still claim my dole as it was my right (beat the system eh?!).
Praise the lord we somehow ended up being like-minded – Blackpool is a multi-coloured melee of mohicans, studs, tattoos and cider – we are all here for the common good, a celebration of punk rock. Yeah we'll all have our own political / anarchist views and feel very strongly about issues that are dear to us, but you're not going to get a kick in the eye for eating a death burger or berated for being drunk, or scorned for being chemically enhanced or ridiculed for snogging someone of the same sex.
Joe Strummer once sang, 'Turning Rebellion into money' – thankfully Rebellion isn't about that; yes, you've gotta pay the bands, they; after all have to make a living, and I do remember those fascist fanzines in the late 80s hammering Conflict for charging to do a gig, saying how hypocritical they were for screaming about anarchy and then wanting you to pay for the privileged. Anyway, Rebellion is a place where you won't get O2'd or Vodafone'd to death by your phone to download the latest Cravats album, neither will you get Virgin Coked up in the bogs or HSfuckingBC'd or AA'd or RAC'd while you're queuing to see Rubella Ballet. The only sponsorship Rebellion took was from Jaegermeister and the cash was used to produce an excellent programme for the weekend, printed, nice and glossy full of pics, line up times and interviews – and given to you FREE on the way in. How refreshing! Imagine doing that at Download or V – imagine not paying TEN FUCKING QUID for a shitty programme or a fiver for a laminate with the line-up times or £4.50 for a pint of warm shit labelled 'lager' – thank you Rebellion for keeping it real – £100 for four days of sonic bliss – that's about a quid a band. It's run by punks for punks, and not by some corporate whore (probably the same twat that invented motorway service stations) hellbent on arse-raping your wallets and purses dry in the name of rock'n'roll.
(Have I been ranting again?… oh dear… it looks that way…)
Despite being cheap – financial and time constraints kept us down to a one day – one night visit. Breaking in gently. A friendly atmosphere greeted us to Blackpool – there was a party feel about the town and the Winter Gardens – all the old heads were there (the over 40's) – a huge gap as usual down to the Under 25s – (those in the ages between missed out on all this due to acid house and Britpop).
I'm sure Charlie Harper was stalking us as he popped up behind us in a fruit n veg shop, toy shop, a cafe and a clothes stall – But never mind losing my love to a UK Sub, 'Jonathan King fucked my ring' was a familiar lyric being spat out, and it could only be 3CR (pic above) and it was great to see such a large and appreciative crowd giving them a damn good heckling!
Met Trev HAGL for the first time, despite being partners in fanzine crime since 1987 – he was there with his better half Dawn, and we had a bit of drunken to and fro-ing after watching a skinhead moonstomp courtesy of The Warriors.
Caught a bit of Hooligan, Texas Terri Bomb (main pic) and it was ace to see Drongos For Europe play to such a huge crowd.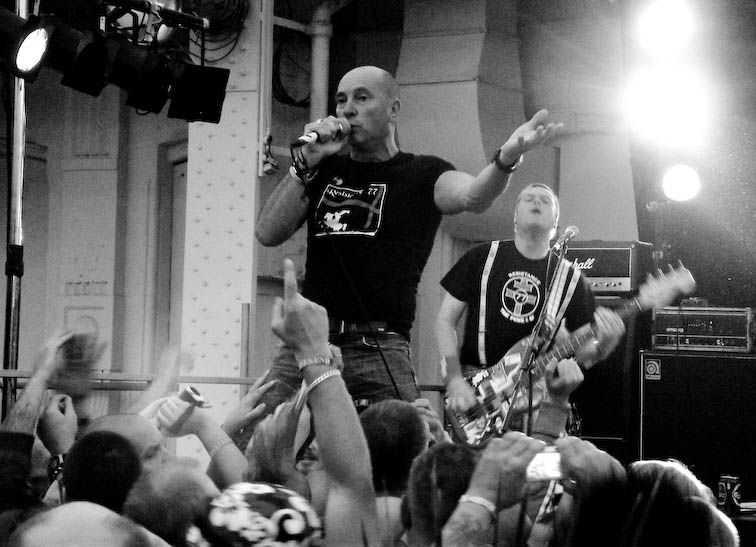 Time to relive my teenage years – Resistance 77 (pic above)- a band that used to send me tapes of their rehearsals when I was about 14 and I used to phone the bassist Kieron Egan up and moider him about all sorts of bollocks. So it was a bit momentous and nostalgic to see them on stage for the very first time, but a bit disappointing that we didn't catch the full set, so I dunno if they played my old favourites like Enemy and Thoroughbred Men. We did get a good pre-emptive tribute to the forthcoming London riots with Bricks in Brixton, which was their first vinyl outing (on No Future's Country Fit For Heroes compilation). It was an energetic set (again, in front of a huge crowd) to rapturous applause and I had to add to my new hobby of rare mug collecting and purchased one of only 30 R77 mugs made!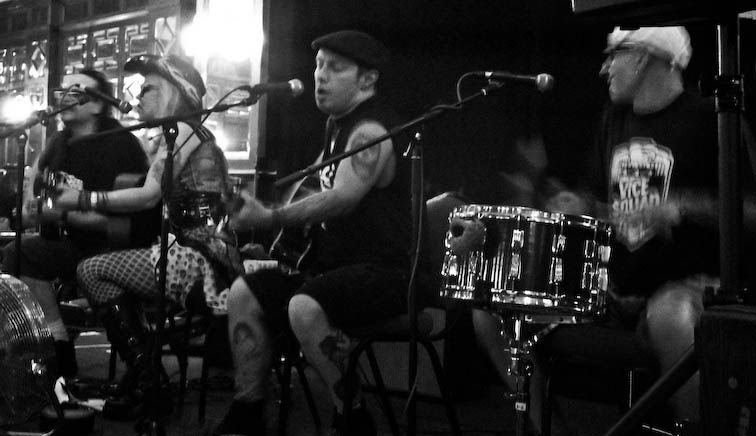 Vice Squad kept themselves busy, and off the beer by playing an acoustic set on one of the 5 stages. Billed as The Dirty Folkers (pic above), we were treated to a sit down, knees up mother brown, how's yer father singalong before we snuck off for some Anti-Nowhere League (pic below). I saw them in Wrexham 2 maybe 3 years ago and they were a parody of their former selves – tonight they shook off that image and produced a fine set in front of thousands of punks, re-living past days or, as in many cases, seeing them for the first time as there were plenty of people here who weren't even born when Streets of London was first seized by the Obscene Publications Squad because of the lyrical content of its b-side So What. My highlight was For You – could've been a No.1 hit had the band not been chicken shaggers from Hastings.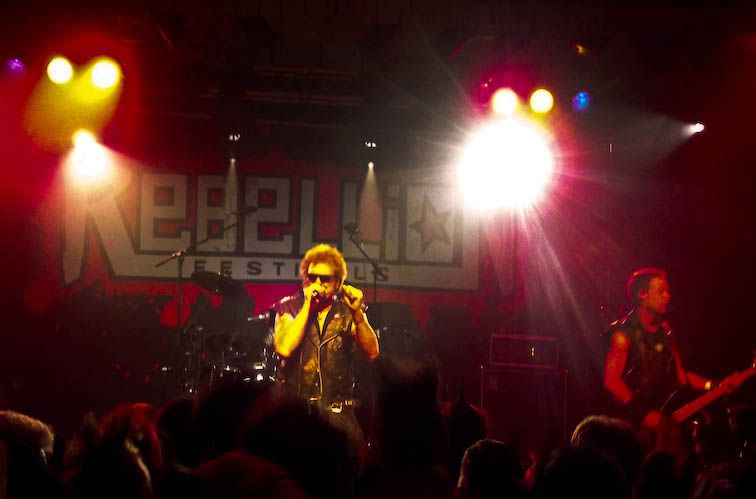 Next up were GBH, another first time for me and having bought Leather Bristles Studs & Acne, No Survivors, Sick Boy, Give Me Fire with hard earned paper round money when they first came out it was another trip down that lane of memories – unfortunately the £2.80 a pint lager rendered by memory blank, and I recall seeing GBH but don't remember a bloody thing!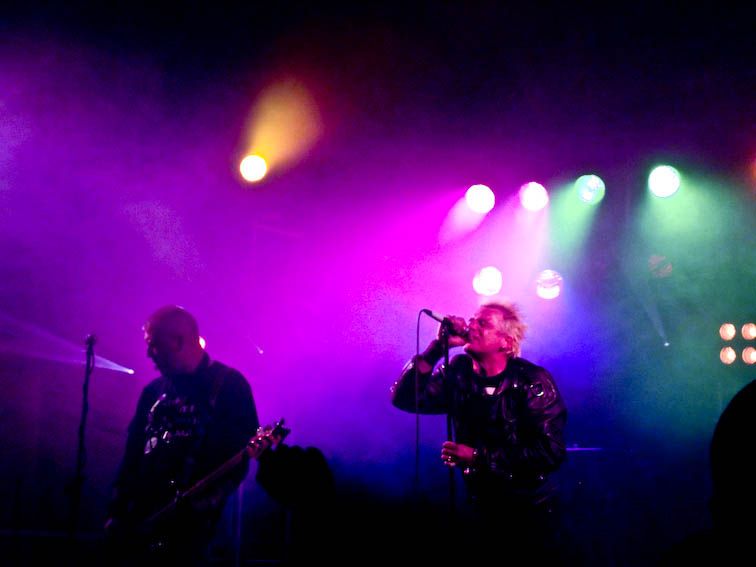 Which then leads us to The Damned – how many times have I seen them? I dunno, and I don't care – there's some bands you'll always love, even when they only play what was basically a greatest hits set… Love Song, New Rose, History of The World, Eloise, Under The Floor, Wait For The Blackout, I Fall, Neat Neat Neat, Ignite – don't think they played anything off Grave Disorder or (the disappointing) So You Think You're Paranoid. After the inevitable Smash It Up, we had an encore of an impromptu Nasty followed by a danceable Disco Man.
Don't remember getting back to the hotel but do remember the stinking hangover the next day – gonna book the B&B early for next year. If you've never done Rebellion before, mark it on your calendar now and we'll share a beer or twelve in 2012.