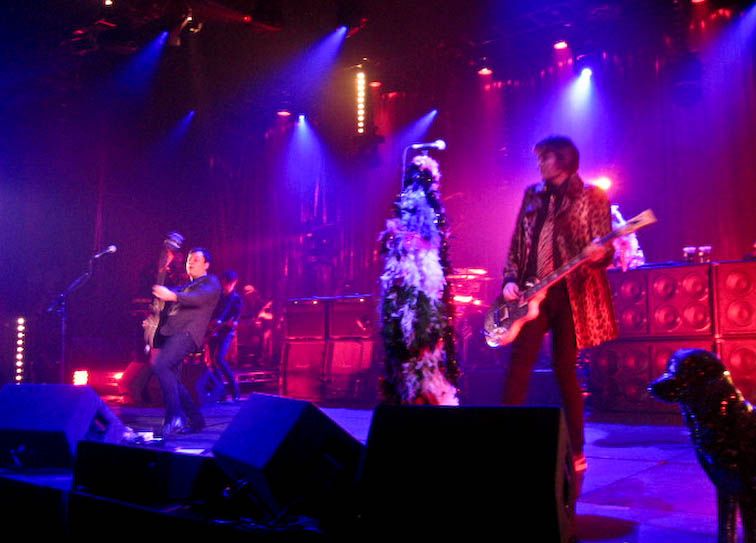 No wonder Nicky Wire smiles throughout the performance – the Manics grossed about £80k in ticket sales for this gig alone. Not a bad job if you can get it, and they are worth every penny. Granted, you have to pay for the venue, the staff, the roadcrew, two tour buses, the stage, lights and sound transport, catering, accommodation etc… But there's still a fair few pennies left to afford to mooch around the shops for a leopard print jacket. Yeah, I'd be smiling too.
I'd also be smiling if I had a tiny fraction of talent within me to write such everlasting songs – from rousing anthems to melancholy ballads to pure punk rock – that's what ten albums worth of material spanning a tumultuous career gives you – a back catalogue to cry for.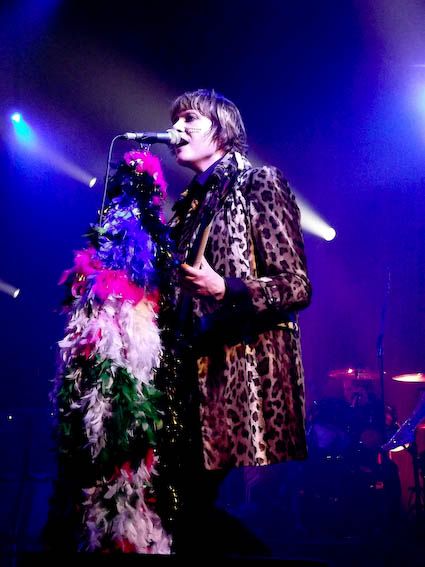 With a new album in the bag and already toured, the Manics didn't really need to push Postcards From A Young Man, which is a shame really as it's such a damn fine album and only represented tonight by its title track, It's Not War and the Kylie-esq Some Kind of Nothingness. That apart, the representation spanned the ten albums with 21 songs, with enough variation and enough hits to keep the curious satisfied and enough 'core' songs like Enola Alone, Of Walking Abortion, Masses Against the Classes to keep the proper fans happy. Incidentally, Masses Against the Classes was the band's second UK No.1 (after Tolerate This), I say this because (in a Paul Daniels voice) not a lot of people know that. It was released for one day only in January 2000, sucker-punching Westlife off their top perch in a ram raid on the charts.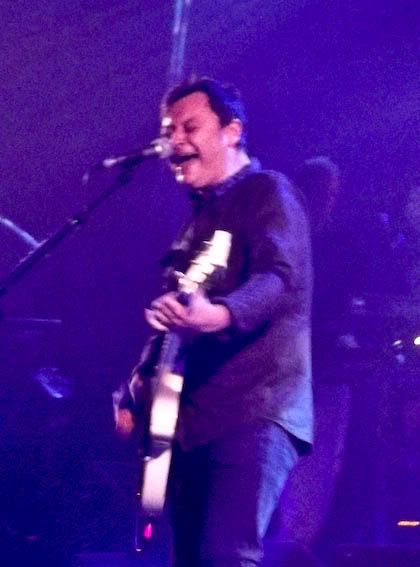 It would be a full year before the singles charts would be Manic driven again, with a double assault on the top ten when Found That Soul and So Why So Sad were both released off their sixth album 'Know Your Enemy'. That LP wasn't represented by these songs tonight, instead Let Robeson Sing was given an airing.
Anyway, the charts mean fuck all now – I couldn't tell who is No.1 and even if I could, you and I probably wouldn't know who the artist was, or even care for that matter as they'd lack the pedigree, having been formulated by some TV (no fucking) Talent Show to make a fast buck from the mindless public.
This is why I fear for the support band Joy Formidable; the jungle drums are well and truly beating for this trio – a record deal and a big rip roaring début album. Tours playing lesser venues of the UK, Europe and Australia since 2009 and a trip to the States have also put them in good stead for the bigger things to come.
They're not very good at hiding the fact they are a fucking good band, building up on that pedigree and watching them, you sense that the oyster they cherish so much could very soon become their world. My fear however, is that some snivelling record company exec gets his filthy claws into them and strips them of any individuality and sets them up for the big time. Yes, it might make them a few bucks but you could see a well paid producer ruining that wall of sonic beauty this band from Mold have created.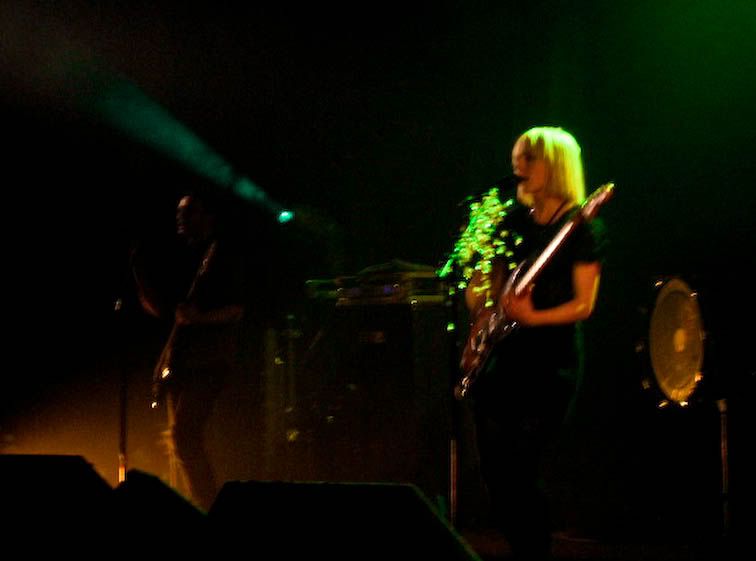 It is that sound that sets them apart – 'The Big Roar' does exactly what its title threatens to do, it roars at you, blasting into your senses. On stage they are the same, with more pedals than a mass cycling proficiency test in Mold, Joy Formidable set out to assault you with layer upon layer of textured sound, pulsing through your brain as it hypnotwists you with hooky melodies backed by blast beats from an insane Dave Grohl'd drummer.
Joy Formidable's focal point is undoubtedly the peroxide 5' 2" singer-guitarist Ritzy Bryan, who is most certainly wired on stage, she is possessed, with the stare of a special needs patient on day-release, a voice like Gold Vodka and has a real bond with her guitar.
For most bands, opening for the Manics in Llandudno would (quite rightly) be the pinnacle of their career, for JF this tour is simply a stepping stone as even the polite rippling of applause grew into cheers as the short set drew to a close.
Don't be surprised to see them in bigger venues after the festival season, let's just hope that Rhydian still throws his bass at his amp, Matt gallops over his drums like a crazy horse and Ritzy stays wired for sound. To see them Gwen Stefani'd or Bananarama'd would be a crime to humanity.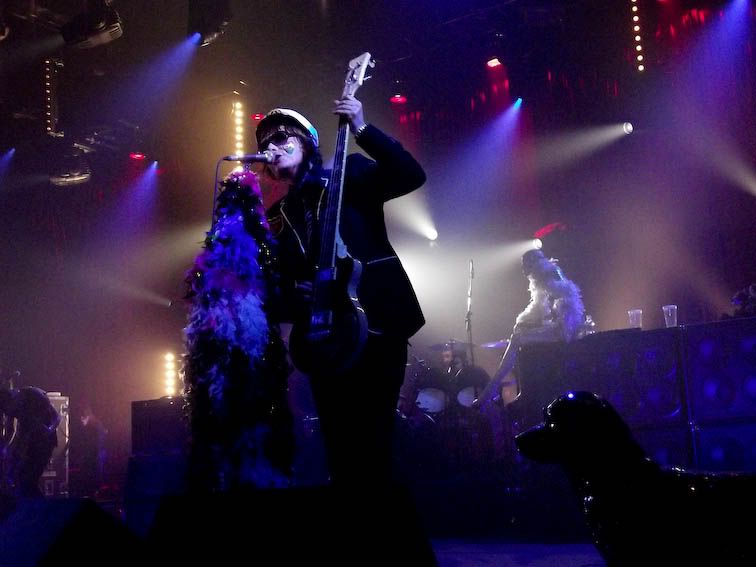 My third Manics gig in six months – the previous two I did not review, Blackburn was more highlighted by sharing a beer with them in the dressing room prior to the show rather than the actual gig as the audience was a little like tonight's – as in, big band come to town, let's go and see them and dance to Design For Life cos we only wanna get drunk.
The Manchester Apollo show a few days later was much better, and probably topped tonight's performance too on the count of the frenetic crowd.
So, a sell out in Llandudno, the Manics back in North Wales, a place they first visited in 1991 when they hit the Tiv in Buckley in front of 6 people; although as James Dean Bradfield said; probably 500 people have claimed to have been there! On their previous visit to Llandudno Nicky Wire had a prolapsed disc and was forlorn figure compared to the leaping, skipping and dancing bassist he is tonight. The jabbering was on form too; happy to interject between the songs early on.
Oh yes, the songs… it was a good mix of fast, slow, Faster, slow – spanning those albums and Suicide is Painless (which seemed to go over most people's heads). Life Becoming a Landslide represented 'Gold Against The Soul' and by the bands admission wasn't a favourite album of theirs, Nicky described it as 'shit, but with some of the best guitar solos you'll ever hear.'
A few of my peers agree with the band. I'm in the majority, I love that album, like I love The Clash's 'Give em Enough Rope', it's what got me into the Manics, far more than the double debut.
The Skids' Into the Valley had been introducing Motown Junk on the previous tour, but tonight (and for one night only) we had Yr Hen Wad Fn Nhadau on guitar (kind of!) before the front rows erupted and also an impromptu 'Llandudno shook me all night long' (a la AC/DC) before saying goodnight with Design For Life, which of course had the whole place erupting.