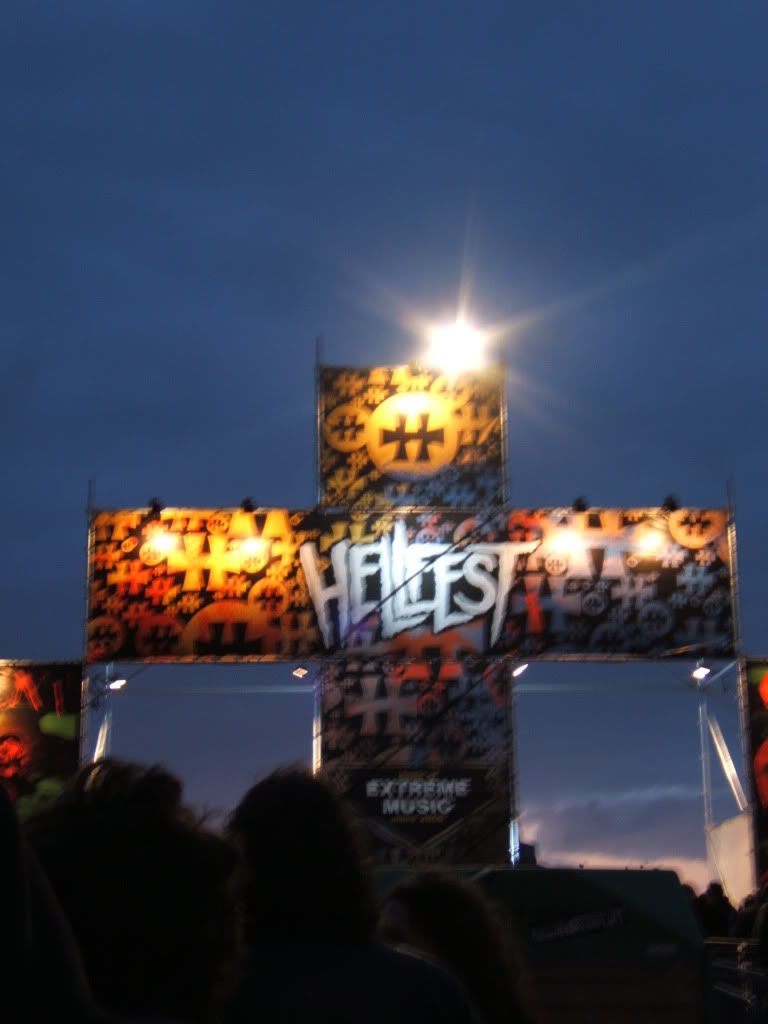 I think I referred to being in the presence of legends in one of our previous three visits to Hellfest, Tony Iommi and Geezer Butler then and this year the daddy of them all, Ozzy Osbourne himself providing one of the headliners but for me the legends I appreciate the most on these expeditions are my friends, this mutual kindness, laughter and insanity.
Some are always there, some come and go, some join anew but time and time again the ingredients mix with copious liquid lubrication to create memories that have to be written down in lore. Or stuck in Photobucket. We may head off on different tangents from the metal/punk/rock core that unites us all but that is exactly the joy and success of Hellfest, it combines the traditional, the extreme and the experimental in a way that no other large festival seems to do. A lot may hit a couple of the bases, or specialise in one, but this model over here brings a great atmosphere of universal happiness for all interests. For those about to bang/thrash/grind, I salute you.
Our warm-up this time consisted of the Ballseye Darts and Drinking Challenge (first prize for a double 1 – a sausage roll. There could be only one winner, the one they call StrongArm) in an insalubrious drinking den/garage in the Borras area of Wrexham on the Wednesday night before hitting the airport bars at 10am and meeting up with gathering folks from the North West. Somewhat perturbed to see we were flying over to Nantes in a propeller plane but they must have wound the elastic enough and we arrived safe at midday. This flight time enable us to pick our favoured camping spot closest to the site gates and get off down the supermarket for our essentials, including a few bottles of the blend of 56 herbs and spices. So we ended up in the "Metal Corner" camp site bars and entertainment area far earlier than was good for us and fair play excellent craic was had, meeting more folks, striking up stumbling European conversations, to a back ground of local death metal, Turbo Negro covers, and heavy stoner bands who are given the opportunity to play here. And strippers. Say no more
The Friday heralds the start of the festival proper but we already feel like we've been drinking for two days. Oh… . After an appropriately fortifying breakfast had considered going in to see Malevolent Creation after their excellent show in Wrexham recently but like a vegetarian butchers dog (on a string) Ell sniffs out some crust. This was in the form of locals Lout Society Kurse and their satisfyingly fast and Doom-y punk back at the Metal Corner. Hence I find myself one of the only people to manage a stage dive over the weekend, security obviously not expecting anyone to be mental enough to try one at midday onto two people in a crowd of 30-odd in a huge tent. Shits and giggles. So our eventual entry into the arena (where you are not allowed to sneak in a hipflask but a 1 and ½ litre jug of absolutely anything is fine?!?) means we are greeted with more lunacy and The Dwarves. Been hoping to see these for ages and felt marginally safer in a big crowd than in some small club as they are notorious for getting ever so slightly out of control. But at h-arms length on a main stage they remain fantastic entertainment – energetic, raucous garage punk, climaxing with flamethrowing girls and He Who Cannot Be Named still not dead. Another instant highlight next in the Terrorizer tent, where Kruger deliver a crunching and crushing set of Neurosis style post metal, all silhouettes in the mist and raw roars and rhythms. Definitely pick up their album next. Out for some fresh air and French industrial metallers Dagoba who have played here before but I don't find particularly striking so I dive back in the tent for Church of Misery. Serial killer obsessed driving doom from Japan anyone? And while the riffs tend to blend the singers wild eyed and theatric performance definitely keeps the eye and makes it enjoyable.
Not been there that long but a tactical break back at the tent listening to The Cult and their meteo-shamanic powers ("Here comes the rain…") allows us to be stocked up and prepared for the evening shift. Kicking off again fine style with The Exploited on a main stage, it may just be Wattie up front and Wullie on the drums plus some more recent draftees but the songs remain the same. So whether its classics like "Please Go Away USA" or "Sex and Violence" or their most (not very) recent stuff from "Fuck the System" they are sing and bounce along classics and certainly inspire a good bit of chaos in the crowd. Hang around to watch the start of Down who I've been a bit down on before, thinking a bit overhyped but the ultra sludge grooves provided by the gathered genre supergroup do rumble effectively across the field today. Wanting the pace picked up all the more I head round the corner to the Rock Hard tent and the Polish death metal behemoth that is Vader. Having missed them a couple of opportunities previously their sheer effectiveness in precise brutality brings a big smile to me. Still, I bail that to head over to The Young Gods at Terrorizer, second year running for them after a disastrously technically confounded set leading in to Godflesh last year. This year though it is spot on, again captivating and a strong "classics" set of their electronically dominated heaviness reverberates through you with massive bass.
Still only 9 but Iggy and the Stooges are regarded by some as one of the "traditional" headliners (as lightweights prefer an earlier night than the rest of the bands finishing at 2am) and I am glad to take this chance to check out the icon. There's a gathered "invited" throng on stage during the openers, competition winners, friends, who knows, but then it's just the (diminutive) main man and his men. Himself remaining full of beans, trousers still obscenely low even from a distance, and satisfaction for me coming in an airing of "1970" that has that sleazy rock pounding that works instinctively. A dose is enough for me though, as I am compelled back to Rock Hard and some blackened death from the Austrians, Belphegor. They've been going in some form since the early '90's but have really got into their stride recently and the performance tonight really drops my jaw. Insanely fast battering, surgically precise but with a feral ferocity that just drips venom, I would gladly have gone to see them a few days later with Deicide in Liverpool but alas I couldn't. As if that hadn't left me reeling enough next we have the majesty of death metal royalty Morbid Angel on the main stage. Despite getting a pretty universal slagging over their experimental tangents on their new album, live they are in command of the legions in front of them. Basing their set on old school off "Altars of Madness" works for me, front man David Vincent's now rumbles around in baritone levels, and yet again "Chapel of Ghouls" finds me airborne. And by bastard Christ there's more to come. I was glad to see Rob Zombie as a late addition line-up having taken a calculated gamble not to pay silly money to see him in Manchester, but despite the stage setting and costumery, it occurs to me ultimately that I am not a Rob Zombie fan as there's a lack of bite to his slick metal. I guess I missed my opportunity back in the day with his predecessor band that I did love, White Zombie, but there we go. So I am free to check some of the horrendous heart and head rending clashes that occur at this time of night. First a bit of the Melvins who again I would have liked to see a full set of in another setting but dipping my nose into the tent for a couple of songs I find it good but unexceptional rockiness, excellent rhythms going at times but can't really give them justice. What does provide satisfaction is Possessed, the legendary thrash/speed metal band from the US. Though they have existed in the same time span and vein as Slayer their fame trajectory has been lower yet their cult status has remained high and though sole original member singer Jeff delivers his set from the wheelchair he has been bound to since a shooting 18 years ago it's his voice that defines the classic sound of the likes of "My Belief" and "Swing of the Axe". Great stuff. One final choice is fudged as I start with Monster Magnet who deliver the same excellent levels of stoner vibe as they did at a previous Hammerfest, "Tractor" being what I needed to drag my self-crippled body over to see Mayhem. Their advertised "special show" consisted of a line up of massed guitars delivering the usual unsure mix of deliberately/badly mixed rough/rubbish stripped down black metal relentlessness, while vocalist Attila conducted some ritual ceremony involving skulls and candles at an altar on stage. Hmmm, unable to stand, and with too few remaining brain cells to understand I shuffled back to the campsite.
Let it not be said we don't have staying power as we are drawn in on the Saturday morning at 11am for Total Fucking Destruction. Featuring the loon/genius Rich Hoak from Brutal Truth on drums, the three piece deliver grindcore that has evolved from the raw harshness that I'd seen them spew before to something much more tech and varied, and inspires me to pick up their latest "Hater" album for sure. Makes for great breakfast wake-up entertainment, and the 5 page setlist flies through in no time, before we meet the guy with the jug of whisky to stop us in our tracks once more. Over to Terrorizer for the first of the lot of hardcore that is concentrated here today, with Nasty from Belgium. Maybe not the best of names losing its way in translation but their metallic beatdown hardcore is certainly on the money, and their on-message lyrical meanings are from the heart too. Staying with the low countries for some basement dwelling death metal with Severe Torture. Solidly brutal and fast, without moving far from the genre's contemporary bloody heart, it is enjoyable but not really long lasting in the memory. Certainly long lasting time wise were Mekong Delta, the progressive German thrashers who originated in late 80's. I'd been trying to sell one of their vinyls for that length of time being initially unimpressed with their traditional cheesy metalness but I am somewhat more tolerant now so they were inventive and thrashy enough, even if only the founding bass player remains to represent them. Far more pleasing to me was Hail of Bullets, fronted by the ubiquitous and charismatic Martin van Drunen who was here last year with Asphyx. His time with Bolt Thrower has obviously rubbed off onto the war-obsessed rumbling death that this band deliver in fine style, a real clarity and melody in the onslaught of tracks like "General Winter".
Leaving Ell propping up a bin for a bit as the sun really kicks in for a while get to see the straight up old school hardcore of Italian's Raw Power over in the Terrorizer. The recordings I'd heard have been a bit lo-fi/ropey and on this evidence really failed to capture just how ragingly good they are live. Drawn to more repulsing sounds next with Exhumed, who've had a break for a few years but are now back as strong as ever with their (early) Carcass worshipping gore metal, though yet again this is based on original bass/voc Matt and an all star line-up recycled from other bands. Getting to be a noticeable theme in these reformations but by and large if the classic songs are blasted out strong enough I'm ultimately not fussed about arguments on integrity and fleecing dead horses. "Anatomy is destiny" for us all, lets not waste time and just enjoy it. Out into the sun then for the guaranteed fun that is Municipal Waste, a welcome return to the crossover thrashers who were here a few years back. Not only do their songs rip through in a fast and furious fashion, they have great lyric hooks and choruses that sum up the shared humour of the scene and know how to work any size crowd. So we get mental pits, walls and surfing and broad smiles all round.
Time for a rest back at the tents after that madness, hearing some version of Thin Lizzy run through the classics before eventually returning on a special mission to meet and greet with a certain Tom Gabriel Fischer aka the main man of seminal extreme metallers Celtic Frost and here today with his follow on band Triptykon. Got to wish him well before heading into the tent for crossover punk legends D.R.I. Been a few years since I saw these at Holidays in the Sun in Blackpool and they started of a bit slower than expected before ramping things up to the familiar short, sharp, shock tactics that work so well. Very well received by the crowd as they are pretty engaging too. I take a beer break which is annoyingly accompanied by an interminable Zak Wilde guitar solo as he obviously thinks someone will be impressed by that sort of thing as he appears on the main stage with Black Label Society. Next though German heavy thrash Kreator with a surprisingly grand stage set up, having a few mikes set up around the stage for frontman Mille to wander too seems excessive to me. I'd been looking forward to renewing acquaintance with them as it had been best part of 20 years since I'd last seen them but the newer stuff didn't strike me as well as the rawer classics, and I was happy to move on after "Pleasure to Kill". And glad I did because I knew to expect never less than full on from L.A. hardcore outfit Terror, especially in the close in confines of the Terrorizer tent. They were the last band to inspire a rib break from me so in the spirit of self preservation I stood on the edge of the madness that Scott Vogel exhorted, getting folks to climb the scaffolding supports of the tent to "jump on people's head" (despite the posted banning warnings on them) and throwing bystanders of stage himself due to the big gap making it difficult for the usual stream of suicidal maniacs to join in the flying school. Proper chaos, massively enjoyable, all backed to simple yet so effective pounding riffing, they remain an essential live experience. As if that wasn't enough we are now lined up as cannon fodder to be steam rolled into the dirt by Coventry's finest war machine, Bolt Thrower. They'd been in Wrexham last year but the spectacle on a big stage with appropriate huge P.A. brought a whole other level of irresistible power to their relentless death riffing. Jo Bench on bass was in particularly lively thrashing form and with Karl orchestrating the destruction intro-ing the likes of "Where next to conquer" and "No guts, No glory" as well as some old school that sees me flying off like I'd trod on a landmine, there is just a great deal of love in the tent. They promoters had been trying to get them here for ages and the building anticipation was undoubtedly universally satisfied. Out into the blackout I get the Scorpions headlining and rocking me like a hurricane from a distance, and seeing as how apart from a few notes they didn't bother with "Winds of Change" (which I thought would have been as hilarious as "Final Countdown" was here the other year) that's probably enough for me. I opt instead for another quite amazing addition to the festival mix with Bad Brains. Their standing as one of the pioneers not only of US hardcore punk but also of the incorporation of a lot of fusion into the scene is celebrated, and as opposed to a lot of these other bands have retained pretty much their core line-up. Initially though, and perhaps to be expected with their age and probable consumption, the set is a bit laid back and loose. It's only with "Sailin' on" that I feel it really kicks into gear but I opt to split the clash and dash/stagger over to Triptykon at the Rock Hard. Now this certainly isn't fast either, but the ground out monumental riffs operate on a different level of vibe that hits me in the guts and heart a lot more. Not many bands can maintain the atmosphere over ten minute dirges. A great cover of the old mainstay "Circle of the Tyrants" is a particular highlight before the night falls (further) once again.
The end is in sight once more, and yet again we stun medical science by getting in to see Morne drag the Sunday morning congregation to life with their apocalyptic crust. Very Amebix/Neurosis in their stylings, the frontman has a familiar steely Scott Kelly-ish stare, and again the tribal rhythms and repetitive riffing are quite lulling, whether that's in or out of our consciousness I'm not sure. A late main stage addition of French band Zuul FX put a sharper energy into their somewhat industrial contemporary metal before another fill-in with Canadian's KEN Mode back at the Terrorizer. I was expecting some aggressive noise-core but fair play they were also quite diverse in producing some ultra-heavy drawn out doom sections, definitely and interesting mix. Much anticipated as the absolute definition of the other end of the eclectic scale from today's headliner Ozzy, Last Days of Humanity initially stalled in delivering their supremely guttural gore-grind due to technical difficulties. While I still took great pleasure in introducing our friend Paul Quo (there's a clue there) to his latest "Worst Band Ever" (Jarboe and Drugzilla are currently holding the top spots) I did ultimately feel that they would be far better suited to some claustrophobic basement club than an airy tent in the lunchtime sunshine.
After our early start we are entitled to a break but back to the fray with another chance to see Knut. Only a short time since I saw them in Leeds but again quite sure that they would assail us with the same high standard of experimental post-hardcore, and so they did. Crazy drum rhythms, flailing guitars and front man Didier's intense focus make for a captivating performance once more. I hadn't planned on seeing Ghost again, but meeting up with some Prestonian friends accompanied them into the similar heart of the madness that I'd experienced at Roadburn. And again, in its odd retro hard rock way it is quite beguiling, well formulated songs that have a (oc)cult vibe that suits their theatrics. Was staying here at the Terrorizer anyway as I wanted to make more of an effort to see Kylesa this year, as opposed to my enjoying them flat out on the grass outside on a previous visit. Very busy in there so evidently a lot of others did too, and we were all greeted by a storming performance of their fresh approach to sludgy, tribal metal. Powered along by two drummers, the dynamic of the male/female roared vocals also works a treat and this is a band I would gladly see again by themselves. Had another traditional "fucking off as far away as we can" for Anathema next and then struggled to get the Z Team motivated for a return for Morgoth, their loss. Vague memories of this German death metal outfit appearing over here in the early 90's heyday didn't mark them out as much special but they are evidently upping their game for the 20th anniversary of their "Cursed" album and I was quite stunned by the speed and intensity they achieved at times. Marc's vocals remain Tardy-esque in their horrific spewing, and that is complement enough I think.
Remaining with all things Germanic and another audience with the Milf Power that is Doro. She gave a great show at Bloodstock last year and yet again she lifts my flagging spirits and energies with her sheer celebratory joy of straight up metal. Playing a lot of her roots in Warlock ("Hellbound" cassette stolen from my car in Manchester in 1990 and still not replaced
) she is all smiles and enthusiasm for the gathering of this clan. And dedicates her whole set to Tony on his birthday. In his mind. Moving to a whole other level of exhilaration next with a chance to say farewell to a band who'd been there from the start of my slippery slope into this dark abyss that is metal, Judas Priest. This "Epitaph" tour marks the end of some 35 years and for me it's a glorious goodbye, with gems such as "Victim of Changes" and (tears welling up) "Beyond the realms of death". Definitive heavy metal, with definitive synchronised headbanging, they were key in speeding things up at the start or the genre too, and the multi-costumed Rob Halford remains in excellent emotive voice. Inevitably finishing with "Breaking the Law" and "You've got another thing coming", it's a shame there isn't but the memories will long remain. Things are coming thick and fast towards the messy climax now as we speed over to the slow of the already commenced Electric Wizard at Terrorizer. Last time they were here it was as transcendental experience, which I thought was a bit lost when seeing them in the big hall at Damnation in the meantime, but this was right back in the knee deep heavyweight groove. Simply monstrous doom riffs bring the nod to all crammed in the heat and suspicious smoke, backed by a projection of the frankly insane and disturbing Jess Franco's "Exorcism and Black Masses" exploitation flick. This is headfucking on a seismic level.
Next an audience with the not so much prince as queen mother of darkness, Ozzy Osbourne. Surely one of the most famous people on the planet I'd regard it as a fair coup for Hellfest to get him as a headliner, even if it is just him and his current backing band. However as I had imaginings of him doddering on stage to waver few a few tracks with Shazza standing with her arms crossed at the side of the stage daring anyone to criticise I couldn't have been happier to be proved wrong and for him to be full of bouncing energy and the charisma we knew he had. Maybe it showed that this is where he is strongest (or on auto pilot) rather than the uncomfortable chatshows or reality tv), but after some of his own numbers like "suicide solution" and "Mr Crowley" we have the absolute monolith of "War Pigs", where he can legitimately take a back seat in the face of the massed choral singing of this all-time anthem. I take that epoch as an opportunity to head back for Hawkwind, which is much quieter in the tent in the face of this competition, but such is the nature of clashes and the uninitiated don't know what they are missing. Relentless space rock riffing from the immortal Dave Brock and two basses provides a continuation of the drone vibes from the Wiz earlier, their projected psychedelics eventually take effect, and they have the two dancers/stilt walkers transfixing the attention in the centre of it all. Even though I still don't know/remember enough of their catalogue to pick out more than a couple of tunes, you do get the impression there's a similar jamming on a theme aspect to what Swans are doing now, to make every live experience special and unique. There's still time for me to catch the last of Ozzy ("Paranoid", of course) before at long last sticking though a whole clash in the presence of Kyuss. Or Kyuss Lives! as it was this year, Garcia Plays Kyuss last year. I don't give two shits about what they're called, when the "Hurricane" hits we're swept away on the superb stoner vibes. They have great intro hooks, little licks that you know are going to build and/or explode into pumping and thumping grooves that again are perfect for sustaining at this late hour. "El Rodeo" in particular is just a dream to drift off to our final nights kip with.
It was sometime during tripping out to the cumulative effects of Hawkwind's set that I found myself reflecting that before coming I had thought this would have been one of the weaker line-ups that we had seen here, and yet at the point I was thinking no, one of the best. We are royally spoilt with quality and quantity here and the hope has to be that its success continues even with the redevelopment of the site and an increase in capacity next year. Monday sees us having a very fruitful free shopping trip around the post-apocalyptic campsite including some champagne to toast the event back at our apartment in town, as well as watching the Simpsons given new levels of hilarity in French, and the local news reporting favourably on the event and its positive impact on the community. Merci Hellfest, et a l'annee prochaine!