I'd been looking to see The Fall for a long time, in the sense that it had been growing on me as over the years I've ticked off other bands and while they hadn't been a priority there was a sure realisation that when the time was right it would be right.
They had been around since the earliest days of my dabbling in music via listening to John Peel shows where they had been one of his all-time favourites, with an approach of always the unexpected, always the same. But my tastes among the eclectic mix had been far more conservative in the extremes of noise and while the off-kilter of the band and the poetic insanity of frontman Mark E Smith could be wryly appreciated there was just too much to get my head around. So I had picked up some choice bits and pieces over the years, heard the apocryphal tales of him punching people who said hello to him on the street, read his biography "Renegade", and gradually realised with my own broadening of tastes that this wonderful and frightening world had to be experienced live.
So off to Hit the North and their homeland of Manchester, not sure why in that context they were playing in such a small place as Moho when they are mainstream nudging enough to appear on Jools Holland. I took the train thinking I'd be safe for an early finish and return on the last one out of town, the mood of the sunny evening being enhanced by seeing 100 naked cyclists going past in Deansgate, as well as hen parties in the 'spoons. Kept my pants this time.
It was certainly getting busy when I got in the venue later and an interesting mix of folk, hipsters to casuals to wierdos (not just me). The first support were an also a tale of the unexpected as Corned Beef from out in the wilds of Clitheroe were a young melodic hardcore punk act, politically charged and possibly displaying a large slice of Propagandhi influence. Not sure how well they were received initially as something quite different from the headliners, thought they had finished after a short set but it was just the guitar and bass frontmen swapping instruments and continuing again to show that they could handle either job. I think by the end they had convinced a few more fans and I enjoyed them too.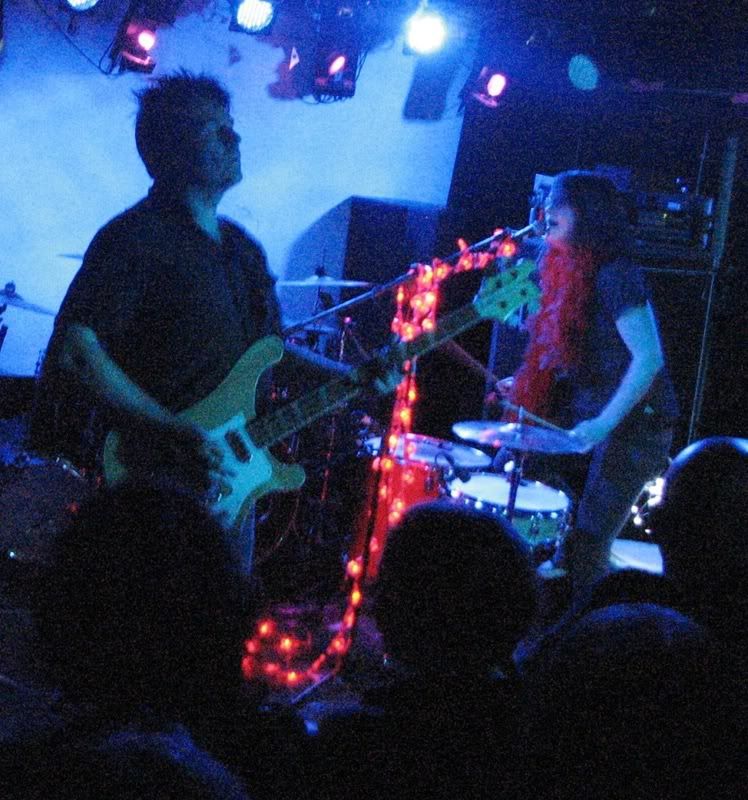 Even their name suggested that Scumbag Philosopher were totally in tune with the main man Mark E himself, and this very much proved to be the case for the four piece from East Anglia. Initially we had the bonus additional intro of a couple of hilarious and cutting live slam poems from a local guy called Matt Richards, including the image of making Gabrielle out of a fried breakfast. Then basic rhythms battered out on a couple of fairy lit drums by a girl drummer and driving heavy Birthday Party style bass grooves underpinned hypnotically repetitive lyrics, and effected guitar loops (though I'm not sure what the hand held retro tape player was meant to be providing, apart from feedback). A clearer cut version of the headliners, or with a big splash of the Cardiacs in there too, I'll be interesting in picking up their forthcoming debut album "it means nothing so it means nothing".
I now realise I've completely ballsed up my travel plans as this gig isn't going to finish early but fortunately The Fall are set to take the stage to their cowboy backdrop next, so will get a fair bit of their set if not all. From the off its loud and heavy, still post punk in its tangents from a raw heart, huge rhythm section again, with his wife Eleni producing reverberating vibes on her Korg, and the man himself suited and booted as he wheels and reels around the stage, his definitive Mancunian sneering drawl pretty toneless apart from his characteristic yelps. Masking to an extent the surreal stream of consciousness with barbs of real and harsh society observation. Yet for all this testing of the boundaries in terms of musicality he is undeniably a charismatic presence, wizened as a "50 year old man" but careless at the same time, he's got the ravages of hard living/drinking that gives him a similar look to Alex Higgins but at the same time a spark of life in his eye and swagger that shows there's still some twisted joy in pounding out these tunes. Him completely messing around with the guitarists amp level during songs and giving him a pat on the back after hints at the mischievous/deliberate antagonism with band members that has seem him getting through so many over the years. Again though I think they offer pretty much live interpretations of their tracks similar to how the modern incarnation of Swans are doing, and as such the live experience becomes unique. They've released far too much stuff for me to get a handle on what the tracks might actually be but they are consistently enjoyable and the rammed venue is bouncing, even to the extent there's a bit of a kick off that sees a couple of skinheads escorted from the premises. There is new stuff apparently, and also an excellent track called "Duped" with Eleni leading the vocals and sounding very Sonic Youth, plus the amusing "(I'm not from) Bury". I'm gutted to have to leave before the end but I learn after I've seen over half of their relatively short set, still leaving me with the urge to see more again for sure. Come back here!