Oh Hammerfest, what did you do to me? Actually, self inflicted face planting into the car park I consider getting off quite lightly given recent breaks and is firm confirmation that this metal festival that happens to be on our doorstep is perfectly capable of reaching the heights and depths of partying madness that we trek to the Midlands or Europe for in the summer.
And while the line-up could be judged to already be relatively weak this year, further crippled by later drop-outs, this was somewhat evened up by the sheer mass of North Walian animals able to attend, especially with all the free tickets floating about. Made for much fun.
Half day at work enabled me to get over and booked in early and straight into the Queen Vic pub/ third stage venue for some of the upcoming bands. Not sure if they had all paid-to-play/sold tickets to be here, it was something we'd looked into ourselves, or if they'd been invited on their own merit. The Mercy House came as pleasant surprise as apart from some vocal histrionics from the front man they were satisfyingly heavy in a kind of Soundgarden way. Funny to see the guitarist being told of by some middle aged security woman for rockin' out standing on the bar for a bit.
My mobile accommodation (as opposed to the "luxury" of a chalet) turned up courtesy of El so we chilled out in the van for a bit with cheaper and ludicrously strong beer (and educational films), though it has to be said that the prices at this festival are relatively normal compared to the summer extortions. Maybe that's why the brakes were off
Anyway, with no great draws bandwise for much of the day we wandered back in for the craic as much as anything else.
The first band (remembered) seen on the main stage early in the afternoon was Sylosis from Reading. Up-to-date inventive metal, they have been gaining some success recently with tours and festivals, they were certainly interesting musically if a little static on stage. Part of this may have been due to the guitarist now handling the vocal duties too, but he gets bonus points for his Neurosis t-shirt anyway.
Massive blurry spells later Accept are main stage headliners. The German thrashers have been going since the 70's which I would have thought was before thrash was really around so maybe evolved in terms of speed. Fair play they have the storming riffs but I hadn't been interested in them back in the day so it washed over me a bit. The new vocalist certainly fitted right in and I think in general they were well received.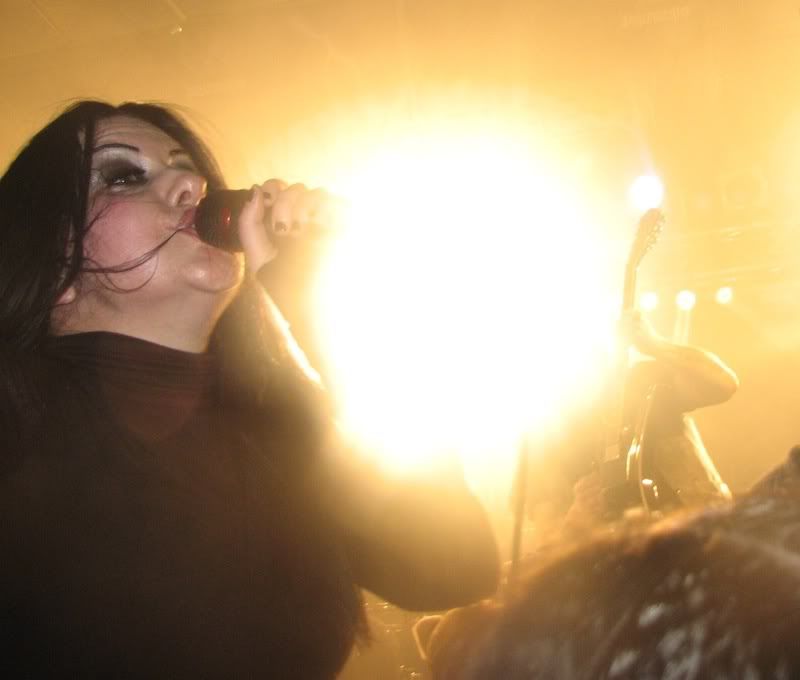 Reeling around as I was I stumbled up to the front for My Ruin on the second stage after they had started. The fearsome frontwoman Tairrie B was already half in the crowd sharing the mike with fervent fans, and as with the few times I've seen them before I found it a heavy performance with a lot of heart. To me she strides a good line between raw punk aggression and more ballsy downtuned metal, but not everyone was a impressed with this particular show, perhaps she has gone off the boil a bit more recently.
Last of the night here was UK metal veterans Blitzkrieg, brought to my and others more recent attention through Metallica covering their title track as an acknowledged influence. Again, it was heavy enough while not being particularly spectacular, but to be fair to them I was completely unfocused by this time so am a rubbish judge. Of so many things!
Domestic duties called me away the next day, an early train away from the chaos in the morning, chilling seal watching is obviously good for the recuperative soul as when I returned for a short section of the next evenings entertainment I was in far better condition than the survivors still there and the fresh wave who had come for this day too.
My main draw for me this evening was Swedish death metal legends Entombed, who I'd seen recently at Hellfest but having them here just makes it more special. It was simultaneously surprising to see a not very busy crowd and to hear them described as just too heavy for the main stage, as long term fans will know they've definitely shifted gear since their more extreme origins. Who cares, excellent atmospheric intro and in we go. There's a big slice of heavy groove in their material but rolling out the old school like "Crawl" and the massive anthemic "Left Hand Path" is an absolute treat to me. LG is on good form fronting them, though he does looked fwked most of the time, in an Ozzy style and other original Alex on guitar provides an excellent backing focus
Through to the second stage to catch a piece of the Thrash attack that comprises the evening here, headlined by Onslaught and Evile later, but Abadden now are a pleasing new find that would probably rival my interest in those other two. Hailing from Dunstable there's an early Slayer vibe that comes through their relentless riffing and plenty of energy to their beats too. Well worth checking out again.
Back to the mainstage for Satyricon. Starting off playing live a version of just the intro of Sabbath's "War Pigs" before kicking into their own brand heaviness this performance is world's apart from afternoon sunshine in Hellfest where I saw them last, and all the better for it. Their transition from ultra-blasting black metal originals through industrial vibes to more accessible pounding goth tinged rock is quite blatant, but there remains a conviction and purpose in the heart of what they do that is still very appealing. Frontman Satyr comes across as a quite laconic Gary Numan look alike and the bands performance as a whole is visually impressive. Tracks such as "Now, Diabolical" enable good singalongs from the increased crowd and I'm quite won over by them in this environment
My time is short tonight so I escape into the night and leave the rest to follow my good example of self-destruction. Another winning weekend but always difficult to judge the appeal of the balancing act they do here between traditional rock and more contemporary extremes, especially when spoilt rotten with other events. Lets see what the next one brings, I'm sure I won't be that fussy