ECHO & THE BUNNYMEN, GRUFF RHYS, RACE HORSES, Y NIWL, THE KEYS, (review n pix neil crud)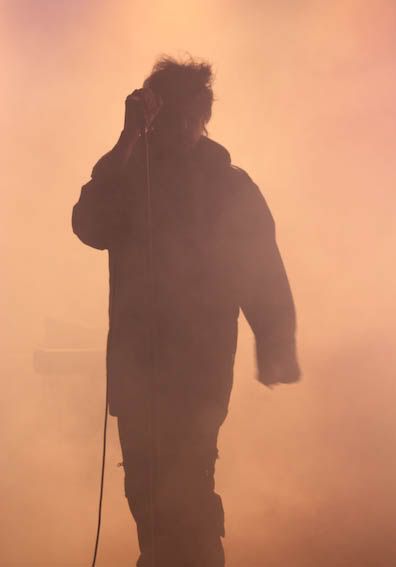 'Echo & The Bunnymen played in Bangor? You're kidding me…! I'd've gone had I known.'
Back when I were a lad it would take weeks to arrange a tour. Hours upon hours on (someone else's) phone, trying to piece together a few dates that geographically correspond. The majority of calls were knocked back with 'Send us a demo' – which means, fuck off and come back when you're famous, dickhead. And, if by luck I managed to actually get a gig – usually by pretending we were a blues band, I would then hitch-hike the week before the show, to the said town/city/village/farm with a roll of posters under my arm, a tub of wallpaper paste and a brush.
That was dedication (and stupidity), hitching to Sheffield, Leeds, Manchester, Liverpool, Huddersfield, Lincoln, Hebden Fucking Bridge – I've done 'em all in the name of rock'n'roll. Why? Well I was stupid and didn't trust so called promoters or venues to actually do their job and promote the gigs. Time after time we would traipse across the Pennines or up some grotty motorway to play to the bar staff – well actually, we more often or played to the bar staff whether I'd had a late night hitch hike soaking or not. That was the gamble you took being in a punk rock band.
Today it's easier – pubs, venues and festivals will book you regardless of your appearance or genre – promoters (or bands) rarely put up posters anymore – why bother when you can create an Event on Facebook? – 573 people have clicked to confirm they are attending – Fuck me! the Kebab and Calculator had better put on more staff tonight, the place is gonna be rammed. Of course, only 25 of that 573 actually had any real intention of wandering from their safe house on a Tuesday night to see your band, and half of them realised it was bath night or it was Aunty Maureen's birthday and couldn't come in the end.
When I were a lad (he says filling his pipe), Festivals were those things that happened once a year in Glastonbury, Reading, Stonehenge and Donnington and that was it. Today you're guaranteed to be spoilt for choice each and every weekend outside winter with at least one festival and a gig or two to attend within a 30 mile radius of your home. Yes, it's great – but the issue is getting the public off their lazy fat Eastenderized arses and out of their heavily bolted front doors. And to actually give them a choice of where to go as well only waters down those present at your chosen event.
This weekend Black Country Communion played in Llandudno (a mere snip at £40 a ticket!!!), Punchdrunx and Ugly Fashion played with other lovely punk bands in Old Colwyn in aid of the Anthony Ramsdale Appeal, which I was set to attend until I was offered to cover Gwyl Gardd Goll in Bangor; walking distance from my house.
The Big (and no doubt very costly) Mistake – and I'll say it now before we get onto the superb music, is advertising – or lack of it. Creating a Facebook Group and website is a great idea, but there has to be more – you cannot rely simply on the wire to get your event across to the public – there's so much going on now that we're spoilt for choice – and when my inbox is bombarded by sortie after sortie of upcoming gigs it's so easy to miss them amid the saturation of information. It's all so colourful that it all turns grey…
I didn't see a Gwyl Gardd Goll poster in Bangor, Llandudno, Colwyn Bay or Rhyl – the bands will advertise on their respective Facebook pages (they don't have websites anymore and if they do people are too scared to stray from the all seeing FB) – but when the bands are so closely connected, they all have the same or similar following. So unless you mixed within Welsh language music circles you were heading to see Black Country Communion or Punchdrunx or would continue playing Black Ops (the former two wouldn't be a bad thing). There were no 'non-Welsh music Bangor people' at the Festival, despite it being on their doorstep and I guess it was simply because they were not aware that Echo & The Bunnymen, Gruff Rhys and that Poorly Scribbled Geezer were performing for the common good. The plus side was, we got to see some great new bands and some of our heroes in a very intimate setting.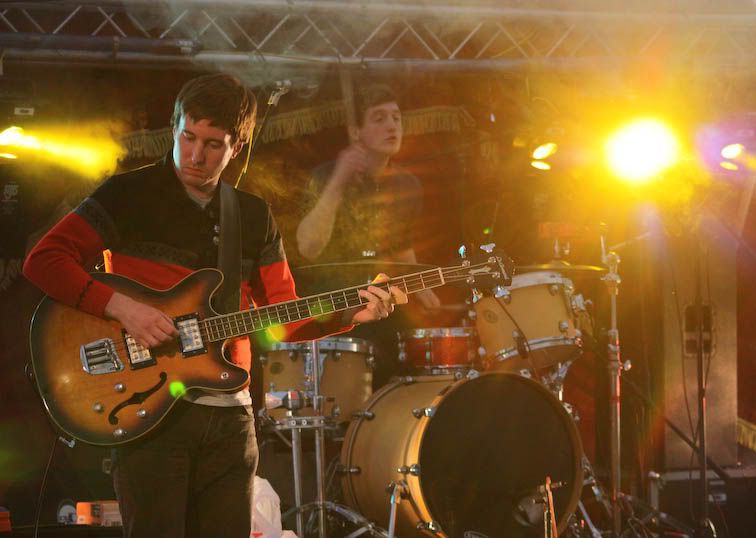 The Faenol is a stately residence mostly used by The Fat Welsh Opera Society than cool Welsh bands, it's a lovely place set in the most beautiful part of the UK, and it should be full of those grockles who insist on leaving their grimy English cities every weekend to park on the A55 – we dig up the dual carriageway up every summer to discourage them, but still they come – unfortunately, very few of them came to Gwyl Gardd Goll – maybe because they couldn't find it, as translated it's The Lost Garden Festival.
My memory of Chester Rocks a couple of weeks earlier is very scattered – I fell off Fatman's shoulders, got punched in the bollocks by some Pimms quaffing tart when I tried to start an Iggy Pop moshpit, cried during Australian Pink Floyd and completely forgot we danced the thru the whole of Leftfield's set. What I didn't forget was that Echo & The Bunnymen refused to play Chester because it would have been in daylight. Maybe it was just a Twitting rumour, or maybe McCulloch's years are catching up with his complexion and he's run out of Nivea, or maybe they just wanted to create a great atmosphere with twelve tonnes of dry ice and a cool back lit stage. I think this is my fourth Bunnyman encounter and although nothing ever lasts forever, you have to seize each moment that comes and enjoy it – so the quota of nostalgia trips back and downwhen from 1996 is being fulfilled on this front. The Goth like stage look of black silhouettes lurking through the smoke, like Fields of The Nephilm added to the updated sound they've built around their old material. This is probably the smallest crowd Echo have played to since their Eric's days (or was it Brady's by then?), and I did fear they may have primadonna'd the promoters and pulled out on the 11th hour. Thankfully there was none of that, and I guess that now CDs don't sell anymore, bands have to earn a crust by playing live as much as possible – hence the saturation of festivals. We were guaranteed Lips Like Sugar, Killing Moon, Dancing Horses, The Cutter and Nothing Ever Lasts Forever, and so we should! I recall the Buzzcocks trying to be all arty and touring with totally new material – they fell flat on their arses. If you practically owned Stage 3 of the Top of The Pops studio then you should milk the fact that you had hit after hit until the udder runs dry.
A couple of headliners apart, Gwyl Gardd was all about up and coming (not strictly, but mainly) Welsh language talent, and a lot of Welsh language bands get around the language issue of getting on with the Welsh media by having a Welsh name or song titles, but singing mainly in English. It's not a problem – it's called using the system for your own needs, and it works. Take Y Niwl for example, they're a Welsh instrumental rockabilly band who play all their instruments in Welsh and because of this they can spread their (no) words across Offa's Dyke and across the sea. They've come on leaps and bounds since I saw them in their infancy, far more swagger and confidence as their sometimes psychedelic tunes are now heard regularly on Marc Riley's 6Music show, Walton's Radio Wales show and their passports are showing American and Japanese stamps on them.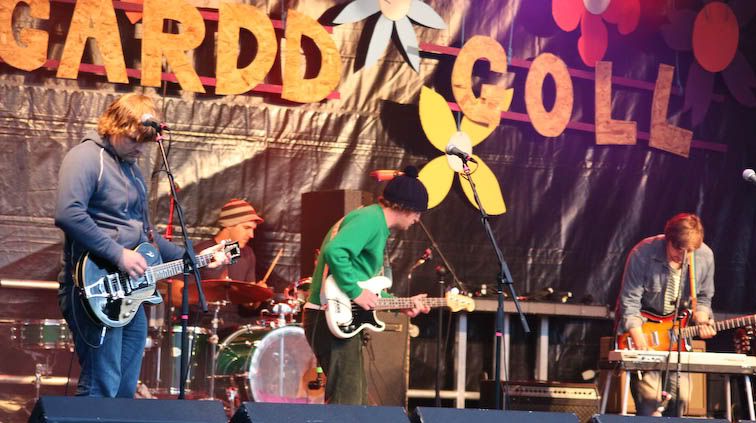 Far from being content with a 30 minute slot before retiring to their fruit and sulphate rider, Y Niwl pop up again as Gruff Rhys' backing band. Now here's a man who just won't lie down and count his cash, he just don't give a fuck (sorry!), and you'd think that 25 years of playing in bands, stealing shampoo from hotels and driving driving driving everywhere would've exhausted him of any further writing inspiration. I mean, has Gruff Rhys ever lived a real life? Signed on? Dug holes in roads? Played for a local darts team? Served behind a bar? How the fuck is he always bursting with awe-inspiring ideas? So many that he has to form other bands as a vehicle to spread his words (which always rhyme). Long may it continue, it's infectious and I hope the antibiotics never work.
Manic Tiger described The Keys as a band who don't sound like a shit Welsh band – almost as if they're too good to be from Wales. That wasn't an offensive observation, as there are some pretty shit Welsh bands out there, and thankfully these days they are caught out before the Welsh media falsely big them up for the sole fact that they speak our wonderful language rather than possess any actual talent. With The Keys (who sing in English anyway!) I do have to pick up the shuffling iPod now and then to see who this really good band are, and it's usually The Keys. They are so damn good and it was an honour and privilege to catch them live, despite their journey of hell from Cardiff (which is a hellish enough journey any day). The frontman looks like an anorexic school teacher and the drummer resembles a gurning Keith Moon, but what a sound – BE WARNED: The Keys are high class psychedelic pop sprinkled with spacedust and highly addictive.
Another band that leaves you scratching at the chemist's door at 8.55am are Race Horses – caught them in Base in Bangor a coupla months ago and undercover of the marquee rather than the main stage here at Gardd Goll brought with it a better atmosphere and a sweat driven show, from shooting down an early heckler in flames, to smashing a bass drum at the front of the stage, to a spastic stance wired Jarvis Cocker (sometime Pulp sounding) performance that forbid you to look away. We were riveted, eyes stage-forward as the band hammered out their repertoire at a relentless and overwhelming pace, with a biblical ending. Brilliant.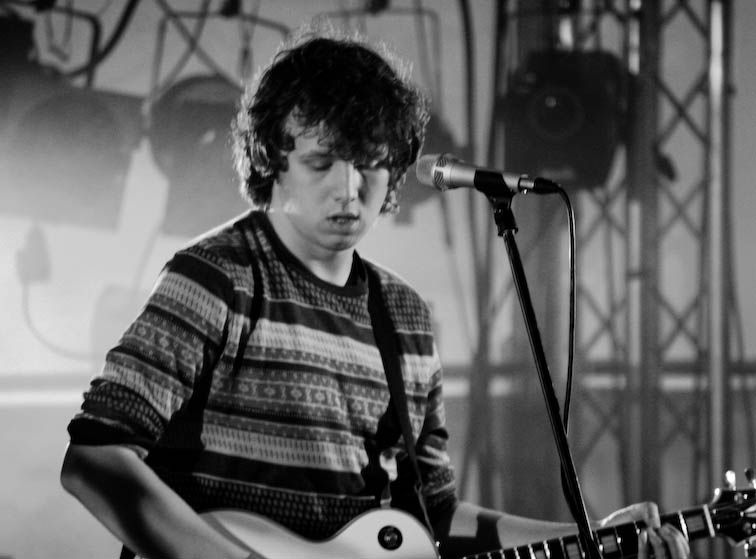 Yr Ods skitted between being a typical Welsh band, to sounding like Journey to being really good and I guess when they turn up on our radar again they'll have honed their sound and climbed up from being small print on the poster.
The same can be said for Sen Segur – such a young band, with such a mature sound and like Yr Ods, they are spoken very highly of in the circles that matter. Their soft, calming sounds were a little lost across the vastness of a festival and perhaps the marquee would've been a better citing for them.
Jonny (strange name), the singer announced their drummer didn't make it to the gig and they had to recruit a drum machine. We were chilling on the grass (literally chilling as the sun had sunk below the tree line) and heard this distinctive voice that made us say, 'Doesn't he sound like Euro Childs' and looked to see it was he. Check out the single Do The Cave Dance.
Let's face it – festivals have hit the full cream level and it's gonna get sickly – only the strong will survive – Gardd Goll has been going since 2007 and needs people like you to stand up and be c(o)unted – to attract names that draw people and give up and coming bands the chance to keep it up and keep it coming…